The Last Hurrah: an interview with legendary photographer Dafydd Jones.
by Coco Cottam | June 13, 2023
Dafydd Jones is a documentary photographer who launched his career in the eighties with his photo series 'Bright Young Things' for the Sunday Times. Throughout the early eighties, he documented the raucous balls, black tie dinners and boat burnings of Oxford's upper echelons, photographing the likes of David Cameron, Boris Johnson and Nigella Lawson. He is currently working on a book of photographs from his time at Vanity Fair and other magazines in New York.
You mentioned in the forward to The Last Hurrah that you worked for The Isis in the early 80s: what was that like?
I didn't have a phone then, so I must have talked to someone who told me about the meeting. There were about fifteen people in the room, and many were volunteering for jobs. They asked, "we've got an interview with John Peel, who'd like to go?". I explained I wasn't a student but a photographer, and the Editor asked if I'd come and take some photos. And then there was an interview with Mike Oldfield about his new album, 'Tubular Bells' – that picture is on my website. Cherwell was much more gossipy. They had the John Evelyn column and a lot of gossip about the people I was photographing.
You also worked in the Bodleian for a while. How was it, being 'in' and 'out' of the students at the same time?
I didn't even have a camera when I was working at the Bodleian. When I moved from Wales to Oxford, I was amazed at the number of libraries. I'd just left school and got a job at Blackwell's which I didn't like, and someone told me about the Bodleian. They said you could spend your whole day reading and you hardly had to do anything. I was put underground, working with an old-fashioned pneumatic tube system, where people would order books on a slip in the reading room. Some days, we'd only have to find five or ten books. It was quite romantic, really, because it was dark down there, almost Victorian, and you'd be walking around corridors, finding things. I had a girlfriend for a while who was working upstairs, and she used to be asked on dates all the time!
I really loved it there. I only left because I started missing life. We had this amazing summer, a bit like the one we're having now, and I left to get outdoors.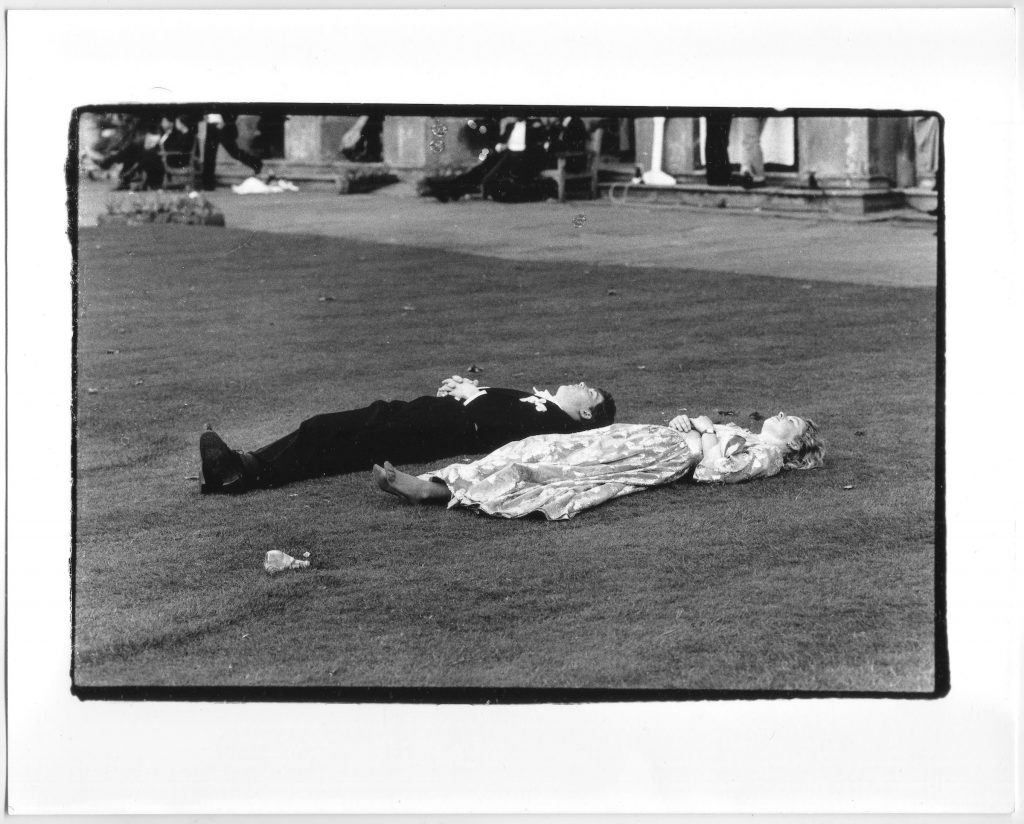 Students still subject themselves to the subterranean Gladstone Link. You go down when it's light and come out when it's night! Thinking about the title of Richard Ovenden's forward to The Last Hurrah, 'A World We Have Lost', what do you think has changed about Oxford over the last forty years?
I'm not convinced that world has been lost. I've kept in touch with some of the people I've photographed whose children are at Oxford, and they tell me that nothing has changed. I think Richard Ovenden was obliged to say that as the librarian. Certain things like the burning of the boats have changed in that, as I understand, they still set fire to the boat, but no one's allowed to jump over the flames.
You capture people often unaware, in tiny glimpses of discontent or angst. I think you refer to it as "being as unobtrusive as possible". How do you work through the crowd? Do you ask permission for your photographs?
No, well, I don't ask permission because that gives people the option to say no. Just to put it in context, after I worked at the Bodleian and then as a window cleaner, I went to art college. I got interested in journalistic, not quite paparazzi, photography. At that time, The News of the World had taken photos in which they knocked on someone's door and as they'd answered, a photographer had taken a picture. They were caught unaware. I was interested in the paparazzi element of this. My photographs at the time were of ordinary – or fairly ordinary ­­– students, being photographed with a paparazzi edge. I talked to people and explained what I was doing, but mostly, people were so busy partying that they didn't really notice me. If anyone objected to being photographed, I'd leave them alone.
There was a photograph I took of a man doing a Nazi salute. The publisher was quite nervous about it. I was at this dinner, a Monday Club gathering. It was quite political, there were toasts to Ronald Reagan and Margaret Thatcher. But I noticed the toasts were gradually becoming like salutes. There is a photograph in the book of some people doing salutes, and others having their glasses raised. James Sainsbury, from the famous supermarket family, was amongst the people toasting. I was quite timid. I wasn't in people's faces taking pictures. Someone invited me to the afterparty and as we were walking through the college, suddenly Sainsbury stopped in Worcester College quad and did this Nazi salute and screamed at me to take a picture. I did it almost to shut him up, but it was my first published picture because someone at Worcester complained and it got into the papers. He denied it, but my picture contradicted it.
A lot of your photos are of people who go on to be publicly relevant, like David Cameron, or Boris Johnson. Did you go into these parties knowing who's who?
Boris, when he was at Oxford, was very active. He knew I worked for Tatler, so he invited me to a dance he had at one of the colleges, and he was quite keen to get into the magazine. I went to the party, and I didn't even think it was very good. I didn't even give it to the magazine. I had no idea he would become the person he became. He just seemed quite charming, and very interested in what was going on in the university, sort of a busy bee.
I first photographed David at an Oxford Union Ball. I was working for Tatler, and he looked quite posh, slicked back. But he also seemed popular: people were crowded round him. It's funny, looking at the pictures, that out of the six hundred people at the Oxford Ball, I only photographed about thirty that evening.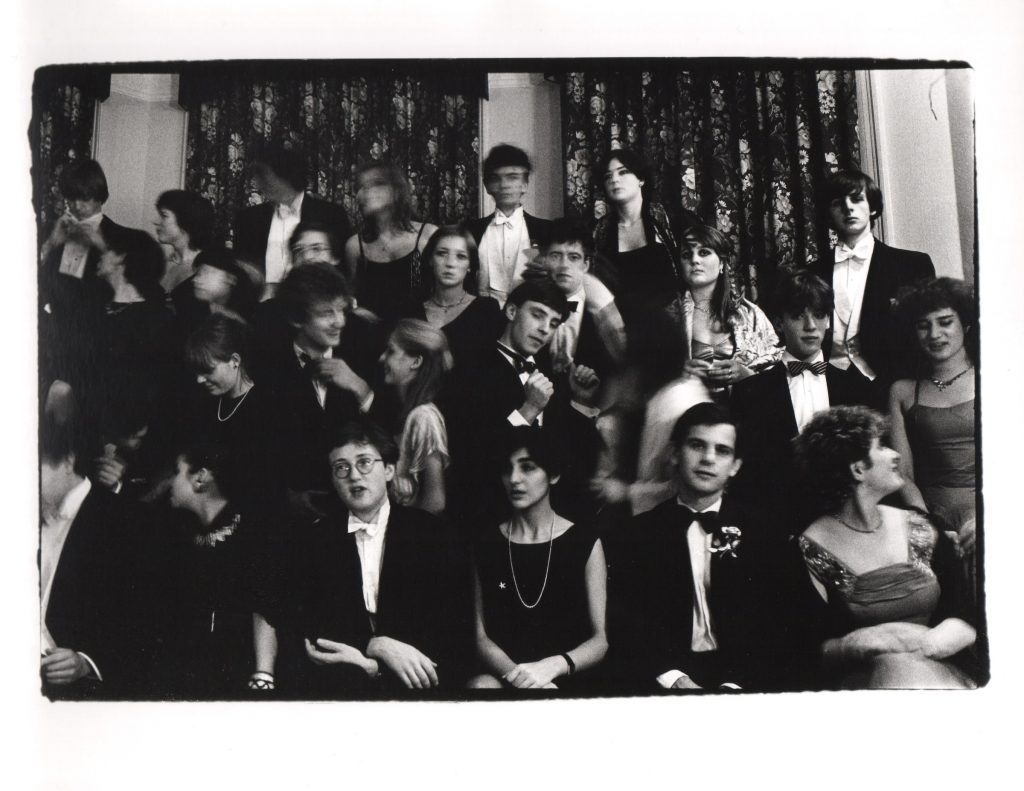 The idea of David Cameron being cool and attractive is quite funny. Would you ever come back and photograph Oxford balls again?
Yes, I've actually been invited to a ball in Cambridge the week after next. I'm a bit nervous because I never used to stay up all night – I just turned up at half past four in the morning! I have got enough pictures for a Cambridge book but I'm currently working on a book of New York.
Are these Vanity Fair photos?
It's actually a mixture. I moved to New York with my wife and children in the late 80s, and we came back after two years. Then The Connoisseur magazine offered me a job, and I travelled around with them. Eventually, I worked at a newspaper. The editor, Graydon Carter, pitched for nightlife photographs and I ended up moving back to Vanity Fair.
Do you have a title in mind yet?
No!
How did The Last Hurrah come about as a title?
I think it was suggested by a colleague called Miles Chapman, who was a features editor I worked with on various magazines. My publisher liked it and keeps wanting me to use it. My new book, England, the Last Hurrah was the same. He asked if we could use it for the New York book and I said no!