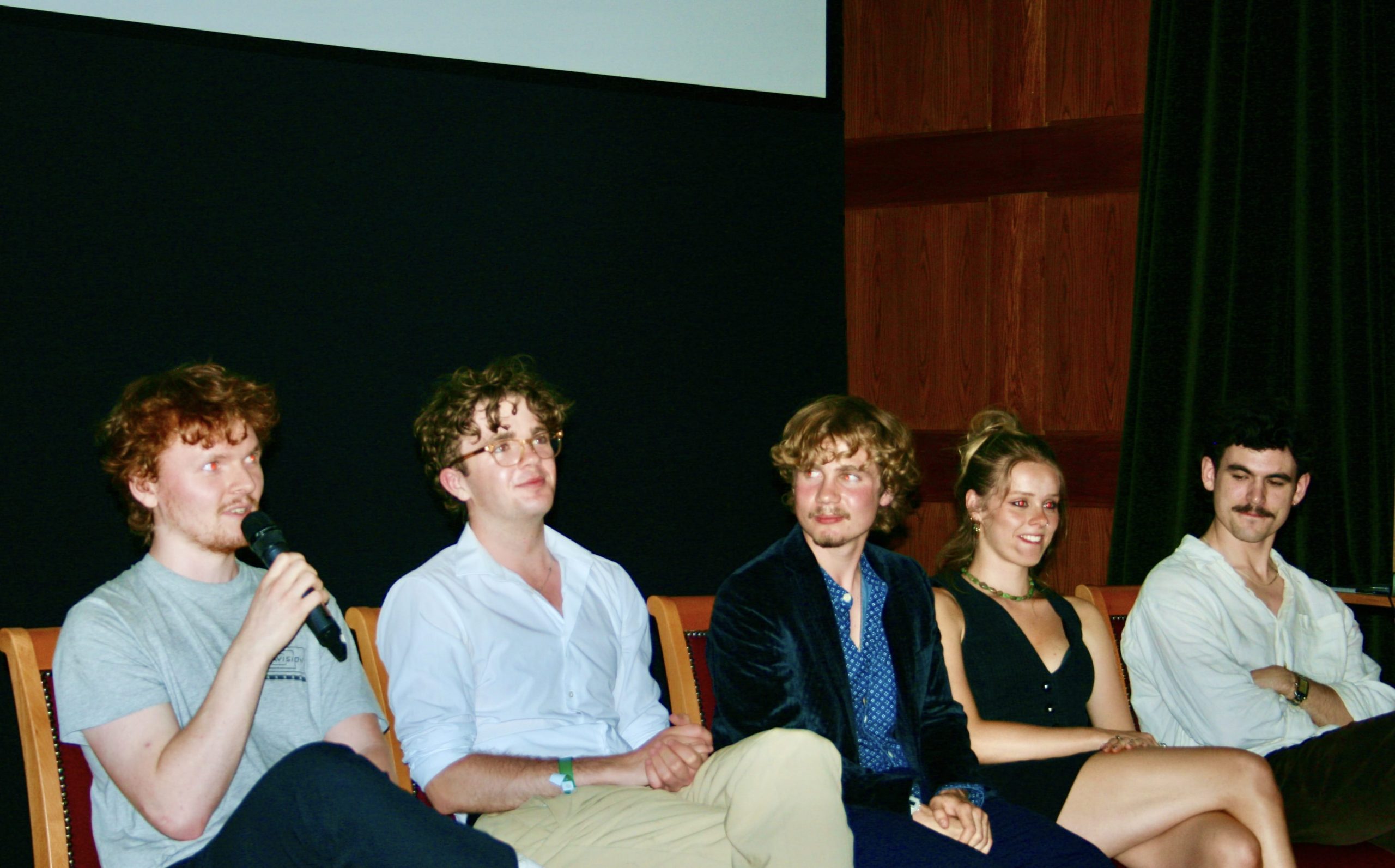 Behind the Scenes of 'Breakwater'
by Isaaq Tomkins | June 10, 2023
In 1982, a group of Oxford students came together to produce the University's first feature-length film, Privileged. Why has it taken 40 years to make another? Jemima Chen had the same question, and the answer, it turns out, is because it's very hard to do.
Having raised about £20,000 through crowdfunding and an auction, the Breakwater team were able to cover the costs of a 24-day filming process based in Suffolk and Oxford during the Hilary vacation. Now the film is being edited by Talia Caouki and a team of twelve, with colourists and composers joining film editors to build the final product. With that done, the film will be submitted to various film festivals for premiere next year. 
Breakwater is about the relationship between a student named Otto (Daniel McNamee), and John (Shaun Paul McGrath) a retired angler who lives on the coast. It promises to explore "how we connect, forgive, and grieve for both others and ourselves". Beyond that, it's something of a mystery, being new writing, and the team are keeping their cards close to their chest. At this stage, the interesting thing is how on earth they've managed to put it all together.
On Friday, the film was teased with a behind-the-scenes documentary (directed by Emma Earnshaw), followed by a short trailer. The documentary itself was interesting. It was light in tone, and audience members quickly found themselves giggling at Daniel McNamee twirling his hair, Max Morgan (Writer/Director) smouldering, and cast members messing about on the beach. It did lack some features that one would hope for in the film itself, such as strong colour correction and sound recording, but on the whole, it was very insightful, and showcased background processes which might have been overlooked by an audience exposed only to the final product: we saw shots being planned out, crew members designing labels for wine bottles to avoid copyright infringement, a location manager keeping the beach clear of stray people and dogs. The whole affair was incredibly professional. Evan Bridges came across especially well in his interviews as Director of Photography – his enthusiasm for the project was infectious. 
The documentary also included interviews with members of the original Privileged gang. Michael Hoffman (director), Andy Paterson (producer), and Rick Hoffman (producer) were kind enough to lend some expertise on Breakwater, and spoke about the circumstances surrounding the film they had made as students: Careers were launched, board members died, love was found. How high are the stakes here by comparison? Is the Breakwater team dealing with a comparatively less risky expedition?
Well, yes and no. On the one hand, what they're doing now has been done before (and successfully too). In theory, success is within reach. Furthermore, their budget is about a fifth of what Privileged had, when adjusted for inflation. Does this lower the stakes or raise them? I honestly have no idea. In theory, it minimises their potential losses, but it means they have to be very careful with how they spend money. Luckily they've been sure to take advantage of the opportunities available to them, for example by filming in the Exeter College Chapel, which would normally cost a princely sum.
At the end of the day, for a student-led project, Breakwater has attracted a very large crew of talented people and seems to be doing very well. I imagine that money isn't so much on the line as the film's potential to increase the prospects of those involved.
The event ended with a teaser trailer that was truly impressive. Stunning shots from the beach setting in Aldeburgh were balanced against a scene of curious intimacy between Otto and John as they sat in the Exeter College Chapel. I for one am eager to see Breakwater premiere, and hope the team manages to keep the hype going while we wait.
Words by Isaaq Tomkins