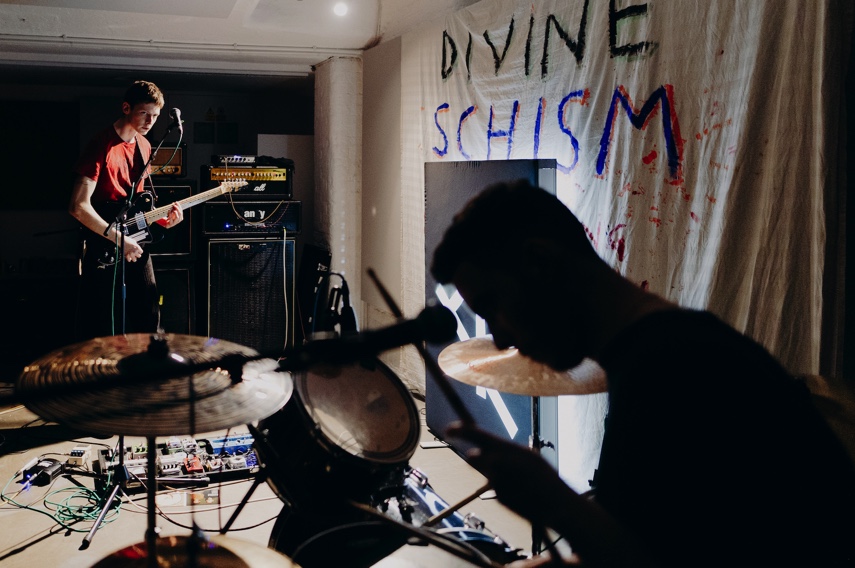 Review: Cassels' 'A Gut Feeling' at Modern Art Oxford
by Shaw Worth | February 19, 2023
I walk into the basement of Modern Art Oxford, the walls freshly scribbled all over in blue Sharpie. And What, the first supporting band to play, are already channelling riot grrrl plaintive. Their next song is called 'Another Year': the two-piece is like a long chorus and catharsis, a steady tom-tom and a refrain (to invoke The Slits, an earthbeat). There are some messy moments – some of those refrains drag – but this should be messy. With typical disregard for genre, they finish their set with a cover of Arlo Parks' 'Angel's Song', and everyone heads to the bar between sets with a heart full of blood and Courtney Love. And What don't have a digital presence, so I can't tell you to go listen, except for live, which is definitely what the punk gods would prefer.
Oxford has a distinguished history of fostering independent music. The 'Scene' is probably most famous for its products of the 90s, like Radiohead and Supergrass, and more recently bands including Foals, Stornoway, and Glass Animals. Any bands who've been around since 2012 will likely have at one point or another played for Divine Schism, which is perhaps the city's foremost grassroots promoter. On their ticket, I have seen ambient harp soundscapes (Mary Lattimore), Mort Garson-style electronica with added spoken word (Moogieman and the Masochists;), hyperpop Dolly Parton covers (Jack Goldstein), and a host of other four-word Bandcamp tags (post-retro indie pop and sad grunge meta rave). And that's just the last six months. Divine Schism's tenth birthday last September was marked by a triumphant weekend of what felt like ten thousand gigs, with the Bullingdon front bar operating like a kind of musical central government office (and another one is forthcoming in March). Apart from Port Meadow after Finals, I can't remember a more palpable buzz in the city.
Sinews, the next supporting band, are loud. They are extremely loud. After all, we're in a vaulted basement with a ceiling height of around two metres (and that's generous). Divine Schism provide free foam earplugs at the door – now we know why. Loud is, however, not a bad thing, especially when you are a new combination of some of the town's staple punk and hardcore outfits. I won't claim to have understood many of the lyrics, but that was no barrier to headbanging. I've never seen a local crowd approach moshing so precipitously in an indoor venue. Another fifteen minutes would have done it. They have yet to release their debut EP (we are assured on Facebook that it is "cooking"), but look out for 'Pony Cure' when it comes out. Guitar pedals against all reason and a breakneck riff to match. I hope the oven timer goes soon.
We are here, however, for Cassels, and the first anniversary of their most recent LP, 'A Gut Feeling' (God Unknown Records, 2022). The birthday present is a full playthrough of the album in the order of the tracklist. There are a few problems with this kind of show. If, like Cassels, you are fond of eking as much out of your guitar as possible, you have to spend a significant amount of time tuning and re-tuning between songs. And you have to come up with something to say while you are doing so. Jim and Loz Beck are not the world's most natural chat show hosts (and yes, they are brothers). But, old hands at the neo-post-punk post, they are incredibly good at what they do by now.
The song titles of 'A Gut Feeling' read like a series of sketches: 'Dog Drops Bone', 'Mr Henderson Coughs', 'Family Visits Relative.' In fact, they are more like short stories, but told by Kate Bush. Mr Henderson, for example, is coughing because he has just received a cancer diagnosis and is lashing out at his students: overcome by guilt, he deliberately misses his first chemotherapy appointment. Clearly, they are not risk-averse in choosing their material, and it would be easy to come across as crass. But in the song's much more contemplative ending ("He hoped the universe had some kind of divine order and shape / But who knows? / Who can say?"), they are suddenly much more interesting than the vast majority of their peers.
There are some definite question marks raised by the lyrics; some metaphors are mixed beyond comprehension ("His fuse shortened / Tether lessened / And constricted into a coiled spring / Which began to bubble and boil"). But these are exceptions. Cassels have a razor-sharp eye for the paraphernalia, and accompanying malaise, of post-Thatcher Britain. In performance, they take on that malaise, and whip it up into a febrile resentment, skittering around and blurring into their instruments. Dancing, or is it writhing? In pain, or maybe joy? Musically, they feel as at home during the unsparingly technical picked harmonics of 'Michael's Daily Commute' as on the slammer encore 'Hating is Easy'. They can scream, talk, sing, hiss, or whisper and make it make sense. The emotional whiplash of the album's material is so jarring that it somehow begins to cohere.
It can be so easy at a rock concert to conflate what is exciting with what is worth listening to. Thankfully, tonight, we don't really have to choose. ∎
Words by Shaw Worth. Photography by Helen Messenger.