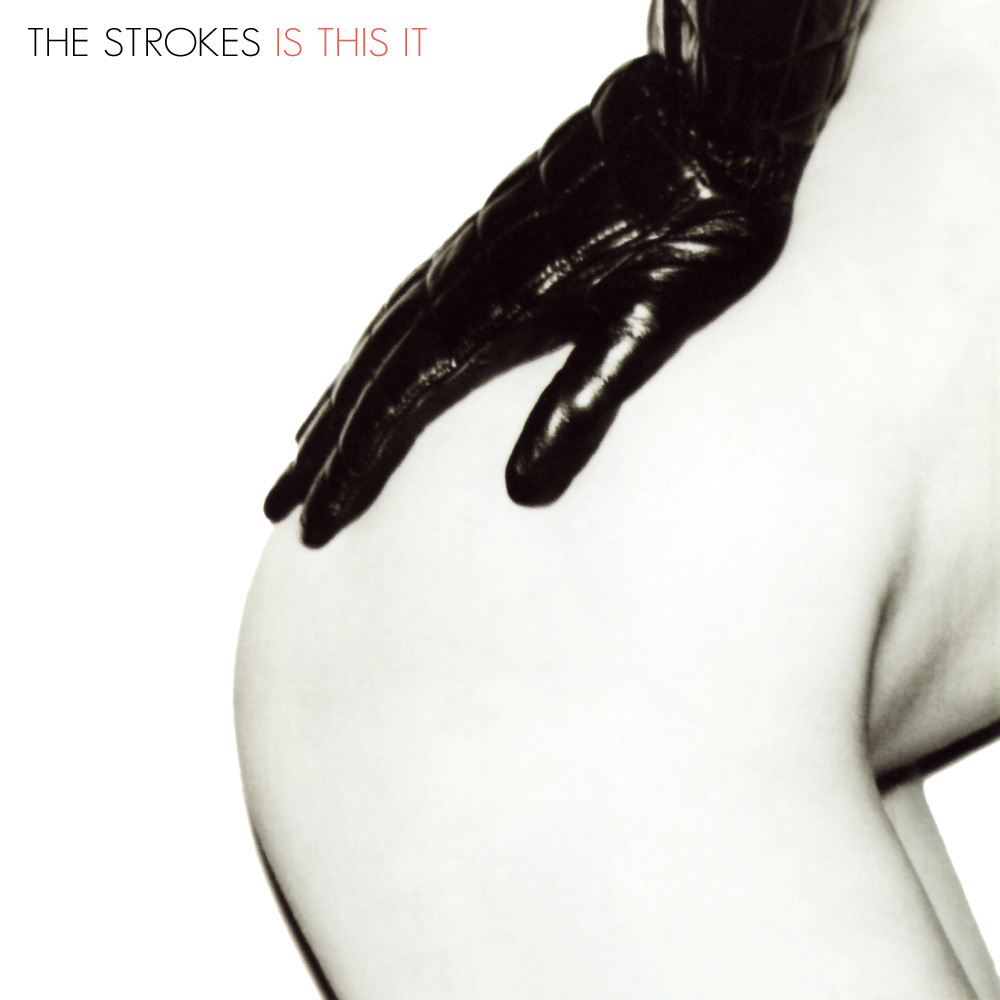 Retrospective Reviews: Is This It – The Strokes
by Michael Delgado | November 2, 2016
It's 2001, and as ever, guitar bands are 'going out of fashion'. The New York Times have run a cover featuring an electric guitar as a gravestone. The last couple of years have seen the release of Dr Dre's 2001, Daft Punk's Discovery, Radiohead's electronic rebirth in the form of Kid A, as well as important albums from Eminem and Aphex Twin. Guitar bands like The White Stripes are anomalies.
Amongst all the electronica brought by the millennium, The Strokes were doing their own thing. Rather than looking to the future, this new and exciting band was returning to the crunchy rock of The Velvet Underground, The Ramones, and Sonic Youth. Eschewing complex production techniques, they sought little more than the sound of five people playing together in the same room. Whilst albums like 2001 and Aphex Twin's Drukqs were so meticulously produced you could practically hear the squeak of the polish, Julian Casablancas and his band strove for a different sound. In his words, he wanted to sound like "your favourite blue jeans: not totally destroyed, but worn-in, comfortable."
The result was Is This It. But unlike many of their predecessors' debuts, notably The Velvet Underground and the Ramones', Is This It was almost unanimously and immediately recognised as a classic. Numerous magazines named it the best album of 2001, and many have since put it among the greatest of the decade. Since the album's release, critics have been falling over themselves to assert the importance of Is This It in ever more gushing hyperbole.
Despite its success, however, it is perhaps a little bittersweet for the New York band that having released five albums (as well as a handful of solo efforts from the individual band members), it is their debut for which they will be remembered. In fact, every album they have released has, in my opinion, been less exciting than the last. Not only does this trend differ from many contemporary bands like Arcade Fire or Radiohead, whose work hasn't suffered such a marked chronological decline, but it means every Strokes fan is forced to undergo weary looks every time he or she utters the perennial 'indie' line: "I preferred their earlier work."
With their debut, The Strokes achieved that rare thing—the Arctic Monkeys's first album being another good example—of achieving a sound that is heavily rooted in its time and place, and yet is so enchanting that it manages to transcend that context. The title track with its slow drumbeat, Julian Casablancas's lazy, lo-fi vocal, and Nikolai Fraiture's skipping bassline, is the sonic equivalent of a long-haired, skinny-jeaned, leather-jacketed New Yorker smoking a roll-up outside a Manhattan diner. The sound's hazy nonchalance typifies early-2000s New York, but more than fifteen years on, the album's sound isn't so specific that it has ceased to be relevant: it is a sound which has matured rather than aged.
And indeed, it's a deceptively simple sound, and one that you can tell has been obsessively worked on. Every part has something to say, from the understated bassline on the title track, to the insistent drum beat of 'The Modern Age', to the triplet guitar part on standout track 'Someday'. Albert Hammond Jr. makes rhythm guitar—perhaps the least glamorous role one can play in a band—into a genuine rhythm instrument, interlocking seamlessly with lead guitarist Nick Valensi's solo lines. Everything is rhythmically precise, and there's no loose fat.
'Barely Legal' is propelled along by Hammond Jr, while Julian Casablancas shouting 'why won't you wear your new trench coat?' has gained a cult-like status in sounding so effortlessly cool. 'Last Nite' is the band's most well-known, most overplayed song. Yet its status as the token 'indie' track—of course alongside Mr Brightside—on the playlist of every mediocre, sticky-floored night-time establishment has done little to blunt the song's brilliance.
The back end of the album is a little more curious. The ninth track, 'New York City Cops', has a chequered history. The album was released less than a month after 9/11, and the band felt that the song's chorus—'New York City cops, they ain't too smart'—was insensitive given the context. So, the song was left off the US release and replaced with 'When It Started'. But while the band aren't particularly known for their social commentary, the song does take on a different kind of significance today. With the 'Black Lives Matter' movement gaining traction, and artworks like Kendrick Lamar's To Pimp a Butterfly focusing on police racism, now seems like a good time to reflect on songs like 'New York City Cops'. In the same way that NWA's 'Fuck Tha Police' seems painfully relevant today, 'New York City Cops' is a song that makes you aware of just how little has changed.
Perhaps when factoring Is This It into the critically regarded 'greatest' albums of all time, it might seem to fall short. It is fairly simple instrumentally, and it doesn't have the obvious musically ground-breaking quality of Revolver or Pet Sounds. It doesn't possess the wonderfully alien quality of Kid A or Bowie's Low, nor the political and cultural engagement of What's Going On or Highway 61 Revisited. What it does have is palpable confidence. Not self-satisfaction, but confidence to do its own thing without worrying too much about anyone else. 15 years on, Is This It never fails to give me a hit of nostalgia—and it still sounds as fresh as ever.