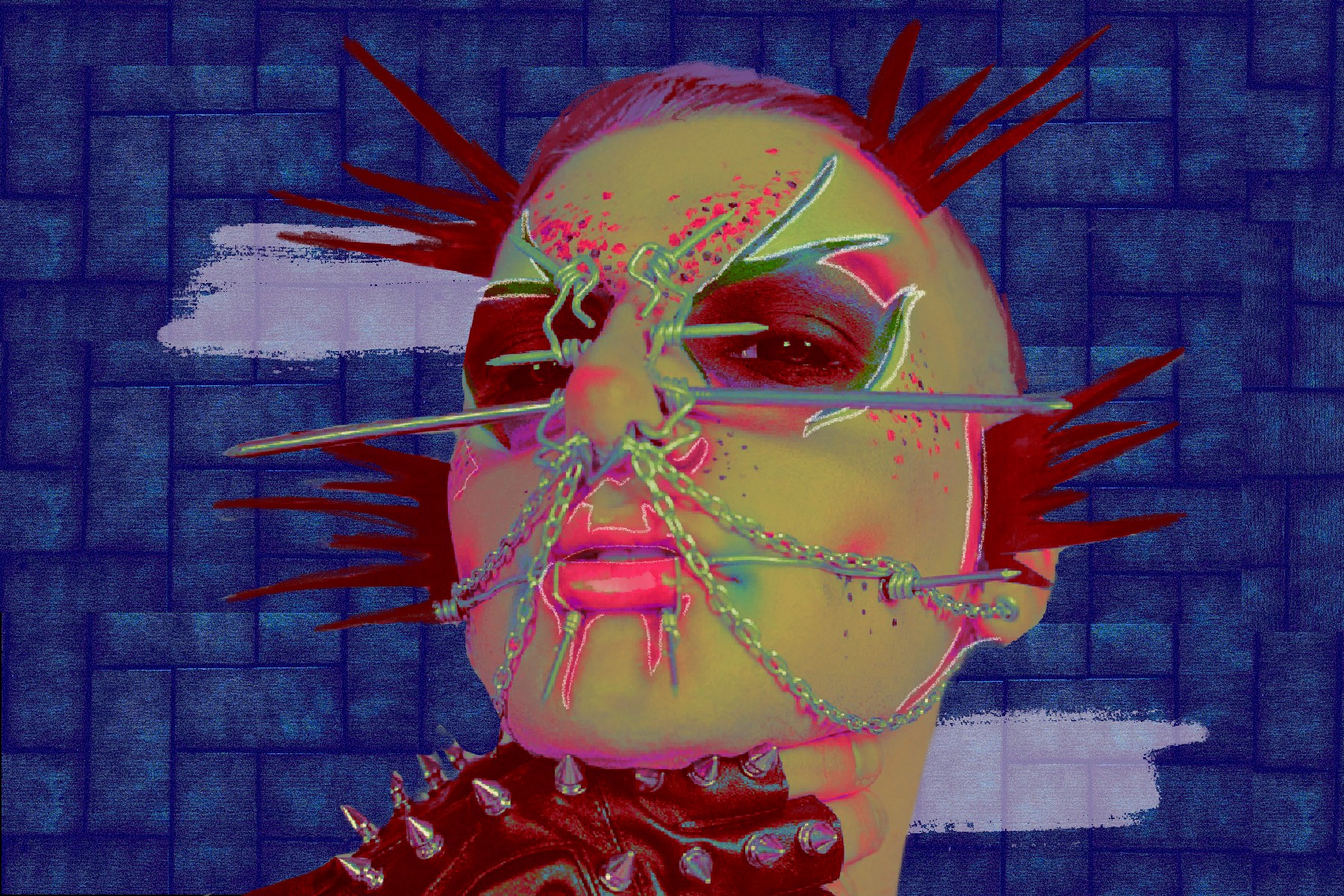 No-one's Little Girl
by Charlotte Banks | October 20, 2020
"This is a chord. This is another. This is a third. Now form a band."
So reads the infamous illustration in Sniffin' Glue. Punk came crashing into the UK in about
1976 and brought liberation for all, if by 'liberation' we mean commercial success, and if by 'all'
we mean white men. The punk revolution was a double-edged safety pin for women; despite
bringing greater artistic opportunities, it also exposed them to discrimination and violence. Only a handful made names for themselves, and even fewer managed to make their career last for more than a few years. It's time to rethink punk's legacy.
Did punk become so anti-establishment that they became the establishment? A little rebellion
was fine, but only as long as it wouldn't upset the men in charge. While audience members
reacted rapturously to The Clash, Buzzcocks and the Jam on the 'White Riot' Tour of 1977,
they booed and gobbed at The Slits. Hotel staff would monitor their activities
and they had to beg the tour manager daily to be let on the tour bus. A man once cut Shanne
Bradley of The Nipple Erectors' guitar strings to stop her from playing. X-Ray Spex were forced
to split up because their manager blocked everything they tried to do.; Poly Styrene believed it
was because she "was getting too big for him and he didn't like it."
For punk women, control over their art was an illusion. Even where women managed to gain
formal control, they were still heavily bound by prevailing norms about women's roles and
sexuality. Once again, the sexual liberation of the 60s appears only to have benefitted half of the population. Much of the punk uniform drew strongly from fetish wear: leather, safety pins, vinyl. The men were praised as being subversive, lauded as sex symbols and rewarded with groupies. Whether women made use of their sexuality or not, their sexuality would be used against them. The NME reported of Patti Smith that 'A lot of [her] problems
stem from youth and looks being conspicuous in their absence'. Conversely, if women were
openly sexual in the same way that men were, their music would not be taken seriously. As
Wendy O. Williams complained to Sounds, 'Our record company, the only pictures they are
interested in are with my tits…I'm proud of my body, I work out…but there's more much more to
The Plasmatics than my body…My body is just part of my whole attitude…'
The Slits, signed to Island Records, who offered them the most creative
control over their work, and tried for a middle ground. They chose for the cover of their
debut album a photo of themselves, topless, breasts covered in mud, – using their sexuality but
subverting expectations by using it in a way that was not designed to appeal to men.
One man tried to sue Island because of it, claiming he was so shocked to see
the image on a billboard that he crashed his car. The decision had an equally significant internal impact: the argument over the album cover was so divisive it caused drummer Palmolive to quit the band. Punk women's careers were defined, regulated, and ultimately ended, by their womanhood.
Later on, in the early 90s, women gained real control, when pioneers such as Kathleen Hanna
and Allison Wolfe started the Riot Grrrl network, with the aim of privileging women's place in
punk. It was not so much as a new scene, but rather a new way of organising the genre as a
whole. Doubling down on punk values of rebellion against the established order and a do-it-
yourself attitude, the music was self-released, zines were self-published, and those who had
previously felt excluded were encouraged to take centre stage. But Riot Grrrl was always too
counterculture for counterculture. In order to have control, they had to operate outside of the
mainstream, thus limit the extent of their cultural influence. They enforced a
media blackout in response to constant press misrepresentation, a measure which prevented
distortion but sectioned off their audience. What had been an attempt to change the power balance in punk became historically preserved as a brief subculture:, one which nevertheless
encouraged a generation of young women to pick up guitars, but failed to put a
significant dent in punk's misogynistic foundations.
'What I am about to tell you is a fairy tale and so it is constantly repeating"'*. Nancy Spungen's
legend surrounds her ill-fated relationship with the Sex Pistols' Sid Vicious. A bright but troubled
child, her mental health problems were ignored by doctors, or, worse, 'treated' with addictive
barbiturates. No surprise, then, that by the age of 16 she had become addicted to heroin. She
was punk's Yoko Ono, portrayed in the press as a bad influence on the Pistols, bringing
drugs and debauchery into the group, conveniently choosing to ignore Vicious' prior history of
drug abuse. The press called her 'nauseating Nancy', because of her aggressive behaviour, yet she was not the only 'Vicious' one in the relationship, suffering domestic violence from at the hands of her partner. When she died, from a single stab wound made by Vicious's knife, she was just 20 years old. Vicious was arrested. He admitted to her murder. He denied it. Virgin Records paid his $25,000 bail. He got another girlfriend. He assaulted Patti Smith's brother and was sent back to jail. His bail was paid again ($10,000, this time). As for Nancy? Reporters forced their way into the Spungen home, and left a newspaper on the floor, and called the police and accusing Nancy's grieving mother of stealing their property. Vivienne Westwood sold t-shirts bearing Vicious' face with the slogan: 'She's dead, I'm alive, I'm yours.' When Vicious died of an overdose, the NYPD dropped the
investigation into Spungen's death.
Spungen was no angel, but she did not deserve to suffer murder without justice: no one does.
Vicious' idol is built upon victim-blaming and erasure. Music historians and ardent fans still
romanticise the incident as a tale of star-crossed lovers, many denying his direct involvement,
hypothesising about a drug deal gone wrong or a botched double-suicide. Even
where they posit Vicious' guilt, he is portrayed as a man misunderstood, his 'shy' nature
emphasised, his crimes rationalised. The justification? His difficult childhood.
Women were necessary sacrifices for the men who had the power. The Slits' lead singer, 15
year-old Ari Up, was stabbed twice and was violently raped in the space of a year. After the
Pistols' grisly end, Malcolm McLaren went on to attempt to sell 13 year-old Annabella Lwin's
virginity to her bandmate in an attempt to unleash her 'sexual energy' to increase sales. The cycle is constantly repeating.
The punk scene of today is a lot safer. Punk acts can, and often do, voice their concerns about
the way women are treated. Yet the record deals, festival slots, and radio time are
overwhelmingly taken by men. This is not for a lack of women making music;. Wwhen trio
Dream Wife put out an open call for womxn support acts they received 433 submissions. Who
said says typical girls don't create? Where women are included, their existence within these
spaces is gendered, and they are often reduced to their gender in the press or sectioned off to
women-only spaces.
Today's male punk musicians also profit off of violence against women. On Shame's 'Visa
Vulture' they ask Theresa May if she feels "'exposed and dominated"' and describe putting their
"'chargrilled meat"' inside her "'butter-bread baps"'. Their first single, 'Gold Hole', which
graphically detailsing the sexual exploitation of a young woman in return for money, was
described by Pitchfork as "'a mix of Ian Dury cheek and the comical menace of Begbie from
Trainspotting"'. Sadly, the joke's on us. Hotel Lux's 'Daddy', sung from the perspective of a child
victim of sexual assault? "'Brutish, British realism"', according to underground stalwart So
Young. Women's representation in guitar magazines has consistently been that of sex objects, and female musicians face an inordinate amount number of death and rape threats online.
There have been countless allegations of sexual assault and harassment against different male
punk bands in the past few years, some with consequences, none investigated. The
cycle is constantly repeating.
How to break the circle? Don't stop listening to punk. If you cut out every genre built on violence
against women, you'd have nothing left to listen to. (Spoiler alert: every genre has a misogyny
problem). Punk was special for women in that it encouraged them to pick up instruments like
never before, but they faced unequal challenges in getting their combat boot in the door. In a
2009 interview, Ari Up lamented "'We were completely written out of history. We should be
known as the one of the top punk bands, not as just '"the girls'" or '"the girl band'." There was
the Sex Pistols, the Clash, and the Slits. That's how it was in 1976-1977."' History may be
written by victors, but the internet gives us the possibility to rip up the textbook like never before.
Seek out the women in your genre of choice, because they are always there: always making
music, always breaking boundaries. In an age of corporately curated playlists and ephemeral
one-hit wonders, there's nothing more punk than going against the grain.
Words by Charlotte Banks. Art by Jaimy Gail with modification and adaptation by Sasha LaCômbe