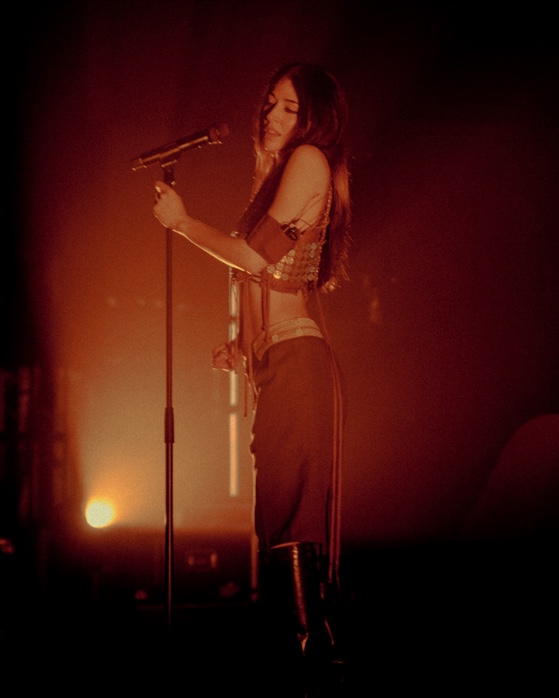 Review: Caroline Polachek's 'Desire, I Want To Turn Into You' at the O2
by Shaw Worth | February 25, 2023
Let me make a confession: I am a veteran Caroline Polachek fan. I remember receiving a text from a friend in 2019 – "the singer from Chairlift is making solo music?!" – with a link to 'So Hot You're Hurting My Feelings.' One infernal art-pop music video later, I was hooked. As the Pang album cycle unfolded, I was desperate to see her live, so when I heard that she was coming to Oxford (of all places), I was first in line. Hype, of course, can be treacherous. Big-name prices can lead to even bigger disappointments. Fortunately, I had no need to be worried.
Polachek has often been associated with the cohort of 'hyperpop' artists that have coalesced in the last ten years around the PC Music label: she has appeared on, and produced LPs by A. G. Cook, as well as Charli XCX, Felicita, and Danny Harle. For her Oxford performance, she seems to have passed this torch to her opener, Doss, whose hour-long DJ set is chock-full of dexterous, even ironic condensations of the last 20 years of pop. Strains of early EDM stock anthems (like Da Hool's 'Meet Her At The Loveparade') appear, but so do über-cool new releases (Yaeji's 'For Granted'). There are at least four hopefuls around me with their Shazams at the ready. We close with a time-stretched Madonna on 'Music', reminding us that 'music makes the people come together.' When it comes to Doss, it would seem she was right.
But it's time for the main event: an odd-shaped clock appears on the screen and begins a stadium-style countdown. The crowd is bellowing by the time we hit zero. From off-stage emerge the first glittering howls of 'Welcome To My Island.' Is she actually going to sing this stuff live? Can anyone? Yes. Out she bounds, looking like a Bronze Age Britney Spears (think chain mail crop-top, and enormous leather boots she claims she "stole from a pirate"), taking Martha Graham-esque poses, spinning around with joy. This is four days before the release of her second LP, Desire, I Want To Turn Into You – which has since been universally acclaimed, to the surprise of no one who was there that night). At the concert, Polachek declares her intent to perform the album in full, "with some roadstops." As it turned out, the audience's unfamiliarity with the music was no barrier to total amazement.
When it comes to Desire, eclectic is an understatement. We get blues organs ('Butterfly Net') and breakbeats ('Pretty Impossible') within fifteen minutes of each other. Later, there is a 'bagpipe' solo on 'Blood and Butter', which ultimately finds its home in 60s and 70s English psychedelia, magnificently realized by Matthew Horton on a flotilla of guitar pedals. At another point, he plays classical Spanish guitar ('Sunset'). Listening for the first time to a desperately beautiful song ostensibly about the Nebra Sky Disk (remember, I said Bronze Age – this is 'Hopedrunk Everasking'), I'm almost crying. To a detuned balalaika.
All this is knitted together by Polachek's voice, subject of much critical acclaim (I will spare you more praise; just listen.) It is worth noting, however, that she trained for ten years in bel canto, and even takes a minute to shout out Oxford's place in the history of medieval music. In other words, the vocal tradition that she comes from is narrative, not just technical. This is nowhere clearer than in her performance of 'Parachute' (from Pang), which, lyrically and musically, is perhaps the evening's sparsest moment. Alone on stage, static in a single spotlight, she wonders "What is this, pulling me back the other way? / To strip malls, highways, and treetops?." Pulling silvery melismas from the air, this is Polachek at her most compelling.
There's no single quality in Polachek's music that makes it so standout. Yes, her voice is singular, and her lyrics are enigmatic, and her showmanship is deeply considered, but all these may equally be said of your Björk, or Imogen Heap, or Jenny Hval, or whatever art-pop icon is chosen as comparison point (comparisons which, as Polachek herself pointed out on Twitter, demean everybody involved). At their core, tonight's songs are mostly love songs.  Polachek's mastery of them is akin to alchemy: she can pull us from the delirious horniness of an unrequited crush ('So Hot You're Hurting My Feelings') to transcendent spiritual contemplation following the death of a loved one ('Hopedrunk Everasking'). That is her magic, and that is why we are all so enraptured. I have been to very few gigs that have absorbed me so completely. (Moses Sumney, maybe, in a packed Islington Assembly Hall, or Beyoncé calling her fans to heel at Wembley in 2016). Nor do I have the impression – as with Queen Bey – that everyone in the room is a diehard fan. This feels like the last time we might see an artist of her stature in venues of this size. She'll be back in the country in May. Catch her show. I'm off to listen to the record again. ∎
Words by Shaw Worth. Photography by Ronan Park.