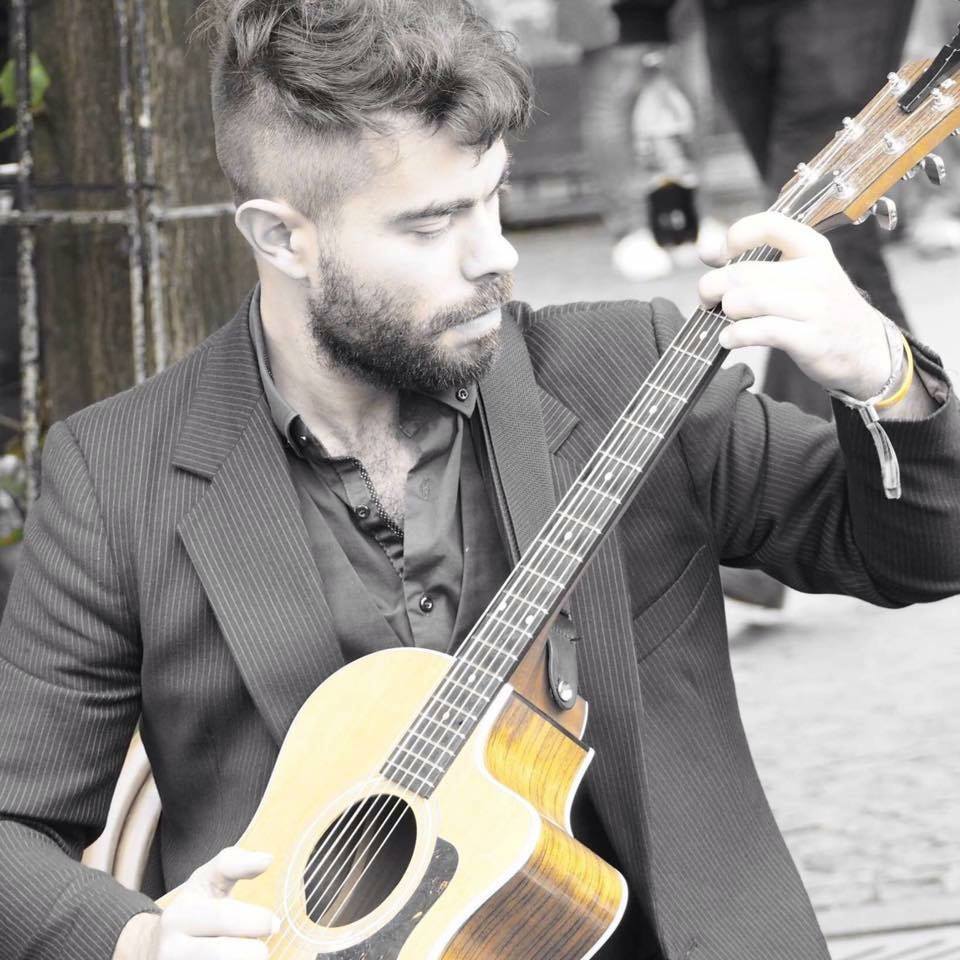 An interview with a travelling street musician
by Lev Crofts | April 14, 2017
Having left his native Canada three years ago, Matthew Lennox lives nomadically: couch surfing, busking, and travelling around Europe, India, Australia, the Americas, and even parts of the Middle East. Watching him play, surrounded by crowds of people smiling and holding up their cameras, you begin to get a sense of the passion that he pours into his music. He shakes his hair and beams an ecstatic smile as his hands dance over the strings between percussive slaps on his guitar, his feet speeding with pinpoint precision onto a grid of pedals. Every aspect of the song is played and written by him, using effects pedals to turn his steel-stringed acoustic into a bass guitar, hitting its body as a drum, beatboxing, and blending rhythm over lead guitar through his loop-pedal. Though his skill is obvious, the music has a beautiful simplicity to it; never over saturated with needless complexity:  "Sometimes you get caught up in addition, trying to improve your show by adding elements. Nowadays I realise that sometimes it's about addition by subtraction", he says.
It's remarkable how natural Lennox's path into his life as a travelling busker was. "I started writing at sixteen, spurred on by the realisation that the girls I had crushes on liked guys with musical abilities," he jokes, adding: "I quickly realised that my passion for music extended beyond the external impact it had on people, and more importantly, gave me the opportunity for self-development." After starting to write his own music Lennox found his artistic home in busking. "It was instantly a natural, addictive and incredible experience to me."
It strikes me how personal busking is for Matthew. For many street performers their only interaction with their audience lasts for ten seconds; often they are ignored. Yet when I mention this, he replies: "Really I'm doing this for myself, first and foremost. It's a symbiotic relationship with my listeners because without them I wouldn't be able to do it and I am eternally grateful. However, I wouldn't be doing it at all if I didn't love it."
Whilst his life as a travelling musician seems to embody a romantic ideal of the artist, he is realistic about the sacrifices he has had to make to pursue his love for music. Aged 22, Lennox left the security of a steady job, with a bi-monthly salary, to pursue music in Vancouver. "That was easy to give up and I've never looked back", he says, but starting his travelling lifestyle aged 26 meant surrendering even more: "Since then I've had to make increasingly difficult sacrifices to pursue deeper levels, quitting a band I had invested years into in order to be able to travel, and leaving my home of Vancouver, making conventional relationships that much more difficult. […] The biggest challenge has been losing a sense of community and familiarity that one establishes when one is stable. You have friends you can see all the time, you can date people and casually see where that goes without any pressure, and you have a home to return to at the end of the day." Despite these challenges, Matthew's love for his work prevails: "In the end, I believe it's worth it, because I'm creating something of value and lasting worth."
It is perhaps this sacrifice that feeds into Lennox's creative talent. In the title song of his latest album Do It For Love, Matthew mixes in smooth rhythm with energetic and increasingly fast-paced lead guitar. The music inspires the feelings of passion and perseverance that Lennox has displayed throughout his life, yet it is also tinged with complexity and pain.  "Do It For Love is an album about, well, following your heart," Lennox says, "but as much as I like to talk about following passions, I also try and be realistic about sacrifice. Everything of value has meant sacrifice and I think the idea that life is all sunny and peaches is quite one-dimensional. It's the pain that gives depth and meaning and value. The pleasure is just the end result—hopefully but not always. There are songs about heart break as well as unbridled love. There's songs about starting the journey as well as about changing paths on that journey. Really the album is just about what you want to derive from it—that's one reason I love instrumentalism!"
The lifestyle that Matthew Lennox leads can seem perfect on its surface: travelling the world with a guitar strapped to his back, stopping as he pleases to play for adoring crowds. Yet Do It For Love captures the complexity of his experience. Woven between the chords of ecstasy and joy are hints of the strife that he has lived through. Despite his loss and sacrifice, seeing him play on the street, with a wide grin on his face as passers-by listen and dance to his music, you know he wouldn't want to be anywhere else.
Matthew Lennox is an epic-folk-rock guitarist who combines traditional elements of flamenco, percussive guitar and fingerstyle with modern elements of guitar pedals and looping. You can find links to some of his music here:
Youtube: https://www.youtube.com/watch?v=Ds3PQW-WcAc
Spotify: https://play.spotify.com/artist/2BqutTlarph1w2r4643ntn
Facebook: https://www.facebook.com/MatthewLennox87/
Photo credit: Matthew Lennox