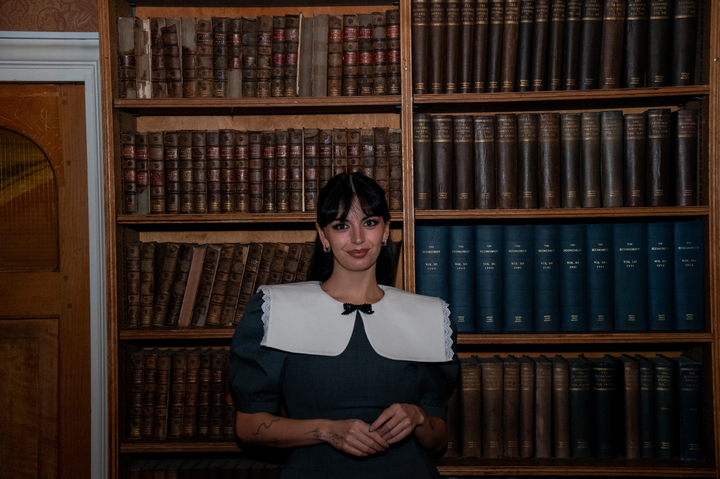 The Isis interviews Rebecca Black
by Seraphina Evans | March 23, 2023
"When you involve kids they will inevitably be exploited, because children can't consent to anything in terms of working hours or signing contracts or being liable for anything… because they're children". Rebecca Black faced just this challenge in the entertainment industry at the age of 13, when her song 'Friday' and its music video went viral after her parents bought her the recording experience as a gift. She came into contact with the darker elements of internet culture and the music industry very quickly.
It was a particularly unfortunate point in the internet's development to go viral, because trend cycles were slower-paced and "niched down" – her video was spread across the internet, and it remained that way for months. Before her recent Q&A at the Oxford Union, Black told me that shame was the main emotion she felt, calling it a "bone-curdling, soul-freezing experience". Nowadays, internet cycles are quicker, but does that make it a safer place for young people, especially young girls? Does it matter that the fact people now go viral and face mass cyberbullying for a few days rather than a few months? Black says not. She insists that we need to improve our approach to childhood and the internet: "for both society and parents… we can start asking ourselves, how do we make the internet truly appropriate for children? And how do we behave on the internet in a way that is mindful of the fact that literally everybody is on it and has access to it? I don't know if the answer is to shield children from the internet, because they're going to seek it out and find it anyways. I just hope that parents and adults continue to try to understand it and guide their kids through it, so they don't feel like they're going through it alone."
As a society, we haven't managed to make the internet a safer or kinder place since 2011. Black explains that one of the fundamental flaws of the internet is that it "lacks context", and that this was the source of many of her problems. 'Friday' was made by a teenage girl just trying out music for fun. She wasn't aiming for commercial success or to break into the music industry. But people didn't consider this – they didn't really think about the 'teenage girl' part either, she points out. Maybe they would have been kinder if they had. Black tells me that she had very little control in terms of the song and video, which was produced by ARK Music Factory: she didn't write the song, the rap verse was added without her input, and the music video was uploaded without her having a chance to review or edit it. Her complete lack of autonomy shows the harm that can be done when the music industry and the internet converge. She had lost control of her self-image – damaging at any time, but especially devastating for a 13-year-old.
Black is now a recording artist in her own right, as well as an anti-bullying campaigner. Her album, 'Let Her Burn', was released on February 9th 2023, 12 years after her first single and debut album. Black emphasises that everybody has something to contribute to the world – it took her a long time to realise she did after the 'Friday' ordeal. Her message is uplifting: "what you have to offer to the world is truly unique. Your point of view is just as interesting and just as worthy as anyone else's, and the world isn't complete without it. You are defined by nothing but what you choose to define yourself by." This album is her way of proving that contribution, with catchy lyrics and a hyper-pop sound influenced by artists such as Charli XCX and SOPHIE. The album is accompanied by music videos and a tour, of which Black has just completed the UK leg. After emerging remarkably well from such a difficult experience, she now calls this new time a highlight of her life.
But what about the wider internet culture and a new generation of young girls facing similar struggles? Black points out that the relative newness of the internet and its subsequent lack of regulation is an ongoing issue. "there are regulations in place in more traditional aspects, [but] I think with influencers and some aspects of the music industry those don't hold up, because they're still new. There have been landmark moments that have forced standards onto traditional entertainment industries, but those regulations don't exist for other media forms, so people will, unfortunately, take advantage of them." Black clearly sees a need for these regulations to be implemented, but she isn't hopeful they will come about organically. "I think the only way to get past this really strange place, where we have young women, kids and people of all different backgrounds coming forward and saying 'Hey, I've been exploited' is a landmark case, like what happened to Shirley Temple back in the day. It changed the way that regulations were set up." Black is an early example of a phenomenon that continues to happen. This is an ongoing issue of internet use and abuse, particularly for young girls. We can only hope that there don't have to be too many more Rebecca Blacks before real action is taken.
Words by Seraphina Evans.
Photography by Coco Cottam.