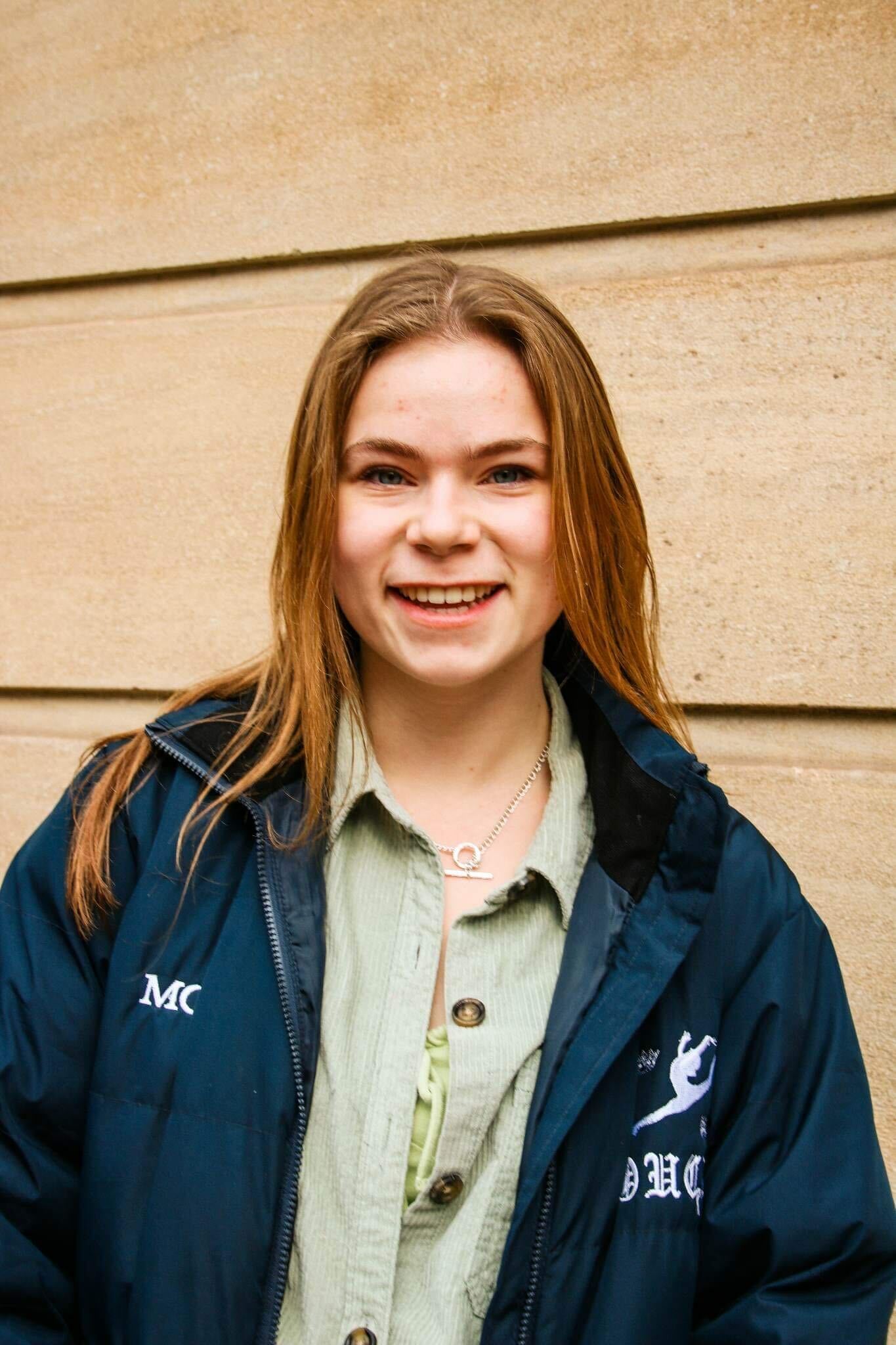 Artist of the Week: Miranda Conn
by IsisEd | February 13, 2023
Miranda Conn is a dancer and the President of Oxford University Contemporary Dance, who have just won Varsity 2023.
Tell us a bit about yourself.
Hi! I'm Miranda, a 2nd Year Maths & Computer Science student at Somerville. My degree is about as far from artsy as you can get, but I am also currently President of Oxford University Contemporary Dance (OUCD) – the University's Blues competitive dance team, for all genres bar Ballroom and Latin. Don't be fooled by the 'Contemporary' in our name, as we compete and perform in a whole range of styles, including Ballet, Tap, Jazz, Hiphop, Contemporary, Lyrical, Heels and Musical Theatre. Joining this team has been the best part of my Oxford experience so far. For 17 years now, I have danced multiple times a week, every week, and honestly couldn't imagine getting through my degree without dance helping me to combine exercise with creativity. Within the team, I have had the opportunity to perform in a Showcase of 30 dance pieces, compete at Varsity, perform at the Natural History Museum in London, as well as at three Oxford balls. Moreover, the reason these have been such memorable experiences, is that the audiences have absolutely loved every one of them – dance is an art for everyone, and there is no better feeling than hearing the audience appreciating your art just as much as you love creating it.
What's your artistic process like?
Choreographing a dance is very similar to creating a painting: we play with shapes, depth and stylistic features in the same way, so that the piece as a whole has a particular impact on the viewer. The most important question I always ask myself before starting is, how do I want the audience to feel once the music stops? This keeps my choreography focused – it's not just about making something that looks pretty, but instead designing something which impacts the audience precisely how you want it to. I take a lot of inspiration from the music, and what style or mood it alludes to. Personally, I like to watch videos of other dancers using the music, to see what their take on it was and compare it to mine. Throughout history, in good times and bad, dance has been used to let out emotion and just forget about the world for a while. This means that so many aspects of every culture have been carried across generations through dance, which is often a big source of inspiration for the movements we choose to use. There is also a more mathematical element to choreography, involving how you coordinate around 20 people in making shapes and formations which have an impressive effect, and how to use intricate rhythms to make the most of the music. Choreographing a dance can take anything from an hour to a month – it depends what your goal for it is and how much you are challenging your creativity. It often takes many, many iterations…we are regularly changing dances even the week before competitions! I love collaborating with another choreographer, because working with their movements prompts you to think of things you wouldn't naturally have thought of. Once choreography is done, the best part of the artistic process is actually performing it; working out what story you want to tell, and how you can use your body to do it.
What are you working on at the moment?
Our Annual Showcase! On 25th/26th Feb (end of 6th week) at St John's College Auditorium we will be performing a full dance show, with pieces in every style. It is such a fun show, and very high standard: we have a 5 time Tap World Champion on our team, a Ballet World Champion, and an entire team of dancers who have been trained to the highest level. Last year our show was enjoyed so much, that we had people messaging us this year asking when tickets would be out…so get your's now as we'd LOVE to have you in the audience! Check out our Instagram or Facebook @OUContemporaryDance for the ticket link (or go straight to Fixr: https://fixr.co/organiser/63301646).
And to keep us even busier this term, Varsity is two days away at time of writing! We are very excited, and are going in with a winning attitude. As I finish writing this sentence, I'm closing my laptop and heading to our final training session… We are also preparing for some ball performances, so keep your eyes peeled for us if you've got any tickets coming up!
Who are your biggest influences, and why? 
My old dance teachers, and the friends I grew up dancing with. They are the ones who shaped my entire view of what it means to dance, and what the whole point of it is. A lot of my choreographic tendencies are things that I have absorbed from them, which became very apparent when I came to Oxford and realised that some of the movements most natural to me, were things that others had never tried. There is something really lovely about choreographing a dance, and then tracing back where your inspiration for it came from, and realising it was probably from a dance you did 10 years ago in the local village hall next to your best friends.
Where can you see yourself going in the future? 
I don't plan on pursuing dance professionally, but I definitely won't be quitting it any time soon either. I hope that I keep going to dance classes for as long as I am healthy and able. I may even taken on some new styles; Ballroom and Latin have been on my agenda for a while. In any case, you don't need to be in a class to dance. There's a reason we all pile in to Park End on a Wednesday, and boogie the night away at every event Oxford has to offer. I genuinely believe that there are few purer forms of joy than just dancing around to music that you love with people that you love, and that, I will certainly keep doing for rest of my life. ∎
Photography by Coco Cottam.