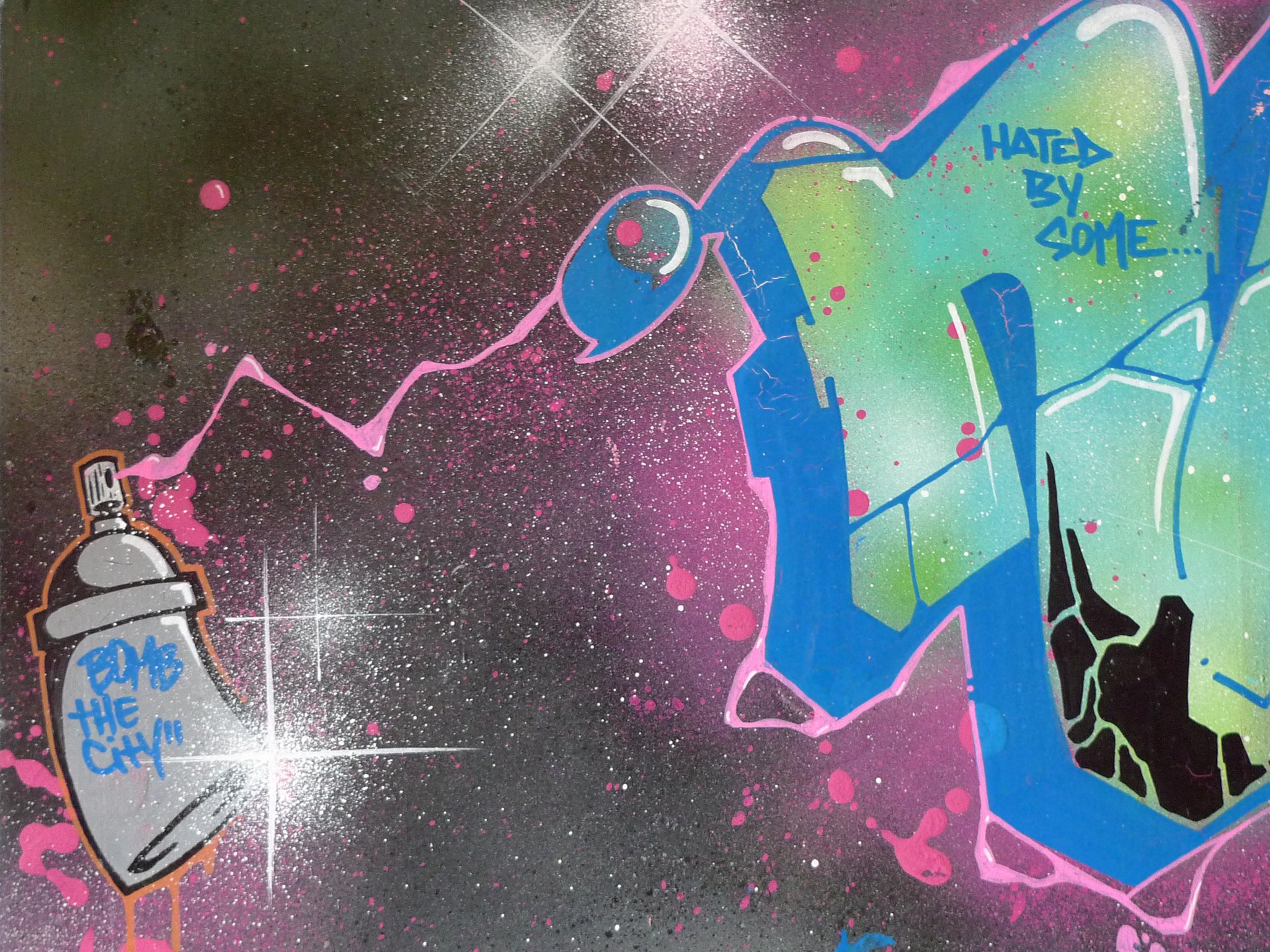 Save paper, write on walls
by Hannah Partos | July 26, 2011
As a copywriter at Publicis, one of the world's largest advertising agencies, Alexandre Hildebrand thinks up ideas to promote brands and their products. One of his proudest creations is a light-hearted campaign for the lottery: a group of outraged aristocrats taking graffiti lessons and spraying canvases with 'Non à Euromillions!'
Alex knows more about graffiti than most advertising executives. It's something he's been doing himself for over 20 years. Away from his respectable day job, he spends his nights creeping about Paris in a hoodie and dodging police cars; in this alternative world, he is known as 'Nasty'. Having first made his name on the scene in the late 80s, he's now something of an institution in French graffiti and – like many other 'graffeurs' from the first wave of the movement – a darling of the art world, with several exhibitions under his belt and a documentary produced about his work. Last May he was commissioned by one of the Paris town councils to construct a graffiti version of the Déclaration des Droits de l'Homme, while schoolchildren observed and drew sketches. This was quite a change from Alex's previous encounters with the authorities, which tended to involve angry phone calls to his parents and nights spent in police cells.
Visiting his apartment is like stepping inside a museum, with strips of canvases bearing tags in a rainbow of colours, some in classic graffiti lettering, others calligraphy-style. There are a few stolen signs and plaques, all a product of his latest 4am outing in the metro.
If his art is good, his self-publicity strategy is impeccable. While in person he's instantly likeable – unreserved, warm and awkwardly funny – he plays a different game when it comes to interview. I lose count of the number of times we agree on a time slot, only to be informed of his last minute cancellation. You get the impression he's trying to capitalise on his cult status by being simultaneously available and elusive. It's hard to tell how much of this is calculated; to what degree he sees himself as a brand to be promoted, and at the same time, whether that's an inevitable part of the vision shared by every graffiti artist who wants to get their tag on every single surface of their city. After all, it's a dream of fame and glory they're chasing. Without that reward, producing graffiti can be a thankless task – the average new tagger makes no money and risks getting arrested, as well as running into all kinds of physical dangers.
Being a successful ad man and a graffiti artist shouldn't add up. Since vandalism underlies everything the graffeur does, graffiti is often associated with counterculture and challenging the establishment. Tags originated in late 1960s New York, springing up in deprived communities like the South Bronx which had been divided up and ghettoised as a result of the enormous building development drives of the 50s. In today's burgeoning street art scene, where Banksy has become par for the course, tagging is often looked down on as a cruder form of expression. But for a teenager growing up broke on a neglected housing estate, writing their name was a way to take possession of a city which lay beyond their control, to assert their voice and leave their own mark, whilst also adding some colour to a concrete setting. You could own nothing but still be the King of your subway line.
While Nasty is a major influence on many younger artists, Alex certainly has his fair share of detractors, who see him as something of a renegade figure: laying claim to an essentially anarchistic movement one day and making huge profits for multinationals the next.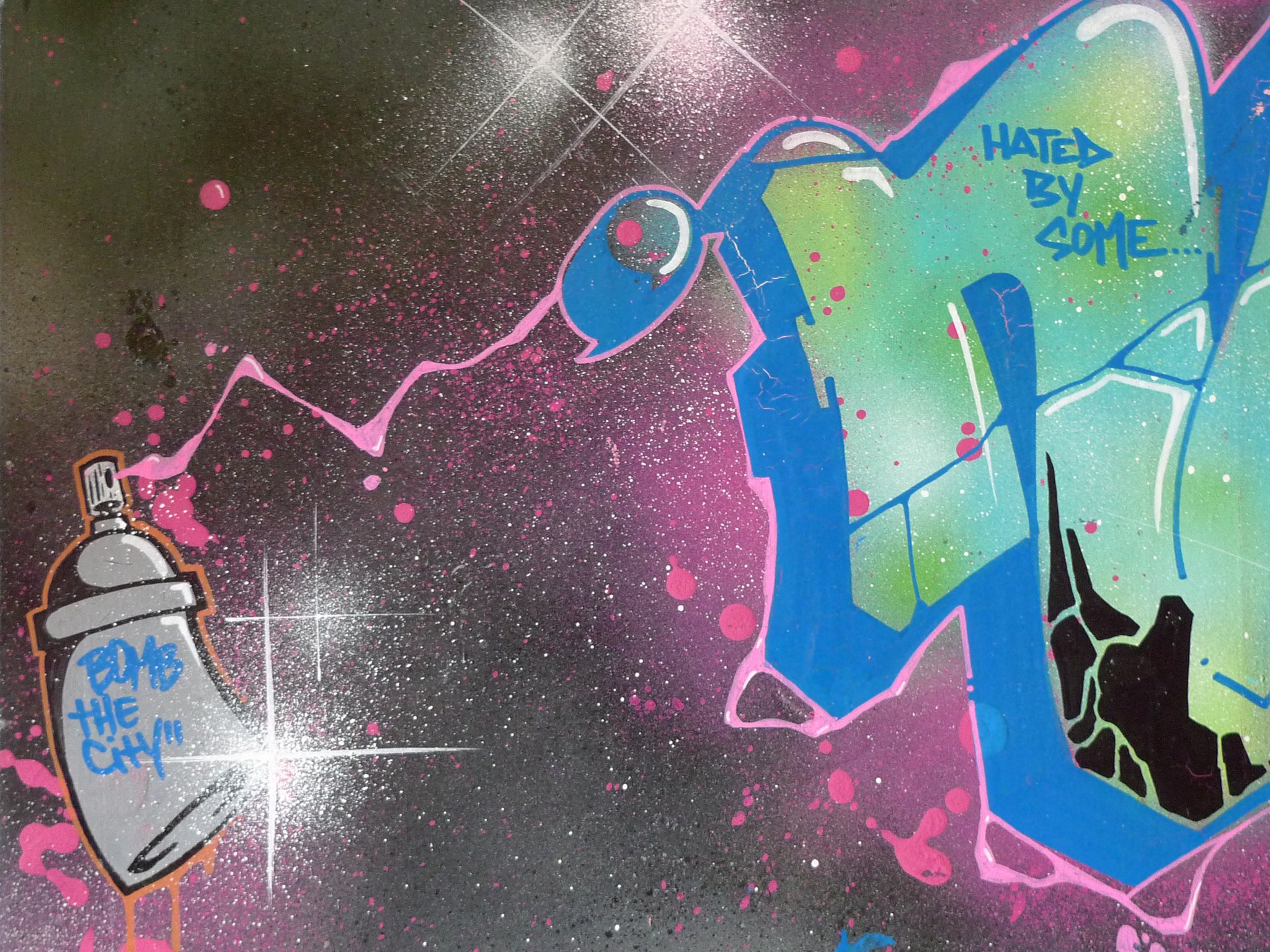 He laughs off any suggestion that he's been unfaithful. "I never wanted to criticise the system, I wanted to play with colours. Graffiti's the art of letters, there's nothing political to that." Why go to all the extra trouble of breaking the law? "Anyone can paint on a canvas or do a sketch in a studio. A wall's better. Anyway, no one really writes messages, you write your name. All it means is 'I'm free to write.' That's all. It's not a great message. You're not going to change the world."
Graffiti and advertising are one and the same for him: "One is legal, the other isn't. That's the only difference. It's what I do, I post stuff on walls. Graffiti's a form of advertising where you are the product. You're like a brand. You want to be known, you want to be everywhere. You use the same tools – the walls, the town, the metro." He sees his younger years bombing trains as a kind of apprenticeship for his future career: "You learn where the good spots are, you're more aware of the city. Why did a kid in New York decide to tag a train one day? Because it crosses the town, so everyone will see their name."
I notice a metro plaque leaning against the wall. The station name has been obscured by his tag so it reads Porte de Nasty. Alex pauses. "That one will probably go for around €4,000." Does he have any qualms about selling graffiti to wealthy collectors? "I can't complain, it helps pay my rent!" He shrugs. '"I suppose it's a bit paradoxical, the rich people who buy my work wouldn't like it if I tagged their doors, but they want to be a bit edgy, own a genuine Nasty, have a fragment of the city. Anyway, it's the bourgeoisie that make art exist, especially with graffiti. It began in New York, but in those days, with no internet, it was the kids with money who travelled, and brought it back to France." I ask him about his exhibitions. One of his slogans translates as "I'd rather be a star in the street than some crap in a museum." "But I wrote that 15 years ago! And anyway," he grins. "I was a star in the street."