The Last Dinner Party: you are cordially invited to tone it up
by Flora Bigham | May 16, 2023
The Last Dinner Party have only released one single and yet they've supported the Rolling Stones at Hyde Park, played a sold-out show at Camden Assembly and are performing on the Woodsies (fka John Peel) stage at Glastonbury, shared with Christine and the Queens, Rina Sawayama and many more. How is this possible? In an age of social media-hyped singles and TikTok-focused tunes, The Last Dinner Party have defied such a trajectory. It seems to have worked.
The band formed at university. Georgia Davies (bass), Lizzie Mayland (guitar and backing vocals) and Abigail Morris (lead vocals) met during freshers' week, immediately bonding over their love of music. I managed to catch a few of them for a quick chat earlier in the week (they have a busy schedule), and Abigail elaborated: "We built our friendship on going to gigs every single week and being obsessed with the music scene in London…the three of us didn't study music, but we studied music". They later met Emily Roberts (guitar and flute) and Aurora Nischevi (keys) through mutual friends. Part of London's appeal was its exciting music scene, centred around The Windmill in Brixton: "We wanted to be part of that – this very specific community that you can imagine being talked about in the future".
The band have followed an unusually traditional career path, as they started out playing live shows, only releasing their debut single in mid-April this year. Why did they choose this approach when it seems that if you're lucky, social media can be so lucrative and bring meteoric rises to previously unheard-of acts? "I think because we all enjoy seeing live music," Lizzie commented. "That's what was so exciting about being in a band; the big pull was to perform and play gigs and meet people. That's still our favourite part – it's so fun".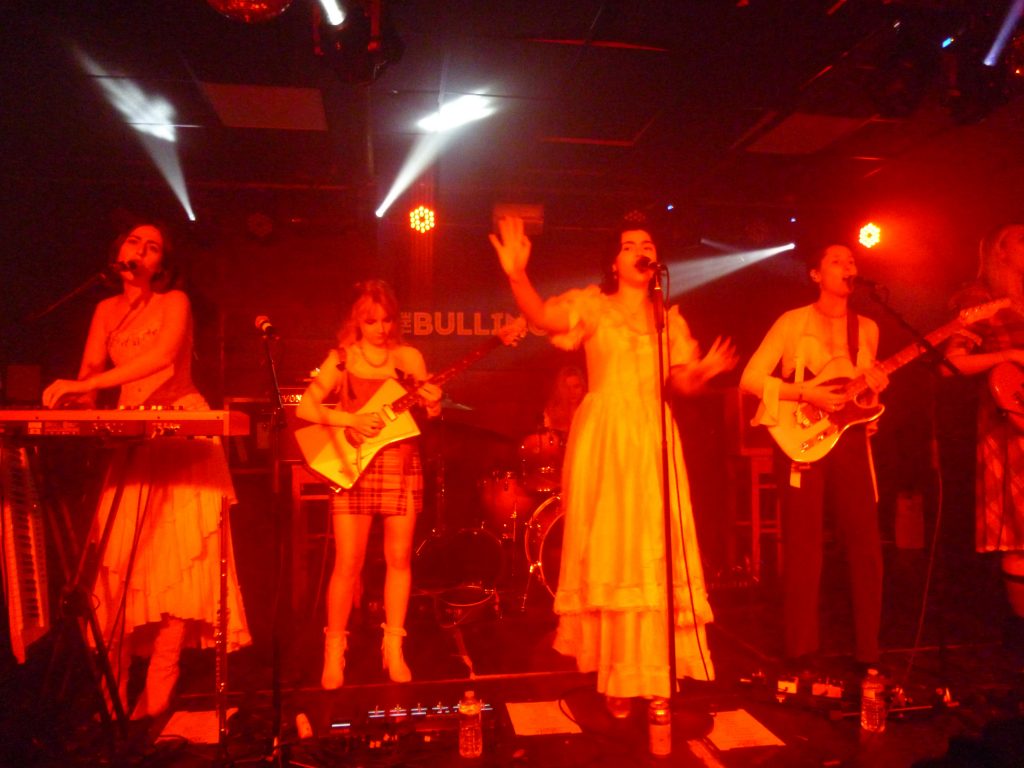 Their shows are notable for their theatrical, Victorian-gothic aesthetic; as they don corsets, lace ball gowns, Vivienne Westwood tartan and pearly makeup. This seeps into the crowd, with the band even setting a dress code (not required but strongly advised, according to their Instagram) for their sold-out Camden Assembly gig, titled 'A Night At The Opera 2023', which encouraged a plethora of mirth, merriment, opulence, ballet-sleaze and more. Is there a sense of escapism they are aiming to cultivate through their shows, as they create their own little world? "Escape isn't entirely the right word because it's more of a running towards than a running away or a hiding", Abigail begins. "It's more of a full realisation of the Platonic form of ourselves. I think when we dress up and go on stage, we're not putting on an act, we're not playing characters, we're just the heightened versions of ourselves that we want to be. The world-building of that is incredibly important to us and it has been from the beginning. Before we even started playing, we thought about the visuals, how we wanted to look, how we wanted to feel – because it's fun. We want other people to come to our shows and feel like, 'Oh, I'm going to a Last Dinner Party gig, this is an opportunity for me to dress up'. If people find a sense of escapism in our live shows, then I think that's incredible as well – being able to escape from feeling social pressures. At our last gig, we set a dress code and so many people came in their ball gowns, feather boas and opera gloves. There's a sense of escapism in that sense of the word, escaping from feeling any pressure to conform because you can just be whoever you want to be. It's freedom."
I wondered whether this image was part of a gradual process, perhaps cultivated by discerning promoters, or something they were genuinely committed to from the outset. "We've been ambitious from the start…delusionally so", Abigail comments said. "Our confidence comes from having a strong sense of self and of what we want to achieve. Believing in ourselves from the beginning and not thinking we should tone it down or try something easier or compromise this vision because we're worried we won't be able to pull it off. We had a very strong sense of the aesthetic that we wanted and the world we wanted to build from before we even started rehearsing. Obviously, it's evolved, and it will continue to evolve – we won't be the same when we get around to album two, but we set out with a very strong and realised vision…there was never any kind of trying to tone it down, it was always: give it 100%. Tone it up! Tone it up! Tone it up!"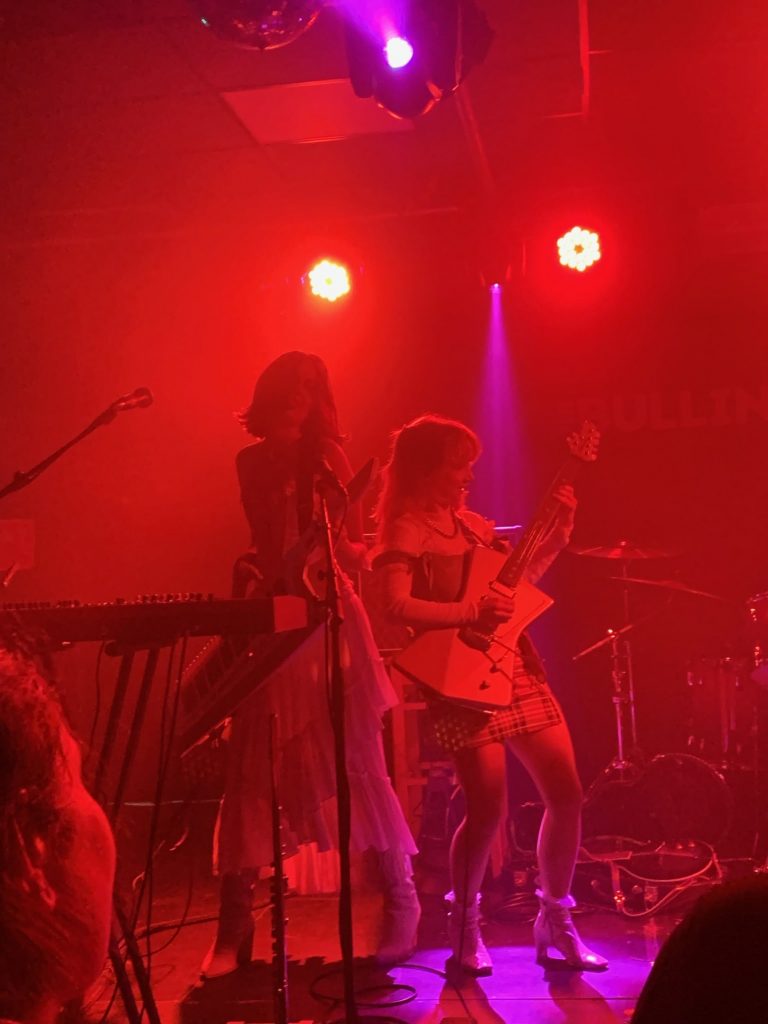 I wanted to delve a bit more into their songwriting process. As they seem so centred around live performance, I wondered if they were conscious of this whilst writing. But, for Abigail at least, the process begins on the piano and "it has to be incredibly insular. I can't think about how people are going to perceive it, or if people are going to like it, because then that gets in my head and is quite damaging. The process is pure catharsis and emotion and highly personal." Once the band starts rehearsing and playing new material, "everyone comes in and adds, and that's when we start thinking 'this is going to build here' and 'this bit's more of a sing-along moment' and 'let's do a five-part harmony'. We don't write to try and impress anyone other than ourselves, we just work to make something the five of us are obsessed with and then we start considering [the live element]".
Their single 'Nothing Matters' began as a piano ballad, and "as we started working on it, it transformed into this euphoric, bombastic thing", Abigail notes. Aurora is classically trained, having studied at the Guildhall School of Music and Drama. She wrote and arranged "huge horn and string parts" and then Emily, also at Guildhall, added her guitar solo which "transformed it into a real beast from this quite soft piano ballad". The lyrics are both tender and rough, from 'a sailor and a nightingale dancing in convertibles' to asserting 'I will fuck you like nothing matters', which Abigail believes was "not superconscious, but just happened because I was trying to write the most honest, purest love song that I could, which would then have to include stuff that's incredibly tender, sweet and delicate. Sometimes saying "fuck" is the only way you can express some passion. I wanted an honest, raw, carnal expression of love. I find it hard to write love songs from a place of happiness and peace, which I was in at the time, it's a lot easier to write about turmoil and heartbreak, and so I wanted to do my then relationship justice by including all the beautiful and ugly parts of it." This range of delicate and harsh, turmoil and euphoria, are what future releases promise. "It's about a dynamic range of emotions, but all of them experienced intensely – emotional ecstasy. That includes pain and joy, and not shying away from either of them. Finding joy in just being alive and feeling every emotion so deeply is what to expect from the rest of the album," Abigail states – not only lyrically but musically. The string parts are "tender but also savage" Georgia elaborates, opening a "cinematic" and "theatrical" sonic world: "If the music could speak, it would be saying the same things as the lyrics".
As the interview draws to a close, I ask if they have any advice, particularly to young musicians wanting to enter the industry: "Go to gigs, be curious, be open, be interested" Abigail responds. "Take on every opportunity that comes your way while you're getting started, because there's nothing better than playing live to get you out there. You can put out songs on SoundCloud or Spotify and a few people will hear them, but if you're out there on stage, night after night, you're getting in front of so many new people who will then come to the next one and the next one. Play as many gigs as you can and go to as many gigs as you can", Georgia encourages. Abigail adds: "Knock on every door. Before this band, I was going around London for about a year, dragging my piano around to any venue that would have me, playing for about five people, which is so valuable. Playing live is the way to go." I wrap up with a check-in on what they've last listened to: Sufjan Stevens, Nine Inch Nails, Johnny Cash and Jerry Lee Lewis.
The band has received much attention in recent weeks, dubbed "the best new band you haven't heard yet" by NME. Their recent (and only) single, 'Nothing Matters', has been described as "unstoppable" by Clash. All this focus has led to online anger, with Twitter users writing them off as 'industry plants' and 'nepo babies'. They are experiencing, it seems, a similar response to Wet Leg, the indie rock band that exploded onto the music scene in 2021. Jessie Thompson wrote in The Spectator that this obsession with authenticity "exposes a strange double standard in music", with female musicians having to defend themselves for finding success. These conversations unjustly overshadow what's so great about this band: their music and shows.
Walking into the packed Bullingdon on Friday evening I felt slightly apprehensive – would they live up to the hype? I chatted to a few audience members, wondering how they had heard of the band, and for all the focus on live performance, it seems the power of social media is ever-present. Kate had seen art critic Robert Diament praising them on Instagram and, coupled with knowledge of their sold-out London show, thought it was a must-watch. Other concertgoers Dela and Karina loved clips they had seen on Instagram. Jane had seen them at Wilderness festival and was so captivated that she wanted to see them again.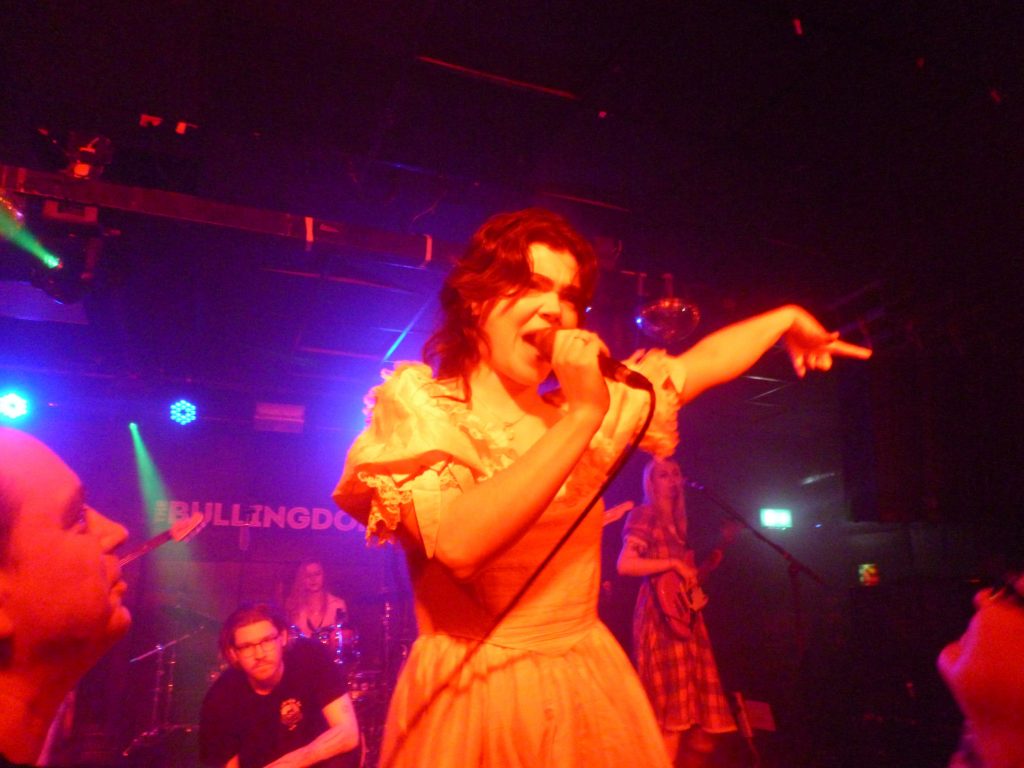 The lights dimmed as a sweeping orchestral arrangement blasted through the speakers. The band jumped on stage, dressed in all their regalia: ball gown meets Bullingdon. Classical tones morphed into upbeat percussion as Abigail's Kate Bush-esque vocals filled the room. While the set started slightly apprehensively (there was a briefly awkward moment as one song finished but the audience weren't sure when to clap), confidence grew, as did the audience's rapture. What followed were songs taking inspiration from Siouxsie and the Banshees, Queen, and Florence Welsh, which mused on female identity, regret, and 'dark-red liquor'. Their presence on stage was dramatic, intense, and thrilling. At various points throughout the evening, Abigail moved closer to the barrier, towering above us and surrounded in coloured light like some Messianic figure bringing us salvation as she sang "before it felt like a sin". A highlight was a song introduced by Aurora, in which she reflected on her Albanian identity. The band came together as the room reverberated with strong, lush, five-part vocal harmonies. The set ended with the dynamic 'Nothing Matters' with a haunting guitar solo. Everybody sang along, basking in the final moments of elation and melodrama.
The Last Dinner Party's focus on performance is refreshing in an age of TikTok and Instagram reel-oriented hits. Their show at the Bullingdon was enthralling. It captured the emotional ecstasy of their songs, it was theatrical, passionate, and most importantly, fun. I agree with Abigail: "Tone it up!".
Words by Flora Bigham.
Photography by Flora Bigham and Caitlin Smith.