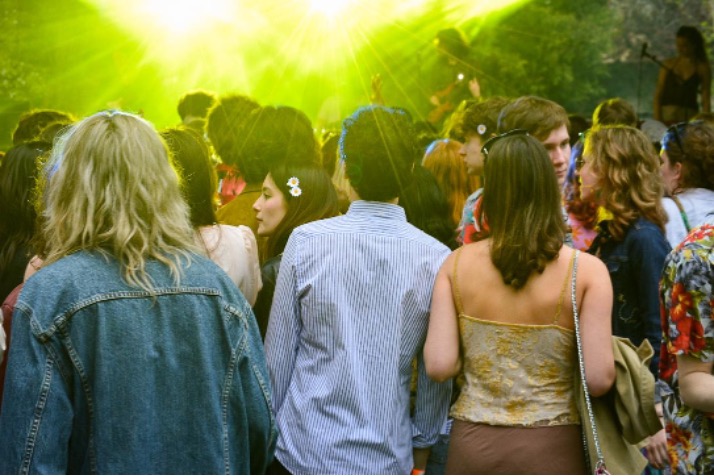 'Stock Till You Drop
by isised | May 5, 2023
There's something a little carnivalesque about an Oxford college putting on a music festival. For a single day, Wadham takes Woodstock; straight-laced Oxford students become free spirits, transported away from Parks Road into a nostalgic reimagining of the summer of '69. It's all quite funny — and it's very good fun.
A university festival has a special sense of cameraderie, partly because the performers are all students too. Electric Shepherd's energetic lead singer, Ellie Welbourn, had finished her finals the previous day, and now ditched her sub fusc for a graphic shirt, velvet trousers, and a lot of head banging. Many bands stuck around for the length of the festival to support friends and enjoy the night. Performers and crowd blend together freely: there's an inescapable sense that the crowd are putting on a performance too, a visual spectacle complete with the elaborate costumes we've documented here. Even the festival's activities, from face-painting to Wadham-branded temporary tattoos, hint that part of Wadstock's appeal is about self-decoration, about trying on different identities. Between the fairy-lit Fellows' Garden and the enthusiastic smoke effects on the main stage, it was tempting to document the whole night: alongside the several professional photographers, film cameras were out everywhere.
Bucket hats, bright graphic prints, kooky sunglasses: this kind of dressing up is heavily nostalgic. It might be a proper Woodstock tribute, a Daisy Jones & the Six-style 70s revival; or just a throwback to the GCSE-summer festival experience (of equal cultural importance). Long skirts, Hawaiian shirts, loose and airy: perhaps all Oxford students need is to dress themselves into a more chilled-out state of mind.
Woodstock nostalgia carried over into the music, golden hour arriving with soulful tunes from BUTTER, complete with a viola, cello, flute, and tambourine. A soundtrack of noughties rock anthems from The Carnations, DJ Meal Deal's drum and bass infused mixes of Britney Spears and The Spice Girls, blazing brass from Rough Edge; and Charlotte and the Wine Mums hit a nerve with their 90s grunge aesthetic. During their encore of 'Smells Like Teen Spirit', bras were thrown onto the stage and barriers fell. Who knew we were capable of such chaos?
Over 850 people attended Wadstock, but there was still a folksy sense of intimacy around the antechapel and the smaller acoustic stage: the six-piece "funky folk" group Quest For Folk attracted a crowd of supporters who sat around the acoustic tent like children during story-time. Peripheral listeners teetered in and twirled out into dance circles (and a spontaneous Hokey Cokey was struck up at around 4pm, perhaps warming up for street dances on May Morning).
Acoustic headliner Thea Ralph reflected on the catharsis of hearing everyone scream along to her cover of Billie Eilish's 'Happier Than Ever', an experience she "would definitely recommend as an alternative if the university counselling service is being slow getting back to anyone else". While she noted the pervasive sense of escapism at the festival, Ralph celebrated the fact that "things like Wadstock are part of Oxford uni life – great experiences exist here, alongside the stressful ones. As someone who's about to leave Oxford and is sad about it, I fear I'll be properly "escaping" Oxford life all too soon. In the meantime, I'm taking part in as many aspects of it as possible."
By the time the main headliner, Dot's Funk Odyssey, finally took the stage, the band members just as excited as the sweaty, jubilant audience, the crowd had literally 'stocked till they dropped. Somewhere beyond the fairy lights that gilded Wadham's grounds lurked the echoes of an essay crisis, the groans of a hangover – and, of course, the summons of an Isis Features deadline. But Wadstock is nothing if not an exercise in escapism. Amid the euphoria of batting a beach ball back and forth with the other shoulder-riding festival goers, swaying to the beat of 'Free Nelson Mandela', all these things belonged to another world.
Words by Charlotte Slater, Flora Bigham and Imee Marriott. Photography by Imee Marriott.