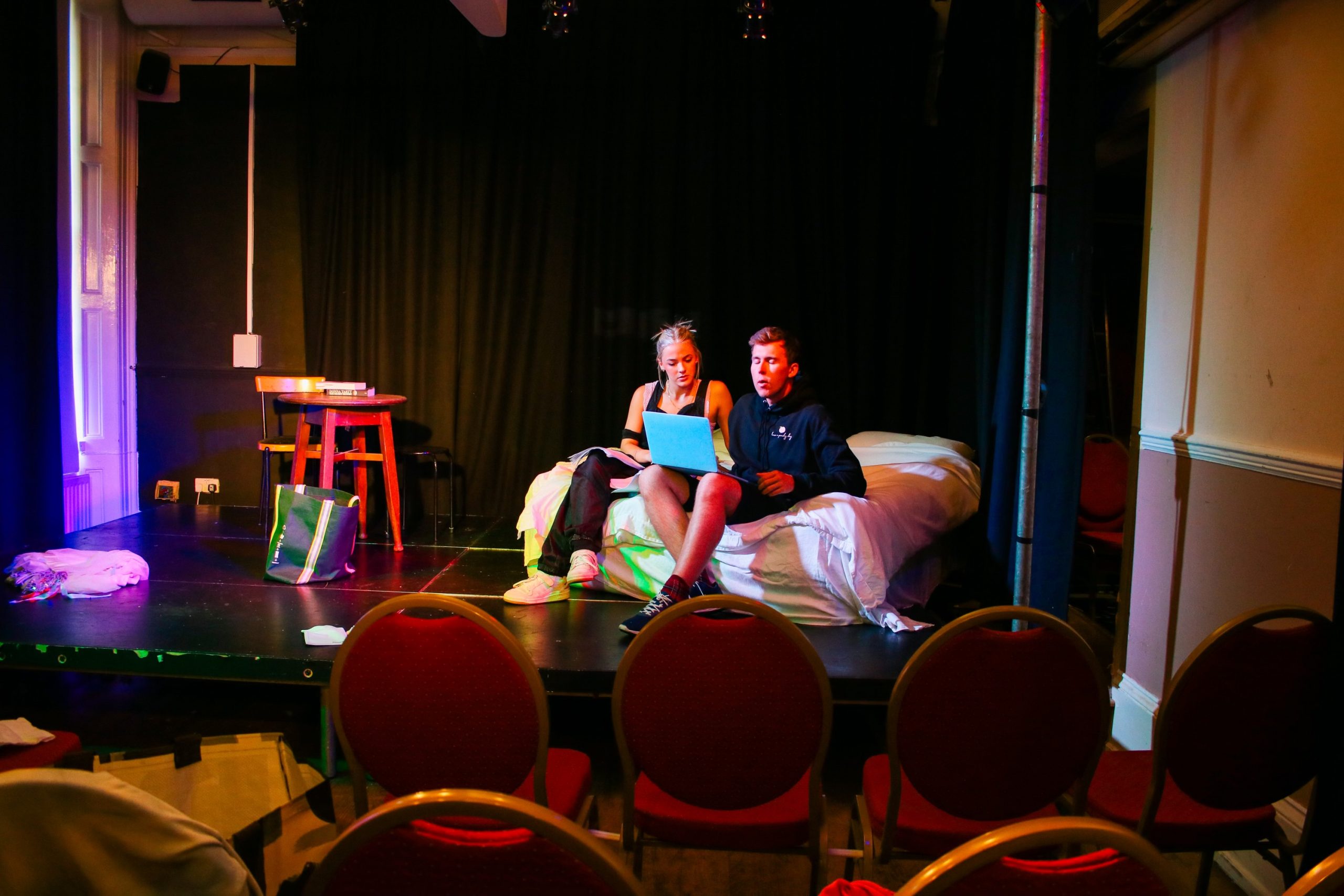 OUDS takes the Fringe
by James Newbery | August 3, 2023
Former OUDS President and current Peach Productions producer James Newbery walks us through the process of taking a show to the Edinburgh Fringe in the first part of an ongoing series.
So, you want to take a show to the Edinburgh Fringe? The prospect of taking a production to the world's largest performing arts festival may seem daunting, but you'll be following in the footsteps of countless Oxford students who have done so in the past. Like them, I've relied on the opportunities and resources the Oxford drama community offers to take my first show to the Fringe as a producer: Wishbone (6th-12th August) by Coco Cottam.
STEP ONE: CREATE A SHOW.
It may sound obvious, but deciding exactly what you want to take to Edinburgh is perhaps one of the hardest stages of the process. You may be looking to resurrect a show which has already proved a success in Oxford. Peach Productions is reviving Wishbone after a sold-out run at the small-scale Burton Taylor studio – in a similar way to Green Sun Productions' Tartuffe, Love Song Productions' Sing, River and The Better Craftsmen's Cruelty! Having said this, many people create from scratch for the festival. Honourable mentions include Echoes of Paris (Sanglots Theatre), How To Become Ridiculously Well-Read and Goya Theatre Company (alumni theatre company who graduated in 2021). Whilst the Fringe incurs higher production costs than Oxford, don't let this deter you from using the festival as a brilliant springboard for testing out ideas, works in progress and taking creative risks. Most audiences in Edinburgh don't expect your show to be 100% polished, and this might be the platform to launch your career in the industry: after all, it famously worked for Phoebe Waller Bridge when she took a (then) little known play called Fleabag to the Fringe.
My best advice? Work out how your show can stand out. Practice summarising your show in ten words – if you can condense its essence into a compelling elevator pitch, you know you're onto something. Additionally, a catchy title may do a lot of the legwork for you –some of my personal favourites include Cowboys and Lesbians, Are We All in A Cult?, and Mansfield alumnus Sam Spenser's Why I Hate My Penis.
STEP TWO: FIND A VENUE AND REGISTER.
Registering your show and securing a venue is a process best started early in the year – most people usually secure a venue by February or March. Popular venue choices include Greenside Studios, theSpace and C Venues, which are well-equipped to deal with those new to the Fringe, though its necessary to check the space matches your show's technical requirements. Most of these theatres operate on a first-come-first-serve basis – so get in there early to avoid disappointment!
Runs at the more prestigious Summerhall or Pleasance are possible for student theatre companies, but often want shows which will run for the entirety of August, and are a little more professional in tone. Hence they have higher expectations in terms of ticket sales and the quality of your marketing campaign. As soon as you have secured the venue, make sure you register through the official Edinburgh Fringe website before the deadline in March. The cost this involves ensures your show is in their brochure and on the website.
The 'Wishbone' crew at rehearsal.
STEP THREE: FIND ACCOMODATION AND START THE RAISE.
Now for the sad reality. Taking a show to the Edinburgh Fringe is expensive: it can cost anywhere in the region of £2k-6k. But fear not! Oxford is well-equipped to financially support production companies so that no one has to invest any personal funds. You can apply for loans from OUDS, as well as grants from CMDF (Cameron Mackintosh Drama Fund). Details about these sorts of applications are on the OUDS website (ouds.org), or you can email [email protected] with any queries. My best advice is to make sure you keep track of all the funding deadlines.
Another way to raise funds? Put on a run of your show at the Burton Taylor Studio, Michael Pilch Studio or a London pub theatre prior to the Fringe. You can reinvest the profits of these performances into your Fringe efforts, which will help alleviate some financial pressure. Peach Productions have recently done this, selling out performances of By Proxy (Burton Taylor Studio), Every Brilliant Thing and Hedda Gabbler (Michael Pilch Studio), and a preview of Wishbone (Bread and Roses Theatre, Clapham). You will normally need some money already in the bank account to pay for venue/accommodation deposits, which is where previous production company profits can come in useful. You might (if you're lucky) be able to persuade other production companies to give you bridging loans if you don't have any $$ in your production company account!
Finding affordable accommodation is one of the hardest parts of taking a show to the Edinburgh Fringe. I would recommend joining all the Facebook groups for Edinburgh University student accommodation, and asking around to see if anyone has friends of friends who are willing to sublet their student house in Edinburgh to your production company. Once you register your show, you will also get access to an accommodation section on the Fringe website specifically for performers at the Festival. Good value accommodation will normally cost a production company anywhere between £500 to £1500. Start looking early, but don't panic – there are still places available even days before the festival starts.
STEP FOUR: PUT THE SHOW TOGETHER AND MARKET!
Before you put the show together, assemble a team. Work out who you'll need – as well as a writer and director, you'll want a techie who can programme lights, and it's often useful to have a producer to oversee the marketing, logistics, and financials of the production. If you're not carrying a cast over from the original Oxford run, check out the most recent OUDS Audition Guidelines about how to go about the casting process. Then you need to think about when you are going to rehearse. It's a good idea to start rehearsals in Trinity, so you can avoid paying for rehearsal spaces during the summer vacation. If you do decide to go for a summer rehearsal bootcamp, look into CMDF grants for Vac Res, which help cover some of the costs of college accommodation for students who are rehearsing over the holidays.
As for marketing – go crazy! It's very true that Edinburgh Fringe runs off Twitter, so make sure your production company has a Twitter account, as well as Facebook and Instagram accounts. As well as the traditional flyers and posters, consider buying some stash (T-shirts, hoodies) for your cast and crew to wear around Edinburgh to help increase your brand visibility when flyering on the Edinburgh Mile. You might want to create a trailer and organise photoshoots – ensure that your images and logos remain consistent across your posts. Depending on your ambition, you can consider hiring an external PR company such as Chloé Nelkin PR to help invite reviewers to your shows and increase your broader Press Coverage.
STEP FIVE: ENJOY THE FESTIVAL!!
Remember to have fun. It's very easy to get caught up in the excitement and stress of the festival. Go out, see shows with friends, go to the pub, go clubbing. Exercise. Eat well. Breathe. Taking a show to Edinburgh is a time-consuming project –but it is one that you will ultimately reap great rewards from, so remember that when filling out paperwork starts to drag.
You will have the summer of your life, I promise you.∎
Words by James Newbery. Photography by Coco Cottam.