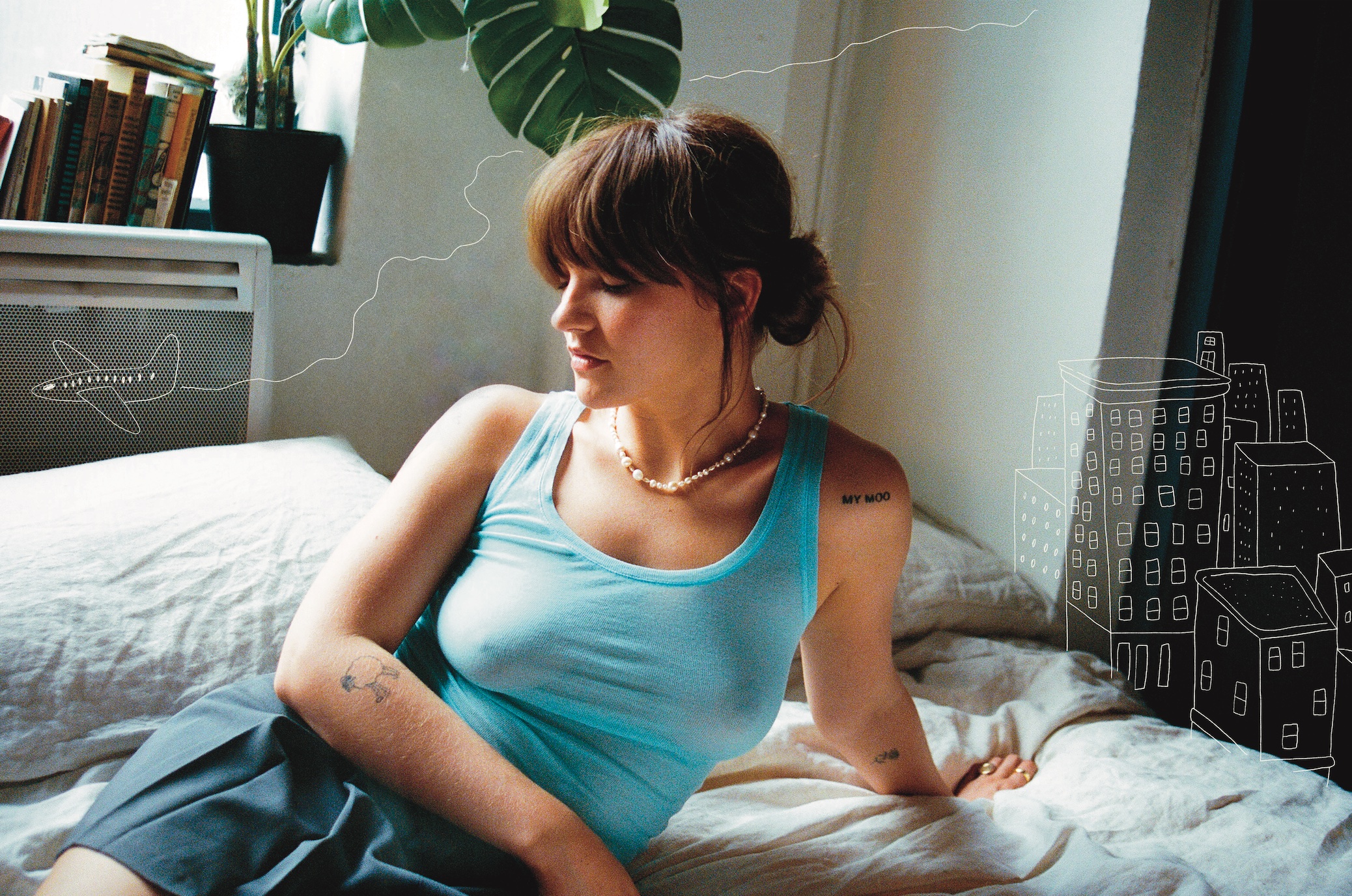 Drunk On A Flight: An Interview with Singer-Songwriter, Eloise
by Flora Bigham | May 25, 2023
Releasing her debut album 'Drunk On A Flight' earlier this year, Eloise's sweet, mellow voice, jazz-infused harmonies, and delicate lyrics are the perfect soundtrack to hazy afternoons and warm summer nights. Gearing up for tours in Europe and North America, I managed to catch her for a conversation over Zoom earlier this term.
Eloise's career began during her late teens, whilst she was at the Brit School. Not wanting to build up momentum and then be unsure of where to go next, she began posting covers and original songs on Instagram. "I think the third or fourth thing I posted was a cover of a Bruno Major song called 'Second Time', and the next day he commented on it and sent me a message saying, 'I love it, will you sing this with me at my gig on Friday?'" They met on stage that night, singing the song together, unrehearsed. A month later, she dropped out of school and began a three-year stint in his band on tour: "My first moment in the industry was just by touring, performing, performing, performing." Such an experience is "integral" to any musician, Eloise emphasised, "because you get braver, the consistency of doing something makes you better, and you learn how to work every type of crowd [and] you get brave enough to try new things every night. By then, you have probably tried so many new things on one tour that you get to the end of it and you're able to write a whole new album because you've learnt a bunch of stuff."
I was first introduced to Eloise on a Sunday evening, as I savoured the last moments of the peaceful weekend before a 6am school wakeup. I was listening to Billie Eilish's 'Chill Mix' for Radio 1's Chillest Show, in which she included 'Leftside' from Eloise's 2019 EP. How did support from established artists like Eilish and Major feel? Was it pressurising or exciting? For Eloise, "it was purely exciting. I rarely feel pressure because it feels so, for want of a better word, 'pretend'. If I can't see it or contextualise it, I'm like, this is just a bit of magic. It just feels a bit ridiculous. When Billie shared that, she went on a rampage sharing loads of my stuff and it was so great. It's a similar thing with Bruno. It's so honourable for people who are the best at what they do, who could be so arrogant and self-involved, to choose to share the platform. Bruno didn't have to take me on tour, but he was like, 'the only way you're going to get found is if people come and see you live, so you've got to come on the road because you've got to be found'. It moves me more than anything." Championing less established artists is something Eloise is determined to do herself, "especially at a time when the music industry is so strange because of things like TikTok, and no one really knows what's going on. The one continuity since the beginning of music has been live performance. That is timeless and it will always win, so I will help someone promote themselves the only way I know how, which is actually the only viable way, because there will always be [live] music."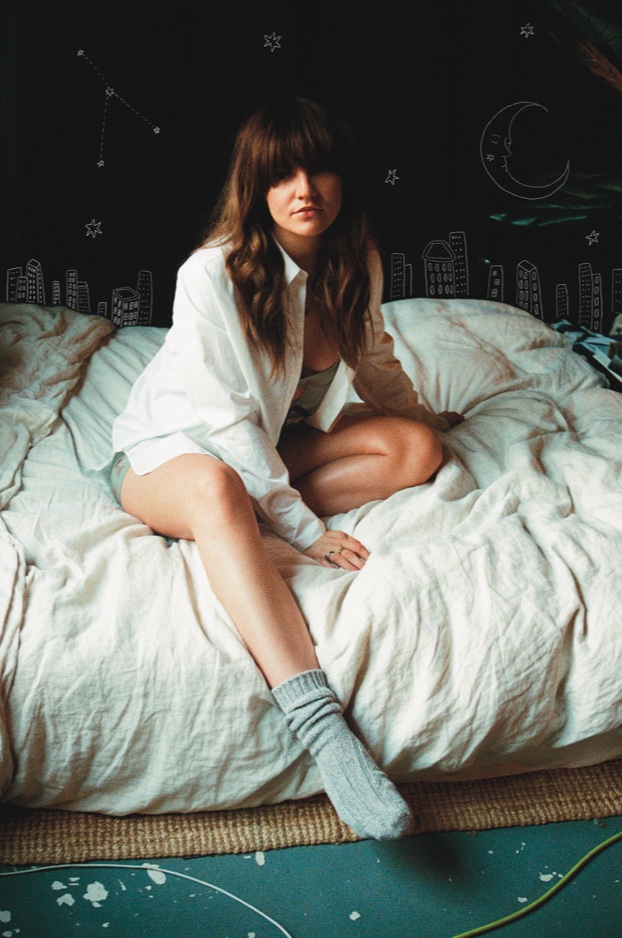 There's a kind of dichotomy at play with Eloise. Despite launching her career through Instagram, social media is largely a negative force in her life – something, it seems, many musicians struggle with. While social media can open doors to many opportunities, it is inescapably toxic, with stars such as Halsey and FKA Twigs posting last year about immense pressure from labels to produce viral TikTok songs. "I've always hated it all. I hit a new high of hating it when TikTok came along. I hate how your self-esteem is completely wrapped around how many views you get, and you get sent all these emails being like 'if you put this many [TikToks] out a week, one of them is bound to go viral'. You have to keep that up every day and it's so dark." She recalls seeing how social media can initiate success but be simultaneously damaging with her close friend Matt Maltese, whose song 'As the World Caves In' went viral a few years ago. "I remember going to the studio with him and he was like, 'El, look what's happened with my song'. And we watched it go crazy. It was so wild because that song had been out for two years." Going to one of his live shows later that year, she encountered a bizarre experience as the 'TikTok crowd' in attendance "didn't know any of the songs they were doing. It seemed like they didn't know how to be at a gig, they were talking throughout it and then when that one bit of that one song happened, they were filming it and singing along and so engaged, and then that bit ended, and they went back to their conversations. I [thought], 'this is terrifying … it's bizarre'". Do such pressures impact her songwriting? "It definitely comes into play. For me, once the album was done and we were choosing what we were going to put out as singles, it was always 'which are the ones that could [do well online], which are the ones that sound good?' I think my team is extraordinary and they know me so well and have known me for years now that they're like 'let's not bring this up' but it's something you have to bring up. They're not being meanies by saying we've got to pitch this and hopefully we get a hit, but they're really cautious of not bringing it up when the creative process is going on. But there is totally a pressure and I see people around me feel that pressure, subconsciously writing melodies that they think 'oh, people are gonna like that'. You know, terrifying."
What does her songwriting process look like? "The only thing that comes naturally to me in this whole job is the songwriting and singing. When you're a little girl and you're singing and writing songs, you're not really aware that there's a job called being an artist. You just kind of hope you get to sing forever. So, when I became an artist and that became my job, I had to really manage what was a job and what I being for me, and that's songwriting. It just comes so naturally, I have only ever done it as a form of self-expression, I never used to write with any structure. Performing does not come naturally to me, which is why my point of view is always going to be: the best thing you can do is perform. Or, maybe what I meant was that the best thing you can do is to do the thing that is the least in your comfort zone. I guess writing is kind of practicing, but it doesn't feel like it." This ties into her best piece of advice for musicians: "don't lose your innocence with your craft. The best thing you can do as a musician or a writer is to stay unbiased to a strict formula and stay in touch with the natural thing that is falling out of you. Bill Evans said that, and I think it's the best thing. Find the child in you who loves music and try and stay connected to that as much as you can."
Released last month, her debut album 'Drunk On A Flight' is a testament to her natural songwriting abilities. The origins of the work were found, as the title suggests, while drunk on a flight: "When I went on my first ever flight to LA from London, I'd broken up with my first ever boyfriend that morning, it was harrowing. That was the flight that became the drunk on the flight one. That's the only song I'd written years ago for this album. I was with my friend who's now the drummer of my band. We sat next to each other on the floor, and he was the only person I had told about the breakup, and he was like, 'the only way you're going to get through this is if we get you good and drunk'. Then I realised that the day before I flew back from that, I met my next boyfriend. And then the next time I flew to America was four years later, and we broke up about a week before that. When I landed back in London, I'd done a journey. There is something about that altitude that heightens your feelings and your emotions. I then write down all my feelings on my Notes, so this album is a compilation of the songs that came out of all the notes I'd written on my phone when I was drunk on flights after major life events."
The album feels like the tracing of all the ups and downs of a relationship, from forgiveness, to assertively singing 'I'm not your therapist', to anger ('why did you let me fall in love with you if you knew what you'd put me through'). Through this, I also sensed a process of self-discovery and growth, moving from questions like 'who am I?' and 'I'm not me without you' to accepting 'all of my problems, you can't solve them because they drown me' in the final song, 'Tired Now'. Was this a conscious ordering, or perhaps something more spontaneous? 'I wrote them sporadically but that's a good take actually that I've not made or heard. I was definitely intentional about where I put the first couple of songs and where I put the last few songs. For example, I wanted 'Vanilla Tobacco' to be clear that it was near the end, because that's the only optimistic song in the whole album and that was when I'd fallen in love with my current person. So that felt nice to have that level of chronology." She also traces a kind of personal development. In the opening track 'Drunk On A Flight', "you can hear I'm just flapping around a bit, not knowing what's going on and lost." Other early tracks like 'Pretend' represent a "loss of self" while 'Forgive You' charts ending an argument because "I don't know what I stand for right now". The end offers a slightly more stable perspective of self, "let's make peace. We can't be together. It's not right. I've found myself through finding that truth. I've got some issues I need to go and sort them out and you've got your issues and you need to go sort them out. God bless."
A particular highlight on the album is 'Another Year', a piano ballad with Radiohead-esque chords and ravishing vocal harmonies. The lyrics expand from 'the same old church bells ring to wake me up' to 'I know you've seen it all, every mountaintop and penny drop and waterfall'. How did this narrative form? "I had been watching a TV show called 'I Am', followed by a different woman's name each time. Each episode is a different story about a strong, brilliant woman. I'd watched one called 'I am Marie' about a married woman who was in her mid-sixties. She realizes they [her and her husband] had always dreamt of going traveling and backpacking and at some point, they just decided to sit still. This whole episode focuses in on her thinking 'I want more than to sit down with you all day' and he's like, 'I don't want more. This is enough for me.' There is nothing bleaker than that. That's almost too sad for me, because I'm not out of love with you, I'm just not done exploring and you're done. That is matched with how I have always felt dissatisfied in love and not liked myself at times for that and blamed myself for that. But watching that episode made me realise it's nothing to blame yourself for. It's just that you want more and you're not greedy for wanting more when you know that there's more to be had. I think it was so cathartic writing it for that reason, but also a really fun challenge to write about an episode of something that's quite difficult to write a song about." Does TV and film often inspire songwriting? "I'll be going through whatever and then watching a TV show and someone will say a line that really hits me because I'm going through something like that, and then I'll write that line down, so it's such a marriage. But, oh my god, if I didn't watch TV and films the amount I do I wouldn't have half of the music I have out now. 'Giant Feelings' came about from the TV show 'Girls', because I had the name before the song."
With visual media being so influential, I wonder how she found the process of making music videos, particularly for 'Giant Feelings? "It was so much fun, and it also felt quite grown up and glam because we literally flew to LA to shoot that video." Arriving at four in the morning to catch the sunrise, "we only had about three takes because by then the sun was fully up. It was just exhilarating and so beautiful. It's just fun when these songs have been sitting around and you listen to them as the first ever voice note you ever made of a song and then you're on your way to make the music video for it. It's like a baby's grown up.'
The album was written in collaboration with Conor Albert, which was "amazing … I felt so free and excited … and he felt the same because he's used to doing a lot of jazz stuff and he was out of his comfort zone. I think for both of us it was exhilarating and so much fun to just break out the boundaries". Such a positive relationship was helpful, as "he could treat it [the album] with care".
Beginning on the 2nd of June, Eloise will embark on a two-week European tour, ending with a sold-out show at Camden's KOKO, before a month-long tour of North America in the Autumn: "I am really excited … I'm really, really curious to see what songs people like and gravitate towards. You can only see so many stats but there's something about getting in the room and you can just tell when people love a song or making them fall in love with a song that they didn't think they liked before. That's what I love doing. I'm so excited to do it, to finally have a new set list, to have a big show, and to finish at KOKO. Oh my goodness, I feel like I'm graduating." With complex vocal harmonies, and less acoustic based instrumentation than in previous projects, how does it feel translating songs from the album to a live show? "We use pads … because the harmonies are completely integral to my music, it's like a mattress of the sound. Slim, my drummer, triggers them, so his timing has to be completely bang on point because he has to hit a thing that will trigger the harmonies to come in bang on when I'm singing, which is why he is the most impressive person in the world. There are some things that are non-negotiables. I don't mind not having a piano on stage, travelling with a piano is a nightmare. I will compromise anywhere, but the one thing I have to have is those harmonies."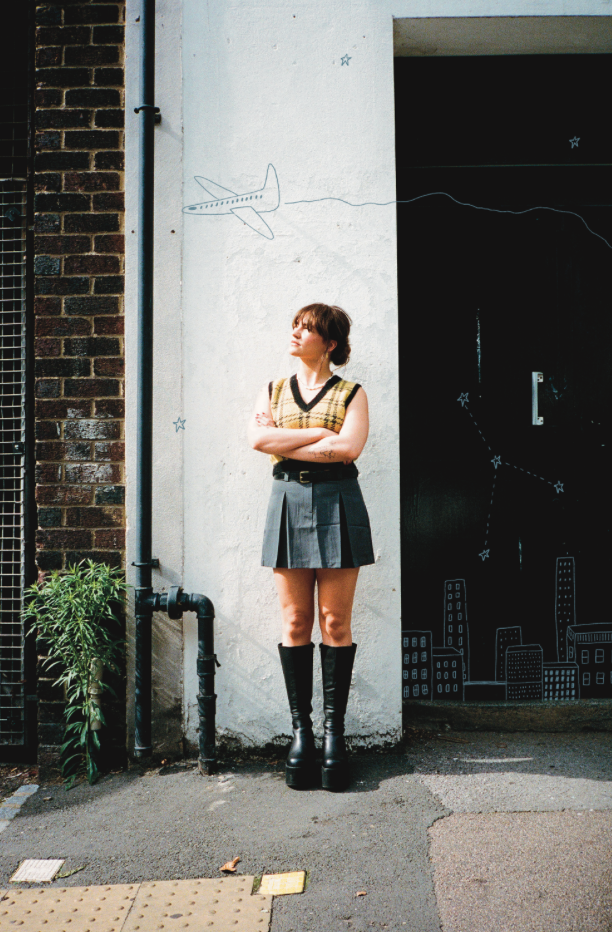 In a recent video posted online, promoting her album, Eloise speaks over an instrumental of 'Another Year', saying that what she hopes people take from the album is that it's okay to be messy and to make mistakes, it's all part of growing and learning. She elaborated over Zoom: "It's very easy to get swept up in this whole feeling of having to have your act together quite early. I think when you lose the word teen at the end of your age and you tip into your twenties you feel like, 'oh, when I was little I saw a 20-year-old and a 20-year-old was an adult, so why am I not feeling like an adult? Why am I doing all this stuff wrong?' I spent so many years putting so much pressure on myself, not letting myself go out and have fun. I never used to go out, partly because I was [thinking] I'm going to be hungover. This [career] started when I was 17 and I was trying to be like a 30-year-old, and I got to 22 and I thought, 'Oh my God, it doesn't matter, that's what that whole period in your life is for'. That whole period, your 20s and your late teens, are all about experimentation for better or for worse. You learn either way. If it goes wrong, it goes wrong for a bit, and then it's fine. And, you know, thicken the plot. I realized the plot of my film was lagging because I put so much pressure on myself to be a grown up and it's nonsense. Why not just be silly and enjoy it? It's pretty weird out here in the world, maybe just don't take it so seriously."
Interview by Flora Bigham.