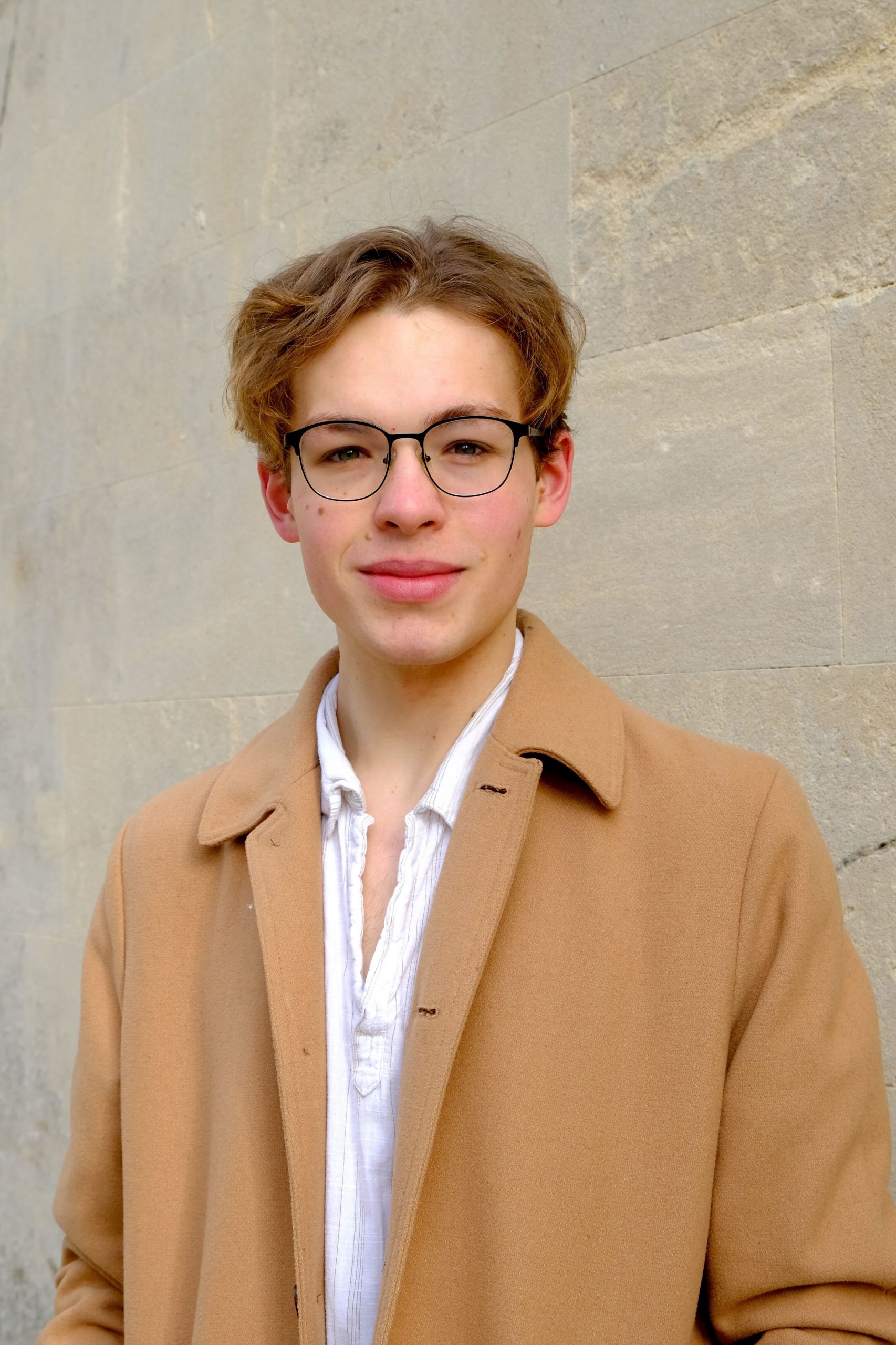 Artist of the Week: Christopher Churcher
by IsisEd | February 20, 2023
Christopher Churcher is a composer.
Tell us a bit about yourself.
I'm a first-year music student at LMH, and I write music. At one stage I might have defined myself as a composer and musician – I also play the piano, bassoon and sing – but it has become increasingly difficult to deny that composition is my calling. I'm constantly writing, or working on a new project. Although I've been writing music for seven or eight years now, it was around two years ago that my music started to be recognised by professional ensembles. I won a number of awards in 2021, after applying for a few competitions. My initial motivation was simply to receive some feedback – as a self-taught composer, finding out whether your music resonates with professional composers and musicians is important. Still, I was overwhelmed by the result. It had never crossed my mind that my music might one day be praised and accoladed by composers such as Judith Weir and John Rutter; this really spurred me on to continue developing my voice.
Since then, my music has been performed across the country, by a number of different ensembles. The highlight so far has to be VOCES8, for whom I wrote my piece Echo. As an ensemble alone, their sound is unmistakable, so to hear music that I conceived especially for them brought to life by fabled singers like Andrea Haines and Jonathan Pacey was goosebump-inducing, to say the least. My music has also been performed by The Bach Choir, Ex Cathedra, and ensembles such as the Consone Quartet and the Southbank Sinfonia. I had my first piece broadcast on BBC Radio 3 last year too – Arborescent – which was quite surreal.
What's your artistic process like?
My process is becoming increasingly methodological, as I've started to discover what works for me and what doesn't. A few years ago I would write in spurts – sometimes into the early hours of the morning – and then not touch pieces for weeks on end, but I've since found that the best way to avoid writer's block is to just write a little every day. Like exercising a muscle. When approaching a new piece, I like to play with a lot of different ideas and inhabit the 'sound-world' of the music. Often this will involve a week or more of listening to music, improvising at the piano and sketching disparate series of ideas on paper, until I have a rough plan in my head of the direction I want to take with the music. Then, I will write a short plan, and start work, generally slowly through-composing at the piano. When possible, I will then leave the first draft to sit around for a bit, before picking it up and starting the piece afresh. This gives me a chance to include things from the first draft, but also play around with structure and textures. Exercising self-discipline and emotional detachment around editing my own work was such a difficult skill to learn, but I think that self-criticism is one of the best ways to develop as an artist. I've produced some of my strongest work this way.
What are you working on at the moment?
Fortunately, lots of commissions at present! It is difficult to juggle composing with a busy degree, but it feels so fulfilling to be in demand, and able to work with remarkable professional ensembles and performers. Unfortunately, I can't give away too many details about these new works, but I'm in the process of sketching a new piece for the University of Delaware Schola Cantorum. They're an extraordinary U.S. choir, and the piece will be premiered at St. Leonard's Church, Hythe on the 13th July. I also recently received an exciting commission from the Mannheim-based bassoonist Ashby Mayes to write a piece for bassoon and piano. As part of the process, I've been given the opportunity to be mentored by Dani Howard, who is one of Britain's most accomplished young composers, so I'm really excited to receive feedback on my work from her. The new work will be recorded and published this summer!
Who are your biggest influences, and why? 
I find it quite difficult to pinpoint my influences. Yes, I have my favourite composers, but I've been listening to music for so many years – and absorbing so much – that sometimes it's difficult to identify where my ideas come from. Some of my earliest memories are of listening to Dvořák and Mendelssohn on long car journeys, but I also find myself writing textures and thinking 'that's so Björk!', or penning melodies which seem to have an essence of Joni Mitchell to them. I'm also influenced profoundly by writers and visual artists. Recently, I've been reading a lot of nature poetry by Louise Glück, Wendell Berry and Robert MacFarlane. Oddly, I also often find myself drawn to the artwork of Bruegel and Dürer. There's something so inexplicably modern about the quirky secular art of the northern Renaissance. Music-wise, I've been listening to a lot of contemporary American music lately. I love the immediacy of Julia Wolfe, Caroline Shaw and John Adams. I also love Thomas Adès – his work is just staggering. There's something so special about music that speaks for itself, whilst also sounding fresh and unorthodox.
Where can you see yourself going in the future? 
It's difficult to say. The easy bit is that I most definitely envisage myself continuing to compose for the foreseeable future. Perhaps it's a little saccharine, but writing music is truly what I live for; it's what keeps me going if I'm having a challenging day, and it's such a fertile source of creativity and inspiration. But, it's difficult to say where I could see myself going in the future. At the moment, the plan is just to keep writing, keep working on my craft and see where that takes me. When exciting new premieres and opportunities happen, it can become easy to fixate on 'career progression' and transactional things like that. It's not an invalid concern either. Living in a post-Brexit, economically unstable Britain, an increasingly unwelcome environment awaits budding artists. You only need to read about recent events between Arts Council England and the ENO to get a sense of this, and that's just the tip of the iceberg. However, as an artist, it's important to remember why you do what you do. For me, it's a matter of always trying to take myself back to that place of child-like joy when I heard a live orchestra for the first time, or that inexpressible feeling of excitement when excavating a new piece. Constantly re-finding my primal love for music, and my insatiable curiosity for how it works. ∎
Photography by Faye Song.