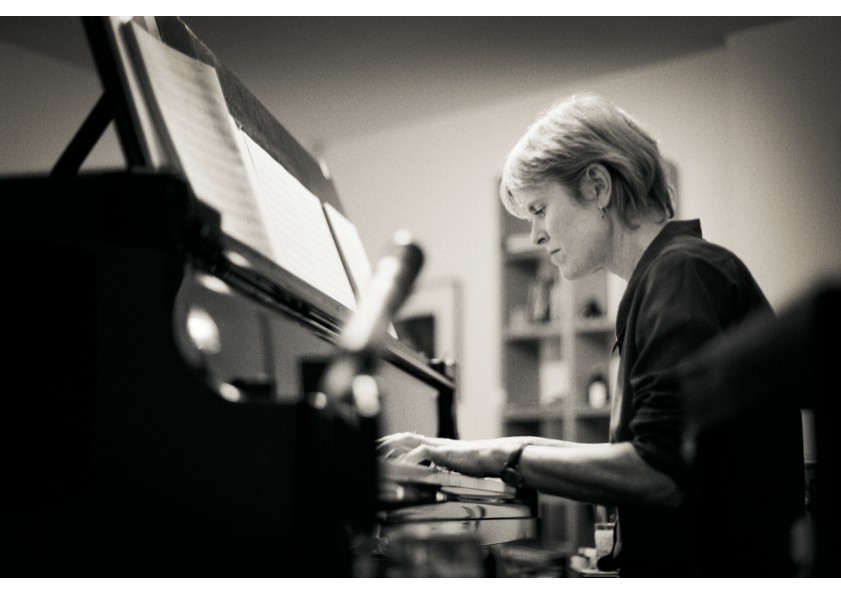 A Fantastic Alchemy: In Conversation with Composer Rachel Portman
by Imee Marriott | June 17, 2023
There's a video circulating on the internet, of Lord Voldemort's return in Harry Potter and the Goblet of Fire, where Ralph Fiennes holds aloft a reptilian skull, eye sockets sunken like trenches. Except Patrick Doyle's sinister, sweeping score has been replaced by the synthesised tickle of Spandeau Ballet's 'True'. Suddenly the Dark Lord is less a villain than the high-cheekboned model of a skincare commercial. He looks more like the mastermind of a 15-step moisturising routine than a plan to dominate the wizarding world, more Aveda than Avada Kedavra. Similar videos, with titles like "LOTR – Fellowship Reunited but music makes everything different"  and "The Song That Truly Makes Every Movie Scene Better" (Yakety Sax by Boots Randolph, in case you were wondering) have stacked up hundreds of thousands of views on Youtube and TikTok.
Composer Rachel Portman, best known for her award-winning scores, has not seen any of these videos – but then again, she of all people needs no reminder of the difference music can make in film. She began writing her own music at 14, Portman tells me through a blurry Zoom screen, before going on to take the subject at Worcester College. It wasn't so much the Oxford course ("sort of dry, to be honest") but student theatre and film which allowed her to develop an interest in "music with some kind of narrative". Amongst others, she scored working on the music for the first theatrical release of the Oxford Film Foundation in 1982, Privileged. Portman describes her trial-and-error in a context as a blessing in a context where there was little formal education available for film composition. "I had an instinct for it…I sort of knew what I would do if I was given a piece of film that needed some music for it. Nowadays there's much more awareness of all the other film composers around, and people are encouraged to write in the style of certain composers and that kind of thing – it's a much tougher, sort of exposed industry." This shift in terrain that has occurred since she broke out in the 1980s also applies to the relationship between filmmaker and composer. "There's a lot more, I think, asked of a composer now than there was when I was starting out – for example they're expected to demo everything up so that there are no surprises when it comes to recording."
What has stayed constant is the variety of things music can do for a film: "it can give a sense of danger or […] unease, put some kind of motor under a scene when a scene is flagging." The former is a well-known function of a score – think of the famous theme of Jaws, the motif of the approaching shark synonymous with impeding threat. The tense strings of The Manchurian Candidate (2004) amongst others testify that Portman can easily do suspense too. Yet she muses that "it's interesting to be able to work on a film where the music doesn't have to be telegraphing what's going to happen or what the emotions are… where the music can hint at something different." I ask which score she is proudest of and she gestures towards Mark Romanek's 2010 Never Let Me Go, adapted from the novel of the same name by Kazuo Ishiguro, as an example of the "fantastic alchemy" that evolves between film and score. When she joined the project the crew were "struggling with whether it was of a science fiction kind, a rather cold kind of film but to me it was always and only about human story and human feelings… and so that as a canvas to write music for was incredibly inspiring." Interestingly though, Portman's comments hint not only at the importance of sound but of silence. "I love films where there's hardly any music, actually, and lot of films don't need music – I think it's totally overused."
It was over a decade prior to Never Let Me Go that Portman became the first female composer to win an Academy award for the romantic score of Douglas Mcgrath's 1996 Emma. She is grateful for the doors the Oscar opened, but her identification as a female composer has not been uncomplicated. "I didn't want to be known as a female composer, I just wanted to be a composer. And then I started getting asked a lot of questions about that, and for years I got sort of fed up of having to answer the question." In the decades since, her perspective shifted: "I have begun to think that actually, I do want to talk about it, because it's completely wrong, that there are so few women composers — and I feel very strongly that film music, and music in general, need the voices of women's writers." This is not virtue-signalling – the gender gap in the composition industry is striking. The Academy Awards have had music categories since 1934 but Hildur Guðnadóttir's 2020 win for her work on Joker made her only the fourth women to win an Oscar for Best Original Score. The latest Celluloid Ceiling study (by San Diego State University's Centre for the Study of Women in Television and Film) shows that out of all composers working on the top 250 grossing films of 2021, 7% were women: and of the top 100 films? Only 3%. Beyond these quantitative markers, female composers are a testament to employers constantly underestimating their abilities, doubting their capability to write action scores, and peers mistaking them for PAs. "It's taking a very, very long time for parity," Portman says.
The industry is not wholly stagnant however. Film scores are increasingly swimming into the mainstream, finding favour beyond the silver screen. Christobal Tapia de Veer's theme to season two of hit TV show White Lotus found popularity as a dancefloor track, blasted at festivals and clubs, and as the entrance track for a The Killers concert in Melbourne. Nicholas Britell's score for Succession recently spawned a lengthy analysis in the New York Times, and the theme for season one has over 21.5m listens on Spotify at the time of writing. Hans Zimmer is currently taking a smash-hit tour around Europe, playing music from Gladiator, The Pirates of the Caribbean, Interstellar, and Dune, amongst others. Portman is aware of how her scores have developed "a separate life apart from the film… [film music has] become more mainstream, and much more akin to classical; a lot of people have actually had an introduction into classical music because of listening to orchestral film music that they perhaps wouldn't have done otherwise." Does she see this as a positive thing? "[T]here are real upsides to that for me, which is that certain of my film scores have a really strong life away from the film, and became, in a way, soundtracks to people's lives." I mention that often write or study to her scores and she beams, sharing similar reports. "I've had a few people say 'I wrote my book, listening to your music,' and I think God, that's so nice. It's great and it makes me happy."
Portman describes half her work – a 'nourishing' portion – as composition unconnected to the screen. She has written a choral symphony for the BBC Proms, a musical of the Little House on the Prairie, an opera of The Little Prince and more recently, the instrumental album ask the river. "It's good to have the freedom to be able to write about the environment, which is what I really care about, and the delicate balance of nature and my inner feelings to it. And wanting people to listen and to connect and to be part of the world that we're in, all around us." This sense of interaction between introversion and connection hums through ask the river, for which Portman plays the piano, joined by string accompaniment on several tracks. It is contemplative, hopeful, despite the underlying presence of a comfortable sadness. Currently, Portman is working on another environmental piece, with poet Nick Drake's work to be read before each movement. It is a way to provide "an auditory focus on what the music is going to be, a way in which I can write music which is about the environment that isn't having people watching a screen at the same time."
As our interview draws to a close, I ask if she has any advice for young composers interested in a career in the industry? Clearly, much has changed since Portman first started composing at a piano – though she still describes her "way in" to creating as "sitting at the piano and having a sheet of manuscript paper and a pencil, and a good rubber." She mentions the Royal College of Music as having a good masters course, and emphasises student film and theatre as ideal vehicles for building experience. But thinking back on our conversation, I am reminded of her vivacity as she discussed her career beginnings – a sense of luck that she went to Oxford, that she had an education in music, that she knew what she wanted to do. But most of all, the importance of determination. "Determination is what gets anyone anywhere."
Words by Imee Mariott