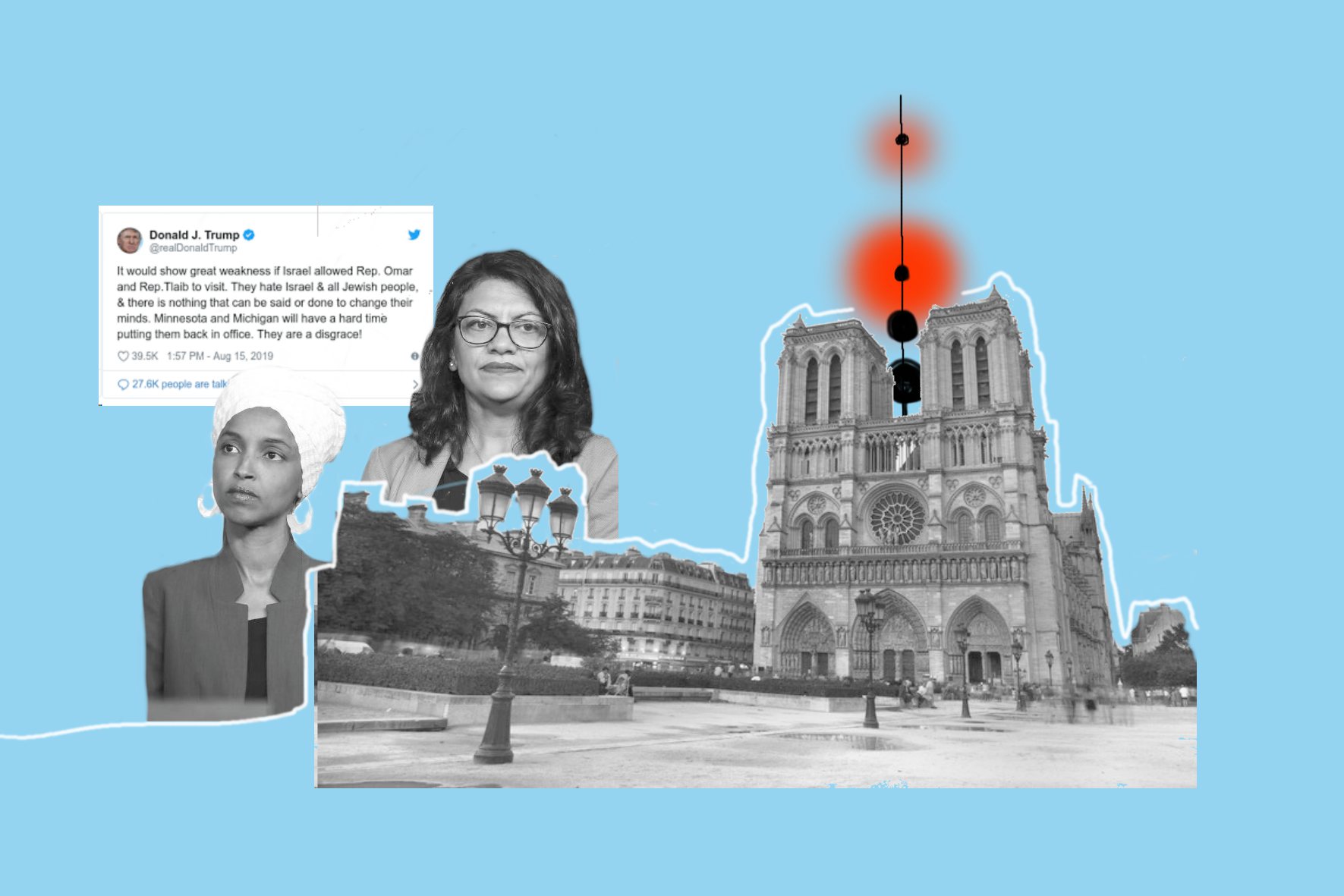 Weekly Roundup: New frontiers for football, Notre-Dame, and Trump
by isised | August 18, 2019
Mesut Ozil and Sead Kolasinac pawns in gang war
On the 25th of July, footage was widely dispersed of Arsenal fullback, Sead Kolasinac, chasing off knife-wielding carjackers in Golders Green, while Mesut Ozil fled from the vehicle. Kolasinac was heralded by Arsenal fans all over social media. And that seemed to be about it. Until last week, both players were withdrawn from their team's opening day premier league squad to face Newcastle amid concerns for their safety.
After the initial attack in July, both Ozil and Kolasinac hired 24-hour protection. It was later reported that on Thursday last week that two men, Ferhat Ercan, and Salaman Ekinci, had clashed with security outside Ozil's house. Kolasinac's wife subsequently left the country. Wensley Clarkson explained to Sky News that the footballers were pawns in a battle between 'old school gangsters'. He said:
I believe one of them is old school, Turkish, who've been in north London for many, many years and the others are eastern European who've swooped into Britain in the last 10 years, and they're basically… it's a turf war in a sense and the footballers have become their territory.
Kolasinac made a substitute appearance as Arsenal beat Burnley 2-1 on Saturday. Ozil watched from the stands, deemed 'not match fit'. -Scarlet
What's going on with Notre-Dame de Paris?
Last week, GoArchitect announced Zeyu Cai and Sibei Li's Paris Heartbeat as the winner of The People's Notre-Dame Design Competition, challenging architects to reinvent the roof and spire of the Parisian urban icon. The two Chinese architects explained that above all, their proposal was meant to be symbolic, with "a crystal roof as a mirror to reflect historical urban context, a spire's tip as a time capsule to retrospect the history, and the main spire as a city kaleidoscope to celebrate the vision of a cityscape." The purpose of the contest was to persuade the French government to rebuild the monument in a way that reflects the modern spirit of today. Though a bill to restore the Cathedral's pre-fire appearance has been ratified, French prime minister Edouard Philippe put out an international call to architects to reimagine the spire by adapting it "to the techniques and challenges of our era." But the city is still a long way from putting any such designs into fruition. The restoration has been pushed further back to August 19th, due to a high level of toxic lead within its surroundings. The left-over lead particles pose a serious health risk not only to the employees working on the cathedral's reconstruction, but to pregnant women and children that may find themselves in its proximity. Authorities are worried that given the contamination hazards, Macron's five-year plan may no longer be feasible. –Asia
Ilhan Omar and Rashida Tlaib banned from Israel
Omar and Tlaib, two Democratic congresswomen from the US, have reportedly been banned from entering the state of Israel. As the first two Muslim women to have been elected to Congress, Omar and Tlaib have been criticised by many Republican opponents, including US President Donald Trump. Trump himself had commented that Israel would be demonstrating "weakness" should they welcome them. Interior Minister Aryeh Deri is responsible for the enacting of the ban – a decision taken in response to Omar's and Tlaib's vocal support of the Boycott, Divest, and Sanctions movement, and their criticism of Israel in favour of Palestine. Israeli law legally permits Deri to refuse them entry, though they are the first two members of the US Congress to be barred. The congresswomen had planned tours of various cities on the West Bank, as well as a visit to Tlaib's grandmother, who resides in a Palestinian village. –Annabelle
Priyanka's BeautyCon Blunder
In February, India carried out airstrikes on Pakistan. This was the first time that fighter jets had crossed the unofficial Kashmir border since both Pakistan and India became nuclear powers. To show her support for the Indian military's actions, famous actress Priyanka Chopra tweeted "Jai Hind #IndianArmedForces", which is a patriotic/ nationalistic statement which translates to "Long live India" or "Hail India". At the time, there was some backlash over Chopra's tweet, which critics said was encouraging nuclear war with Pakistan. This same point was made by audience member Ayesha Malik at last weekend's BeautyCon in LA – in her question to Chopra at the event, she highlighted the hypocrisy in being a UNICEF Goodwill Ambassador, and advocating military actions at an incredibly tense time. Chopra's response to Malik shocked many. Security cut Malik's question off and Chopra began to reply, saying "I hear you. Whenever you're done venting. Got it? Done? Okay, cool… The way you came at me right now, girl, don't yell. We're all here for love. Don't yell. Don't embarrass yourself". She then went on to talk about how she has Pakistani friends (many were confused about the relevance of this fact), but is also a patriotic person. The whole incident raised questions about celebrity involvement in international affairs, but Malik claims that she is glad it allowed Kashmir some media coverage for a while. One can only imagine the headaches that ensued for Chopra's PR people. -Zehra
Stephanie Frappart makes football history
On Wednesday, 14th August, French referee Stephanie Frappart officiated the UEFA Super Cup between Liverpool and Chelsea, becoming the first female referee to officiate a major men's European match. Frappart had recently officiated the women's World Cup final, during which the United States beat the Netherlands, together with her assistant referees Manuela Nicolosi from Italy and Michelle O'Neill from Ireland. Before the women's final, Frappart stated: "We have to prove that physically, tactically and technically we are the same as the men. So I'm not afraid about that, I think nothing changes for me."
During the Super Cup final, the same all-female team oversaw the match as Liverpool defeated Chelsea 5-4 during a penalty shoot-out after the game had ended 2-2. The referee received praise for her performance from many, including former England and Chelsea midfielders Joe Cole and Glenn Hoddle. Although there is still a long way to go for female representation in the sports world, this marks a momentous day in football history. –Gerda
Protests in Mexico City – #NoMeCuidanMeViolan
Mexico City witnessed feminist protests after two alleged rapes from the police force. The first victim, 17 years old, was allegedly attacked on her way home and raped by 4 policemen in a patrol car, and had her personal information leaked and shared after she made her complaint. The second victim, only 16 years old, was allegedly attacked 6 days later. The protests, under the hashtag #NoMeCuidanMeViolan (loosely translated to 'they don't protect me, they rape me'), resulted in around 300 women taking to the streets. Some protesters escalated to violence, breaking shop displays and spray painting, and this has been used to dismiss the message they are marching for. This comes at a time where rape and femicide are on the rise in Mexico (and frustrations are rising in face of ineffective and half hearted reforms), as well as forming a part of a trend of abuse of power that is noted in many South American countries. –Léa ∎
Art by Alex Willis. Words by: Scarlet Katz Roberts, Asia Éléonore Feliks, Annabelle Fuller, Zehra Munir, Gerda Krivaite and Léa Gayer de Mena.