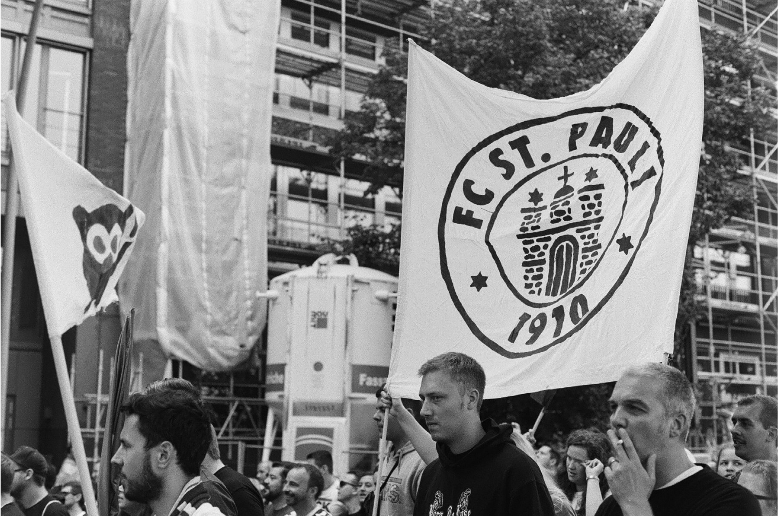 Pirates of the League: FC St Pauli and its hooligan activists
by Jacob Lee | May 10, 2016
I was sitting by the harbour in Hamburg this summer when I heard the familiar siren of chants and shouting coming from the other side of Landungsbrucken station: football fans, and lots of them.
An ordered troop of twenty riot police trailed behind a less ordered mass of flags, banners, and 300 fans. At first I thought it was a neo-Nazi rally.  I then saw a T-shirt a fan was wearing: black, with white lettering in the style of RUN DMC, that read: 'FCK NZS'. Two men with speakerphones led the chorus of fans, decked out in all forms of FC St Pauli gear as they lined up on the steps by the waterfront, loud but peaceful. Then they moved on.
The fear and apprehension I felt as I approached the procession was a result of what I'd come to expect from football hooligans. It was only until I found out just how unique FC St Pauli (FCSP) was that I changed my mind about what football could be about.
It is not for the quality of football at the Milerntor stadium that thirty million people worldwide call themselves FCSP supporters. The club has hardly excelled on the field. Since being founded in 1910, it has played in the first division of the Bundesliga just eight times. Yet it has more supporters than most clubs in Germany and its 29,000-capacity ground is almost always sold out for games. Unlike Premier League teams, FCSP owes its popularity not to the quality of its football, but of its fans.
The club became the Kult club it is today in the mid-eighties. Fans began to see FCSP as a refreshing alternative to other Hamburg clubs, where games were often marred by commonplace fascism and racism. The popularity of FCSP grew as a direct response to the fascist far-right following at clubs like HSV Hamburg, FCSP's fierce rival. Matches became an opportunity not only to party (the Milerntor stadium has beer pumps in a number of seats), but also to campaign against issues that were giving football a bad name. For FCSP fans, it's not just about football: it's about the opportunity to celebrate. After every game, win or lose, they take to the streets to campaign against homophobia, racism, sexism, and fascism.
Everything I found out about the club seemed to contrast with my ingrained stereotype of fan culture: football supporters are predominantly male yet FCSP boasts of having the greatest number of female supporters in Germany. Football fans are not always known for their hospitality. The recent racism scandal in Paris, when Chelsea supporters kicked a black man off the metro, is just one example of this. Yet since 2004, FCSP fans have regularly visited refugee centres around Hamburg, bringing clothes, food, and lawyers to help the migrants navigate Germany's complex asylum applications.
In 2013, 300 refugees from the Italian island Lampedusa arrived in Hamburg. They received a mixed welcome, with a number of far-right groups calling for their return to Italy. In reaction to this, after a game, 10, 000 FCSP fans joined a demonstration march around the city in support of refugees. Nick Davidson, author of Pirates, Punks and Politics, writes: "Football fans supporting an issue seemingly unconnected with their football club—can you imagine the fans of any club in England leaving the ground and foregoing a trip to the pub to march, peacefully, around the city until nearly midnight?"
It is not just the values that FCSP stands for that make it unique, but also the way it celebrates football. I asked John Wadmore, a dedicated fan and founder of a UK fan site, to expand on this: "The attitude towards alcohol is markedly different. In German football stadiums you are positively encouraged to drink and party before, during and after the game. There are rarely restrictions on the sale of beer and you can stand or sit and watch the match with a beer in one hand and a smoke in the other."
It's important to be cautious when comparing FCSP with English football. It is not just in England that football struggles with problems such as racism and fascism. But for clubs keen to improve their image, FCSP's example seems a good place to start.
Take me out to Germany,
Take me out today,
Take me to the Reeperbahn,
With the fans of St. Pauli,
Standing on the terracing,
We'll back them all the way,
No Nazi scum will overcome
The fans of St. Pauli.