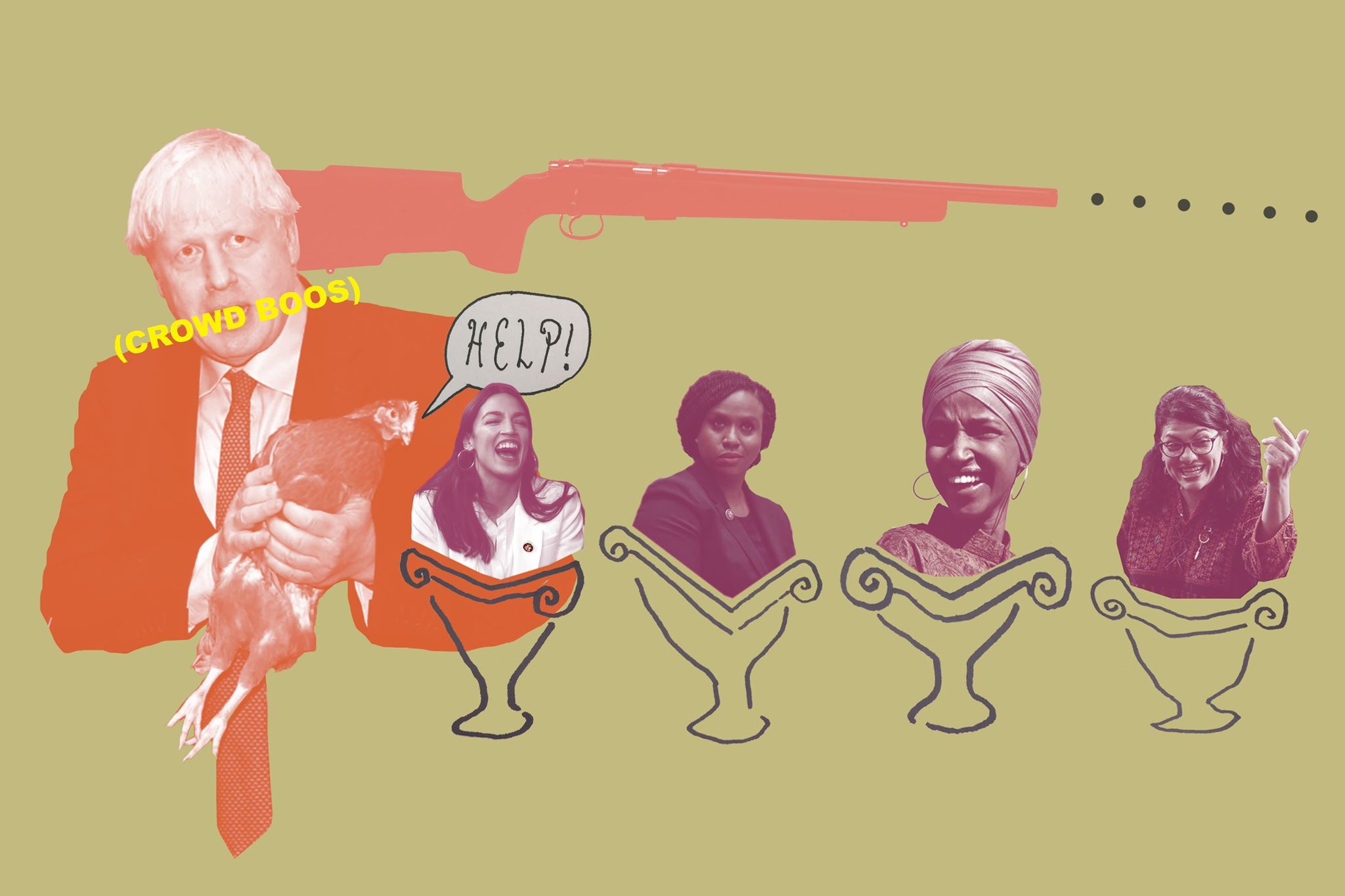 Weekly Roundup: Mass Shootings, Prime Minister Boris, and Saudi Feminism
by isised | August 4, 2019
Back to back mass shootings in the USA 
Yesterday, it was reported that there had been a mass shooting in El Paso, Texas, with 20 killed and at least two dozen injured. This morning, it was reported that 9 people were killed in a shooting in Dayton, Ohio. The suspect in the El Paso shooting seemed to target the border town because a high proportion of the population (around 80%) were Latino. The police informed the press that they are investigating a so-called manifesto which was published on 8chan. It indicates that the killings were a potential hate crime (the documents speaks of a "Hispanic invasion" of the US). At the time of writing no information has been given about the suspect in the Dayton shooting. However, it is worth remembering that a few days prior, 3 people were killed in a mass shooting in Gilroy, California, where the suspect  re-published a bizarre 1890s pamphlet called "Might is Right". The pamphlet (which contains racist, anti-Semitic, and misogynist statements) had previously been praised by extremist online messaging boards such as 4chan and incel subreddits. This recent spate of killings will no doubt not only raise the issue of gun control in the US, as well as questions around what is platformed in mainstream political discourse, and the responsibility of online message boards which publish incendiary material. – Anon
'Killing a student is killing a nation' 
Six people were shot dead during a protest on Monday in the Sudanese city of El-Obeid. The protest, led mostly by students, cried out against the food and bread shortages the city has been facing. In response, a newly formed protest coalition has organised a larger group of student protests throughout the country, condemning the violence. They are chanting phrases like 'killing a student is killing a nation', while dressed in uniform and waving Sudanese flags. The coalition has named the Rapid Support Forces (RSF), a Sudanese paramilitary group, as responsible for the massacre. The response to the protests has been mixed. The Sudanese Military Council has closed schools nationwide, but the country is currently in the process of transitioning between military and civilian rule, and civilian groups involved in the transition like the Sudanese Professionals Association (SPA) and the Forces for Freedom and Change coalition have come out in support of the protestors. The UN has also called on authorities to investigate the killings and hold the perpetrators accountable. – Neil 
Trump continues attacks on Democrat POC Politicians 
After Donald Trump's call for four congresswomen (Alexandria Ocasio-Cortez, Ilhan Omar, Ayanna S. Pressley & to Rashida Tlaib) to 'return to the totally broken and crime-infested places from which they came', the US President this week turned his fire on another Democratic lawmaker. Whilst his tweet attacking the group known as the 'Squad' was widely denounced as a clear instance of his racism, the President recently criticised Rep. Elijah Cummings' hometown city of Baltimore as a 'disgusting rat and rodent infested mess'. This textbook example of dog-whistle racism is highly reminiscent of the references to 'swarms' of migrants seen during the 2016 Leave campaign in the UK. Allusions to 'infestations' and 'rodents' further confirm what has long been obvious about the American President. Figures such as US House Speaker Nancy Pelosi have claimed that such statements further prove that Trump's stated ambition of 'making America great again has always been about making America white again'. – Jack 
'Bojo' takes the helm  
Prime Minister Boris Johnson has now been in office for just under two weeks. He came to power in a wave of controversy, with anger at the undemocratic nature of his election (he was voted in by 0.13% of the British population), as well as his offensive public comments in the past. He has compared Muslim women in burkas to "letterboxes", told Barack Obama to stay out of UK affairs due to his "ancestral dislike" of the country, and once spoke of gay men as "bumboys". In his first few days as Prime Minister, he has promised £1.8bn from Treasury money for the NHS, in a bid to keep his infamous 'Brexit promise' of extra money for the healthcare service. However, the Labour Party has countered that a one-off monetary injection will not by itself ameliorate the damage done by years of spending cuts. Johnson's first few days have also included trips to Scotland, Ireland and Wales. He was booed by Scottish pro-independence and anti-Brexit campaigners as he met with Scottish first minister Nicola Sturgeon. He was met with a similarly chilly reception in Senned, Walles. In Ireland, it is speculated that he spent a great deal of time courting the Democratic Unionist Party (DUP), with other party leaders not invited to a dinner he shared with DUP MPs. – Zehra
Are you feeling the heat, Europe? 
This summer's heatwave set new high temperature records in Belgium (40.2 °C), France (42.6 °C), Germany (42.6 °C), Luxembourg (40.8 °C), the Netherlands (39.3 °C), and the United Kingdom (38.7 °C) – triggering an extreme heat alert in several European countries and resulting in 13 (human) deaths. Cities are said to have struggled to cope with the heat, with public transport and even cultural heritage being affected – the ceiling of Notre Dame Cathedral (already severely damaged from a previous more localized extreme rise in temperature) was at risk of collapse due to extremely dry conditions. However, and this is surely no surprise, its impact was most catastrophic for the environment: in Greenland, 80 billion tons of ice were lost in June and over 170 billion in July (World Meteorological Organization) – an extreme jump from even its usual melting rate (290 billion a year on average). It also killed thousands of barn animals all over Europe due to ventilation systems being overwhelmed. Considering that 2015 to 2019 are currently the five hottest years on record, you may now be wondering whether the planet might be getting warmer, and if so, why? There have been many scientific studies aiming to answer this question, and several have concluded that it is greatly due to human-influenced climate change – estimated to have added around 1.5-3°C to this summer's extreme temperatures, and also found to have made all previous heatwaves (2003, 2010, 2015, 2017, 2018) more likely and more intense. – Marissa
The aftermath of violent attacks on LGBTQ march in Poland 
While the more urbanised areas in Poland are showing increasing support for liberal, pro-LGBTQ movements, rural regions in the country continue to voice their anti-equality sentiment. Last Saturday, over a thousand people gathered in front of the Palace of Culture and Science in Warsaw in support of LGBTQ rights, following the disruption of the first-ever pride parade in the conservative region of Podlachia. On the 20th of July, the celebratory tone of the milestone march in Białystok was violently disturbed by nationalist kibole (football hooligans) throwing eggs, rocks, and glass bottles at the marchers, screaming "God, honour and motherland". Later that week, the ultra-right wing Gazeta Polska (Polish Newspaper Weekly) started distributing "LGBT Free Zone" stickers as a supplement to the publication, an initiative that has been put on hold by the Warsaw court. Further, the current ruling-party (PiS) leaders have started making LGBTQ rights an issue in their campaign for the upcoming parliamentary elections. Examples of PiS sophistry include the arguments that pride parades promote unnecessary public performances of sexuality, or that same-sex relationships are a threat to the traditional Catholic family structure. But although homophobia is still a reality in Poland, Rafał Trzaskowski (the mayor of Warsaw), recently signed a declaration to protect LGBTQ rights. The declaration included plans for a community centre as well as the implementation of anti-discrimination campaigns and adequate sex-education to Varsovian schools. After the violent reactions to the Białystok march, the deputy mayor of Warsaw reinstated this promise, giving hope to those campaigning for a more liberal and inclusive Poland. More than a dozen of anti-hate protests have been scheduled before the end of the year. And as many gay-rights activists across Poland have repeatedly said, obstacles and fear will not overcome their motivation to fight for equality. – Asia 
Women's rights expanded in Saudia Arabia 
On Thursday 1 August,  a series of decrees were released which relaxed restrictions on Saudi Arabian women. Under the kingdom's system of male guardianship, women were previously not allowed to apply for passports or register births, marriages, or divorces without the permission of a male relative, usually a husband, brother or father. These laws, which in some areas now place women on an equal footing with men, will take effect at the end of the month. While many women in the kingdom are enthusiastically embracing their new freedoms and hail these changes as a sign of further progress to come, others are sceptical of how well these new decrees might be enforced, particularly those concerning the prevention of workplace discrimination. There are also concerns about the the new policies being used to distract newsrooms around the world from other human rights abuses committed by the government, such as atrocities against Yemen, cruel capital punishment methods and, ironically, the recent imprisonment of women's rights activists. Moreover, while its powers have been decreased, the system of male guardianship remains firmly in place, subordinating women to second-class citizenship. – Charlotte ∎
Artwork by Ellen Sharman. Words by Asia Feliks, Zehra Munir, Marissa Gonzalez, Neil Natarajan, Charlotte Banks and Jack Womack.