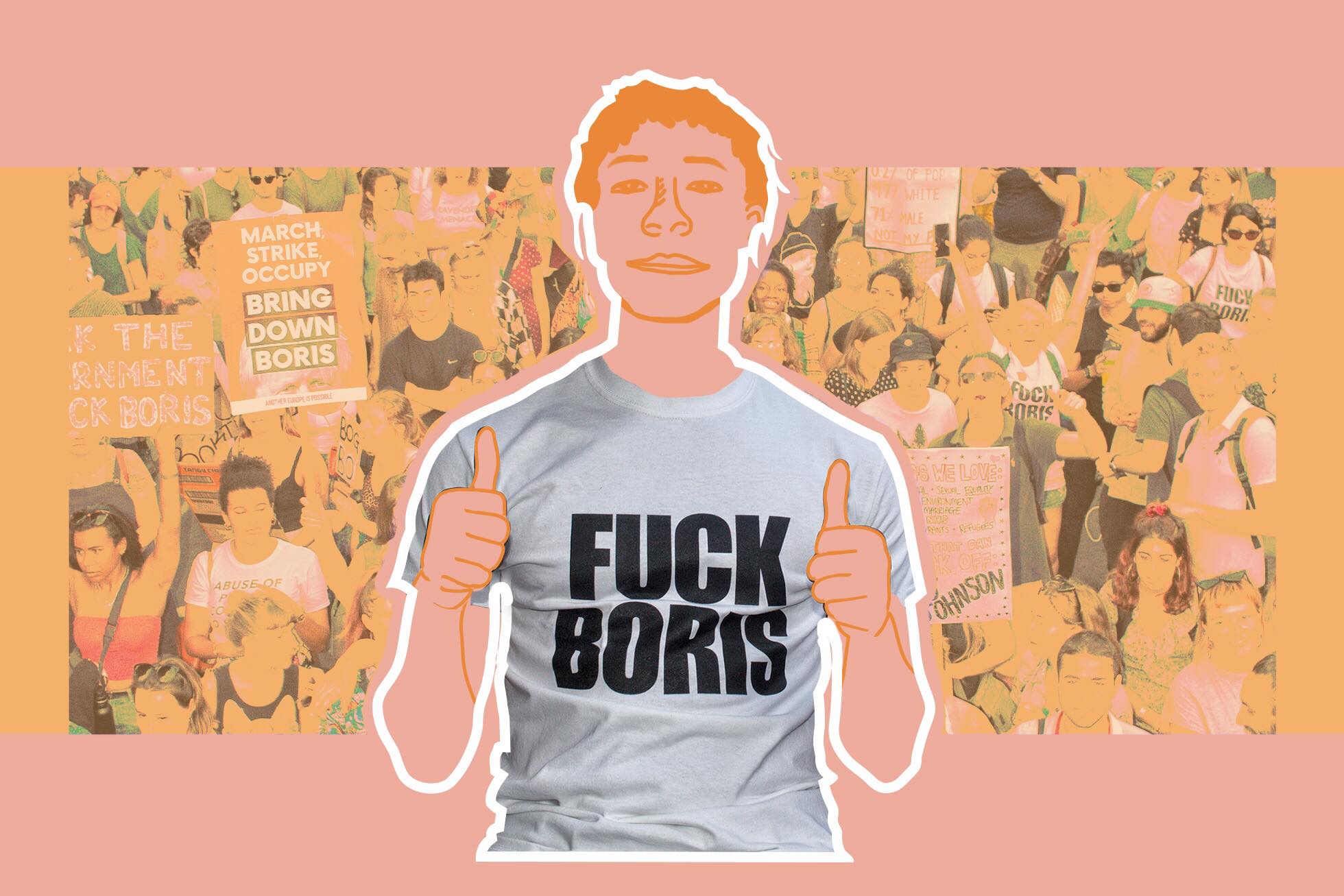 The New Face of Resistance
by Zehra Munir | July 27, 2019
In the last week of June 2019, Stormzy became the first Black British solo artist to headline Glastonbury festival. In a politically charged performance, he paused during his track 'Vossi Bop', and allowed the crowd to finish his lyrics – 'I could never die, I'm Chuck Norris'. They chanted back – 'fuck the Government, fuck Boris'.
The disapproval of Stormzy's audience did little to stop the Conservative party from electing Boris Johnson as the UK's 77th Prime Minister. A day after the election, the chant was back, this time headlining a protest in the centre of London. The event description read: 'A Government responsible for the hostile environment, for Windrush, for Grenfell, for 130,000 austerity deaths, will be led by a man who described Black people as "piccaninnies" with "watermelon smiles", compared Muslim women to "bank-robbers" and "letterboxes" and referred to gay men as "tank-topped bumboys." We say: nah'.
In a couple of hours after the call was posted on Facebook, several thousand had already clicked 'interested'. Interested in what, exactly? Showing their disapproval of BoJo's policies, his racism, or the utterly frivolous attitude that many attribute to his Eton and Oxford education? And who were these people who were ready to leave their homes in sweltering heat to protest his election? Given that the protest call was mainly circulating on social media, the demographic was clearly going to be young, tech savvy Londoners, but beyond that one could only learn more by actually showing up. And so I did.
In the march that flooded from Russell Square to Downing Street, the atmosphere was electric. Screams of "fuck off back to Eton" ricocheted from group to group. Yet, the first notion to be disabused was that this was somehow only about Boris. The multiple groups that had assembled to form this protest saw Boris as a mascot for threatening tendencies such as racism, neoliberalism, anti-immigrant populism, and even climate change denial. These were not young people interested only in identity politics. Boris serves as a lightening rod for their anger, but the anger is aimed at a much larger enemy: capitalism.
Take Fez, a student at UCL, who had this to say about Boris: "He's a capitalist, he's moving in a capitalist way… racism is capitalism, Islamophobia is capitalism, all these things are manifestations of capitalism". Nandini from the Fck Boris organizing team similarly felt that while the protest focused on Boris, he was not much different from runner up Jeremy Hunt. Johnson is easier to hate though, she argued – "he is the ugly face behind the respectable mask of British establishment. Maybe that ugly face is easier to target". The idea of Boris being a classic Conservative, with an added dose of bluster and overt racism and classism, cropped up repeatedly. Charlie Brinkhurst-Cuff from gal-dem, an online publication that platforms the voices of women of colour and non-binary people of colour, stressed that in the articles published on the site in the run up to the protest, there was emphasis placed on Johnson being a particularly malignant manifestation of Conservatism. Indeed, in a gal-dem article published by the event organisers, they state – 'Boris is not uniquely evil – he is just one of the truest representations of the violence, cowardice and ignorance of the Conservative government. Boris is Conservatism without the veneer of respectability'. There were also many who see Boris' particular strain of conservatism as more pernicious than that which we have encountered so far. Anti-racist campaigner Nadine Batchelor-Hunt emphasised that his words gave energy to far-right nationalists and racists, thus shifting the Overton Window surrounding what constitutes an acceptable attitude towards marginalised groups in Britain.
Comparing Boris with Margaret Thatcher (a comparison he will no doubt cherish) Fez argued that just as Thatcher's premiership saw a new era of neoliberalism ushered in, with a particular interpretation of Conservatism that continues to impact us today, Boris could be a similarly epoch-making Prime Minister. Blue, a fellow protestor, expanded this thesis to talk about Boris and his cabinet as potentially representing an end to the liberal capitalism of May and her cronies. No longer is there any pretence of liberal values on the part of Johnson's team, they argued. Boris' selection of his cabinet with the pro capital punishment Priti Patel and the pro big business and anti-immigration Sajid Javed (both ironically representing diversity) seems to provide some credence to this notion. So much is clear in their words, with Johnson slamming Muslim women as looking like 'letterboxes'. If, what many protestors referred to as 'Trumpism' and 'proto-fascism' have come home to Britain with Johnson's premiership, then 'Fck Boris' represented a rejection of this global wave of far-right politics.
Noga Levy-Rapoport, one of the leaders of the Youth Strike 4 Climate movement, spoke passionately about her complete mistrust of Johnson's capability to handle the climate crisis. She characterised the crisis as an intersectional struggle, already affecting marginalised people around the globe. While Johnson stands for racism, misogyny, and classism, she argued, he cannot ever be amenable to any radical solutions to the challenges ahead. Just before our interview ended, she stated again "this man is tasked with leading this country and dealing with other countries, while we face impending environmental doom". Her anger was palpable.
This same sentiment was present in a conversation with Johanna from Docs Not Cops, a campaign group who are fighting to end the Hostile Environment in the NHS. She spoke about the issues with the anti-immigrant narrative propagated by Johnson and his colleagues, and how detrimental his premiership will be for their mission. "One of the biggest barriers is that in the same way that Brexit was marketed, there is a sense that the thing destroying our NHS is the migrants, when that's not true. You need to eliminate that idea, and then you can get people on side against NHS charging policies. The privatisation of the NHS will be a loss for the entire population of the United Kingdom – not just a way of ending migrant consumption of healthcare."
Of course, as with every protest, Fck Boris had its issues. It was promoted almost solely through social media, meaning a specific age-group was attracted, with approximately 10,000 attendees. Some of the organisers claimed that this was their goal, to create a space for a diverse set of young people to voice their frustration. Others were unsure about whether the name and method of organising was alienating for older generations. When the intention is to build as wide-ranging a coalition as possible against 'proto-fascism', it seems unwise to exclusively use platforms that can only reach certain segments of the population. However, as Nandini from the press team pointed out, the organising committee was small, and had a specific set of aims which were generally realised. Notably, the protest was heavily attended by the very minority groups Johnson has spoken against. When several thousand young Londoners can be galvanised into marching to voice their resistance in blistering heat, the organisers appear to have met their initial goals. Moreover, as climate activist Noga said in response to questioning about the protest name – "Sometimes, swear words are okay. We need to express our anger in trying times".
Boris might not be overly threatened by the activists out in the streets of London decrying all that he stands for, but it is hard to overlook the anger that seems to be present among millennials at the seeming deafness of a succession of Conservative governments around issues of austerity, rising inequality, deportation, healthcare and climate change. It is questionable whether the Conservatives realise that whether they like it or not, they will have to adapt to the demands of a new generation. Either way, a new movement is in the making, one that is watching Boris and gang closely. And at every misstep, these activists will be there – ready to resist. ∎
Words by Zehra Munir. Artwork by Lucy Zhang. Photography used in artwork by Angela Christofilou @protests_photos.