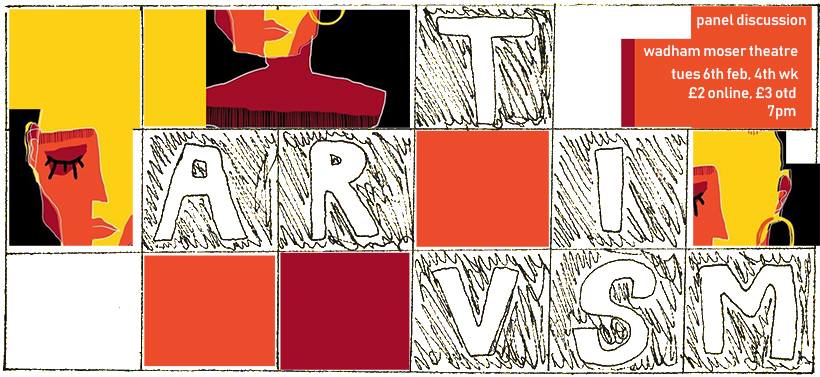 Artivism: Can Art Revolutionise? // A Panel Discussion
by isised | February 2, 2018
**all proceeds will go towards refunding speaker travel expenses!**
Artivism // Can Art Revolutionise?
Eve Ensler defines artivism as 'where art is activated and activism is made much more layered, ambiguous, passionate, fiery, revolutionary.'
From the Stop The War Coalition to the Arab Springs to the anti-globalisation protests, Artivism has the power to grip the global community and revolutionise charitable and social justice movements.
The ISIS Magazine has gathered together a group of experts from across the arts world what exactly artivism is. Our panel discussion will aim to look at the context, issues and debate surrounding Artivism, including engagement, effectiveness, anonymity, counter-cultural appropriation, marketing, and the furthering of the art and protest movement.
// SPEAKERS //
***JAMES GRAHAM***
James Graham is a British playwright, television writer and one-time actor. His work has been staged throughout the UK, at theatres including the Bush, Soho Theatre, Clwyd Theatr Cymru and the National Theatre. He is the playwright of 'Ink', the West-end theatre production which follows the makings of Britain's most influential newspaper – The Sun.
***CHRISTOPHER BEANLAND***
Christopher Beanland lives in London and writes about architecture, culture and the arts for newspapers including The Independent, Guardian, Telegraph and various magazines around the world. He is a published author a journalist who specialises in Brutalist architecture.
***VIVIAN OPARAH***
Vivian Oparah is an actress known for her leading role in the new BBC3 Doctor Who spinoff, CLASS and the critically acclaimed theatre production 'Octoroon'. She is currently producing music and running the page 'Wocdiary' that showcases the world of women of colour. She's currently involved in THE REBEL with Simon Callow and will next be seen at the Old Vic in FANNY & ALEXANDER.
Date: Tuesday of 4th Week // 6th February
Doors: 6:30pm for a 7pm start.
Venue: Moser Theatre, Wadham College
£2 fixr / £3 OTD
Artwork by Molly Foulkes
Get your tickets here: https://fixr.co/event/254432252
Let your friends know you're going!: https://www.facebook.com/events/1983808735173238/