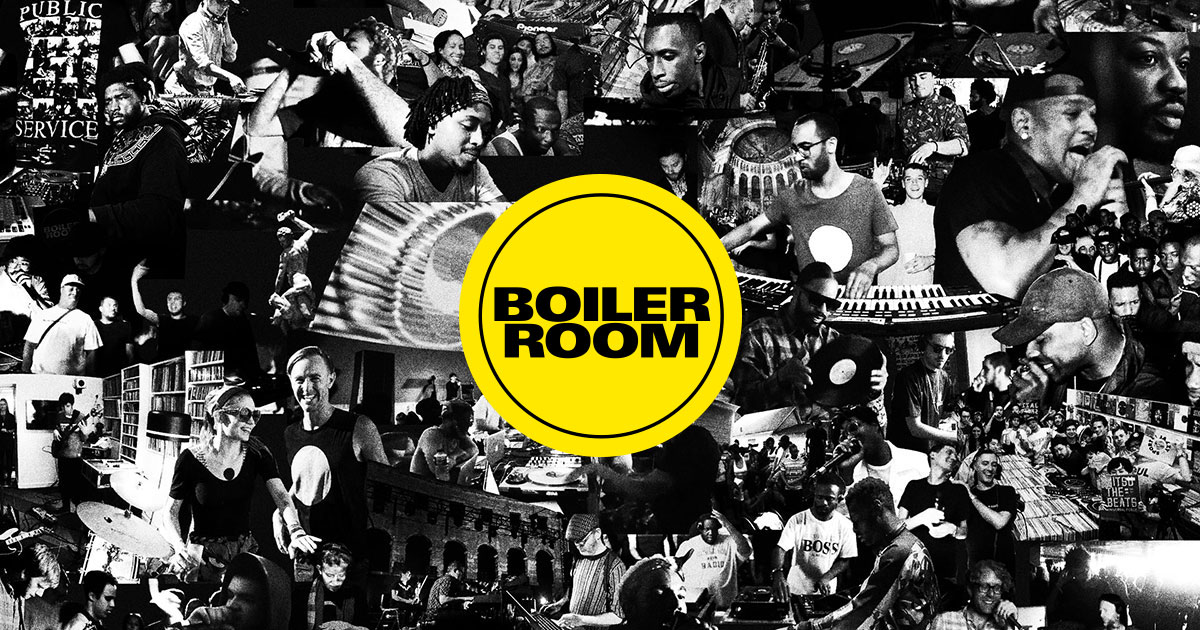 Strangers in a Room: An Interview With Mazdak Sanii
by Christian Hill | February 20, 2017
Mazdak Sanii is the COO of Boiler Room, the largest underground broadcasting platform in the world. Besides overseeing the day-to-day running of the company, Mazdak is in charge of cultivating one of the most exciting brands in the music industry.
Wearily, he answers the phone. The last time we were in touch, Mazdak was in Tokyo, organising Skepta's Konnichiwa launch party. An odd moment for me, I tell him, was watching Skepta before his set looking into the camera with physical copies of his album. He said, "this is a dream". Part of that dream must have been being in Tokyo, having his music streamed across the globe to hundreds of thousands of viewers. A larger part, it seemed, was holding the album, a tangible product of his success, in his hands. "The digital/physical relationship is something we're obviously really interested in", says Mazdak. "We're not just an online business. We wouldn't exist if we didn't have hype events. Where we are unique is that we take that 'offline' event and stream it to audiences all around the world." Mazdak's first point is made when I try to find the clip of Skepta again on YouTube. Now, his set has been isolated and made into a shareable video of just under 25 minutes long. The evidence of Skepta holding the CDs held in the memory of those who watched the event streamed live, but not in its bitesize reproduction.
I'm interested to know more about these moments, and the idea of Boiler Room in its 'offline' mode. The most obvious criticism for Boiler Room, I say, falls on the crowd. From Mark Leckey to Jamie XX, artists have reflected on the idea that dance music and clubs in general facilitate escapism. Boiler Room somewhat falls flat in this regard. It's not uncommon to see those in the crowd glued to their phones, or, if they are dancing, doing so desperately to get noticed by the camera. This is no sin, but for those at home who would give anything to see their favourite DJ perform in such an intimate setting, the audience's inaction is frustrating. Mazdak rationalises, "Yeah… If I was a DJ, I'm not sure I'd like a phone in my face. But I think there's a difference between the people that go right to the front at Boiler Rooms and those that stay in the back." It's clear we have noticed the same people clamouring to get noticed at the front of the room. He laughs, and asks me if I've heard of a blog on Tumblr called Boiler Room knows what you did last night. The blog is a series of GIFs that expose the peculiarity of life on the front line of a set, doing everything it can to undermine the seriousness of the scene. "I love that people are capturing those moments and making them into memes. I hope that those people see the funny side."
Mazdak, in addition to his role at Boiler Room, serves as a Trustee for The London Contemporary Orchestra. The outfit recorded a live performance for Boiler Room featuring Radiohead guitarist Jonny Greenwood in December 2014. "I wanted to give a new audience access to classical music", he explains. Mazdak's musical ideology is the much-needed antithesis to mainstream radio. Boiler Room is proactive rather than reactive, championing, as Mazdak tells me, "human curation". Those that opt for human curation generally reject the premise that algorithms can capture the emotional nuances of music. A computer can't yet 'read the room', but a DJ can. When Boiler Room stream live sets, the listener is not only getting a superior 'playlist' of sorts, but a curator capable of responding to the cadences of the room, perhaps best demonstrated by the moments of silence James Blake slips into his sets.
I ask Mazdak about Boiler Room's relationship with Spotify, and I wonder what differentiates the two brands. I notice that Spotify have more outspoken critics. Thom Yorke and Four Tet, who have both played sets on Boiler Room, are outspoken critics of Spotify's treatment of their musicians, Thom famously calling Spotify the "last desperate fart of a dying corpse". Mazdak is quick to outline the differences between the brands: "well, for starters, Spotify functions as a comprehensive library, whereas Boiler Room is a series of recorded live events." Boiler Room foregrounds the performer, more often than not a DJ, who is usually tucked away at the back of a club behind their decks. A large part of Boiler Room's success with fans and performers alike is down to this foregrounding, allowing DJs to cultivate their own identity and gain reputation in a job that works in parts against those principles.
One of Mazdak's long term visions sees Boiler Room acting a sort of record store assistant. "We're thinking more about interacting with our viewers. One of the ways that we'd like to do that is by channellising our content. If you're really into UK bass, you would have a home, you know… a profile type thing". Mazdak talks a great deal about "reinvesting in their core product, changing the way people interact with Boiler Room" and it's clear to see why. Most videos are streamed on Youtube and Facebook, but the idea of a Boiler Room separated from those entities, as an independent platform, is a tantalising prospect. A little like Spotify, Boiler Room wants to expand to become a comprehensive library of sorts, using its archive of live performances to challenge and broaden tastes. Boiler Room is characterised by its intimacy and exclusivity, but more recently it's been opening its doors. Acess to the (cancelled) live performance curated by Boiler Room and NTS at Notting Hill Carnival this year was not through a random ballot of personal contact, but ticketed, like any other event. This theme of expansion ran throughout my conversation with Mazdak, whose deft considerate approach gave me confidence that Boiler Room will retain its intimacy. What lies ahead for Boiler Room now, though, is dependent on whether it confronts what might now be its weakest aspect: its exclusivity.
Photo: boilerroom.tv