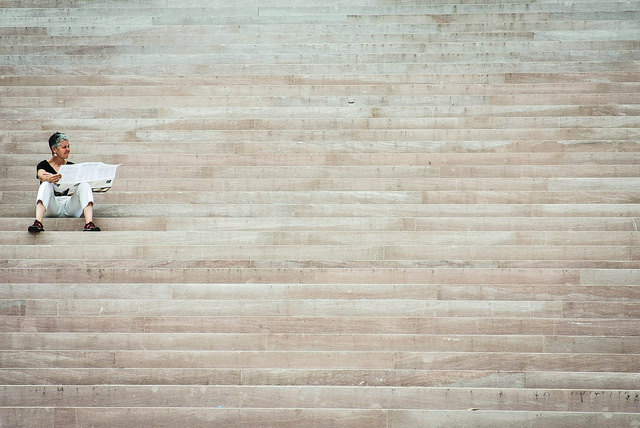 A day with DIVA Magazine
by Henrietta Mosforth | November 30, 2015
In the U.K., being gay is no longer inherently problematic – at least, not if you are a particular kind of gay. The whitewashing of the film Stonewall and the casting of cis-male actor Eddie Redmayne as Lili Elbe in The Danish Girl have demonstrated the way LGBTQ+ culture is only deemed acceptable if it is white-, male- and cis-dominated. The usual suspects end up being the last recipients of progress: women, people of colour and those whose sexual orientation doesn't fit a neat label. In this context, DIVA magazine is something of a silver lining. Printed alongside Gay Times by the Milivres Prowler group, DIVA is aimed at LBTQ+ women and is characterised by the effort it puts into showing their value. The latest issue, released in November 2015, focused on LBTQ+ history, in particular the role of black LGBTQ+ pioneers (starting with Storme DeLarverie) and the presence of homosexuality within WPSU (something ignored by the recent film Suffragette).
Over the summer, I was able to visit DIVA's offices to talk to the magazine's deputy editor, Louise Carolin, about the magazine. She acknowledged that LBTQ+ women get short-changed, saying that "broadly speaking, [white, cis] gay men enjoy a level of visibility and social acceptance that trans people, people of colour, bi women and lesbians are still striving for." But she was ultimately positive. Having worked for DIVA since its inception, she was able to give an overview of how things have improved. "There's definitely far more lesbian, bisexual, trans representation in popular culture. It's a friendlier world out there. I'm not saying it's perfect, but it's very, very different to the world I came out into in 1986."
DIVA's ethos reflects this. During my visit, the atmosphere within the offices was comfortable and productive. Everything looked ordinary – the floor space was dominated by clusters of computer monitors and there were papers spread everywhere. What stood out were the blown-up versions of past magazine covers on the walls. Everyone from Sue Perkins to an oiled-up, semi-naked Louis Smith stared down, their presence reinforcing the way a little liberation has led to a lot more confidence and a desire to be represented. This has made life easier for DIVA's potential interviewees and editorial team – including Louise, who commented that "it is now possible [for DIVA] to get cover interviews with 'out' lesbian and bi actresses. We recently shot top footballer Casey Stoney with her wife Megan Harris for the cover. When tennis star Amelie Mauresmo came out, in 1999, it didn't even occur to a DIVA editor to go after a cover interview, it was so unlikely she would say yes. DIVA ran with a stock shot cover image. Now we would absolutely pursue a cover shoot and exclusive interview and we'd hopefully get it."
One particular cover showed an unfamiliar woman in a top hat, shirt and hot pants. She was a friend of Louise's, made a cover girl on a whim in the '90s. Given the constant pressure on Louise and her team to maximise sales in a very difficult market for print media, doing that now would be impossible, she tells me. It is hard to champion individual women, especially less well-known women, and still appeal to mass audiences. But prioritising money over people is the reason why films like Stonewall and The Danish Girl were problematic – it causes representation to suffer. So far, DIVA has avoided this by balancing big-name interviews with content directly related to, or written by, its readers. DIVA also conscientiously chooses which articles to publish, seeking out neglected subjects. In the latest issue, Debbie Louise Cannon, a pre-op transgender woman, wrote about her sex life in order to educate others. Debbie knew from experience that "you are likely to come up empty-handed" if you look for information online.
Not everyone can be represented in the magazine – as Louise pointed out, DIVA is only a 100-page monthly magazine on a shoestring budget. The magazine's editorial team has to decide who needs representation most. For Louise, it is often the individuals who have struggled. "The articles that stick in my mind are the ones where I was privileged to be trusted to tell an individual's personal story after she contacted DIVA. I think of the couple I interviewed many years ago now who had fallen foul of the U.S. immigration laws and were separated by thousands of miles because they had no money to solve the problem – I thought of them particularly when equal marriage was legalised in the U.S. And I think of the disabled women who told DIVA about their experiences of sex and dating, and the women who talked to me about mental health."
With a circulation of 150,000, DIVA addresses a relatively small audience. The audience also consists of women who have some overlapping interests, or at least are "hungry to see other women like them." As a result, it has an easier time addressing its audience than blockbuster films. Yet it sets a precedent. DIVA is unafraid to tackle problematic subjects and aims for diversity so that its readers will all find something they can relate to in every issue. It is a matter of caring for your audience, wanting to continue to improve the way LBTQ+ women are perceived by themselves and by the wider community: "I think it's really important for DIVA to be there on the shelves of high street newsagents, showing everyone that LBTQ+ women exist. I know the magazine is really important to many of its readers and that is really important to me."
Image: … j e r e m y… (license)