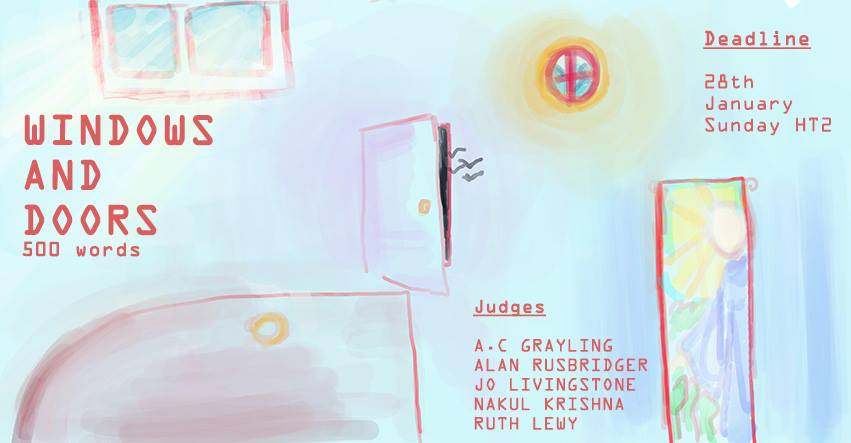 500 Words Competition
by isised | January 14, 2018
The UK's longest-running student publication is now accepting entries for its writing competition!
Entrants are asked to write 500 words or less on either:
a) Windows
b) Doors
or
c) Both of the above
Responses can be in any form, non-fiction or fiction, and interpret the words in any way. We want opinion/reportage/satire/scripts/short stories/think pieces/essays – any writing that is original, creative and thought-provoking.
***JUDGING PANEL***:
A.C. GRAYLING: British Philosopher and Author, and the founder of the New College of the Humanities. A former columnist for the Guardian, and a frequent contributor to the Literary Review, Observer, and the Times Literary Supplement. He is the former chairman of the Man-Booker Prize and of June Fourth, a human rights group concerned with China.
ALAN RUSBRIDGER: Editor-in-chief of the Guardian 1995-2015; reporter, journalist and author.
JO LIVINGSTONE: The culture staff writer at the New Republic, a politics and arts magazine based in New York City. She received the 2017 Newswomen's Club of New York Front Page Award for Opinion/Criticism.
NAKUL KRISHNA: A lecturer in philosophy at the University of Cambridge. His essays on race, art, music, contemporary literature, popular culture, identity, and philosophy have appeared in several publications in the UK, USA and India, including New Statesman, The Point Magazine, n+1, Literary Review, Aeon and Caravan.
RUTH LEWY: The Deputy editor of The Guardian Weekend arts and culture magazine. Ruth has been previous been the Features Editor on Guardian Weekend. Before that, she worked at the Times, where she was a commissioning editor on Times Weekend.
Responses should be no longer than 500 words, but can be as short as you like. You can submit as many as you want!
The competition is open to all students currently enrolled at university in the UK, both in Oxford and elsewhere.
The winning entry and runner(s) up will be published in the Hilary Term 2018 issue of the magazine.
Send your entry (or entries) to [email protected], with 500 WORDS as the subject.
The deadline is midnight on Sunday 28th January (the end of 2nd Week) – so get them in soon!
Good luck! We can't wait to read your responses.
Joe and Tobi
Artwork by Sanaa Asim