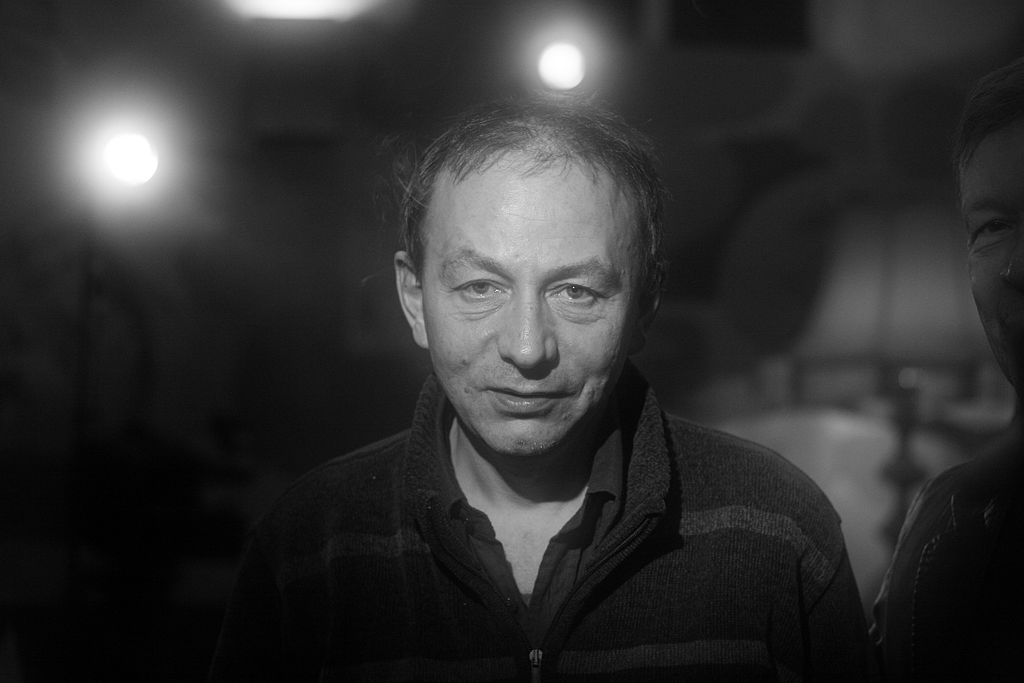 Soumission by Houellebecq: Satire or Smut?
by Michael Roderick | May 26, 2015
France has a history of producing bitterly controversial writers: Baudelaire the Sapphic Pornographer, Celine the traitorous Anti-Semite, and Derrida the Obfuscator. Today, that great tradition is embodied in slight, ailing frame of Michel Houellebecq, who is quite possibly the most controversial writer alive today. Originally seen as a left-leaning anatomist of the soul of man under Late Capitalism (in his first novel Whatever), or a satirist of our market-driven malaise, he then directed his rage against the collapse of morals in contemporary society, denouncing Islam and immigration and, in the process, alienating most of his former comrades on the left (in novels such as Atomised and Platform). Many see him as little more than a cod-reactionary smut merchant. His depictions of sex (in all its tropical variety: BDSM, fetishism, swinging, slavery, tourism etc.) are notorious. Yet, he is the most widely read and discussed literary novelist in contemporary Europe; a continent he describes as morally and spiritually sclerotic. The Houellebecqean man is self-pitying, terminally lonely, lost in a sea of adverts, airwaves and nauseating cultural totems. And, crucially, he is clinically undersexed – that is to say, has so little sex and thinks about it so much that his fixations and dejections ooze with violent pathology.
On the morning of the 7th of January this year, as two men were preparing to commit one of the worst acts of terrorism in French history, Houellebecq would no doubt have been a hot topic of conversation. He had been much in the French press over the previous few days: he had just written a provocative new novel – Soumission – in which a charismatic Muslim politician wins the French presidency and begins to transform the nation into an Islamic state. The novel was to be released that day and was already courting controversy. On the 5th of January, the editor of Liberation, a left-leaning weekly, had complained (without having read it, of course) that Houellebecq's novel would literarily legitimise the prejudices of the far-right. After the massacre, sales of the novel swelled. What I want to suggest is that Houellebecq fetishizes and appropriates the very worst extremes of Islam in the service of a kind of utopian project to transform a Europe he hates. Far from being a conflict between barbarism and civilisation, the Charlie Hebdo massacre, in Houellebecq's view, should be seen as a battle between Islamic vigour and European enervation.
Houellebecq has long been renowned as an Islamophobe, but the new book is a lot more complex than mere prejudiced smearing. It is narrated by a lonely, undersexed professor named Francois. He lives in a France in turmoil. The only significant opposition to an imminent Le Pen presidential victory is from one Mohammed Ben Abbes, leader of the fictional Muslim Fraternity party- a principled, decent, captivating figure. Knowing that he is the only one who can stop the Front National, the establishment cliques foist him into power. They sorely underestimate his Napoleonic sense of mission. In the course of the novel, he sets about transforming France according to strict, Islamic guidelines: for Francois this means that the women at his university, the recently renamed Islamic Sorbonne, are veiled and gradually squeezed out of any position of authority, and Francois himself is forced into retirement when he refuses (quite lifelessly) to convert. Resolving to end his days in booze and books, he sets off on a journey across France. Eventually, he realises dissent is futile. Also, he becomes increasingly excited by the prospect of multiple, submissive wives, quite legal in the newly proclaimed Islamic Republic. With a tinge of regret, he submits to the new order. The book is polemical, but Islam is not the target. Houellebecq is a hater, but what he hates is the fetish of Enlightenment philosophy, the ruling creed of Europe. He has said in an interview, 'my book describes the destruction of the philosophy handed down by the Enlightenment, which no longer makes sense to anyone, or to very few people.'
One of the most intriguing characters in Soumission is the academic director of the Islamic Sorbonne, Robert Rediger As a young man he was a pious, conservative Catholic, 'though he spent his time reading Nietzsche instead of the Church Fathers'. He vehemently loathes post-war European permissiveness, but he comes to see Catholicism as a spent force, no longer capable of reversing the liberal disease and so, with the rise of Ben Abbes, he turns his attentions to Islam. Rediger is a Nietzschean, and so is Houellebecq. Nietzsche is a spectre that haunts his entire oeuvre. This is because Nietzsche's fundamental concern – namely how to overcome the abyss that opens up when one value-system is discarded and another is yet to be born – is also Houellebecq's. Nietzsche thought, and Houellebecq takes for granted, that without the necessary metaphysical basis – usually God – there can be no ethics, no true moral philosophy, unless there is an almighty 'transvaluation of all values'. Michel, the protagonist of Atomised, wonders 'how society [could] function without religion… it is difficult enough for an individual human being.' It is a question that haunts Soumission.
It could be said that Houellebecq writes black comedies about what happens when individuals or societies attempt to hoist themselves out of the abyss in which they live. Our contemporary predicament, according to Houellebecq, is this: the 60s, with its lurid energies, promised a colossal liberation but brought only a numbing materialism that offers no meaning nor hope. All of Houellebecq's novels seek to find solutions to this predicament. In Atomised the solution is Comtean Positivism, the belief that science can deliver mankind from its own nature. The novel ends with humankind voluntarily extinguishing itself and bequeathing the earth to the successors they've created: a race of immortal, asexual beings who feel no emotion, nor any of the usual agonies of human life. It's unclear how we're supposed to feel about this utopia. However, the notion that science can fundamentally transform human nature comes under attack in a later book, The Possibility of an Island– in many ways an attack on the idea of utopia altogether. At the end of this book, Houellebecq acknowledges that a transmutation of the flesh – the constructions of a new, 'improved' race – will never transform the self-mutilating spirit of modern man. Chiding his earlier self, Houellebecq seems to say: the abyss you seek to overcome will not be overcome by the projects of science. Scientific positivism, what Comte called the 'religion of man', cannot save us.
With Soumission, Houellebecq has found a surrogate for his failed Positivism. Islam will be the yearned-for transvaluation of all values. In 2004 Houellebecq said the following: 'reading the Quran is a disgusting experience. Ever since Islam's birth it has been distinguished by its desire to make the world submit to itself. Submission is its very nature'. And yet in Soumission, Rediger, our archetypal Houellebecean-Nietzschean, in trying to explain the appeal of Islam, analogises it with Anne Desclos' sado-masochistic The Story of O, which captures 'the astonishing and simple idea… that the summit of human happiness resides in the most absolute submission.' Whereas once Islam's (supposed) emphasis on submission was a reason to hate it, now it is a reason to embrace it. Either Houellebecq has changed his mind, or he is satirising Rediger – that is to say, we are meant to see him in some ironic way. Judging by the interviews he has given recently, as unlikely as it seems, I genuinely think Houellebecq has changed his mind and now admires the kind of Islam he depicts in his novel. Though Francois regrets submitting, it is only the passing and half-contemptuous regret for the spineless civilisation that's coming to an end.
Houellebecq's 'conversion', however, should not be taken as a sign of increased subtlety of thought. The kind of Islam Houellebecq admires is an extremist fantasy which is shared jointly by radical Islamists and the delusional far right. A Muslim president, for Houellebecq, means the following: polygamy, compulsory Hijabs, the imposition of sharia and the restoration of patriarchy. Houellebecq believes that if French Muslims had a chance, this is what they would vote for. Might such 'admiration' be seen, then, as more of an accusation, a backhanded compliment to the millions of moderate Muslims who would balk at the Islamic fantasies of Houellebecq, fantasies he shares with the most brutal Islamists – no doubt fantasies shared by the murderers of January 7th?
Michel Houellebecq was one of the first public figures to proclaim 'Je Suis Charlie' and defend the sanctity of free speech. There is a bitter irony here, to be sure: Houellebecq is appealing to a value that has its roots in the Enlightement philosophy he decries so eloquently. It will be interesting to see what the events of that awful day have on him. Putting aside whether Enlightenment values have any worth, what can be said is that, on January 7th this year, those values came under attack from two potent sources: a novel called Soumission by the famously Islamophobic Michel Houellebecq and pair of mass-murdering jihadists. And that makes for some very unexpected company.