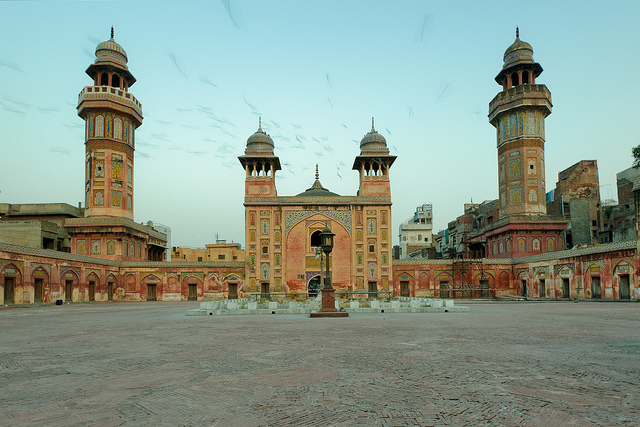 Why Big is Small in Pakistan
by Chloe Cornish | November 15, 2012
The Fakir Khana Museum, a 'hevaley' housing a vast collection of eclectic artefacts assembled over six generations, is stifling in Lahore's August heat. Unfazed by the rivulets of sweat coursing down his face, its owl-eyed curator is about to present one of his most precious treasures. "How long do you think it took to complete this miniature?" he asks, tenderly cradling a postcard-sized painting between bulky fingers. A month? Six maybe? The curator chuckles. "Fifteen years."
Closer inspection shows what took so long: a portrait so life-like the tiny figure might just hop from the frame. A magnifying glass is the only way to appreciate fifteen years of work, revealing downy hairs around the man's temples, delicate veins, gold-leaf manipulated to look like threads in a carpet, and individually rendered facets of jewels. For his pains, history has rewarded this skilled and committed artist with anonymity. His subject is preserved though: ruler of the state of Dijana, Nawab Mumtaz Ali Khan.
We have entered the microcosmic world of the miniature, the art of the Mughal empire. Impossibly detailed portraits and paintings of court life, miniatures were lavish entertainment for the rich and powerful, and a vital part of Pakistan's artistic tradition.  The National College of Art in Lahore has been teaching the rigorous process to a new generation, and today miniature is being reinvigorated by contemporary Pakistani artists. Preparation is painstaking. It takes around two weeks to produce special 'wasli' paper before painting can even begin. Then squirrel hair brushes, with two or three hairs in the tip, are used to layer detail. In 'Moderate Enlightenment' (works from which were shown at Modern Art Oxford in 2007), Imran Qureshi uses the serious court form, but injects wit, and the warmth of familiarity: people in jeans, a man working out with dumb-bells, gentlemen blowing bubbles, and a lady clutching a handbag. The artist's eye has sought out the details of ordinary life to pore over, raising their importance to a level of attention once reserved for emperors.
Reapplying this tradition was controversial. Many felt that miniature ought to invoke historic splendour, not magnify every day issues or make political comments. Speaking out against the glorification of nuclear weapons by Pakistan, Qureshi depicted missiles (famously tested in 1998), surrounded by traditional miniature patterns. Celebration of destructive force questioned through this juxtaposition with delicacy, both form and content are a reminder of violent pasts garlanded as heritage.
Contemporary miniatures demand a closer look at Pakistan, a nation associated with tragic headlines. According to the British High Commissioner for Pakistan, the "vibrancy of its art and literature" is just part of what the Western media overlooks in Pakistan.
"There are positive things that we in the West tend to neglect…the openness of society and the media, the gradual strengthening of democracy after many years without it…the hope and commitment of so many good people to making things better.  Just that possibility – of one step back but two steps forward – can make Pakistan really quite addictive. I love it."
Teenager Mariya Kamran is at school in Oxford and grew up in Pakistan. She misses the "free will [and] fashion" of her homeland, and is "proud to bits" of her culture. Staring into the ferocious eyes of Nawab Mumtaz Ali Khan, it isn't hard to see why.