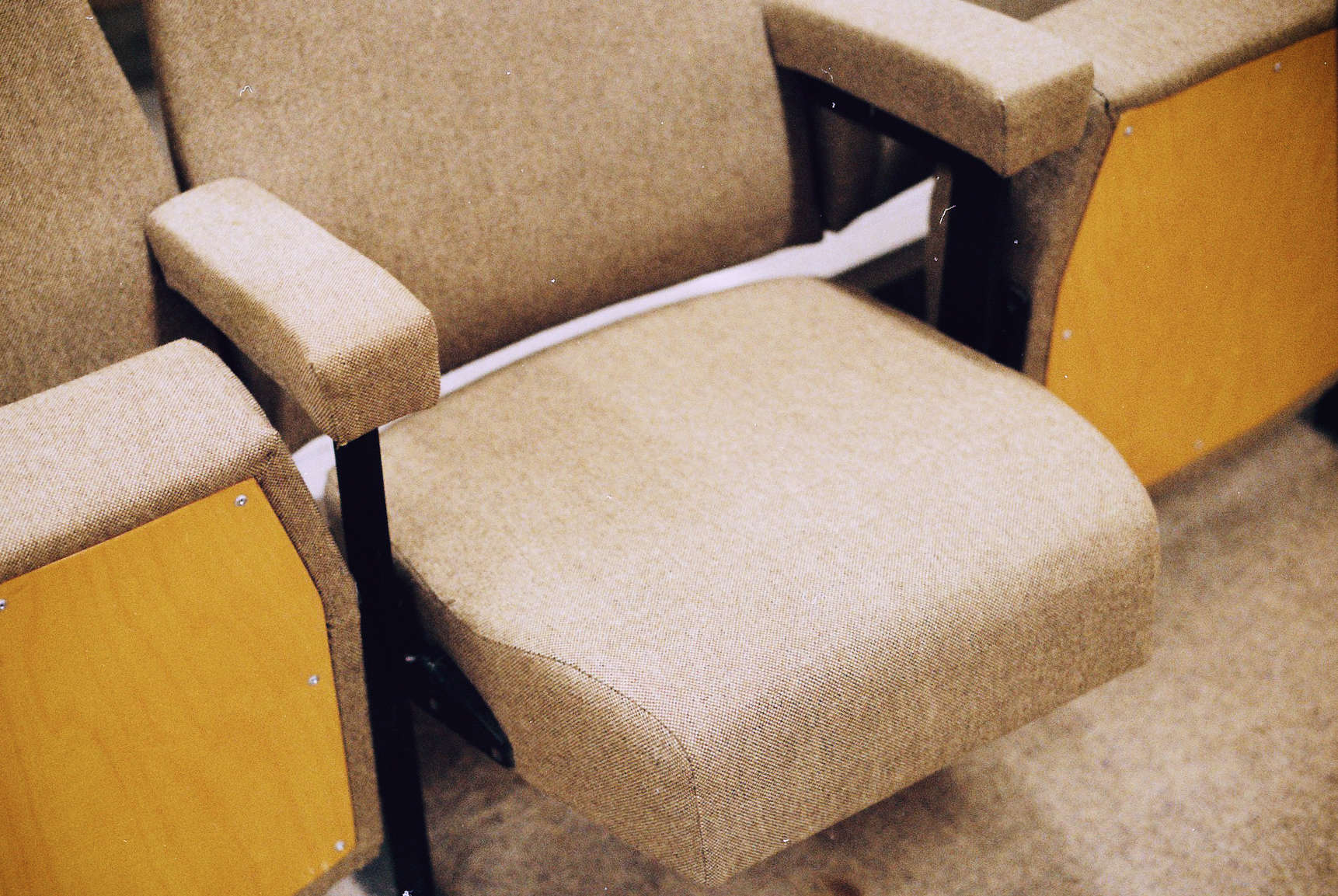 Laughter in the Dark: How Philip French Found Film
by Alexander Woolley | January 5, 2015
"I discovered almost everything through the cinema rather than, as it were, communing directly with nature and the society around me," said Philip French, the Observer's longstanding film critic, and former The ISIS editor, as he reminisces about how his love of films began. "It was a way to escape from life and at the same time to discover life in a more objective way."
It was fifty years ago that French, who retires this August, had his first column published in the Observer. In it he slammed a crime film called The Small World of Sammy Lee – and the unrealistic portrayal of the criminal underworld in British films ("fings are still unfortunately what they used to be in the British cinema," he concluded) before moving on to Come Fly with Me, the story of three air hostesses looking for romance and excitement, which he gave a more mixed review. He quoted from an article on Lolita by Lionel Trilling, who asks, seeing the way the American girl is taught to appreciate the "fragance of her hair" and the "shape of her body" from a very early age, "Why, what other end than that she shall someday be a really competent air-line hostess?" Come Fly with Me has long been superseded by much better high-altitude comedies, but nonetheless for French it was "rich in sociological and iconographic material", and he suggested that Trilling's quote could be the film's epigraph.
If his writing comes off as surprisingly generous to films of little quality, it is perhaps because, as he puts it, "I've always regarded myself as a critic rather than a reviewer." French draws the distinction so: "A critic is writing for someone who has read the book or heard the bit of music or whatever you're doing, whatever you're concerned with." He talks of Henry James, who dismissed reviewing, and for whom "criticism was a great demanding art, and very serious discipline, something which I also consider it to be". He continues, "A reviewer is somebody who has – it's a very important job; in a sense the canon begins with the first reviews. But reviewing has not traditionally been taken that seriously, particularly the reviewing of film, by either the national press or magazines. Indeed often it's been considered a job to give to the ignorant or the flippant."
When French first joined the Observer, his role was more that of a reviewer than critic. But then, after four years at the paper, the editors came to a decision, "that I was too interested in cinema for reviewing – it flags of an obsession, as they thought. And I suppose they also wanted someone with a bigger name – what they got was John Mortimer's wife, the novelist Penelope Mortimer."
Since that first Observer column, French has had a distinguished career, receiving an OBE for services to film at the start of this year. He lives in an elegant Victorian house where framed awards are hung unostentatiously, but thickly, around the rooms. A door, slightly ajar, reveals a wall lined with books from floor to ceiling.
But French's childhood was humbler; he grew up "in the provinces, with little access to theatre, surrounded by people who had no interest at all in books and music or anything else except social drinking and gossip". His father, an insurance salesman, began life as a dock worker in Liverpool. French saw his first film when he was four years old; it was the start of a love affair: "I realised there was nothing that I liked more than being left on my own in a dark room. It was probably not wholly unaffected by the fact that I had a speech impediment which made me rather be on my own looking at a giant screen that didn't answer back or interrogate me than actually be among other people."
His long career has taken in newspapers across the country, and included a considerable stint on BBC radio; perhaps astonishingly, French has only twice been threatened with legal action. The first instance was at Oxford, due to "some extreme thing I said about someone in ISIS; there were threats but they were then dropped and there was a mild apology made".
The second was brought by "the late, unlamented Michael Winner". Winner "signed a cheque in Egypt for a bill in order to save forking out some money for lunch. He signed my name to the bill." French was a juror at a film festival at the time, and Winner happened to be eating at the hotel where French was staying. "He was a tight one. He thought the festival people would pay for it… It was a very strange thing to do when you're a multi-millionaire."
French then included this in a joint column in the Observer: "I didn't initially want to write about it, but I was encouraged to do so, because he was writing about how to save money at a thousand-pound-a-night hotel… I said – it was reported in the third person – that I never expected so soon after having seen the Egyptian sphinx to meet the English sphincta, which I don't think he liked." Winner threatened to sue French personally, but French still had a copy of the bill from the hotel and, as witness, a Turkish actress who was having lunch with him and his wife at the time.
Film criticism was not the only path French's career could have taken: "For a brief while I think I was more passionate about theatre." But trying his hand at theatre criticism, he found the live nature of drama problematic: "I was writing so many negative reviews [and] I was also thinking, 'Good God, these poor buggers are going to have to go on night after night'."
Nor was it impossible that French might have pursued a very different career. During his time in Oxford in the 50s, "I was approached by the head of the University Liberal Club, though I wasn't a member of the Liberal Party. 'But would I be interested in joining to run as a Liberal candidate?' This was at a time when the Liberal Party was down to holding their national conferences in telephone boxes."
French dabbled in film-making, too, while he was at Oxford. He co-scripted a film called Folly Bridge; when I mention it, he does not immediately recognise the title. Then, chuckling, he says: "That helped to get me into films; it was one of those things that you build up a CV [with]." Originally intended as a silent film, Folly Bridge was a satire of Oxford life featuring two contrasting characters, one a young provincial innocent who wants to get on, the other a sleek careerist who gets whatever he wants (including women) with seeming ease. French recalls the final scene in which the provincial innocent is reduced to hiring out punts by Folly Bridge, while the careerist gets the girl. As the former is about to be tipped, the latter calls out, "Half a crown? A shilling is plenty for him."
Folly Bridge also saw French in a speaking role. The main actor was American and had to return home before the film could be remade in sound: "Weirdly, having the worst speech defect of anybody in the university at the time, I then dubbed the central character," French explains, still surprised.
But for all the success of Folly Bridge – numerous people involved in the film later won prestigious scholarships – French opted for the life of a critic. "I was torn in the summer of '55. I wanted to become involved in film or write about film… I eventually decided I'd rather review five films a week than make one film every five years."
The friend with whom French wrote the script for Folly Bridge was a man called Jeremy Wolfenden, who drank himself to death at the age of 31. "What others see as the proper subject for a book or play, he made the improper subject of a life," French has previously written of Wolfenden. Does he regret not having led a life like Wolfenden's?
"Well, yes," he replies, "I've had generally an easy pass through life. The longer I've lived I've become – I've looked to avoid conflict." At one point Wolfenden attempted to push French into leading a life more like his own: "He then came up to me with a job working in the Middle East and it was fairly clear, if not made explicit, that I'd be working for a news intelligence organisation that was connected with MI6 and other organisations and this was what he wanted to propel me into doing. I eventually decided against it. He was faintly annoyed about this as he thought that he was pushing me in the direction I ought to be." He pauses. "But then I say, look at what happened to him."
When I ask whether he wants to say anything to the readers of ISIS that we have not already touched on, he refers me to Max Beerbohm's poem written for the 50th anniversary of this publication.
To the Editor of The Isis
Believe me, Sir, your undersigned
Servant would gladly turn his mind
From the Universal Crisis
By writing something for THE ISIS-
Something of a sprightly kind
Worthy of the dear old ISIS
(England's best-edited weekly paper);
But things have come to such a pass
Of awful Chaos that, alas,
I cannot cut a single caper-
Nor even find a rhyme to Beerbohm.
Yours obediently,
Max Beerbohm.
Image by Oliver Liria