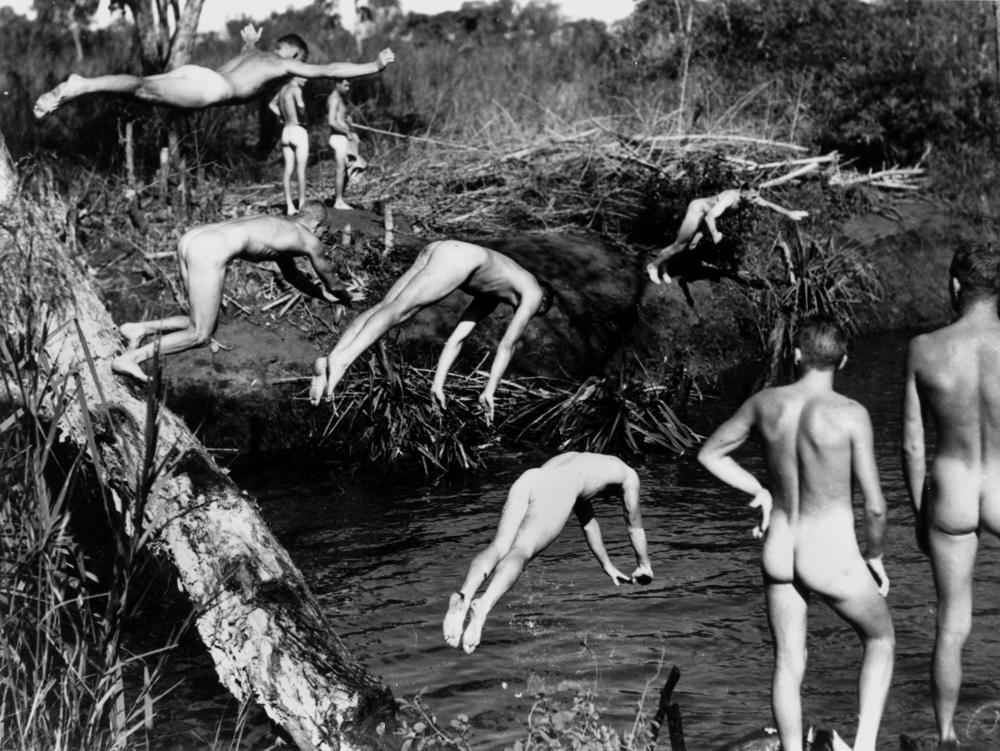 An afternoon with Oxford's nudists
by Miranda Hall, Holly Isard | January 6, 2015
"Peggy, reach over and press the bubbles button, would you?" As the tub comes to life with a loud gurgle, Lenny begins to shake with laughter, causing the bubbles to spill over the edge. "The bubbles help out modest naturists who don't want to have their bits on show!"
Peggy and Lenny are members of the Oxford Naturist Club, founded in 1979. "Think of it like a tennis club" Peggy explains, "only instead of tennis we take our clothes off." The club has around 140 members, ranging from lorry drivers to landscape architects and bank managers. Ten years ago, the club acquired a secluded, eleven-acre wooded site with a log cabin just outside of Oxford where members can camp or just visit for the day. Peggy describes the site as a "naturalists delight as well as a naturists", pointing to a deer loping through a clearing full of bluebells visible from the hot tub.
One of the main challenges the Oxford Naturists face is not attracting what Peggy describes in a lowered voice as "pervy people." The Oxford Naturists are part of the British Naturist Association and Peggy is keen to disassociate then from other, less reputable, independent nudist clubs. 'Parson's Pleasure' a nudist swimming spot on the Cherwell, seems to be one of these, referred to by Lenny as "a bit more like a hangout for gays who want to pick people up." Peggy also voices her displeasure at the behaviour she has witnessed on some naturist beaches: "people were, well, making love is the wrong word, having sex, and letting people watch them!"
Because of this, the club has a three-stage screening process and a gender quota to ensure that it is "a place a single woman can come without feeling uncomfortable." They encourage married couples to join and someone like Lenny, a male widower, was on the waiting list for four years before he was able to join. Both Peggy and Lenny emphasise that the club in an entirely desexualised environment. "I've never-ever seen one of the men get an erection" Peggy tells us, "but were that to happen, I think I'd discretely take them aside and say 'Oh Fred, go to the bushes for a few minutes' or 'put a towel around you.'"
"I'm not ashamed or worried about telling people I'm a naturist" Peggy declares and jokes that it's a great answer for Christmas Party 'what don't you know about me' games. Back when she was dating her husband she asked him to the clubhouse on a date. "I said did he fancy naked sunbathing and he was up for it so he got into it and now he's a cover boy!" Peggy points proudly to a naturist magazine cover framed on the wall where Simon, her husband, sits naked in a canoe. Her father in law is also a member now: "it's great – when he stays with us I don't even have to worry about putting a dressing gown on to bring him a cup of tea."
However, other members keep their membership of the club a secret for personal or professional reasons. Lenny is an elective counsellor on the local council so he prefers to be more private about his weekend activities in case his "political adversees" use it against him. His late wife didn't want to join a naturist club in the UK because she was a catholic and a "convent girl" but Lenny joined when she died. "The rest of the family know I'm a naturist" he tell us "but they all think I'm pretty mad." His son recently purchased a hot tub for his new house but to Lenny's disappointment set down a rule that there would be no naked tubbing. However, at the house-warming party "by the end of the night everyone had drunk enough wine to think it was a great idea" Lenny tells us with a chuckle.
For many, naturism is synonymous with certain ideologies but Peggy finds this "a bit strange" and her attitude is that "you don't have to be all political about it." The Oxford Club House seems to emphasize fun and games over politics and organises weekly group events: "next week we're doing a show-and-tell!" In the summer, members can sunbathe, play boules, go for a walk or have a barbeque. In the winter, most time is spent in the cabin but Lenny says that some naturists "love rolling around in the snow" and they also hold naked bonfires: "Those are great fun! We all stand naked around the fire. It's like a rotisserie, you warm your front and then rotate to warm your back!"
The British Naturist Association also holds national events, hiring out venues such as the London Aquarium and Alton Towers. Peggy's face lights up as she describes the freedom in cycling naked around Hyde Park corner: "crowds were applauding you and clapping you, I felt like bloody royalty with all the tourists on the double decker buses going 'click, click, click, click.'" Events like these are also social occasions, allowing nudists like Peggy and Lenny to meet likeminded people from all over the country. "This year we got chatting to a lovely woman with sticky tape over her nipples. When we asked her why this was she said 'well I work for save the children and don't want them to know that I have nipple piercings!'"
Peggy and Lenny are both keen to expand membership of the Oxford Naturists and would particularly like to encourage young people to give it a try. Membership is only £54/year (though Peggy said they'd be happy to give students a discount) and the site is only a twenty-minute drive from Oxford.