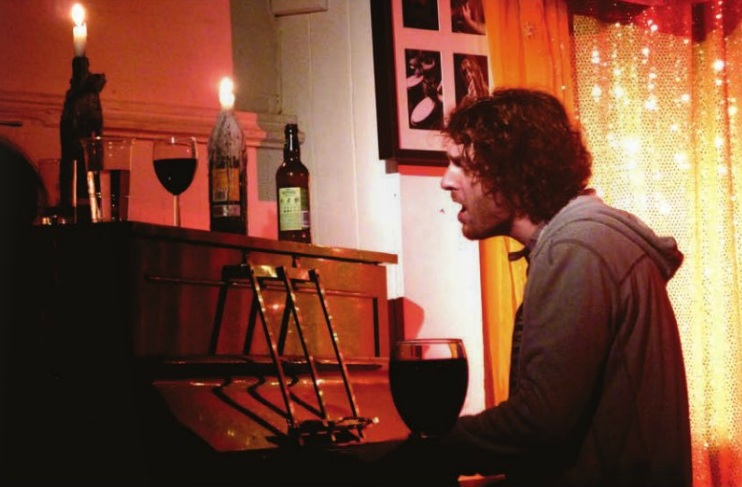 Catweazle
by Joe Nicholson | November 12, 2012
The Catweazle Club is Oxford's best kept secret. An open-mic night which meets every Thursday evening in the East Oxford Community Centre, the club is overwhelmingly intimate and has maintained its welcoming, enchanting atmosphere for 18 years. Hidden in the dreary brick building, the room is candlelit and beautifully decorated, irresistibly inviting with its old piano, glittery drapes and a floor littered with cushions as audience members nestle around the small performance space. Anyone can perform, and a diversity of acts from spoken word, to acoustic guitar, to accordion ensembles feature from week to week. Matt Sage, troubadour, founder and compere of Catweazle explains why, in his words, this "magical cave from some far away epoch" has been such a success, and why it is so valuable in the city.
Since Sage first arrived in Oxford in 1994, Catweazle has moved with him, taking root in East Oxford seven years ago. He sees this area as "the real centre of Oxford – not Broad Street or wherever. This is where life happens, where different cultures meet, and the Community Centre is at the very heart of all that." He muses upon the "funky, loose feeling of the place" and how it "often feels like the banyan tree or the village pump or whatever." Looking back on  his arrival in the city, he reflects that musical culture was "all about Radiohead and Supergrass and being cool and getting signed". Catweazle was his attempt to insulate himself from this world: his self-built, utterly-communal home.
Sage named the club Catweazle after the seventies children's BBC programme, which follows the adventures of "this gnarly old wizard from Norman times whose spells never worked.  One day, while trying to escape from Norman soldiers, he made a spell to magic himself away from them, and ended up in 1970's Kent, bemused by all the mad modernity around him." Sage described how he received an email one day from Kip Carpenter, the writer, who, "in a very charming and literary way, basically said: 'that's my copyright, justify yourself sonny'. And I did. I told him all about what we do and how my choice of the name was  homage to my childhood anti-hero, and he loved it. He even threatened to come down one night with Geoffrey Bayldon, the actor who played Catweazle. But they never did, and now they've both magicked themselves away to the great imaginarium in the sky."
The history of the name captures something of what Catweazle is: an open-mic night which is personal, funny and creative in a way that is rarely found in modern life. Sage meditates on why the club has been such a success, suggesting that, perhaps, "it just satisfies a fundamental need in the people who come. It's not just about entertainment, it's about connection." He described it as a "unique niche" and "the very antithesis of the entirely soulless TV talent competition culture which has become the mainstream norm, the modern equivalent of an execution. Sure, everyone loves a hanging, but people also crave something more authentic, more vulnerable, more human and engaging. These are the spaces in which we get to really meet ourselves, not via some shiny showbiz porn platform."
Catweazle's eclectic array of performances adds to its otherworldly identity. Asked to choose the most memorable performance he's witnessed over the years, Sage hesitates-"given that with around a thousand different performances a year, we've had our fair share of wonderments!" However, "the naked ones obviously tend to stand out, as it were: from a Sufi striptease poet to a wonderful sketch in which a woman goes to the barbers to have her pubes trimmed. And I also rather vividly remember a pile of leaves on the stage one Autumn, from which emerged two naked women, painted in green. But, um, it's not that kind of club, OK." More than anything, it  is the sheer variety that amazes him: "it sometimes feels as if the whole world has passed through our doors."
Part of the enjoyment of Catweazle is how emotionally involved the audience becomes in each act. Comic performances almost invariably receive laughter, whereas the more solemn pieces command respectful attention; take, for instance, the audience's enraptured response to folk singer Roxy's delicate ballads which would fool you into believing she must be famous countrywide.  In reality, however, this is not a place to visit if you are looking for the 'next-big-thing'. As Sage explains, it is that person "who has ever revealed something of themselves, who has had the courage to stand up under glaring lights in front of a hushed and packed audience, and said, 'um, hello, this is me'" that really stick out in his mind." I will never get bored of that and the fact that everybody is entirely unique." He expands, saying that "to me, success is simply in the doing, in the creating of whatever it is that excites you to create. I have had the pleasure of watching a great many people discover and cultivate their gifts, and go on to make wonderful work."
The club's describes itself as a "hub and telegraph post for the various campaigns and protests" happening in the City. Offering an insight into this claim, Sage cites an example from early on in Catweazle's history. During the protests surrounding the proposed Newbury bypass construction, Sage remembers how "some of our regulars at that time were involved, living in trees, chaining themselves to diggers and so forth." Thus he explains, "We have always attracted those more mischievous adventurers amongst the population, the artists I suppose – they who tend to have a healthy disdain for authoritarian control or corruption or greed or just being boring!" The trend continues today, with a representative from an occupation at Oxford Brookes, in protest against increased tuition fees, recently appearing and inviting all in the audience to return with her that evening to join the ranks.
Finally, reflecting on potential plans for expansion, Sage reiterates that "keeping it small is the key" to much of the club's success. "Although in the fullness of time I have ambitions to extend what we do on a Thursday night onto the web – filming the sessions, a radio show, some kind of label – I've no ambitions to change what is clearly a hugely effective formula. It is its very intimacy that makes it so popular. Artists love to perform there, where they know they are going to be fully received, and it also makes them reach a little deeper into their art form, because there is nowhere to hide!" Nicole, a performer who was introduced to Catweazle by a friend in September, describes how nervous she still feels performing: "there's something frightening in how intimate it is to perform, quite literally standing in the audience." Nevertheless, she has fallen in love: "I really don't want to miss one", she shared. "I think during an act, 'that was the most amazing thing I've ever heard', then I forget the name of the performer. You get too caught up in it." As for Sage, his last words, when asked to summarise Catweazle in five words, rings true: "Come And See For Yourself".