Rare Phenomenons: An Interview With Eleanor Hardwick
by Olivia Aylmer | May 23, 2014
For 20-year-old Eleanor Hardwick — one half of the new musical project, Moonbow — there's no such thing as a typical gig. When she and bandmate Beau Hulse prepare to perform, they dream up ways to work as many mediums as possible into what they call their 'sonic spacescape' and encourage full audience immersion: atmospheric photography and video, original set design, the scent of thunderstorms and eclectic costuming are just as important to the duo as the way their experimental-electro-ambient pop music sounds in the venue.
Eleanor spoke at ISIS's 'De(Constructing the Image)' panel last term about her experiences working professionally as a young, female photographer, but her myriad talents and interests extend far beyond her camera lens. Whether she's photographing behind-the-scenes at Meadham Kirchhoff fashion shows, contributing to Rookie, directing music videos, or curating playlists, Eleanor prefers to leave her life open to as many unexpected creative opportunities as possible.
I've been lucky enough to collaborate with Eleanor on her latest venture: SHAPESHIFTING, a one-night-only performance and art exhibit to be held at Jericho's infamous church-turned-hip-bar, Freud, this Thursday (29 May), along with the launch of a limited run zine featuring the contributions of our friends and young artists from London to New York to right here in Oxford. For the zine, inspired by the concept of freeing oneself from preconceived forms, we sought to expand on Moonbow's original impulse: to find a place where music and performance art meet; where rules are meant to be bent; and where so-called 'formal training' is not necessary to create something vibrant, thought-provoking, and worth sharing with the world.
OLIVIA: I must admit, I had never heard of (let alone seen!) a 'moonbow' before you told me the origin of your band name. Can you share that story with ISIS's readers?
ELEANOR: I originally came up with the name after I made my first song about a year ago, and I had to put the artist's name in on Garageband. I was glancing around my room for inspiration, and I have this Polaroid I took a few years ago of a moonbow at dusk – it's when a rainbow happens at night and it's a really rare phenomenon. I just really liked it as a name and it ended up sticking. It's pretty appropriate though as I like to joke that Beau is the dark side of the moon and I'm just the rainbow. I like to dress very shiny and colourful.
How did you decide to form Moonbow?
In terms of making music, it started out with Beau teaching me a little about synthesis and we used to sample old cassette tapes together when we were bored. Beau is in a lot of musical projects though, and is a self-taught instrumentalist, whereas I essentially wrote my first song and bought my first instrument last year. It works well because we both have different backgrounds but we both work in a very instinctual way of just experimenting. After a bit of jamming, my friend offered us a gig, and we decided to just say yes and see what would happen.
I had dreamt of making music my whole life but it took a long time for me to have the confidence to try it. I had a weird mindset for a long time that you had to know how to do music before trying it…but then how can you learn right? I like playing with instruments where there are fewer formal rules, which is why my setup is so random. I find guitars intimidating because it's hard not to approach them without preconceived ideas of how you should play them. A lot of how I started out was just playing with my voice and found objects and recording them into a loop pedal. I like approaching music like a child, using just instinct and intuition. It is really refreshing to not know the rules to making music because then you can make your own rules instead. I'm like that with everything though – including my photography or film making; I never read the manuals or learn the technical stuff. I think it can destroy instinct. It's important to make art straight from your heart and from the subconscious.
Do you recall the first album you ever owned that made an impression you?
The first full albums I remember buying with my own money that I really loved were Madonna's Immaculate collection, Gorillaz's G-Sides, and Radiohead's OK Computer. OK Computer especially influenced me though, I remember just going around on my scooter when I was ten and had no friends and listening to "Climbing Up The Walls" on repeat on a tape copy of the album that I had put onto my little walkman and feeling like Thom Yorke was the only one who understood me. My parents also have incredible music taste, they would listen to a lot of electronic music in the car when we were kids, so I've naturally been drawn to electronic music ever since.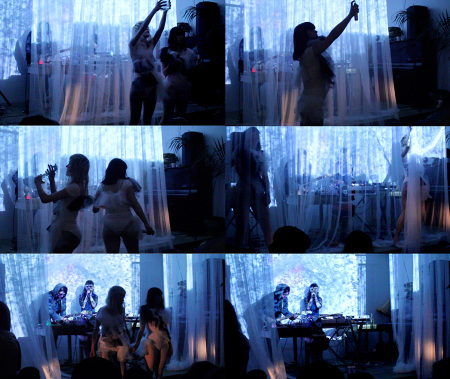 At your most recent performance, CHAPEL PERILOUS III held this March in London, Moonbow finally got the chance to play around with some of these immersive aspects you're keen to incorporate, from original set design by Amber Scarlett to visuals by Oxford student Mirren Kessling. How did you find the audience reaction? Do you think people were receptive to putting down their phones for a bit and really stepping into this alternate world you'd created?
I really want the audience to feel a part of our world and not a voyeur, which is why we have the scent of rain that we spray around for "Evaporation/Equilibrium," because I feel like smell attaches to people's memory and visualisation of a story more strongly than anything else. I think people liked getting a bit playful with this. We also lightly spray water on the audience so that the water evaporates off of them too. The idea is that the performance feels like it is slowly evaporating, and to me that's a slow, calm, kind of meditative, deep breathing state. I think people are refreshed to see something new.
In a world where so much has been done before, and there are so many bands, I don't see the point in even playing if it is the same as any other gig. I want the audience to feel like they came out of their house to see this magic, ephemeral thing and they will never get to see it in this exact way again. Each performance is very carefully curated and catered so that it feels fresh and unique. It BELONGS to the audience, it's theirs, because they saw it, that one-off thing. I got the vibe from the last gig that people really liked that.
When you envision the ideal modern relationship between performer and audience member, what does that look and feel like? 
To me, a lot of gigs these days for electronic, non-dance music feel very static, and like you are just watching something on TV. I want people to feel like they are IN the movie. I don't want people to see us as a separate intangible thing. The audience is just as important if not more important than the performer. Without an audience, there wouldn't be a performance. An ideal situation would be that we are inside a magical world, surrounded by the audience, submerged in them as they explore this world. Complete immersion. No barriers or raised levels.
Although classifying music into set genres sort of goes against the fluidity that SHAPESHIFTING's exploring, how would you describe the sound you and Beau have been honing these past couple of months for readers who have yet to hear your music?
I wouldn't want to categorise us as we are still developing all our material, and also because we don't particularly try to do one thing. We just act on intuition, and perhaps a bit of our taste and influence might seep into that, but because I'm so self taught I don't think I can really be intentional in trying to sound like anyone else other than myself and what naturally comes out of me. A lot of what influences me is Kate Bush, Portishead, Cocteau Twins, Broadcast, Gang Gang Dance, The Knife, Connan Mockasin, Sun Araw…and electronic producers like Four Tet, Bonobo, Teebs. Bjork, Talking Heads, Brian Eno and Animal Collective are other big loves of mine, but I couldn't say they directly influence the music necessarily.
I really like taking influence from trip hop, dub and afrobeat in terms of the rhythms, but then softening that with how high my voice is, and using lots of lush sounds with the electronics and effected droning guitar. I really like early sci-fi and electronic experiments in terms of the sounds (I'm talking the pioneers of electronica, like Daphne Oram, Delia Derbyshire, Wendy Carlos, The BBC Radiophonic workshop); stuff that is very textural and smooth and effervescent. I think it's important that before you even think about composition you need to have a really good sound, which is why we are such synthesiser, sampler and effects pedal junkies I guess.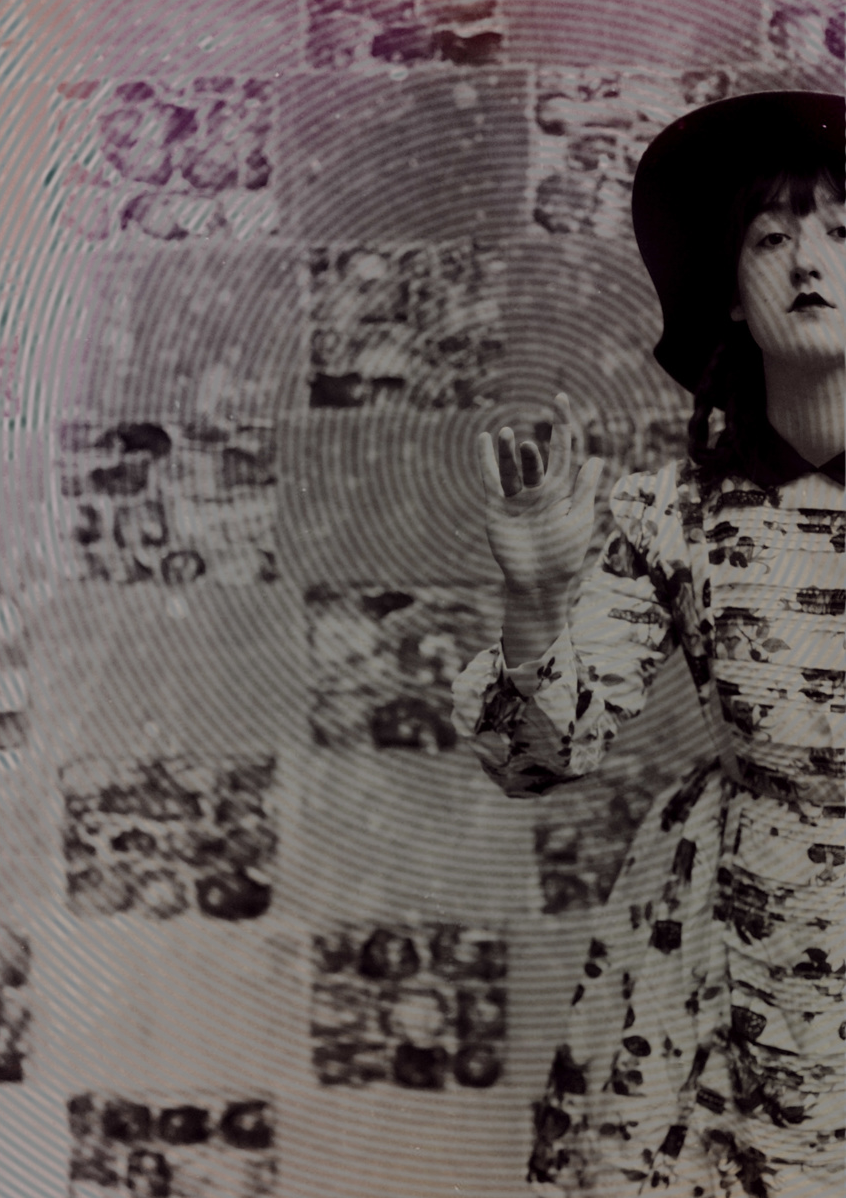 As someone who spends quite a bit of her time taking photographs, the visual aspects of performance must interest you as much as the auditory ones. What sorts of details do you consider as you're preparing for a Moonbow performance?
Everything. I don't want to just come on stage and play a selection of songs and leave. The order of the songs is curated so that if you listen carefully, there is a story being told. That story is re-enforced by the set design, visuals, smell and costume, which I don't consider as secondary elements but vital elements. Like I said before, it's more of a performance art approach, as there is a concept behind the performance as a whole, and the songs shouldn't be seen as individual or sound only pieces.
Can you share a bit about the inspiration behind the piece you'll be performing this Thursday, "Evaporation/Equilibrium"?
The idea for the piece was inspired by water being a feminine element in tarot and air being masculine. The set list we play gives the illusion of slowly evaporating: starting off as water, and then changing the state of matter into air. The idea is that if we compare gender forms to these natural forms, then we can think about gender form evaporating similarly. The middle of the set I like to call the equilibrium; it's a song composed with a symmetrical structure, and in the main sample, which is a recording I made of some wind chimes blowing on the beach, you can hear the wind and the sea perfectly affecting the movement. So it is a perfect balance of form. The scent and water that is sprayed around the space at the start of the piece slowly evaporates alongside the music. We also have a set design made by Amber Scarlett that gives the illusion of evaporating as we play, and Mirren Kessling's visuals reinforce this idea of our relationship with nature slowly changing form.
I think it's important that these performances are rare and special, so people come away feeling like they saw their own little lunar eclipse or something.