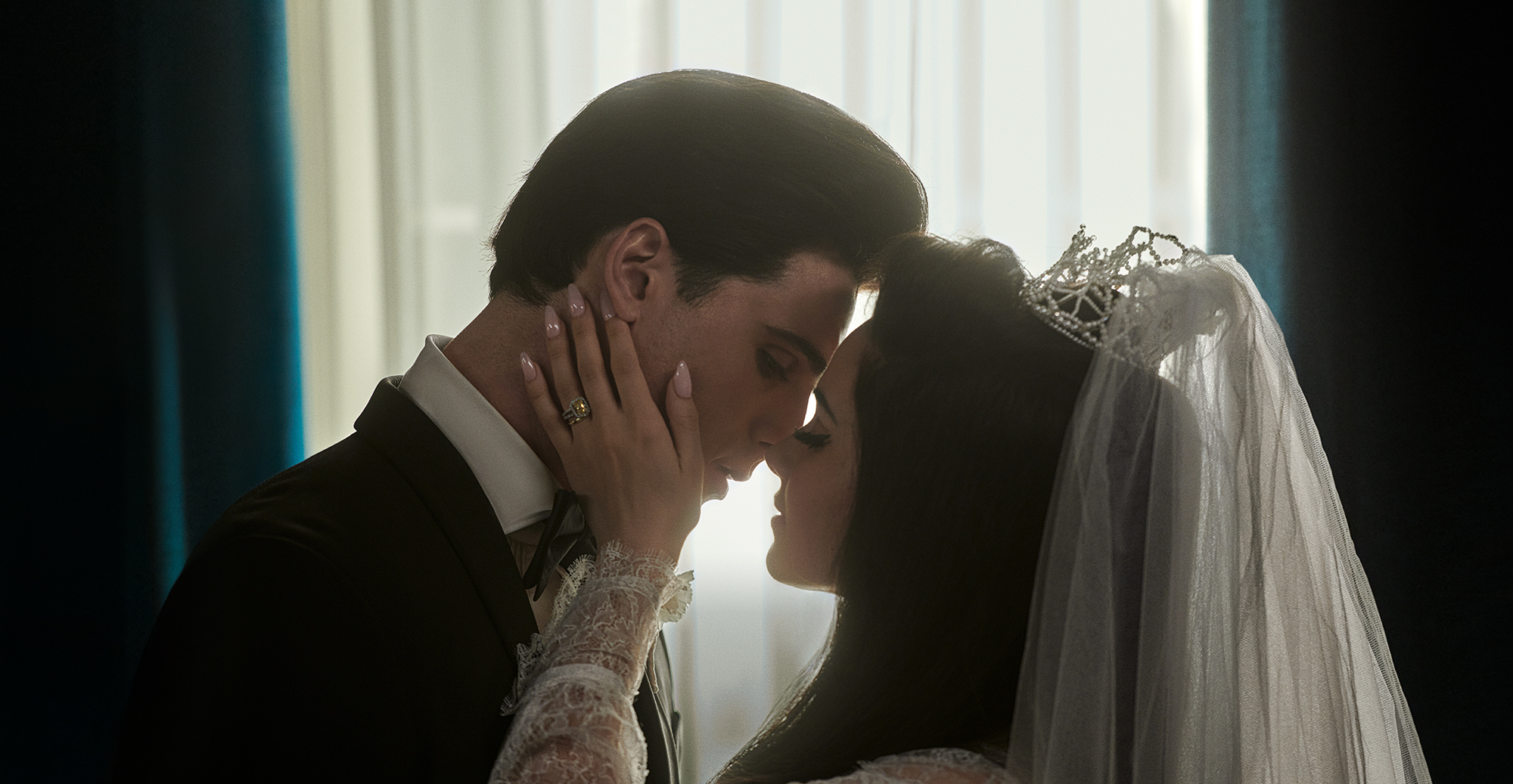 Review: Priscilla
by Imee Marriott | November 4, 2023
Imee Marriott reviews Priscilla from the 67th BFI London Film Festival.
It has been a big couple of years for Elvis Presley fans. June 2022 saw Baz Luhrmann's dazzling epic, Elvis, meet box office and critical success: now, Sofia Coppola has adapted Priscilla Presley's memoir, Elvis and Me, for the silver screen. But whilst Elvis dealt with hagiography in broad, brash strokes, Coppola is more interested in writing history from the margins, delivering a wonderfully understated character-study of a woman living life in the shadows of stardom.
The film begins in 1959. Elvis (Jacob Elordi), already a global superstar, is stationed on military service in Wiesbaden. Priscilla (Cailee Spaeny), a wide-eyed but self-possessed 14 year old, is living with her parents at an army base. Plucked –or rather procured –from a world of textbooks and coca-cola bottles, she finds herself perched on a sofa at Elvis' rented West German home as he strolls through his house-party towards her. Thrust into Elvis's accelerating orbit, a rollercoaster of movie dates, elaborate parties, and chaste kisses ensues. Despite the decade between them Elvis and Priscilla are united by a palpable sense of loneliness, and a yearning for home. There is indisputably an appalling power imbalance at play here, but Priscilla is curiously non-judgemental of their courtship, leaving Spaeny's petite stature and doll-like features, so convincingly schoolgirl-like, to do the talking.
By 1960, Elvis' enlistment has finished and he jets back to the States. "There's nothing to do here", Priscilla complains to her parents, whilst she doodles Elvis' name across her schoolbooks and waits for him to call. Within a few years, Priscilla will trade the drab domesticity of army brat life for the opulence of Graceland: the irony is that the latter will, inevitably, endow even greater ennui. At first, however, Memphis offers a new and exciting double life. Chaperoned to a Catholic girls school by day and accompanying Elvis to parties by night, Priscilla is sustained by the sleeping pills and amphetamines which Elvis places into her tiny palm. But when Elvis is away, she seems more like an orphaned child finding herself in a house of distant relatives who are, if not unfriendly, concerned with other things: it's like The Secret Garden, but with 1960s interior decor.
"Why can't he find someone his own age?" Priscilla's mother asks at one point in the film. It's a good question. Though Elvis easily conducts a string of tabloid-worthy affairs with older women, he remains in thrall to Priscilla's doll-like innocence. "Stay the way you are" he instructs the teenage Priscilla, tellingly. Is this how we are meant to interpret Elvis' refusal to consummate their relationship until marriage and his disinterest in a sexual relationship thereafter? Perhaps it speaks more to Coppola's loyalty to her source material: the real-life Priscilla has always maintained that the singer didn't take advantage of her when she was underage. That may have been so, but Elvis is coercive in other, insidious ways. He refuses to let Priscilla take a part-time job or have school-friends over, dictates what she wears and instructs her to dye her hair black and wear heavier eye make-up. Staunch Elvis fans will no doubt be affronted by this characterisation of their idol as a man who cannot bear to be beaten, or criticised, or challenged, whose charm frequently detonates into violence. His tantrums are, at times, semi-comedic, but the striking height difference between Elordi and Spaeny confers a visceral sense of physical threat. And though Elordi affords his Elvis a certain charm – there is an amusing scene where Priscilla emerges from her graduation ceremony to find him schmoozing the starstruck nuns – it is tempered by fragility. Copyright issues allegedly prevented Coppola from using any of Elvis' songs  (the film is scored instead by the band Phoenix, whom Coppola's husband Thomas Mrs fronts) but their absence feels deliberate: it is Spaeny's watchful, quietly dignified Priscilla who takes centre stage here.
Overall, the film is soft, subtle, and heart-wrenchingly sad. Tension and emotion surfaces only to be gently hushed. At times the pace feels indolent, though not uncomfortably so, swathed as we are in Coppola's soft edges and soft furnishings. "If I stay I'll never leave", Priscilla tells Elvis, as the film draws to a close and the pinks pastels bleach into dark reds. Like the Odyssey's lotus-eaters, Priscilla has everything she ostensibly needs within Graceland's shuttered walls, but she recognises she can't be swaddled by apathy forever.
It is a well-worn caution of English teachers everywhere not to end a story with a character waking from a dream, but Coppola got her cinematic education from her father Francis Ford Coppola's film sets, not the classroom. Certainly, there is much territory Priscilla leaves uncharted: motherhood and Priscilla's relationship with Lisa Marie, her film career and business ventures, her lasting friendship with Elvis. But as Priscilla surfaces from her reverie and bursts from Graceland's gates to Dolly Parton's "I Will Always Love You", the relief we feel is immense.∎
Words by Imee Marriott.