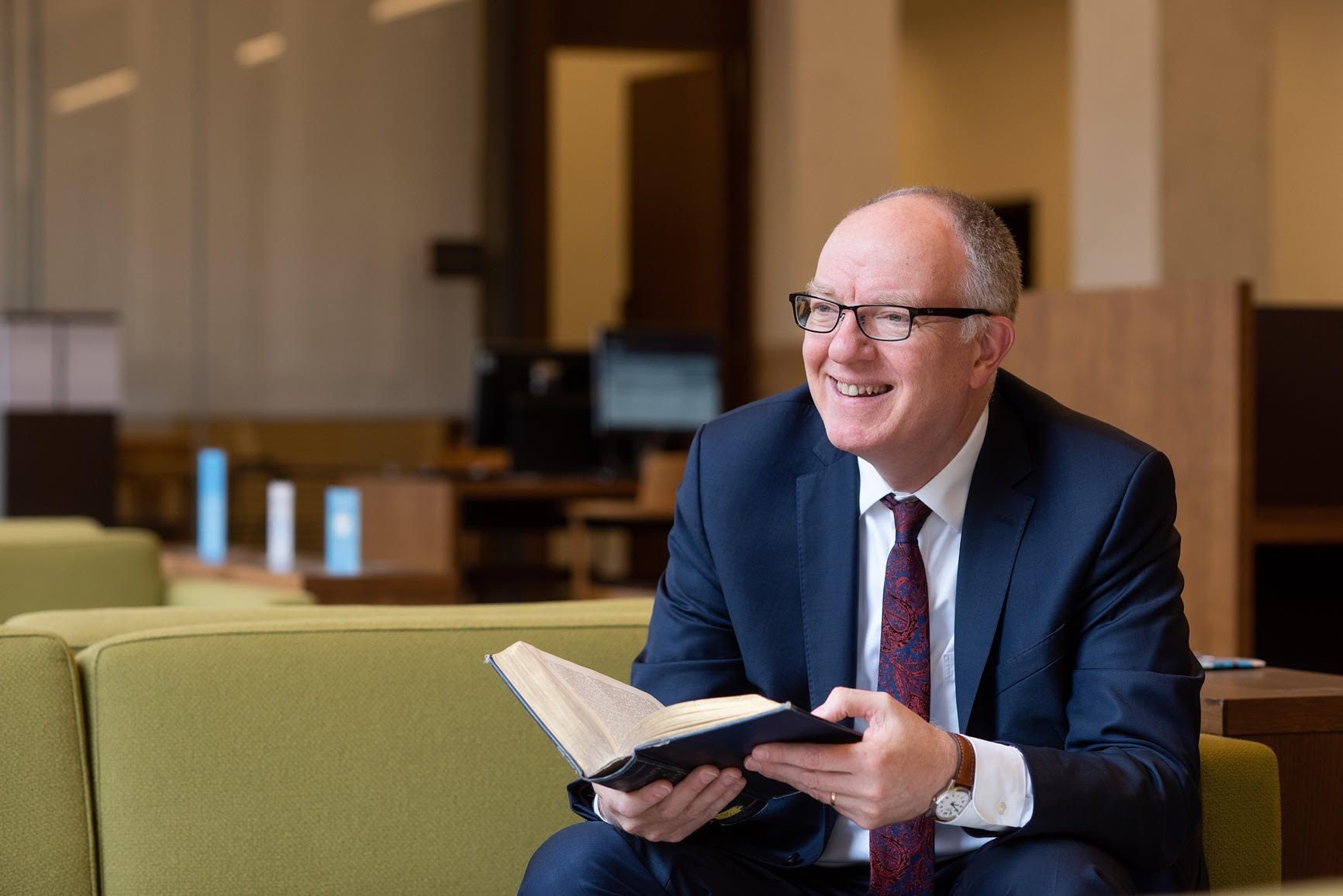 The Isis interviews Richard Ovenden, the 25th Bodley's Librarian
by Anneka Pink | April 6, 2023
Entering the innermost sanctum of the University – the office of the Bodley's librarian, Richard Ovenden – Kiana and I are probably as close to Elysium as it gets for book enthusiasts. The office is perched at the very top of the Clarendon building, Oxford's answer to Greek temple architecture, with wood panelling and tall windows overlooking Broad Street.
The 25th Bodley's librarian is far from dusty. This year will be Richard's 20th at Oxford. When we meet him, he tries to think of some publishable anecdotes for us – and it doesn't take long for him to provide us with many. Redeveloping the Weston Library, going for dinner at the house of the Iraqi ambassador to the European Parliament, and dressing as a Romantic poet with the actress Vanessa Redgrave for a Shelley poetry reading all rank highly. With regard to the Bodleian's Collections, he is most proud of acquiring Philip Larkin's correspondence with Monica Jones, allowing it to be displayed to the public for the first time. There are also the Abinger Papers, the archives of Mary Shelley (including the manuscript of Frankenstein) as well as her parents, Mary Wollstonecraft and William Godwin. Richard adds saving the archives of Guglielmo Marconi, the inventor of wireless telegraphs, to this list. He can't help but mention that he also is very interested in the history of photography and hopes that libraries will take the subject more seriously "as a means of disseminating ideas". During his time, the library's acquisition of William Henry Fox Talbot's archive has been a "catalyst" for the collection of a number of photographic archives.
We ask Richard what he does on a daily basis. Far from the literary trope of the librarian, he answers that his schedule consists mostly of meetings and administration. Richard represents the Bodleian and GLAM ('Gardens, Libraries & Museums') at university-level meetings. "Sometimes," he says, this is at the "kind of strategy and policy level, sometimes quite grandiose things like funding, money, building." Or, he adds, "sometimes on things like the university's strategy, which is just being sort of re-thought through at the moment." He develops the Bodleian's own strategy: "What are the important things for us to be doing for students and researchers? What do we have to focus on? What are the key issues?" I ask Richard whether he thinks the role of the Bodleian is changing. He disagrees, answering that education is "what we're here to do." It is "what we were kind of essentially established to do in 1320." His vision for the continuing need for knowledge is hopeful: "That kind of core function hasn't really changed. I don't see it changing anytime soon, either."
Whilst Oxford itself can sometimes seem outdated and stuffy, Richard is relatable, kind, and thoughtful. When reading History at Durham, he became a student librarian in his college library. He was paid, but regardless of the wages he discovered that he "liked working with books." He remembers his second-year summer as a turning point. When asked to move a cellar of old books, he recalls discovering "some really, really old books among the shelves, of 19th-century theology." Going to the university library to ask for advice, he fondly remembers being shown to a door with a brass plaque that read 'Keeper of Rare Books'. He thought, he says, "I wouldn't mind having that on my office door." On the advice of the Durham Librarian, who he characterises as "incredibly helpful and kind and generous in the way that she gave me some advice and encouraged me," he stayed on as a graduate trainee before going to UCL to read for a Masters in Library Archive and Information Science. Since then, he has had a varied career. Before coming to Oxford, he worked as a research assistant for a historian, at the House of Lords Library, the National Library of Scotland, and Edinburgh University.
Work at the House of Lords was challenging but interesting. Richard mostly helped the Lords with the information they needed for debates in the House. This was during the Thatcher era: Parliament was busy with "all the privatisation of public utilities." He remembers being asked to find out how many single parents were able to pay the gas bill in the Strathclyde region in 1985 only an hour before the PA was speaking in the House.  "These were the days before the internet. It was all me calling up the press officer in the Department of Energy or whatever it was to find that information out." Looking back, he admits that "building and using a network of contacts was really interesting." Still, he got bored eventually: "The novelty wore off. Mostly because of the House of Lords, which was before the reform, so it was full of hereditary peers who treated you a bit like a servant." He summarises: "The first thing I was taught on my first day was how to grovel."
He moved to the Rare Books department in the National Library of Scotland for the next ten years and then onwards to head Special Collections at Edinburgh University. He preferred working in a university. These were special days: "I had a very charismatic boss, who I really, really liked working with." It was tragedy that ended up bringing him to Oxford. His boss, Ian, died suddenly whilst hill walking in Scotland when he fell off a mountain. Richard notes that "he was younger than I am now." He couldn't imagine continuing to work at Edinburgh without Ian. It was then that a job at Oxford came up. He summarises his thought process: "Who wouldn't want to work in the Bodleian?"
Mentors are important to Richard, with Ian foremost among them. But he also often looks back at history for inspiration. In one of the most incredible anecdotes, he describes how "there's a corridor in the Weston Library, which is mostly locked off. But it has all the portraits of my predecessors. So I occasionally walk down those and look at Thomas James, appointed in 1600." To him, "the weight of history is definitely something that you feel." He pulls books off the shelves in his office as he talks to us. "You're definitely aware of the achievements of one's predecessors. And wanting to live up to their successes, but also not wanting to mess things up, you know, the next edition of this…" He points to A Brief History of the Bodleian Library, which he places on the table we're sitting around. He is particularly inspired by his predecessor Sarah Thomas, the first female librarian of the Bodleian, who he describes as a "very, very smart, very energetic, very charismatic person". He describes her tenure as a "masterclass in librarianship." Thomas has since gone on to run Harvard's Library, described wistfully by Richard as "the most well-funded university library on the planet." Richard has recently joined her as a board member. His own favourite library, you might ask? The Beinecke Library at Yale.
From here, I ask Richard about his writing. "It's always kept me sane," he says. Unknown to many students, Richard's publication history is littered with big names: The Financial Times, The Guardian, The Times, The Economist, The London Review of Books – the list goes on. I came across Richard's work when I read and loved his novel Burning the Books last year, a 'Times Book of the Year'. Writing research helps with work as librarian, he thinks: "It helps you when you sit in a reading room and call stuff up from the stacks or from Swindon. You experience what students and researchers experience and you think, this is really annoying, can we improve this?" Early in his career he focussed on the history of books and libraries, which he titles "slightly nerdy stuff." Burning the Books came from a desire to write something for the public. He grew frustrated with being told that libraries weren't going to exist because of the internet: "I don't know how many decades I've been told that. So I wanted to write something that sort of reasserted the value of libraries in society". An agent contacted him in 2018 after he wrote an op-ed for The Financial Times the afternoon the news broke that the Home Office had destroyed archives which contained the landing cards of the Windrush generation. As Richard is clear, this was the same government department which introduced the hostile environment immigration policy in 2010. In offering judgment of that policy, he is soft-spoken but confident: "You can take two views on that: cockup or conspiracy."
Researching his book led him to discover the incredible stories of different individuals and communities who have fought to protect knowledge throughout history. To Richard, archives are inextricable from the very fabric of human identity and social memory. In particular, he is unable to forget the librarians and archivists of 1940s Vilnius, Lithuania, during the German occupation, to whom he dedicated a chapter. "Their determination to preserve the documentary evidence of their own community when they knew that they would die. And they were just determined to do it, in the hope that someone in the future would find it. And that sense of the preservation of knowledge, the curation of it not being the past, but being about the future, I think that's one of the most inspiring things that I learned through the process and doing the research for the book. I really hadn't thought of it that way before."
Kiana asks how digitisation has changed archival work. Richard believes it's made librarianship inextricable from current affairs: "You feel like, actually, the library is right at the heart of political debates." In particular, he is troubled by the problem of cataloguing history, which he argues is now played out online, citing the use of WhatsApp by politicians. "If we want to keep that information as a record for future historians, or students or just for society, to know what Boris Johnson said about a particular topic at a particular time, that's more challenging, more costly, more technically difficult." To Richard, the role of libraries in preserving information and making it freely available to society, particularly to hold officials to account, "is absolutely fundamental to an open society, fundamental to democracy." Nobody has been able to archive the web at scale yet. Fortunately, Richard informs us, it's his next project.
Words by Anneka Pink.