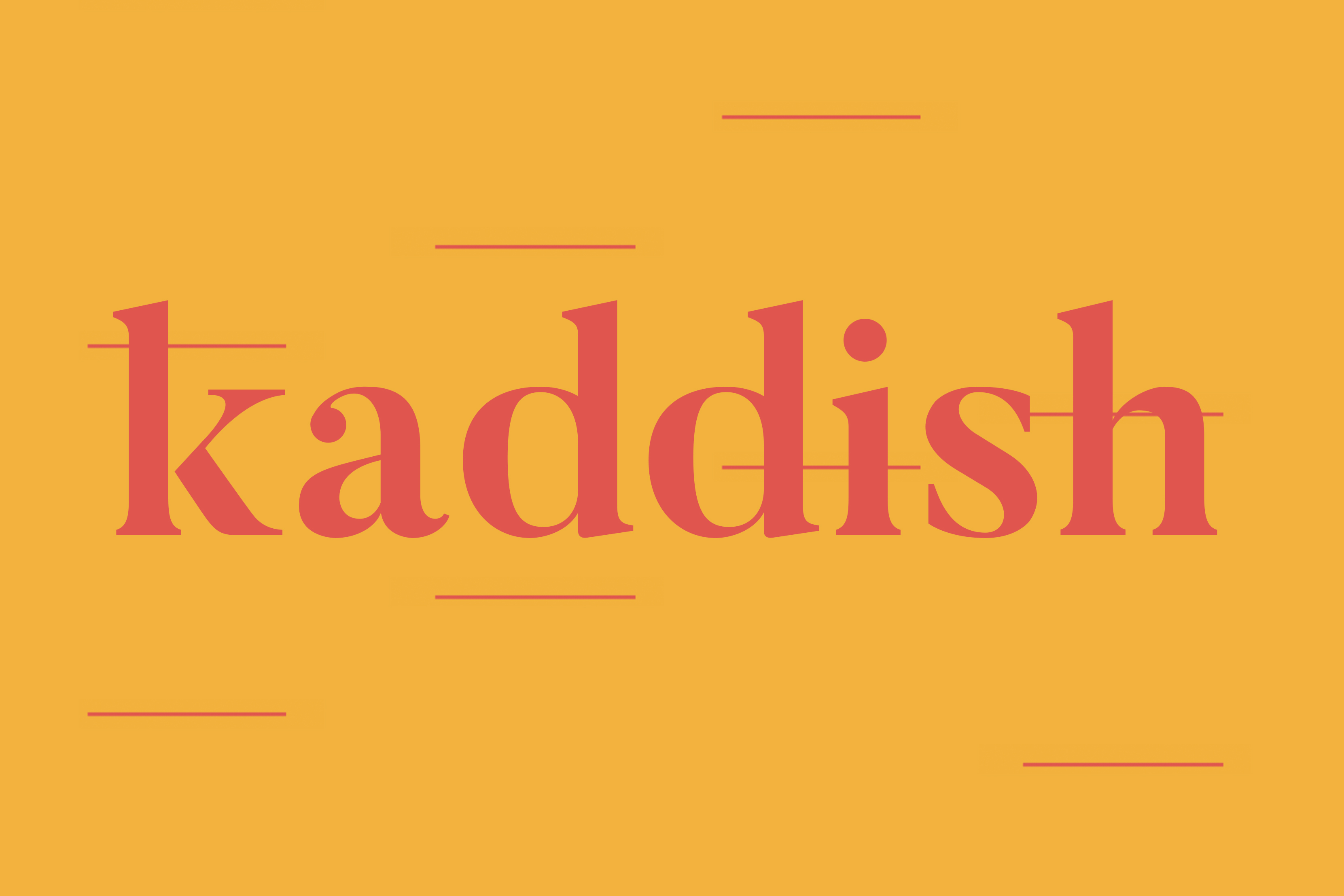 Kaddish
by Lucie Richter-Mahr | July 16, 2019
The word Obu is warm and round. This is how it sounds.

It is warm to go with my mother's hands and the lines on her face.
I just felt so much love! My mother says. She spreads both hands and waves them around. It was a giant love. She also uses both hands to talk about the semolina.
It is just semolina with chocolate powder
My great grandmother was a simultaneous translator. She could speak nine languages. She worked for the Palestinian government. She worked for the U.N. She met her husband in Paris before the war and got married in three days. It was a different time, my mother says. They all moved to Chile afterwards.
The semolina is savoury, so you have to put chocolate powder on it
I used to have terrible asthma, my mother says, sometimes when I woke up in the morning I couldn't breathe and I had to stay in bed all day.
There is a picture in my grandmother's house of a child's foot raised over a toy street in a toy town. Around the ankle you can also see pyjamas.
Every time my mother was ill she got it and the milk would make her worse. When she woke up in the morning she couldn't breathe and she would have stay in bed all day. It's so good we didn't know, she would have just died, my mother says.
In the picture she showed me Obu has grey hair, pinned back on either side of her head and curling above her shoulders. She is wearing round, black rimmed glasses. She sits in a kitchen, in the middle of the photograph, at the head of a table in Budapest. Behind her is an open cupboard. Little cups hang in it from hooks, and a row of plates are propped upright against the wood, facing out.
Hungarian, English, French, German, Spanish, Arabic, Japanese, Hebrew, even Esperanto! My mother counts on her fingers at the kitchen table.
I want to call it Kaddish, says my mother, waving her hands at the walls.

A volume of photos lies open on the floor. There aren't enough of these to cover the space, so I will print more than one copy of each. There will be pictures of them all over, on the walls, the ceiling, the floors, everywhere.
The Kaddish or Qaddish (Aramaic: 'holy') is a hymn of praises to God found in prayer services as part of mourning rituals in Judaism. It is the prayer traditionally recited in memory of the dead, although it makes no mention of death. The Kaddish is said at funerals and memorials. Kaddish cannot be recited alone.
In Scotland in March, I turn back because it is beginning to rain.  The street is bald and wetIt blows down the street . Rain blows down it horizontally, and suddenly my cheek is stinging, and it's not rain, it's hail.
I don't look up when the door opens. I hear rain hitting the pavement impossibly hard, the brief sound of bells, footsteps shuffling from the door to the counter, the door swinging back into its frame. When the woman sits down across from me, her hands are pink and purple. They are wet from where they have been holding the umbrella flat against the rain. A teapot is set down next to her, and a small, white cup. Her pink hands move slowly. She holds them to either side of the teapot.
Behind her, the china hangs on little hooks
My grandmother was a warm woman, my mother says. The word Obu drops like a warm stone onto the floor.
Obu is in the kitchen. Beside the cupboard that is open and holds the china there is a gas stove. A tin of cocoa powder stands on the table with its lid off. Brown powder covers everything like a gust of dark snow. The door is propped open to let the warm air out and on the stove, one black pot is bubbling. An empty bowl has been laid out next to it.
I just remember love, she says.
At the table, she has finished her tea. She puts down her cup and moves a finger around the rim. Behind the dark frame of her glasses her eyes are blue. We all have these blue eyes, my siblings and me. Her eyes tick back and forth over the table as she puts both hands to the sides of the teapot. Her eyelids look pale and soft. When the rain stops she makes as if to move.
Obu uses both hands when she gets up. She plants them on the table in front of her and steadies herself with them. They are pink and purple. She walks left around the table to stir the pot.
The black frame of her glasses runs underneath her hair to her ear. It comes into view when she turns her head to stop the hair from falling in her face. The air is thick and warm. Little cups hang in the cupboard from hooks. She has propped a row of plates upright against the wood, facing out. She says, Will you hold this for me? Carefully. She is peering over the rim of the pot. At her elbow, a smaller pair of hands are hovering. The wooden spoon is passed back and forth like a torch. ∎
Words by Lucie Richter-Mahr.