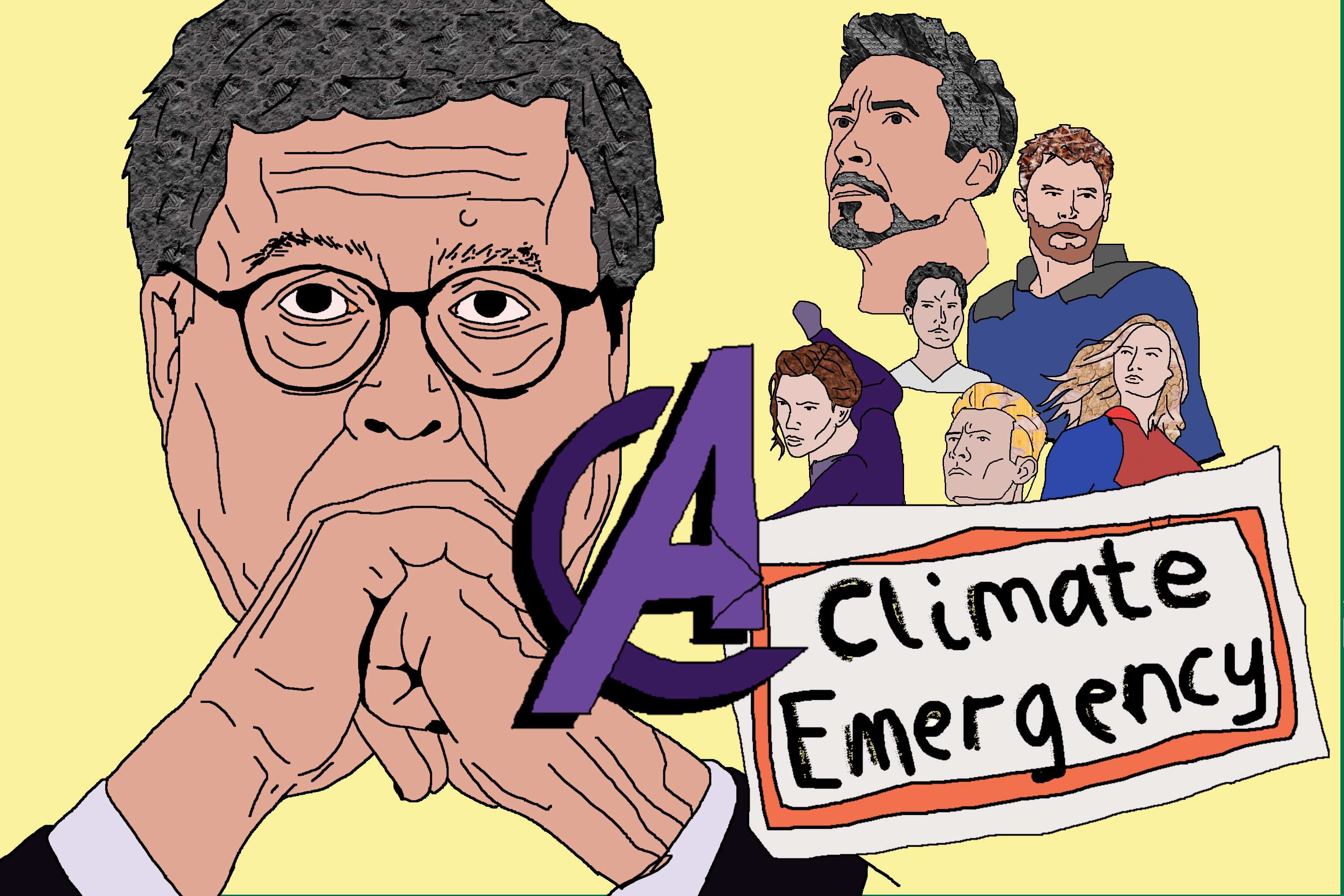 Weekly Roundup: Barr, Climate Emergency, and Marvel Movie History
by isised | May 7, 2019
Gaza conflict intensifies
Despite a truce agreed last month, protests in Gaza against the blockade of the area led to a Palestinian gunman shooting and wounding two Israeli soldiers. Israel then retaliated with an airstrike that killed two militants. Palestinian militants have fired over 450 rockets into Israeli territory over the weekend, whilst Israel has hit around 220 targets in the Gaza strip, with PM Netanyahu ordering the military to "continue its massive strikes on terror elements in the Gaza Strip" today. (Sunday 5th May) – Leela
UK Announces Climate Emergency
The UK government declared a climate emergency this week. Corbyn proposed the motion and MPs near-unanimously backed it. 2/3rds of Britons agree according to a recent poll. Still, it is yet to be seen whether the declaration of an 'emergency' is just couching the problem with determined language, especially on the Conservatives' part, as they seek to attract younger voters. There are countless discrepancies between the government's rhetoric post-Extinction Rebellion and what is actually going on behind the scenes. Michael Gove spoke of a 'green thread of ambition' running through successive Tory governments whilst defending the construction of a third runway at Heathrow. The Conservatives have successfully invited the most renowned climate change denier on the planet, Donald Trump, to visit the UK. His visit is opposed by Labour, the Lib Dems, the Greens and most other parties. Globally, Britain, Germany and the US are all set to miss their environmental targets for the 2020s whilst China hit its 2020 target two years early in 2018 and continues to reduce its emissions. The UK ranks 7th in the world in terms of cumulative greenhouse gas emissions since 1750. – Jorrit
William Barr Testimony
United States Attorney General William Barr testified before the Senate Judiciary Committee on Wednesday (1st May), following the recent release of a redacted version of the Mueller Report (investigating the possibilities of President Trump's collusion with Russia and obstruction of justice). Following his testimony, which was screened live, Democrats have decided to launch contempt proceedings against Barr after he failed to reply to a House Judiciary Committee subpoena for an unredacted version of the report. If successful, the contempt stamp would be a significant mark on Barr's career, but for the decision to take on criminal/legal ramifications it would need approval from Republicans, too. The Mueller/Barr/Trump saga continues, and while I wish we could stop talking about this story, it just keeps coming back. Maybe that's for the best; if the US is to get to the bottom of Mueller's central questions, we need to keep having the conversation. BBC summed it up pretty well here. – Mack
Avengers: Endgame Makes Movie History (Don't Worry, No Spoilers)
Last week, Marvel Studios' Avengers: Engdame made movie history. The 3 hour long epic marks the end of Marvel's 22-film "Infinity Saga", the likes of which have never before been seen on the big screen. Endgame's unprecedented success displays the increasing popularity of these sorts of film sagas and paves a path for more and larger cinematic universes in the future.
The first movie in history to gross more than $1bn USD in its opening weekend, Avengers: Engdame's $1.2bn dusted the previous record of $641m set by Marvel last year. It also broke the single-day record in countries like the Panama, Ukraine, and Turkey, as well as our own domestic single-day record at £11.8m. Due to the unprecedented demand, some theaters stayed open to screen the film all weekend. – Neil
Facebook bans far-right figures
Facebook has announced that it will ban a number of controversial figures including Alex Jones and Milo Yiannopoulos for violating its policies on hate speech and promoting violence. These individuals, counting among their ranks conspiracy theorists, white supremacists, and anti-Semites, will be banned from using Instagram as well. Having faced significant criticism for failing to crack down on inciteful activity and misinformation, Facebook's latest step finally shows a stronger attempt to enforce its own terms of service. Although the company denies that its decision was a political one, it has already drawn backlash from conservative figures including Trump, who tweeted that he will 'monitor the censorship of American citizens on social media platforms.' – Chung Kiu
'No Overall Control' – UK Local Elections
Brexit was very much the ghost at the feast, haunting the local elections this year. So far, the focus has been on the failure of the main parties, meaning the success of the Lib Dems and the Greens has been somewhat overlooked. The well-trodden narrative that Labour must support EU withdrawal or face electoral disaster has been convincingly disproven. The two unequivocal backers of a second referendum have made large gains, whilst UKIP continues its descent into irrelevance. Labour's 'constructive ambiguity' on Brexit has been rejected by voters this week. Calls to give the public a say in what happens next will inevitably grow louder. – Jack Womack
(Full results of the election, and some graphics, can be found here.)
Artwork by Mack Willett. Words by Leela Jadhav, Jorrit Donner-Wittkopf, Mack Willett, Neil Natarajan, Chunk Kiu Kwok, and Jack Womack.