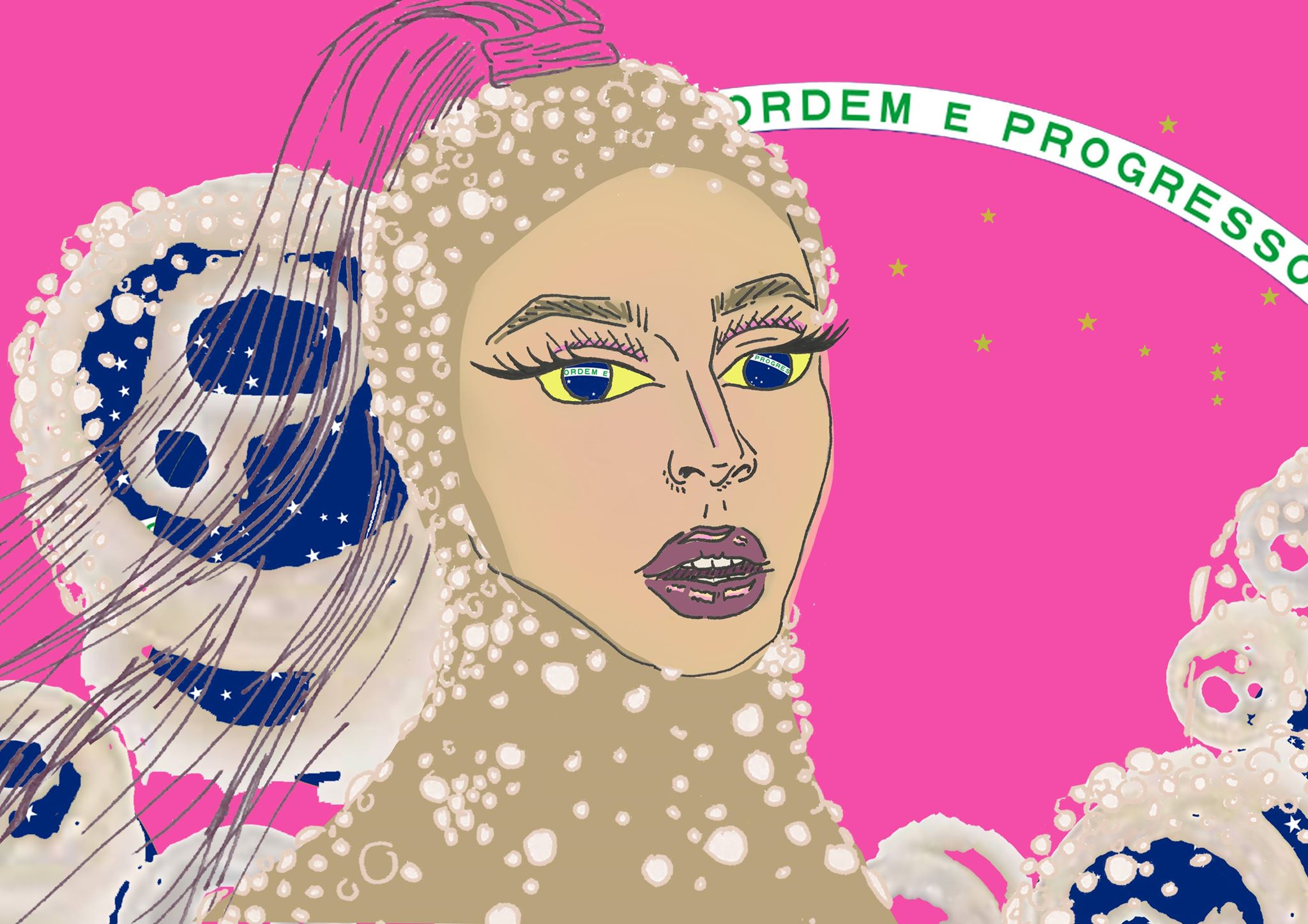 How one drag queen is confronting Brazil's far right
by Phillipa Barlow | April 25, 2019
"I like to be a boy, I like to be a girl." Pabllo Vittar doesn't waste time when it comes to explaining their sexuality: nor should they. The twenty-four-year-old drag queen from Brazil first caught people's attention performing Whitney Houston's 'I Have Nothing' on local TV. The risky choice of solo paid off and five years on Vittar has transformed into one of the most prominent figures in Brazil's queer and mainstream music scenes alike. Pronoun fluid and openly gay, their success is testament to the progress being made by the LGBTQ+ community throughout the world.  
Fusing traditional north-eastern Brazilian genres with international pop and unapologetic queerness, Vittar's music represents a refreshing new side to Brazil's music scene. It embraces the fluidity of modernity while celebrating the rich tradition of the north-east, a region often been overlooked by the West with its' 'Copacabana' view of Brazil. Vittar told Remezcla in 2017 "it's not enough to love other cultures and step on our own."  Last year marked a big year for the artist. Boasting 692 thousand followers on twitter and eight million on Instagram, they stand as the most followed drag queen in the world, far eclipsing the American RuPaul amongst others. Vittar recent album Não Para Não has enjoyed wild success, with "Problema Seu" racking up nearly 21 million hits, and last year they became the first drag queen to be nominated for a Latin Grammy award.
Yet, Vittar's rise to fame seems contradictory to the direction Brazil has taken in the last year. In October 2018, the far-right Social Liberal Party candidate Jair Bolsonaro was voted into presidential office. The election marked another victory for the wave of populism sweeping the globe. Despite seven terms as a congressman, the ex-army captain successfully presented himself as an outsider who could reform the country. Brazilians' anger towards the leftist elite was understandable. Recent presidents' terms were wracked with scandal and corruption. Dilma Rousoff was impeached in 2016 after being found guilty of breaching budget laws, while in February 2019 her predecessor, Luiz Inácio Lula da Silva, had an extra twelve years and eleven months added onto his twelve-year prison sentence for money laundering and corruption. Promising a tough stance on crime and corruption, the right-wing congressman was considered an antidote to Brazil's political problems.
For many in Brazil and the rest of the world the 'Trump of the Tropics'' absurd rhetoric initially rendered him unelectable. An out and proud homophobe, his discourse concerning minorities is hateful, promising to only perpetuate the violent prejudice already rearing its head in the country. He stated that he'd rather have a dead son than a gay son; in the same interview, he claimed that if a gay couple were to move into his building it would decrease in its market value.  Bolsonaro also said that people receiving blood transfusions should have the right to reject "gay blood". It is not just the LGBTQ+ community he has a problem with. He declared black people in the favelas of São Paulo "fat" and "lazy" and "no sirven ni para procrear" (not even good for reproducing). While Trump wanted to "grab her by the pussy", Bolsonaro told a fellow congresswoman that he wouldn't rape her because "no te mereces" (you don't deserve it). He did slightly tone down his views in the two years leading up to the election: a political tactic as obvious as it was strained. An online video from 2016 saw him awkwardly declare that "tenho nada que ver com o comportmento de quem que seja, se homem ou mulher, resolver mais tarde e morar com um companheiro e formar um par e morar com aquele do mesmo sexo" (I have nothing to do with the behaviour of anyone, man or women, who decides later on in life to live with their companion, form a couple, and live with that same-sex person). This was, however, briefly mentioned during a speech advocating the government's responsibility to prevent children 'turning gay' by forbidding the teaching of LGBTQ+ material in schools.
When it was time for Brazilians to cast their vote,  Bolsonaro's profound prejudice was deemed inconsequential compared to the dire need for change. His campaign demonstrated, however, that hateful rhetoric can do damage even before it becomes legal reality. During the lead up to the election, a group of Bolsonaro supporters used a penknife to carve a swastika into a nineteen-year old woman carrying a pride flag and sporting an 'Ele Não'  sticker ('Not Him,' an umbrella term for the collective of opposition groups against Bolsonaro). Bolsonaro may not have directly called for this brutal act of violence, but his candidacy evidently emboldened those who committed it. The resurgence of the 'Gay Purges' in Chechnya warns of what can happen when those in power express such hateful views. The Republic's authoritarian government has always been vehemently opposed to the LGBTQ+ community – its leader Kadyrov has openly condoned anti-gay honour killings. In recent years, however, reports of government authorities systematically rounding up people based on their sexual orientation for detainment and torture have emerged.  Since December of 2018, a reported forty people have been detained, with two thought to be dead. When allegations were made against Chechnya's government and this anti-gay 'campaign', it denied both the existence of a LGBTQ+ community in Chechnya and added that, if they were to exist, "their relatives would send them somewhere from which there is no return." Chechnya's provides a clear warning to Brazil, and all of us, of how institutionalised homophobia can quickly result in institutionalised persecution.
Even before Bolsonaro, Brazil was a country on the precipice. The number of LGBTQ+ people murdered hit 387 in 2017, and conversion therapy was legalised after an eighteen-year ban. In the same year, schools teaching sexual orientation and 'gender ideology' were accused of promoting Marxist propaganda and 'making' kids gay. All minorities were facing old threats along with fresh tragedy. In March of 2018, Marielle Franco, a congresswoman who rose out of the favelas to become one of the most forward thinking and well-liked figures on Brazil's political scene was shot four times in the head after leaving a round table in Rio. Black, gay and a woman, she was an avid campaigner for the rights of all three groups. Yet, outspoken on issues of police violence, the 38-year old's death was a bleak testament to the violence and corruption permeating the country's political institutions. Police declared the killing couldn't have been random, and yet no one has ever been charged. The title of the event she was leaving? 'Black Women Changing Power Structures.'
So, in the last year, Vittar's importance as a singer and drag queen has moved far beyond that of artistic expression. Standing alone, their music possesses no overt political stance; sex, love and love gone wrong, it's catchy but not revolutionary. But their presence, performance, and outright refusal to become invisible certainly is. It represents unflinching and unashamed queerness, vehemently defying traditional sexual and gender norms under leadership that is seeking only to fortify them.  Vittar was quick to recognise their political significance for the LGBTQ+ community and Ele não movement at large. During the lead up to the election, they ended a performance shouting 'Ele não' at the 2018 Prêmio multishow. Vittar also used social media to weaponise their celebrity, notably tweeting "eu resisto" (I resist) on the day of Bolsonaro's victory. Their latest album, Não Para Não (don't ever stop) aptly dropped at the start of election month.
Bolsonaro, however, will not be an easy adversary. Now president, he's no longer restrained by the need to appeal to moderates. Along with side-lining environmental and the indigenous communities' issues, the president targeted the gay community on his first day in office. Amongst a series of terrifying executive orders was the removal of LGBTQ+ issues from the remit of the new Human Rights ministry, freeing the government of any responsibility to protect the LGBTQ+ community. What's more, he's placed Damara Alves, an evangelical pastor who preaches the importance of "traditional family values", as head of this ministry; on her first day of office she firmly declared that, "Girls will be princesses and boys will be princes. There will be no more ideological indoctrination of children and teenagers in Brazil".  Folha de S. Paulo worryingly reported that Bolsonaro was working on closing a department in the education ministry that works on the improvement of diversity within the school system. Other subtler moves against the community include removing a STD guide for trans men from the government's website. Bolsonaro's first days in office consequently demonstrate a strong determination to instate his regressive, so-called 'family values.' These orders are rapidly feeding an atmosphere of hate and prejudice; Brazil's only openly gay congressman, Jean Wylls, announced at the end of January he would be leaving both congress and the country after receiving numerous death threats from members of the public. Vittar's presence within the LGBTQ+ community is consequently more vital than ever. The singer can show Brazil that you really don't have to be a 'prince' or a 'princess' depending on your gender, or really at all, because we're not in a land 'far, far away' and it's not the 1950s.  
In fact, Vittar follows a long line of musicians who have become agents of political and social resistance in Brazil. In the early 60s, musicians in the post Bossa Nova era were vocal critics of the 1964 coup d'etat that precipitated Brazil's twenty-year military dictatorship. Giberto Gil and Caetano Veloso, prominent figures in the Tropicália movement and outspoken against the regime in their lyrics, were both arrested and forced into exile. Chico Buraque, writer of 'Roda Viva,' which gained him a prison sentence, also composed songs such as 'Apesar de Você' that were banned from being played on the radio, becoming important anthems for the country's democratic movement. While Bolsonaro himself has expressed admiration for the authoritarian military dictatorship, he has not resorted to censorship, yet. Nevertheless, Vittar's drag has imbued their music with a similar quality of dissidence. They are now a subversive political agent. Unlike these singers, however, Vittar's resistance does not lie beneath veiled lyrics, but it is bound up in their whole identity. Gil and Veloso actively chose to criticise authoritarianism, Vittar has had rebellion thrust upon them. Yet, while they've accepted the responsibility and even weaponised their exposure, this has also rendered them vulnerable to persecution.  Brazil's previous military dictatorship swiftly silenced any musical activists; Bolsonaro, now enjoying both significant popular support and political legitimacy, has the capacity to do the same. If Vittar's defiance has not already put her firmly in Bolsonaro's crosshairs, it likely will do.
 Many of Brazil's creatives have already faced the consequences of the country's increasing authoritarianism.  In September 2017, an exhibition at the Santander cultural centre in Porto Alegre was shut down due to protests from the Free Brazil Movement (MPL), a social movement that shares in Bolsonaro's social conservatism. 'Queermuseum: Cartographies of Difference in Brazilian Art,' was accused of blasphemy, paedophilia and bestiality. While there were immediate counter protests to the decision, Santander's quick decision to shut down the exhibition highlights the power that conservative groups have in Brazil. Bia Leite's series 'Criança Viada' (Gay Kid), depicting "não heteronormativos" (non-heteronormative) children, was one of the most criticised works,. The artist explained that he was inspired by a Tumblr post of the same name, in which members of the LGBTQ+ community shared young photos of themselves looking stereotypically gay. He argued the work was an attempt to "celebrate these traits, which during childhood were the cause of verbal abuse and violence." Right-wing protestors, however, accused it of being "practically child prostitution."
The political intention of such art has consequently been put into sharp focus, and the future for all creatives in Brazil seems very uncertain. The future of LGBTQ+ artists is even more so. All over Latin America they are facing persecution and violence. In Puerto Rico, the first openly gay Latin trap artist, Kevin Fret, was murdered in early January of 2019. He was shot eight times while out riding his motorbike. An outspoken advocate for the LGBTQ+ community, his death speaks to the silencing of disruptive voices throughout Latin America. For queer artists like Vittar, continuing to perform with fluidity and freedom have become dangerous but important acts of subversion. As Bolsonaro and other conservative institutions push for traditionalism, which quickly turns to prejudice and even violence, Vittar represents an alternative narrative for Brazil. The drag queen enjoys a celebrity reflective of the space that still exists for them in the country. Yet, as Vittar told Vogue, LGBTQ+ people "tem que matar um leão todos os dias" (have a lion to kill every day). Vittar and other Brazilian creatives must be united in their disruption. Bolsonaro's newly instated power, along with his wide-ranging popular support, means Vittar will easily be side-lined or even silenced as a singular voice. Enlisting the support of international artists and fans will also strengthen their rebellion by bringing global attention to this struggle, which so far seems to be going largely unnoticed. Vittar represents a beacon of hope, not only for the LGBTQ+ community, but all minorities at risk in Brazil: we must not let them go unseen. ∎
Words by Phillipa Barlow. Art by Ellen Sharman.