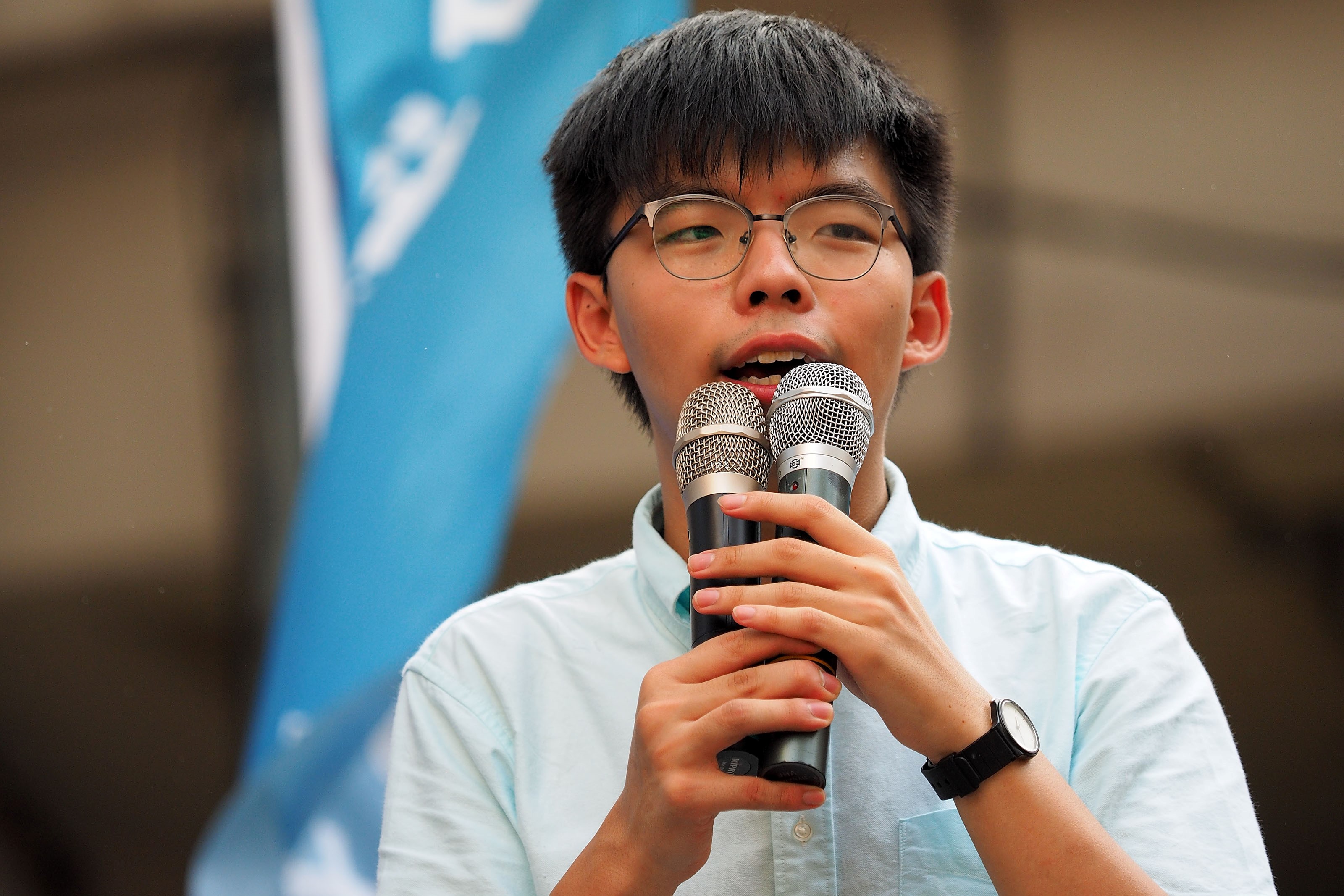 Student vs Superpower: Meet the young Hong Kong activists fighting for free speech
by Jack Hunter | July 12, 2018
When student activist Joshua Wong was arrested three years ago, 10 Hong Kong police officers dragged the skinny 18-year-old to the ground, and proceeded to beat him up. His hands were tied behind his back. He was kicked in the head and face; one officer even allegedly grabbed his genitals. His arrest, during the so-called Umbrella Movement protests, was part of a police crackdown against defenceless students—unleashing tear gas and pepper spray, dismantling their camps, and detaining their leaders. Two months later, Wong, pale-faced and forced into a wheelchair after a 130- hour hunger strike, vowed to fight on with the movement he had started as a 14-year-old schoolboy.
Wong co-founded his movement, Scholarism, in 2011 with fellow secondary school pupils who shared his determination to defend their Hong Kong way of life—founded on democracy, free speech, and education—against threats from mainland China. Specifically, they opposed Beijing's attempts to "brainwash" their generation by making its communist "moral and national education" policy mandatory in Hong Kong schools. Mobilising support on Facebook, the students organised a radical new form of protest: they pitched tents outside the government's headquarters, stayed put for several days, and eventually forced officials to back down. By 2014, Scholarism became part of the wider Occupy Central movement, formed to oppose Beijing's refusal to grant Hong Kong residents a real choice in future elections. What followed was a series of mass demonstrations that saw hundreds of thousands of young people pour into the streets to demand greater democracy. The protests, nicknamed the Umbrella Movement (in reference to the umbrellas students used to defend themselves against police tear gas), lasted almost three months and made Wong, a bespectacled and gawky teenager, a global icon—and an enemy of the world's most powerful authoritarian state.
Three years on, Wong is 21; he remains uncertain of his future freedom. Last September he was re-arrested for unlawful assembly during the 2014 protests and handed a six-month jail sentence—just days before I had planned to meet him at a panel event in Oxford. After he was released earlier this year, we spoke over email. Wong was on bail, facing another possible prison sentence—but it was clear imprisonment had not weakened his beliefs.
"Prison has only strengthened my political views, it has made me stronger in my own convictions," Wong said in one of our early email exchanges. "Life in prison was, as expected, monotonous: water was my only beverage, and my only sources of news were the radio, a standard newspaper, and the television—a far cry from what I have grown to be accustomed to, which is a constant flow of information from multiple news sources and applications."
But, Wong added, he was encouraged by moments of contact with those outside. "I had visits from my family and close ones, which I am very grateful for, in spite of the quota imposed by prison. They make up a huge part of the motivation which kept me going. I did receive letters from not only Hong Kong people, but also friends from around the world who sympathise with our cause and who wanted to show their support." Wong has certainly attracted a burgeoning global fan base: in February, a group of US senators nominated him and fellow Umbrella Movement leaders for the Nobel Peace Prize. For Wong—an unassuming student in baggy T-shirts—it has been a remarkable rise to international prominence (a Netflix documentary profiling him was released last year, and won a Sundance audience award).
He admits being labelled as the unofficial voice of Hong Kong's youth in the wake of the 2014 protests was "rather unexpected". When he and some school friends ditched computer games and began holding meetings in classrooms, they did not imagine their campaign becoming a national movement. But within weeks, thousands of Hong Kong residents had piled onto the streets in support. "At the time, I did not expect as much support from the public, it started simply as a group of secondary school students who were concerned and met on Facebook. You can see how it evolved from a small protest to a mass one once parents decided to get involved."
"With the Umbrella Movement, the resonance was even more amplified and unexpected," he added. "Such a protest was unprecedented, and I am humbled by the power of the public."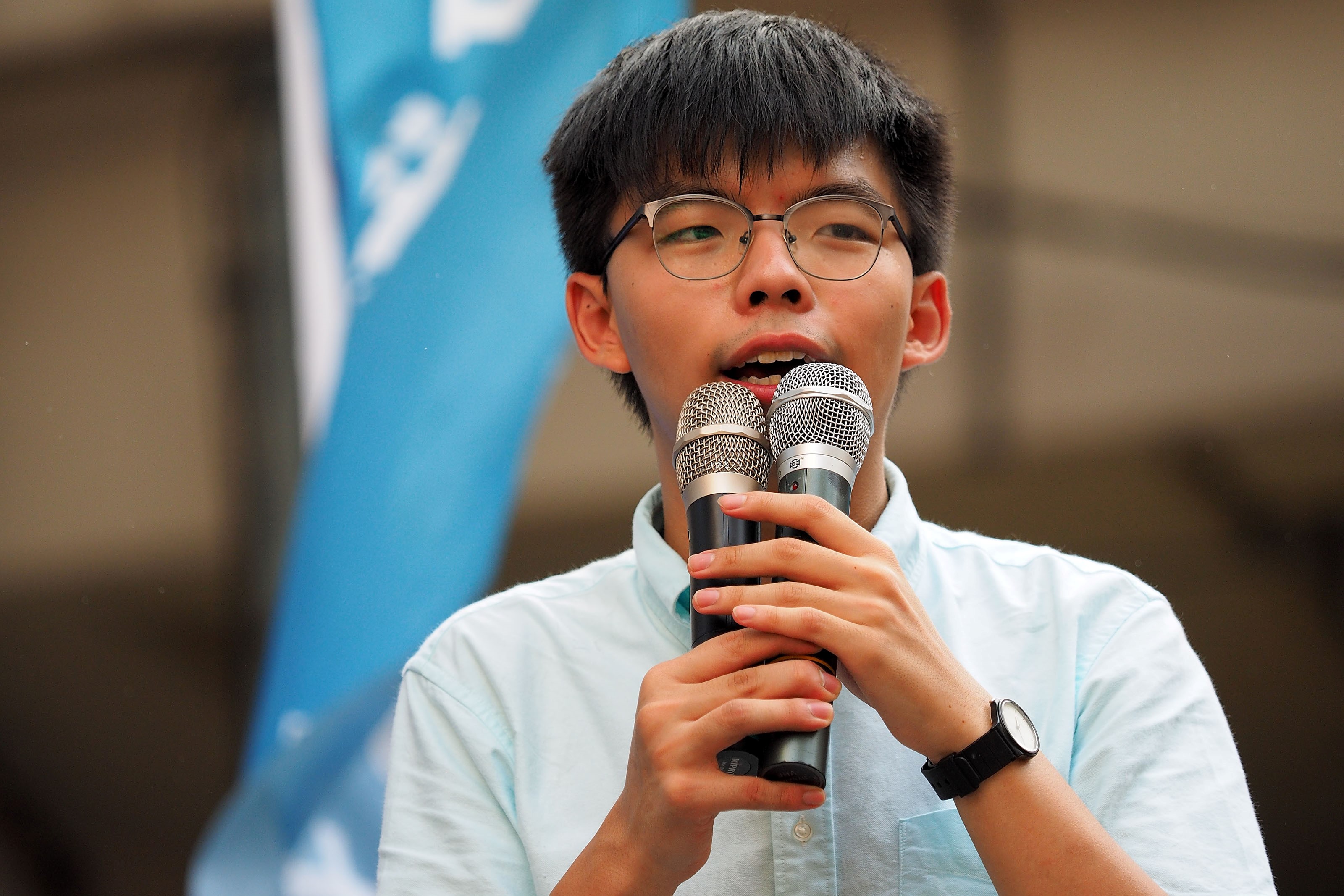 Wong embodies many of the aspirations of a younger generation who increasingly see their identity as 'Hong Kongers' rather than 'Chinese'. Hong Kong's youth is caught between the west and the mainland: energised by global ideas on social media, but living under the communist ideology of the Chinese system. Many are seeking new ways to express their identity, whether on the streets or in their minds. Some are even calling for full political independence from China.
But their freedom to express this nascent national identity is under threat. Xi Jinping, the Chinese president, has taken an increasingly hardline on dissent over the past year. Aside from Wong, several other young activists have been detained. Agnes Chow, a 21-year-old student, was banned from standing in election earlier this year after airing support for the city's "self-determination". Young Hong Kong football fans, who often boo and jeer when the Chinese national anthem is played before matches, could soon face up to three years in jail.
"It is evidently a form of suppression of dissident voices," Wong told me. "Selective appeals to only prosecute activists, disproportionate sentencing, and biased wordings in the judgments are obvious signs of state intervention on free speech, be it initiated by the Hong Kong government, or the Beijing one." Wong sees his battle with the Chinese state as a "David and Goliath situation". But, he adds: "we need to keep fighting for what we know to be right, and to be fearless in this pursuit."
Nowhere has Beijing's interference and intimidation been felt more sharply than by students and professors in the cities' universities—seen as hotbeds for dissenting movements like Scholarism. In Hong Kong, accusations of a "campus free speech crisis" are not merely the stuff of panicked newspaper headlines, but a real and growing danger. When a handful of students raised banners reading "Hong Kong Independence" outside their faculty buildings last November, they became engulfed in a bitter row that reverberated around China. In response, the heads of all ten universities in the city penned a joint statement declaring "freedom of speech is not absolute" and describing calls for independence as "abuses".
Even more chilling are Xi's attempts to influence the teaching syllabus. In March, a video emerged online of Dr Benny Tai, a law professor at Hong Kong University and an early founder of the Umbrella movement, telling a seminar of students that Hong Kong could one day "consider becoming independent". In the following days, he faced a wave of attacks from the Hong Kong government and the city's pro-Beijing establishment. Some even demanded he lose his post or be persecuted for sedition.
"I believe the Chinese authorities are behind all the attacks," Tai told me via email as the furore blew up. He said the wider threat to free speech in Hong Kong is "very serious, as reflected in my case". (But, he added, he had not yet found himself self-censoring his work.)
Wong, however, believes the threat to academic integrity is more serious. "Professors are increasingly wary of what they publish and what they say." Although students who protested against the mandatory Mandarin classes at Hong Kong Baptist University got suspended for occupying their Language Centre, and being rude to the instructor, students have relatively been rarely penalised for their political views, especially since they pay to be at the university.
"While for professors, their jobs are on the line, and doing research or speaking unfavourably about the Chinese administration can mean unemployment for them."
Back in 1997, when Hong Kong was returned to China after 150 years under British colonial rule, a cheerful consensus prevailed. It became relatively autonomous, and was promised free elections, a free press, and the rule of law under a system called "one country, two systems". But that world is now upside down. Like many of his generation who have grown up under Chinese rule, Wong believes China is betraying its commitment to maintain the city's freedoms agreed with its last colonial governor, Lord Patten (now Oxford University's Chancellor).
Can the blame be traced back to Patten's deal? "I feel that Lord Patten did try his best to ensure a foundation upon which Hong Kong could build a democratic society which respects freedom and basic human rights," Wong told me. "Alas, the other half of the deal was China, and when China does not uphold its end of the bargain, the deal would evidently topple over. To get China to honour its promises is still a great challenge for the rest of the world."
As Beijing's grip continues to tighten, the outlook for activists in Hong Kong—by all accounts—looks grim. Yet some, such as Dr Tai, see hope for change in the younger generation. "I do not think we can have democracy in Hong Kong within the next five to ten years," he told me. "However, we must persist. I can see this spirit among Hong Kong people. Some of my students do demonstrate this spirit. But whatever, we will continue to fight."
Wong, too, remains optimistic about activism as a cause for change. "I am hopeful in the people of Hong Kong. Hong Kong may be a small city, but its people made it great. As long as people are still in the streets, fighting for their beliefs, I will still be hopeful."
Wong's continued fearlessness in pursuit of his beliefs— despite the rising threat of persecution—is impressive. The youthful, some may argue naïve, idealism that took him into the streets and into violent tussles with police as a teenager has clearly not been dampened. And when I ask him what his message would be for student activists across the world, he is characteristically resilient. "I would say, be brave, and do what you know to be right. Don't let age restrict you from dreaming big."