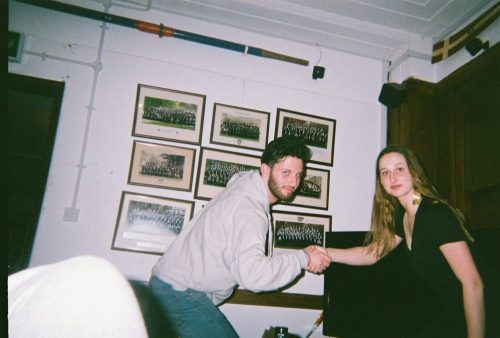 What We're Into: Staff Picks TT17
by isised | April 24, 2017
A warm welcome, ISIS readers, to Trinity Term 2017. In a confusing world of snap elections, terrorist attacks and right-wing populism, we hope that the various cultural faculties of The ISIS will bring some sense and provocation of thought to your respective terms. Munch right into an article on the French election; unravel a metaphor from our upcoming 'Poetry in Motion' video series; or perhaps just dance all your thoughts away at this Wednesday's joint night with ACS, Rumble in the Jungle at Cellar. From thought-pieces, to fiction; from club nights, to documentaries—we cover it all at The ISIS. We hope you find something for you this Trinity.
Lily & Tj, Editors Trinity '17
To introduce you to some of the team for the term, below is a little selection of what the Senior Editorial Team are into at the moment. They're a pretty weird bunch, but it might inspire you to read, watch or listen to something new…
Lily Begg, Editor: 'Fake News'
In my free time, I make fake news. It's so liberating to fabricate whatever you want—I highly recommend it. Once you've started mangling news it's hard to turn back, and the urge to create lies becomes increasingly difficult to resist. Truthfully, though, we are all exaggerators and fabricators. Our creative spirit is what makes us human! Why not depart from the dullness of truth, and rather seek to entertain and amaze? If you look hard enough, even the best reporting abounds with the potential to mislead. I like to describe my fake news hobby as "talent-spotting potential"; I'm the Simon Cowell of news reporting. This week, I went talent-spotting in the paper:
"Church leaders have crack in Bible camps for the radicalisation of children. Ofsted inspectors deemed it close to 'British values'."
Tj Jordan, Editor: PDC World Darts Championships
Tj was so upset that this didn't get published last term that he is refusing to write a new one, even though it was a very seasonal choice. We apologise for his disorientating words…
Each Christmas, there is one event that dominates my calendar. Yes, it's exactly what you were thinking of: The World Darts Championships. Many of those close to me have misinterpreted my affectation with the costumes, chanting, drinking and gigantic tummies as ironic: "Is it even a real sport?" But having played on the local pub team from a very illegal age, my engagement is authentic. The sport is pure theatre; players are billed by Sky Sports not just as sportsmen, but as characters. When Gary 'The Flying Scotsman' Anderson (who, incidentally, my mother fancies—apparently he has a nice smile) and co arrive on my screen halfway through December each year, it's like the Christmas special of a long-running soap opera. The emotional connection is genuine, too: Michael 'Mighty Mike' van Gerwen's Pink Floyd/White Stripes walk-on gives me goosebumps every time. And on live television, these characters are put to what 'Sports Journalist of the Year' Matthew Syed describes as "perhaps the supreme test of nerve in the sporting world". You can pass sideways in football, play a safety shot in snooker, or play a forward-defence in cricket. But in darts there is no way out. You must finish on a double. The psychological torture of this unique seasonal predicament is endlessly fascinating.
Ailbhe Rea, Deputy-Editor: The Opposite of Loneliness, Marina Keegan
When Marina Keegan graduated from Yale in 2012, she looked set to make that most coveted of smooth transitions into the Real World: she was graduating with high honours; her essay, 'Even Artichokes Have Doubts', had been published in the New York Times; she had done internships at The New Yorker and The Paris Review, and worked for Harold Bloom; her play was going to be produced in New York; she had a job waiting at The New Yorker. "We're so young. We're so young. We're twenty-two years old. We have so much time", she wrote in her final essay for the Yale Daily News. Five days after graduation, she was killed in a car crash.
The Opposite of Loneliness is a posthumous collection of her short stories and essays. It's the perfect book to keep on your bedside table in a busy Oxford term; her deft sketches of a university romance cut short in full bloom, or of a wistful mother and her undergraduate daughter, are a 'coming up for air' at the end of a dizzy Oxford day, a reminder of the beauty, poignancy and potential of these days in our lives. The collection goes beyond the immediate, however, to reveal a writer of range that spans a compelling horror story, and an oddly moving profile of a rodent exterminator.  The Opposite of Loneliness marks Marina Keegan out as a sharp thinker, a deeply-feeling observer of people, and a great loss.
Gaby Mancey-Jones, Deputy Editor: Jean Tinguely
At the moment, I've been spending a lot of time getting into the art and life of Jean Tinguely and his collaborators. Tinguely was an artist who made kinetic sculpture (moving artworks); I first came across his work in a retrospective exhibition at the Stedelijk museum in Amsterdam, and was so inspired I went back the day after just to look again. His moving sculpture-machines went through a lot of phases, increasing in size and complexity- the rooms in the gallery covered his Méta-matics (clockwork drawing machines) to his junkyard sound machines, and his exploding installations. Towards the end, the scale was enormous; he and a group of artists made a giant Cyclops' head out of industrial junk in a forest in France, 75 feet high and weighing 300 tons (it's still there today near Milly-la-Forêt, decaying slightly). Niki de Saint Phalle, his wife, was a really important collaborator; one room was about an exhibition they put on of a massive sculpture of a woman called Nana. Along with his works, it contained a fish pond, a 12-seat cinema, a milk bar and a playground slide. There's a wonderful picture of them together at their first breakthrough exhibition—Saint Phalle looks so confident. It's their playfulness that made the exhibition so enjoyable; the whole gallery was full of families and students clapping and cheering whenever one of his machines unexpectedly clanked into life.
Maddie Pollard, Deputy-Editor: A poem on a wall
I came across this poem in the summer of 2015, during the mandatory post A-Level interrailing trip. It was written on a wall at The Museum of Broken Relationships in Zagreb, Croatia and felt like a pretty good philosophy to live by.
To live in this world
You must be able
To do three things:
To love what is mortal;
To hold it
Against your bones knowing
Your own life depends on it;
And, when the time comes to let it go,
To let it go.
Vicky Robinson, Deputy-Editor: Inspirational Objects, Alison Milner
For my birthday, a friend bought me a book called Inspirational Objects by Alison Milner, sub-titled "a visual dictionary of simple, elegant forms". The book is dedicated to the everyday; the first half filled with greyscale photographs of mundane objects set against a white background, the blue pages of the second half recounting Milner's reactions to and interpretations of the objects, alongside their measurements. My favourite thing about this strange little book is Milner's unassuming voice. There is no pretentious over-analysis of these, quite frankly, boring objects. She writes of the sock-hook (70 x 30 x 2), "this is just a very nice piece of anonymous design for the humble and short-lived purpose of displaying a single pair of socks for sale. I wonder what else this person designed and whether they were particularly proud of their sock-hook." The awkwardly sized book (211 x 148 x 18) sits on the shelf by my bed, happily jutting out at least a fingers width further than any of the other books, its physical proximity and tranquil simplicity inviting me into its pages. Sometimes it's just nice to think about the things we take for granted and barely notice.