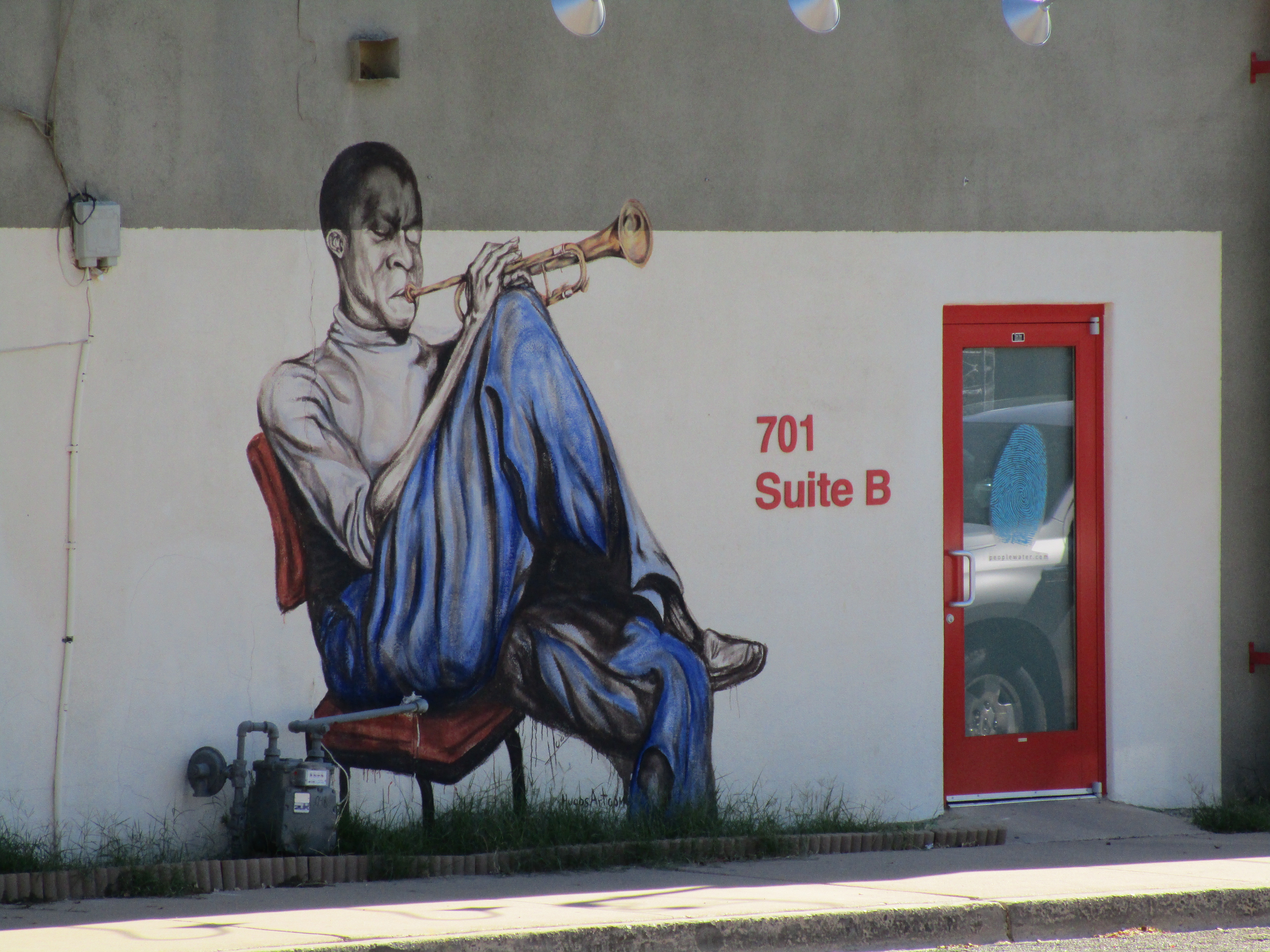 Never Look Back: Free jazz and why it matters
by Angus Smith | February 19, 2015
One  evening in Vienna, I was part of a thin, bewildered crowd, listening to the Peter Evans Quintet. The shrill whirrs of a laptop synthesiser jarred with Evans' buzzing trumpet, the double bass and the drums had very little to do with each other, and the keyboard hopelessly attempted to punctuate the disorder. But  during rare glimpses into the internal logic of the improvisation,  the whole thing seemed to make perfect sense. We suddenly latched on to the melody, then the rhythm; every note was meant to be there all along. Those moments seemed to justify everything that had come before. The first segment over, and the curtain drawn, a gentleman turned to me and said, rather sagely, 'Terrible… I'm much more into the old Dixieland jazz myself… And we came to Austria for the classical music, so, you know…'
I didn't really know. I think I was meant to nod and agree that whilst Dixieland and classical music held the gravitas of history, free jazz belonged in some other category. That the music to which we were listening existed in a historical vacuum, without heritage or pedigree. We were in the country of Mozart, and free jazz was no more than a squatter in his illustrious city. I nodded agreement that the Quintet's clamour was an 'acquired taste.' But free jazz does have a history, and while it may not be glamorous, it's worth telling.
You can't talk about the history of jazz in America without talking about substance abuse, homelessness and police brutality. From Miles Davis' autobiography springs an image of New York's white-owned clubs flooded with Dexedrine, marijuana, cocaine and LSD. John Coltrane's ruthless schedule was fuelled by alcohol, endless cigarettes, and heroin. Even as late as 1957 he struggled to make a secure living, earning just $300 per album, at a rate of three albums per year.
Yet there's a curious nostalgia about the 'jazz age' and beyond. We've re-imagined the drug-dens into smoky speakeasies and the impoverished musicians into romantic bohemians. We've sold ourselves an image of the African-American musician with a suit, skinny tie and a million-dollar smile, and yet there's an uneasy sense that this is hiding a darker reality.
'I always hated the way [Louis Armstrong and Dizzy Gillespie] used to laugh and grin for the audience…

I wasn't going to [grin] just so some non-playing, racist, white motherfucker could write nice things about me.'

(Miles Davis, 1991)
Modal jazz and widening horizons
Free jazz as a musical form, whilst not quite free from compositional logic, was free from imposed constraints.  Even as late as the 1960s, the repertoire of young jazz musicians was limited to show-tunes and a few standards based on simple chord progressions and well-known melodies. Bill Evans and Miles Davis created one of the most strident departures from the norm with Kind of Blue (1959). Based on different scales, rather than strictly limited chord progressions, the album was characterised by a tranquil unpredictability. Each musician had the freedom to roam within the different modes, rather than trying to cram the maximum 'wow' factor into their allotted solo before the song's structure forced them back to formula.
Two years later, John Coltrane released My Favourite Things (1961). With its waltz time-signature and breezy melody, the title track became a cornerstone of his performances for years to come. Coltrane could improvise on just two chords for as long as he wished, without an overcomplicated structure dictating the nature of his playing. The song could accommodate up to forty minutes of live improvisation, and the radio edit became one of the most frequently played jazz singles of the decade. Wild, lilting and ecstatic, by his final performance, the tune of the  chorus  is almost never stated. The song takes on a life of its own; it becomes more John Coltrane than Rodgers and Hammerstein. It becomes free.
                '…but then it was really getting too long.'

(John Coltrane, 1964)
Free jazz and Black Power
By the late 1960s, the consensus around early jazz was shifting. Melodically, artists had laid the groundwork to play their own compositions in the way they felt best. But the economic hardship of the musician's life and the pervasive racism of the music industry and of society remained. The image of the Uncle Tom with a saxophone was deeply troubling for black musicians, none of whom wanted to be associated with musicians who chemically straightened their hair to look white, or who performed self-deprecating or clownish songs like Calloway's Reefer Man. Free jazz was political. The number of musicians' collectives and independent record labels skyrocketed from the 1970s onwards, as artists were let down by mainstream producers, affording them both financial and creative independence. Charles Mingus expressed his politics through song titles (Faubus Fables, after a segregationist Arkansas governor, and 'Remember Rockefeller at Attica,' after the 1971 prison riot) and Colette Magny wrote the 'Oink, Oink Suite' in 1972 to commemorate victims of police violence in France.
The twin ambitions of restoring dignity to the art form and expanding the musical options available allied free jazz with the internationalism of Black Power. Beginning perhaps with Miles Davis' Sketches of Spain (1960), and advancing to the use of African percussion by Pharoah Sanders and Alice Coltrane, the restless adoption of new musical cultures is emblematic of a Black Nationalism which had broadened its outlook and saw civil rights as part of a global process of liberation.
In spite of its sometimes uncompromising rhetoric of political rebellion, free jazz often lent itself to wry satire rather than outrage. There's a misconception that the music of this period was seething with politicised rage. Indeed, most artists, when interviewed, have been alarmed to hear that their music has been received as 'angry.' It's difficult to imagine that Coltrane's Meditations (1966), made up of tracks like 'Love,' 'Serenity,' 'Compassion' and 'Joy', was intended to be as furious as the drones of his instrument might intuitively suggest. Eric Dolphy, a multi-instrumentalist and  sidekick to Coltrane, would embellish his improvisations with phrases from 'Pop Goes the Weasel', and play alongside Mingus in irreverent renditions of 'Cocktails for Two' or 'When Irish Eyes are Smiling' They were gently mocking the middle-class affection for early jazz, as if paying lip-service to those tastes before pushing ahead with creating art. Free jazz is not a snarling middle-finger to the music of the past so much as a gracious, departing nod. Bartok, Bach, Rachmaninov and Gershwin were inspirational figures for many. The pastiche became less gentle during the seventies in France, when one collective performed in blackface, sporting rictus grins in a parody of Jim Crow. In 1977, Mingus took aim at James Whitcomb Riley's 'Short'nin' Bread,' for suggesting that black children lacked refined taste:
                'Who says momma's little baby likes short'nin, short'nin bread?

That's some lie some American white man said!

Momma's little baby don't like no short'nin' bread!

Momma's little baby likes truffles… Momma's little baby likes caviar…'

(Charles Mingus, 1977)
This, ultimately, is why free jazz matters. Its harmonic experimentation, provocative satire and ruthless tone function as 'Freedom by any means necessary', set to music. When we see past the false glamour of its infancy, the necessity of free jazz becomes clear. Deliberately progressive, it either advances or it stagnates. It looks forward so that it need never look back.
'[Jazz is] the only area on the American scene where the black man has been free to create. And he has mastered it. He has shown that he can come up with something that nobody ever thought of…'

(Malcolm X, 1964)