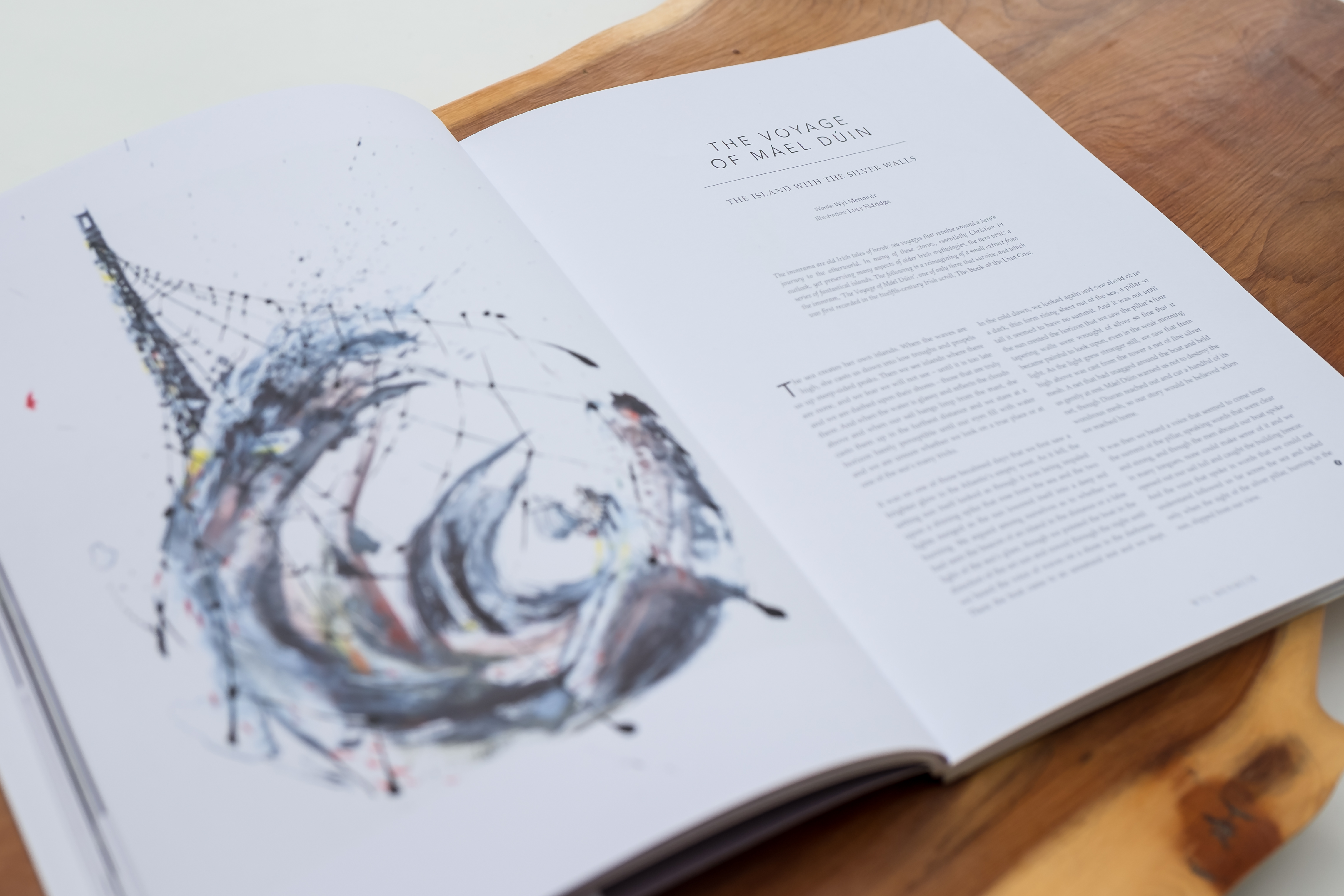 A Story of Spaces: the mind, the page, and the natural world
by Madeleine Pollard | February 21, 2017
David Attenborough's Planet Earth II  has recently fallen prey to an attack by Martin Hughes-Games in the Guardian for presenting a view of the natural world that is too polished: too "luxurious" and too "escapist." Despite Attenborough's closing plea for us to "do everything within our power" to restore our connection to the environment, the program has, according to Hughes-Games, "lulled us into a false sense of security" with beauty engendering complacency towards our destruction of the planet.  Discussing this issue with Jay Armstrong, editor of the recently launched journal Elementum, she agreed that if Attenborough were to lecture viewers for six episodes, with no golden eagles or racer snakes in sight, then the program might be considerably less effective in stirring a response than if it granted us access to the natural world at its most astonishing, most dynamic and, yes, most beautiful.  As "a journal of Nature and Story", Elementum explores the natural world and our responses to it by combining the art of folkloric tales, poetry and visual imagery with science — interweaving creative and intellectual spheres that are often separated in academic study. Jay offers her journal to "those who retain a childlike curiosity and are as open to understanding the world told through ancient myth as explained through scientific research." It is an invitational space that allows us to reflect upon and reevaluate our position within the natural world, indeed, through beauty and a sense of escapism; yet it offers the kind of escape that can alter our perceptions on return.
Reading Elementum takes you on a sensual journey as well as an emotional and intellectual one; from the choice of paper, uncoated to produce traction and slow the eye, to the colour palette that weaves through each edition, thought has been given to every stage of the design process. The visual narrative is just as important as the written. Photo essays and illustrations work in tandem to convey the individual impressions of the artists and specialists that Jay has commissioned. The use of negative space is one of the most distinctive features of the reading experience; entirely void of advertisements, the physical space on the page carves out mental space to pause and reflect. "I suppose it's the difference between walking in the open countryside and trying to get down Bond Street at rush hour — reading most magazines, you're forced to navigate your way through an avalanche of information, with advertisements bombarding you on every page," Jay explains. Her decision to exclude advertising in the journal was predominantly an editorial one: "I didn't want my readers to be confronted with this idea of lack; adverts constantly convince us that we need something else, just one more thing in order to be happy. What Elementum suggests is that you may already have it — if you slow down and consider the world around you." Jay also seeks to provide her readers with the luxury of space, "something that we don't readily have in parts of the UK — if you want space nowadays you have to pay a premium for it."
Elementum's combination of "the scientist's findings with the artist's response, and the ecologist's observation with the writer's reflection," unifies quite uniquely the academically segregated spheres of science and the arts. We agree that the curriculum is quick to separate the 'left' and the 'right' brainers, thereby reinforcing the need to hold different ways of thinking in tension as opposed to elevating one over the other. "We can treat an ailment scientifically, for example, but healing is a phenomenon that also requires mental and emotional faculties" Jay explains,  "in elucidating the importance of this holistic approach. Jay refers to her article 'Voices from the Ocean', in the first edition, 'Calling', in which she investigates human understanding of the whale and what it has come to signify in different cultures. In the mythology of the Lummi, a First Nation people of North America, whales once walked on the land, just as they did in Mesopotamian myth. In 1981, a fifty-million-year-old fossil was discovered in the Sulaiman Mountains of Pakistan that verified these beliefs, causing "the myth of the whale to come full-circle and the wisdom of the ancients to be vindicated". The discovery of this creature, now named Pakicetus, demonstrates that there is truth behind art forms; this truth resides in their ability to document human observation and interpretation over time, often aligning with scientific findings as opposed to generating a diametrically opposed understanding of the world. As Jay writes, "perhaps we need to ask ourselves what other ancient stories are telling us and what other songs are being sung that we are not sophisticated enough to hear."
One of the first nature writers Gilbert White, and even Charles Darwin, began simply by observing, she notes; our desire, now, to rationalise everything or refer to science for an explanation does not mean that we should limit our own observations and curb our curiosities. This sense of wonderment is what motivated Jay's project, growing as it has from the things that captivated her as a child: playing in rock pools, observing wildlife, and a love of storytelling. "The key is to keep asking questions, retaining the freshness of those curious, child-like eyes, but to accept that our questions will not always be met with answers." While drawing upon the experiences and ventures of real people, Elementum conveys the expansiveness of the natural world, and the mystery that characterises our relationship with it. Much of Elementum's content originates from the littoral zone, reflecting the connection between individuals and the vast expanse of ocean that confronts them. As Jay articulates, "the sea most potently symbolises the enigmatic nature of our planet and ourselves; it's a symbol of the unconscious mind after all. What these folkloric tales and ancient myths tell us is that nature is often incomprehensible but so are we, every single human has an unconscious as unfathomable as the ocean."  In travelling further into the natural world through study or story, and by considering the ways in which we record our responses to it, we discover more about ourselves in turn. Elementum certainly embraces the natural unknown. However amidst this mystery, the one certainty that impresses itself upon the reader is that we remain intrigued.
http://www.elementumjournal.com/