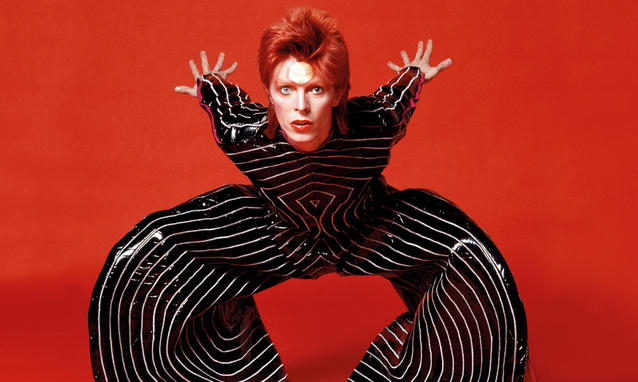 Two Tributes to David Bowie
by The ISIS | January 12, 2016
For my eighteenth birthday I was given a tattered vinyl record of Hunky Dory. At fifteen, head to toe in subdued coloured school uniform, I would walk to school to Bowie through my headphones.
I couldn't join in with girls at school conversations about the DJs, or the boy bands they liked, because I was an inheritor of my Dad's old iPod Classic, jam-packed with 1970s glam rock. Every car journey would be a car journey with Bowie in the background. At age ten, I'd learn all the words to 'Rebel Rebel'. I'd be seven years old and dance around the kitchen in my pyjamas to 'Life on Mars' before I went to bed. I wasn't a teenager in the summer of 1972 watching his performance of 'Starman' on Top of the Pops. I wasn't alive when, only years after the creation of colour TV, Bowie's creativity and curiosity exploded into the lives of individuals.
I didn't witness first hand Bowie deconstruct boundaries and concepts of sexuality and gender. I wasn't there. Yet as child of the '90s and not the '70s, Bowie was still the sound of my childhood. I remember in 2013, I could never understand why my dad was so upset at Lou Reed's death. "He's just a singer", I would have said nonchalantly. Waking up yesterday morning to a text from a friend saying "I think David Bowie has died" and the sound of'Heroes' playing from kitchen at seven a.m., I was now part of that similar collective devastation at the loss of a man I've never met.
Yet why? Why do we allow our stomach to fill with remorse as you hear the lines "for the film is a saddening bore / 'Cause she's lived it ten times or more" play on the radio?' Why do we gather in Brixton celebrating the death of a man we've never directly encountered? Why do we mourn for the death of David Bowie more than we might grieve for those we have known personally? Because, although Bowie is a man we might have never met, he is a man we've known.
—Rosie Collier
It is so easy to be labelled a misfit, an outcast, a weirdo. I was—am—a bit strange. I think everyone is, somehow, but for so many people there seems to be nowhere where they can fit in, no way to be "cool". David Bowie was a misfit, and made being a misfit cool. He was fiercely independent in a way that we wished we all were, and it had made him an icon, as cool as it gets. David Bowie bound together everyone who didn't fit in, every unique and rebellious misfit or exile, and gave us hope. For everyone who wanted to be, do or create something strange and new but didn't because they felt they'd be rejected, that their ideas had no value, or because they were scared of being looked at too closely, his spectacular oddity and presence was a source of bravery.
—Luke van den Barselaar