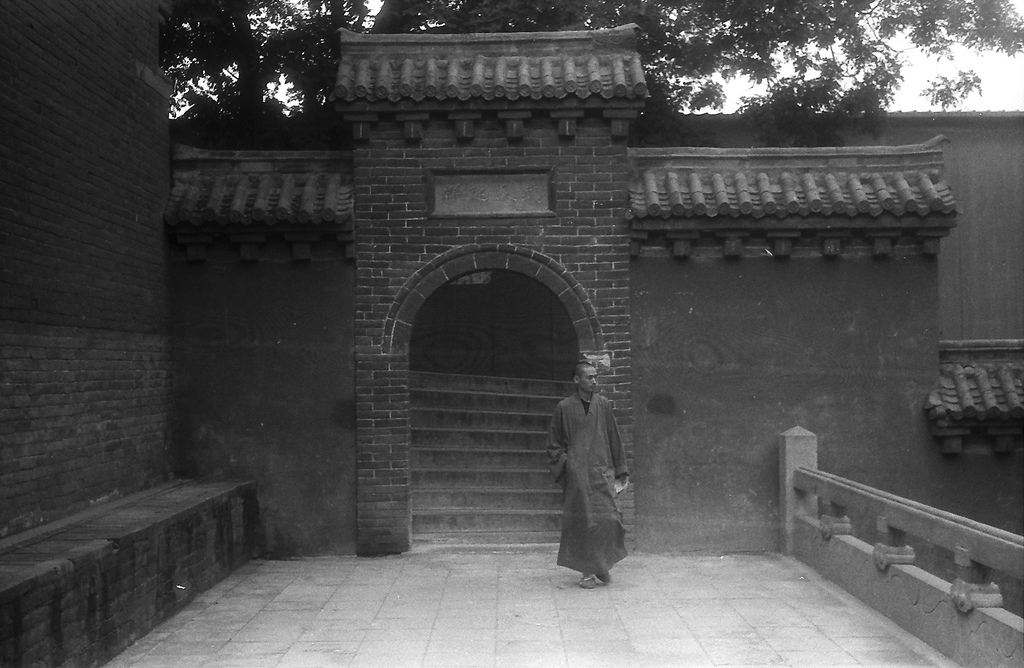 The Shaolin: Child warrior-monks of Henan Province, China
by isised | January 10, 2015
If you stand at the foot of the imposingly vertical Mount Song in China's Henan Province at four o'clock in the morning, you are treated to a curious sight. Dozens of tiny figures crawl down the mountain's winding steps on their hands and feet, wearing nothing but thin cotton tunics to protect against the sub-zero temperature. The specific muscle groups developed through this arduous task produce immensely powerful shoulders and haunches: each little warrior's physicality closely resembles the stalking action of a big cat.
This unforgiving morning regime is daily reality for the handful of five to six year-olds selected to become warrior-monks of the Shaolin Buddhist Order. There has been a Buddhist monastery on the craggy north face of Mount Song since the 5th century A.D., when it was founded as a retreat for those wishing to practise Mahayana Buddhism. Some maintain the monks learned to fight to discourage the rapacious Japanese pirates who maraudered up and down China's east coast, while others claim they took up arms to defend the monastery's riches from opportunistic bandits. Regardless of specific historical cause, Shaolin kung fu has been taught nonstop at the Monastery since at least the 7th century.
Potential candidates are scouted from China's innumerable wushu (martial arts) academies from as young as two years old, and may join the monastery just three years later. Only those young boys with the most aptitude for and dedication to kkung fu are considered for selection. Master Zhang Qiang, speaking having left the Monastery after fifteen years, recalls with some pride that he had mastered his wubuquan—the five basic movements of kung fu—long before he could read or write his own name.
With the exception of one or two annual visits back to their family, all parenting is assumed by a stern Shifu (Master), who will supervise their physical and spiritual development for anything up to the next thirty years. Upon arrival at the monastery, the head of the child is shaved.This serves two specific purposes. First, it encourages humility and reduces the ego—essential concepts in Buddhist spiritual development. Secondly, it homogenises, bringing all the disciples down to the same level, from which they can only distinguish themselves through martial prowess.
From this point, the trainees are subjected to a punishing and uncompromising physical regimen.. The bulk of the students' time is spent endlessly repeating the fighting movements their masters impart to them, up to nine hours a day, to the point that they become instinctive. During my time spent training with the Shaolin, I saw one Western kung fu student end up in hospital having playfully leapt on the back of his teacher, a former monk. The monk threw him off and cracked his spine—not out of deliberate anger but because of the instincts that had been drilled into him through years of repetition as a child.
Through 'kang ji da', a process euphemistically translated as 'conditioning', the small boys spend hours at a time being punched and kicked by their peers in order to harden the body and massively increase their tolerance to pain. Facial expressions of discomfort are strongly frowned upon; vocal ones meet with a sharp kick or slap from the supervising Master. At this very early point in their physical development, the boys perform drastic flexibility exercises, causing their skeletons to 'set' in a profoundly different way to other children's. As a result, the 65 year-old Master Wu explained to me shortly after dropping into perfect splits, the body can perform extraordinarily lithe acts well into old age.
During the entire training process the boys are kept in a permanent state of slight hunger, fed just enough simple, vegetarian fare to keep them sufficiently physically maintained. The hunger has two main effects—it encourages aggression in their martial training and it serves as a constant reminder that, fundamentally, the monk's life is one of asceticism.
These young boys belong to a Chan Buddhist order that upholds upekkha (equanimity)and metta (loving-kindness) as central tenets, and yet they devote decades, sometimes even entire lifetimes, fine-tuning themselves to inflict physical injury and even death To an outside observer, there is an obvious incongruity. However, as Master Zhang explains, the disciple does not dedicate themselves to learning kung fu in the hope that they will ever get to implement it—rather, it is a discipline that reveals the potential of the self and the power of the will, permitting a more profound comprehension of Mahayana Buddhist spiritualism.
Not all those who enter the famous Thirty Five Chambers of Shaolin spend their whole lives there, devoted to training and contemplation. Many choose to leave, and for a variety of reasons. Some simply wish to experience normal modern-day life, or to perform in martial arts competitions or displays, or to teach what they know to millions of kung fu enthusiasts world-wide. Their years of isolation, however, leave an inedible mark on these individuals. They emerge into the outside world, often insatiably curious about things that appear mundane to us. Master Zhang, on encountering an iPad for the first time having left the Monastery, spent three consecutive hours playing Angry Birds—he recalls that his entire attention was totally focussed on the mesmerising and novel movements and shapes in the game.
If you ask a former monk whether they missed their parents during their time in the Monastery, or the chance to form casual friendships at school, or any of the myriad 'normal' experiences on which they missed out, they often become reticent, shy, or bashful. I found during my time with them that the monks are clearly uncomfortable talking openly about emotional or personal issues—things that perhaps come more easily to a post-Freudian West. "The Chinese, on the whole, are not good at introspection—their culture hasn't had a Freud or a Jung", a relative from Taiwan commented. "[Given their] legacy of Communism, they are more inclined to think about the individual as a member of a greater whole, rather than [to] introspect and self-analyse". Culturally, less of a premium is placed on the exploration of emotions and the sharing of feelings.
These observations, coupled with the understandable stoicism encouraged by the harsh life of the Monastery, mean it is difficult to attain Western-style verbal intimacy with a Shaolin monk, even if you have spent a great deal of time together. Their way of displaying intimacy and closeness with others can seem rather bizarre and unexpected to the uninitiated—the closer you become to them as a student, the more willing they are to reprimand you, shout at you, and physically punish you. Intimacy in their eyes is not the sharing of secrets, or the admission of an insecurity or fear. Rather, it is the capacity to shout at you if you aren't trying hard enough, or to give you a slap on the back of the head for losing concentration.
One evening, after five months spent training with the monks, my Master caught me smoking a covert cigarette behind the accommodation. He delivered a short, sharp kick to my upper back, knocking the wind out of me, followed by a clipped command in broken English: "Don't do again." Looking back on it, I realise this was the moment I was assured of the strength of our relationship.
Image: Weijun Zhang