Review: Guys and Dolls
by Irina Husti-Radulet | March 29, 2023
Guys and Dolls is the bread and butter of feel-good musicals: everything falls apart, then everything comes back together, with a few songs and dances thrown in for good measure. Along the way, jazz hands make several appearances, and it ends with not one but two weddings – aren't we spoilt? Yes, this could all be delivered in a caustic tone, but I put it aside to affirm that the Pembroke Annual Musical's adaptation of the 1950 Broadway play is ravishing. It tells the story of the unlikely romances unfolding between a high-rolling gambler and a missionary who runs a 'Hallelujah joint', a crap game manager and a showgirl who longs, wide-eyed, for the straight and narrow. With a standout cast and an orchestra led by a pianist in a top hat, Clem Marshall's production leans endearingly into the cheesiness. I leave Guys and Dolls floating on a cloud of benevolence, no doubt helped by the drinks they were serving in the interval.
The play opens with three gangsters sitting on a bench in pinstripe suits and bowler hats. They are reading suitably thuggish newspapers – I spy a copy of the Cherwell. Their ringleader Nathan Detroit, played charismatically by Sam Burles, is trying to find the money to run his crap game. Hearing that high-roller Sky Masterson "likes crazy bets", he bets him a thousand bucks to take the puritanical Sarah Brown on a date. The showgirl Adelaide, Nathan's fiancée of 14 years, dreams of domesticity: "I'm sure going to enjoy being in the kitchen. I've tried all the other rooms," she confides, to peals of laughter.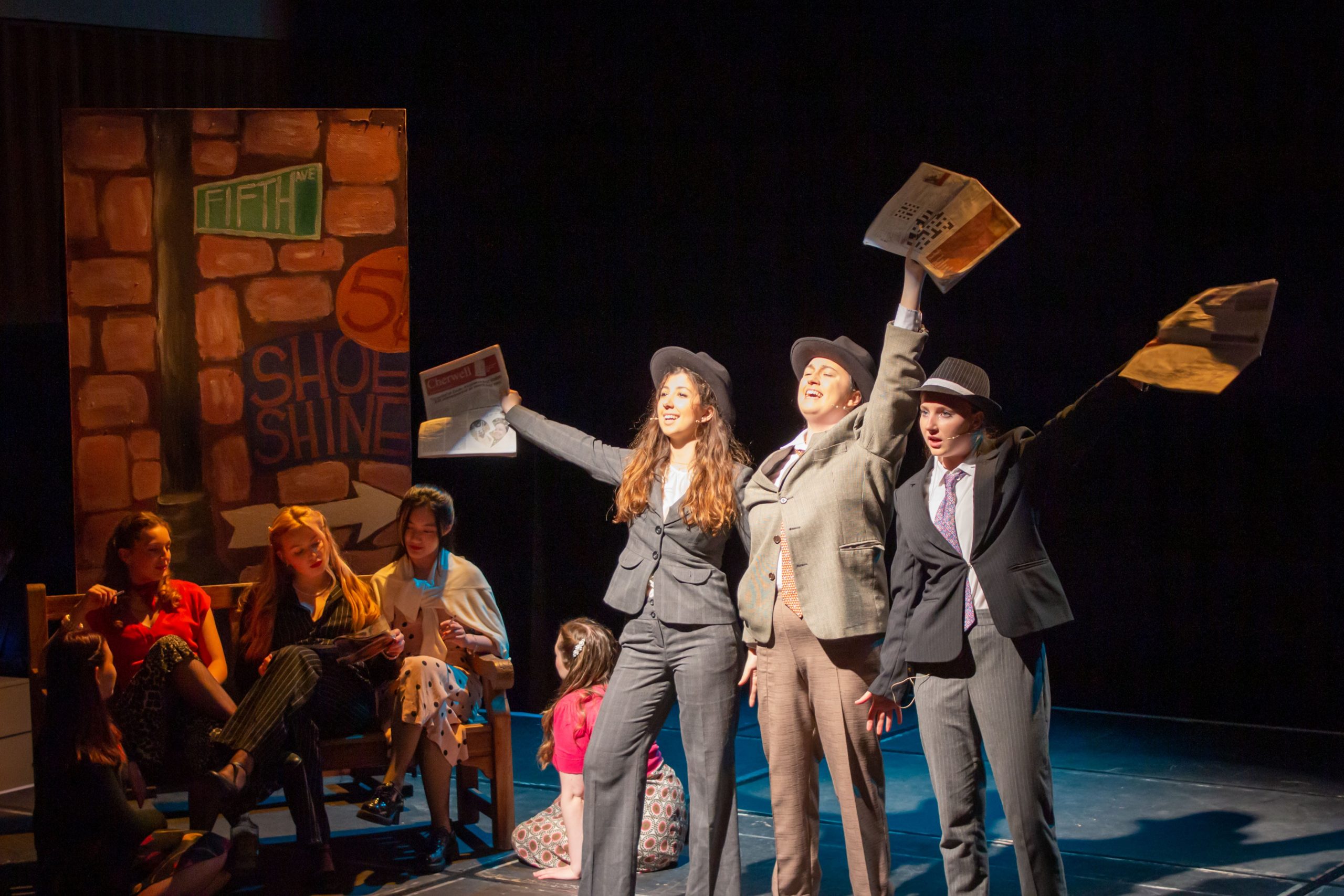 Initially, she makes excuses for Nathan – "I kinda like it when you forget to buy me presents. It makes me feel like we're married" – but Adelaide soon becomes convinced that her protracted engagement is making her ill. "Waiting around for that plain little band of gold, a person can develop a cold" she sings, before rounding off the song with a sneeze to drive her point across. Nathan is caught in a pickle. "That Miss Adelaide, she has always taken his mind off of honest work," lament Benny and Nicely, the two gangsters.
Meanwhile, Sky is trying to seduce Sarah by acting the part of the reformed sinner. "My heart is heavy with sin," he announces in a deep tremulous voice that would put Orson Welles to shame. Their unlikely romance plays out under a sign that reads "No peace unto the wicked – Proverbs." Naughty stuff indeed. Of course, it turns out Sky knows the Bible better than Sarah does, and a very Christian flirtation ensues. As the spotlight shines down, Sarah paints a picture of her dream man, trilling over his "strong moral fibre" (like no woman ever). "What are you picking, a guy or a horse?" Sky retorts. Played by Ethan Bareham, Sky is a bit too winsome, slick as Brilliantine. But his chemistry with Lily Carson (Sarah) lends charm to their improbable romance. He looks at her with wonder, his gangster smirk breaking into a smile. When Sarah's Jesus joint is in trouble, Sky pledges to help, delivering her a baker's dozen of genuine sinners – his underworld buddies – for her to reform.
The production is corny, replete with wide-eyed ditzy ingenues and pinstripe gangsters who pronounce coffee as 'cawfee'. Georgina Moul, the costume designer, rises imaginatively to the challenge, decking the molls out in red lipstick, neck-scarves, and cardigans slung around their shoulders. The Hotbox girls, dolled up in pimp-like minks and furs, toss their gloves off to peals of applause from the audience. It's true that some of the gangsters' bowler hats are more Wild West saloon than Wall Street, but that only adds to the chaotic charm of the production.
Of course, all's well that ends well. Sarah is so enamoured with Sky that she takes a tumble off her moral high horse. When he breaks the news that he only took her out on a date because he made a bet, she responds: "well, how else is a girl meant to meet a gambler?" Adelaide and Sarah comfort each other about the many shortcomings of their menfolk: "I always imagined how wonderful he would be if he were different," a starry-eyed Adelaide says of Nathan. Nevertheless, the two women agree to "marry the man today and change his ways tomorrow", in a moment of female solidarity. Not the kind of stuff that would pass the Bechdel Test, perhaps, but a delightful watch nonetheless.
Guys and Dolls, directed by Clem Marshall, was showing at the Pilchette Auditorium, Pembroke College, 27 February – 2 March 2023.
Words by Irina Husti-Radulet.