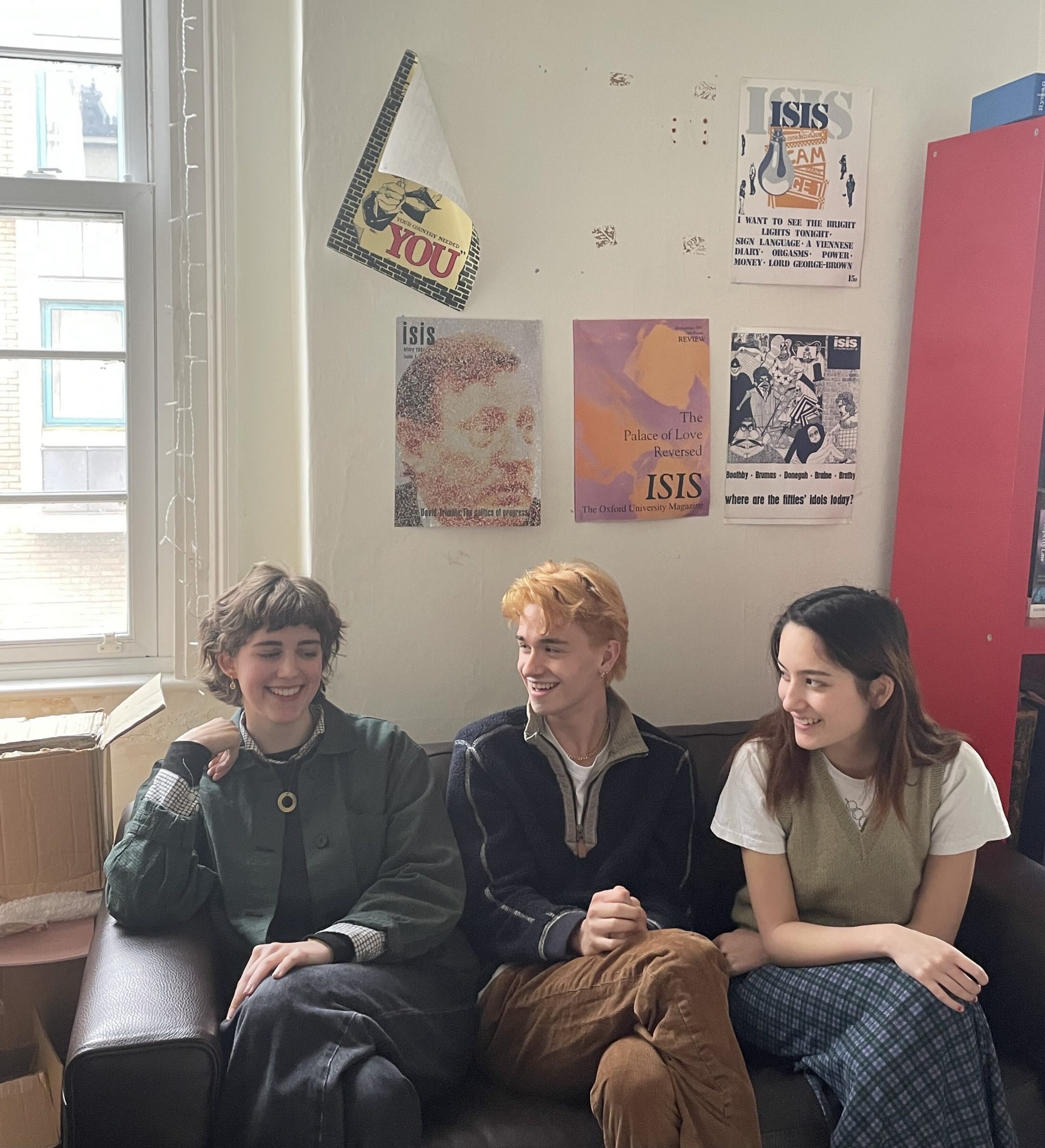 Behind the scenes of The Isis' 'Outlines' Exhibition
by Anneka Pink, Wyatt Radzin | February 21, 2023
Ahead of 'Outlines', The Isis exhibition, which is on at Kendrew Barn in St John's College on Wednesday and Thursday of 6th week, Anneka Pink and Wyatt Radzin sat down to interview the Creative team.
GROUP 1: Sophia Howard, Faye Song, InChan Yang
Which elements of the process of creating art are important or challenging for you?
SOPHIA:
"With painting or drawing it's always that question of when to keep going and when to stop, because it will never feel finished or perfect. But at some point, you just have to let it go, and let it sit. I find that really frustrating. It never really feels quite finished, but my stuff is very multimedia and big –  sporadic almost – so the bits that I find I haven't done on purpose sometimes end up being my favourite parts of the painting."
FAYE:
"I think only having one shot for a specific scene, or a specific pose, makes you feel a bit more mindful about the whole process anyway. It's a different sort of risk to developing film, which is just annoying, but it's still a part of the process."
INCHAN:
"The risk element is always what allows me to focus on the process of making photography rather than the product, because if I were doing campaign shoots for product photography, obviously the end product is the most important thing. But street photography has mostly been for my own satisfaction. I really do enjoy walking around streets that I don't know and trying to look for interesting things – nice patches of light and things like that. This allows me to enjoy photography in itself, rather than what I make from my photography."
INCHAN:
"My favourite camera is actually my grandpa's camera from the '60s. One of the most special photos I've taken is a family portrait with this camera. It just felt like it added a little element to my photography that wasn't there before. Because [I got my other camera] at a secondhand shop, there was no personal story behind the tool that I was using, but now it almost adds joy to the process."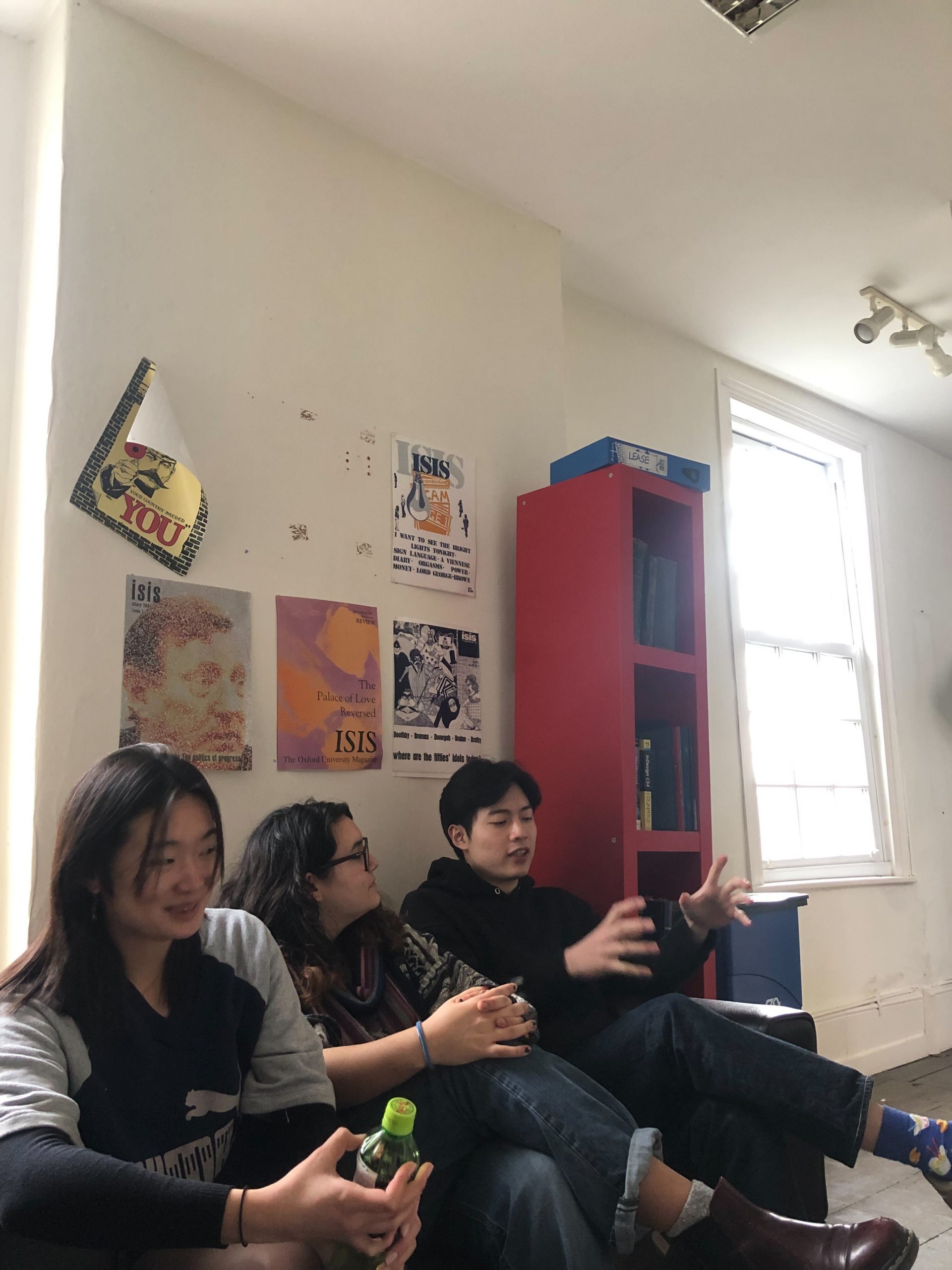 Which commonly held views about art do you disagree with?
FAYE:
"How expensive doing art is! There's a certain level of respect that comes with having a good camera. So it means that if you are using one that would be considered worse than a newer version, it's disregarded so quickly. It should be the same for everyone. Everyone should be able to take photos and enjoy the process all the same."
SOPHIA:
"The idea of good art – I hate it. There can be high art, but so much of art is, like, three-year-olds' painting and going to art club and doing a little bit of drawing with your friends. Such a big part of it is that it's an accessible, weird, and fun thing to do. So I think when people are like, "Oh, but are you good?", it's so frustrating. It's like gatekeeping, you know, but with art. And it happens with loads of things: music, everything. It [leads to the question]: "Are you doing it professionally?" [Art] is completely un-boundaried and should stay that way.'"
INCHAN:
"I struggle with a lot of modern art. I always think, if I need a description from the artist to appreciate this piece of art, I really don't know how to go about it. My favourite pieces of art are when I just stand in front of it and it makes me feel some kind of way. And I feel like I experience that a lot less with modern art in general. The role of marketing and art houses and auction houses and how [they] push and pull different movements [is] something that I struggle to wrap my head around."
GROUP 2: Poppy Williams, Louis Rush, Cleo Scott
What sort of art are you currently interested in doing?
POPPY:
"I've been coming back to watercolour recently, which was my big lockdown medium of choice. I would just sit there for hours, mulling away the pigments. It was very therapeutic to do just because it's such a slow process – it's so elemental.  And [a friend] gave me a loom all in pieces, so I spent like half of lockdown trying to put it together, but I just couldn't."
CLEO:
"If we're talking about lockdown, I really got into knitting and crocheting. I taught myself from scratch. I'm really interested in textiles and repetitive patterns. Some of the stuff I've submitted for the exhibition, it's just repeat patterns on a really big scale – the same thing over and over again, which I guess ties into knitting, since it's all one big repetition."
 (Cleo is wearing a sweater vest she knitted herself to this interview)
LOUIS:
"I love printing. The first print you ever do is always going to be awful. You have to let the ink settle into it a bit. But I think one of my favourite things I've been doing recently is literally just throwing the most amount of paint I can onto these first prints, because you get the crazy textures. Some of it sticks, some of it doesn't, some of it completely does. And then sometimes I leave it out for a bit and then print with it." 
How does your art intersect with your studies?
POPPY:
"I've been doing some illustration for The Oxford Scientist, which has brought me back to the whole science illustration genre – something that has been a very long-term interest of mine. The Ernst Haeckel illustrations had jellyfish and different taxa of animals, and they were just so nicely laid out. Yeah, that really got me into biology, that scientific illustration."
LOUIS:
"You do biology, I do chemistry. Art was the reason why I found it, especially the works of David Goodsell: watercolours of molecular interactions. He's got loads of really, really cool, intricate watercolour illustrations about insular binding. I used to embroider biochemical pathways. It sounds really boring but when they come together, they're very pretty. I have a bag with photosynthesis on it, and I've made a bag for friend with insulin and epinephrine signaling on it but in a circular pattern that I designed myself."
CLEO:
"When I'm studying art history, I take particular interest in stuff that I feel like I resonate with or stuff that I enjoy actually doing myself."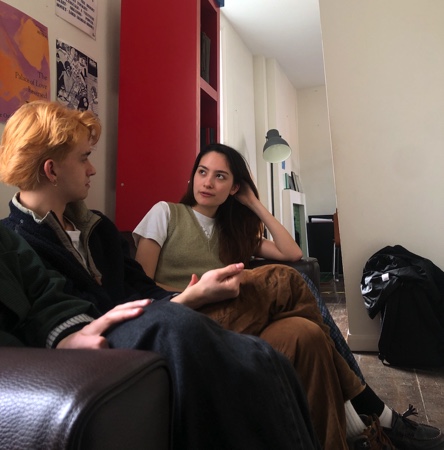 How does the process of making art yourself change the way you think about others' art?
LOUIS:
"I have a really large awareness when I see someone lino printing in a way that looks effortless, or in a way that looks so graceful, because I know how many prints you probably had to make to get it to look so good. It definitely gives you an awareness of the work behind it, which is a massive thing for me when it comes to art. I can tell this has had a lot of thought put into it throughout the whole process."
POPPY:
"I have more of a tendency to deconstruct the processes behind the art I'm looking at when I have some experience with the medium that it's made in. Often if I look at a painting, I start thinking about the layers that it was made in and how the whole process works. I don't know how that changes my perception of the art itself, but it encourages me to look and think about it in a more deconstructed way."
CLEO:
"I agree with what you just said about the materiality of the art. I feel like you understand it in a different way when you have actually made things with the same materials. But at the same time, I feel like it doesn't change my perception of the art I look at too much. Art is so individual. It's not like when I look at the piece of art, I'm thinking about how I could have done it. It's more separate than that – you're observing rather than actually part of it."
GROUP 3: Taya Neilson, Matthew Kurnia, Evelyn Homewood
What is interesting you at the moment artistically?
TAYA:
"I guess what my exhibition work is on is just observing. I'm really interested in urban cities, and the individual characters that you can see around you and that you might often miss, especially when it's so busy, like in Oxford. Recently, I've moved away from graphics, and I've just been working more on just watercolours. I definitely would like to mix them more and experiment more with the media I use."
EVELYN:
"I've been really interested in old book illustrations, so that's the direction in which I've been channeling my work. I'm mostly digital, but I've begun transitioning into more traditional media. At the moment, I love Aubrey Beardsley, Harry Clarke, who did the illustrations for Hans Christian Andersen's Fairy Tales, and John Austin, who did a really stunning copy of Hamlet. As a History student, I'm really interested in historical art, so I enjoy reinvigorating older traditions, bringing them into digital media and seeing how they can apply to the present day. [Being in Oxford] has affected my art style massively, just because there's a massive history of Pre-Raphaelite work and book illustrations here. And there's the Weston Library, which has all these wonderful manuscripts. So that's what influenced the way I approach art – less the architecture of the city, but the art that's contained with it and that background."
MATTHEW:
"Traditional art-wise, I've been doing a few studies from films. I was really interested in how you could mute emotions and performance into your subject matter. And studying films with subtle and great performances really helps. I'm also really interested in the mood, and how films can capture the mood well."
Do you find that the art you do ends up mostly being just for itself? Or is there some broader purpose behind it? And is that purpose more of a personal one or a societal one?
TAYA
"I think I get my greatest inspiration when it is for a cause, when I'm trying to portray the values close to me. One kind of campaign exhibition I did was on the history of Liverpool and revisiting the history of the city. Because we have a lot of problems with the city, and I wanted to readdress them, convey them and celebrate the community behind it all. So that was quite a personal exhibition for me. But then it doesn't necessarily have to be for a cause: I just like to celebrate people and their stories. And if I feel touched by it, I want others to also feel touched by it. Yeah, I just want to celebrate that."
EVELYN:
"I suppose I work very differently actually: the stories in my work kind of develop as I make it. I don't necessarily go in with the intention of showing a certain message; it's usually more official inspiration, and then it develops throughout the process of creating it."
MATTHEW: 
"I'm going to go on a bit of a tangent. I'm a computer scientist, and there's a lot of talk in the computer science space about startups. And one of the things they say is, like a startup being in a growth stage, where they're burning lots of cash and not really producing anything, it's okay because they're in a growth stage, so it doesn't matter. So I would like to parallel that with myself. (laughter) I'm kind of just trying to refine my abilities. And that's been what I've been working on for the past couple of years."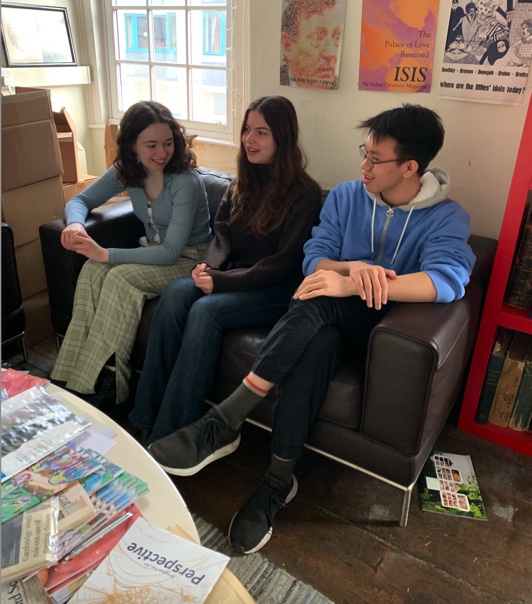 ​What would you like to draw the reader's attention to within your pieces in the exhibition?
TAYA
"Well, I was originally going to focus on crafts for my exhibition work. And then I was by the Rad Cam, and I saw a man with his pram and dogs. And I thought, wow, that's such a lovely moment that. Everybody else was absorbed in their own thing and people just wanted to pass by. Luckily he was in my photo at the time. But he decided the colour scheme – I wanted it to be bright and happy. Then I started to notice loads of different people: there was a man who had a really nice hat on and he was stood there with his bike. And he was just adjusting his coat while everyone else went past. And there was a couple with their child, you know, swinging its arms as a little game. It was just a nice little moment filled with individual stories of an average weekend in Oxford that you wouldn't notice yourself."
MATTHEW
"For games, you have the visual elements, which you have to either make or take pictures of, or model in a 3D software. And then you have the code aspect, which you would have to create, like an absolute nerd, and then you would have the sound that you will have to record or synthesise yourself, and then that needs to be put together. And so I guess the creation of a video game is an augmentation of what you do in a digital drawing. So, you would put that, and then you would put some magic-code-computer-science-stuff on it. And then you'd make it move when you push a button. That's very simplified, of course.
There's also the other aspect of the design of it. Like what's the structure of the game? How would you interact with it? Do you push the button? Do you hold it for certain things? When you let go does something happen? And do you get rewards or not? Which visuals do you use to communicate certain things? Those are things that have to be taken into account."
How many hours did it take you to create the video game?

MATTHEW:
"Maybe two and a half days just on that. With sleep, of course."
GROUP 4: Leon Coyle, Dowon Jung
What are your artistic inspirations?
LEON:
"I do history, and wherever possible, I gear it towards the history of art. I spend lots of time looking at paintings and drawings and films and all that kind of stuff. I think, at the moment, looking to my exhibition piece, I'm very interested in queer beauty and the unconventional ways in which that manifests. I'm increasingly finding the idea of conventional beauty quite boring. The queer community has such a depth and a richness of different forms of beauty that kind of celebrate everyone, rather than just a specific, very narrow set of people."
DOWON:
"I think my answer is quite similar – a lot of my inspiration is historical. Almost all of what I do is very mid-century in that way. Because I think it's a really interesting period of graphic design. So right now, I'm really into more classic Anglo-American mid-century designers like Paul Rand and Tom Eckersley, because I'm a big fan of both of their works. Going back to the exhibition, most of the pieces that I'm showing are based on that kind of aesthetic. So especially one of the pieces, which is on the Metamorphoses, is a reinterpretation of this very, very old classical text through this mid-century modern lens."
Has Oxford changed your creative process at all, especially as a result of it being of a more conservative aesthetic?
LEON:
"I think if anything, it's kind of had the opposite effect on me. I think I increasingly revel in things that go against that conservatism. I've always been very influenced by bold and garish art in general. And I think that's definitely an inclination that has gotten stronger since I've been at Oxford, because I feel like it's almost more necessary, to express the fact that I don't want to align myself with that conservative idea of what an Oxford student is."
DOWON:
"Oxford's a very, very good environment for someone like me, who's interested in historical design. I'm really into this traditional conception of graphic design as a craft, right, as opposed to an art? It's not something you just do out of your 'creative juices'. It's something that requires technique. I think there's something really nice about meeting someone who has been hand printing things for their whole lives, and they know everything there is to know about different types of ink or whatever. And I think Oxford's a very good place for that. The Weston Library, for example, does a lot of stuff with traditional design and bookmaking, which I think is really interesting.  I feel like in some ways, even the fact of taking your time out and like doing something artistic feels kind of subversive, when you're expected to just like read and write all day long."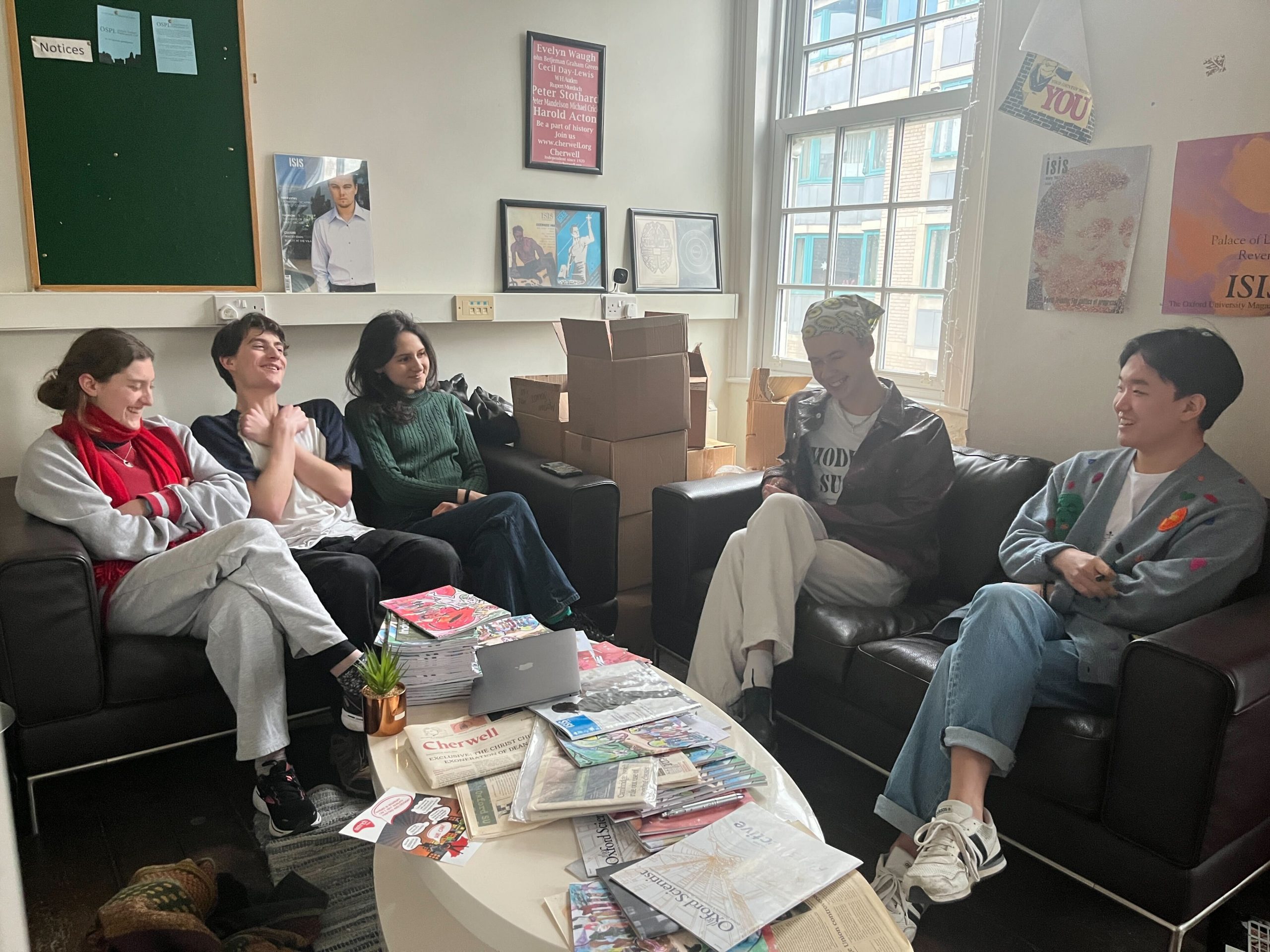 Do you have a project you want to do in the future or medium you want to work with?

LEON:
"I'd definitely like to continue working with textiles at some point in my life. It's always been my great love. I love history, but there are definitely times right I do wonder like, oh, you know, what would it be like if I was, you know, doing womenswear. I would adore to work in costume design, whether it's theatre, or period dramas, or whatever it is. I think my interest in fashion and my interest in art are very closely linked. I am clearly quite a feminine individual. I was raised in a working-class northern town, which isn't really the best place to be as someone who is as camp as I am, from the day that I came out of the womb. So I've always been very, very drawn in my heart to celebrations of feminine beauty and glamour and fashion and all of these things. And I think for me, it's definitely a way of expressing something that I always longed to express, and I never really got a chance to."
DOWON:
"I think I'd like to finish my Metamorphoses someday. I mean, it's finished. I've done Book 10. But there are, what, 14 more books I could be doing? I don't know if I would seriously consider doing that. But maybe in the future, I will, though if I were to, that would be like a decade-long project. But in a way, I think there's something really appealing about that actually. One of my favourite recent works of graphic design is this project someone did based on Dante's Divine Comedy, where they design a hand-lettered, printed illustration entirely made from typography for each canto. And, obviously, that took him like 20 years. But it's beautiful."​​
Group 5 – Frankie Frazer and Oliver Roberts (Creative Leaders)
What was your process in coming up with a theme for the exhibition?
FRANKIE:
"We brainstormed a lot. We wanted to make sure that it was Margins-adjacent, so definitely linked to the magazine, but not just literally 'Margins'. And we wanted it to be very broad to fit everyone's previous work, and so that they can make new work for it. So yeah, we landed on 'Outlines', but there were many different ones – 'Periphery' was in there."
OLIVER:
"What were the other ones? We have a little document somewhere…"
FRANKIE:
"There are some bad ones. There's 'Thresholds' … 'Membranes'…"
OLIVER:
"It's nice to have an exhibition that feels like it's a compliment to the magazine and, well, it hasn't been done before. That's what you say in these kinds of interviews. It's actually unnerving me, being asked all these questions, as I realise how strong my urge is to say something that's just sort of so obviously bullshit. The kind of 'Yeah, it just came to me in a dream, an angel came over and told me I was pregnant, but also, I had to put on an exhibition. And then you know, these paintings were just sort of coming out of every part of my body and then I woke up sweating'. We're gonna have to cut back on that for this interview."
ANNEKA:
"That's going in there."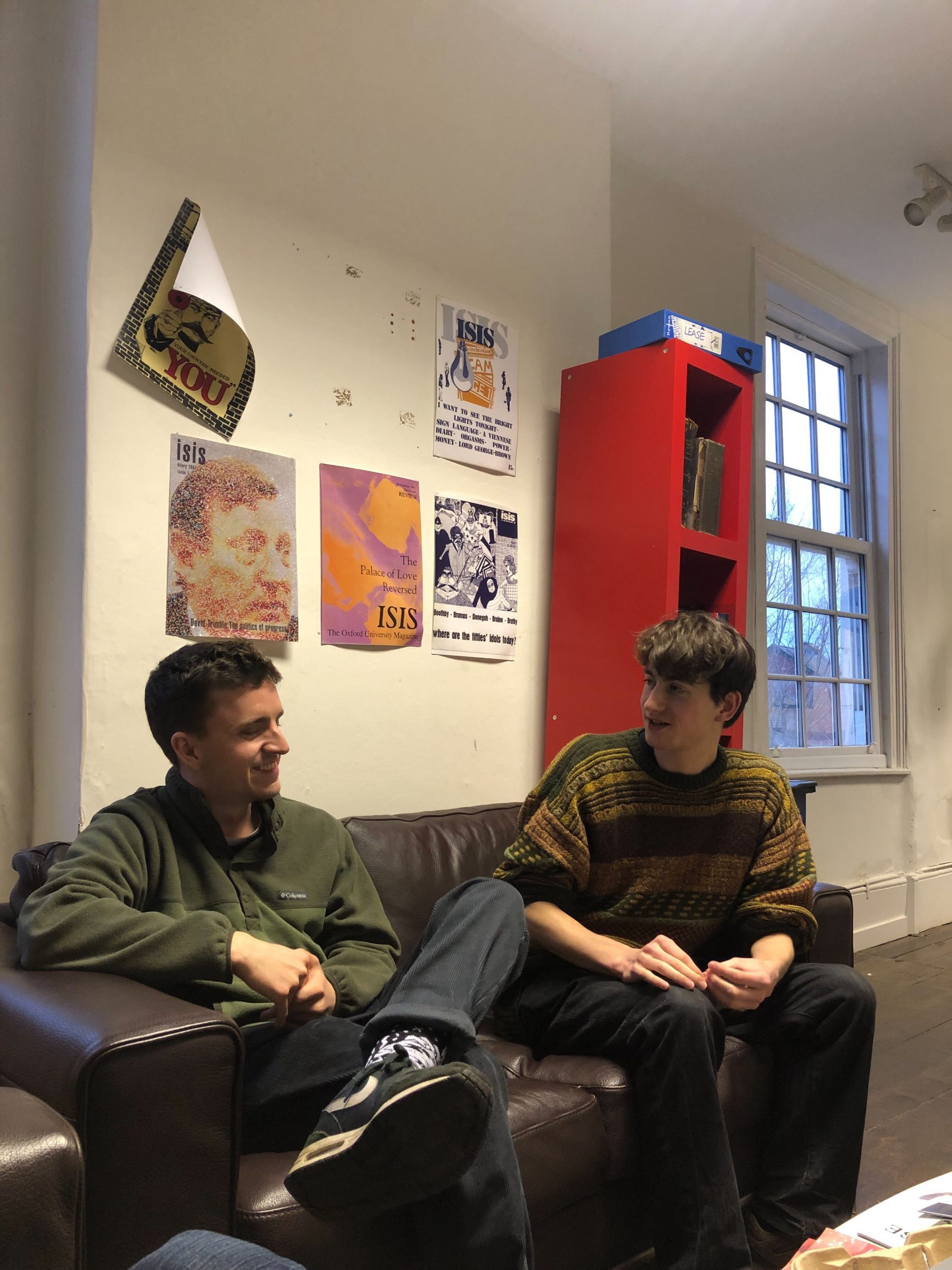 How do you organise the creative team, reconciling all the different artistic styles and mediums?
FRANKIE:
"I mean, I feel it's quite a natural process. To be honest, I don't really think too much about it. Because there's a load of, like, different artists, as you've seen today: media, different photography, printing, everything."
OLIVER
"Which you can see in the exhibition, if you come!"
(Laughter)
FRANKIE:
"But I feel it's a very natural process. And if there's anything that we think would lend itself towards a certain art style, we would push that artist to it. But we very much let them go crazy, just do whatever they want."
OLIVER:
"We're very keen for the exhibition to help bring out people's individuality. We've always pitched it to them as, you know, go where your nose takes you. And I think it's really nice to have such a broad range of things. It's a real strength of the magazine that so many different people get involved and give it so much flair. And it keeps us on our toes as well. So I don't think we can rest easy. We've got our work cut out keeping up with it."
How did you put your own portfolio together for the exhibition? 
FRANKIE
"I looked at a lot of my previous work, and a lot of the work I did during lockdown. Bad times, but a lot of good art came out of that. And a lot of it actually lends itself quite well to the theme 'Outlines'. I do a lot of figure drawing and abstraction of the body. So yeah, I just  collated all my previous work which was 'Outlines'-related, and I feel like it fit very well."
OLIVER
"I think I've dragged quite deep and desperate for mine. A lot of mine I've never exhibited, so it's nice to just get it up there – pieces that I'm pleased with or proud of. But also, it's been a nice chance for me to force myself to sort of crack out the paints and get some more fundamentals. So I've been doing lots of life drawing, which has really been really good for 'Outlines' I wouldn't want to make any claims to particular excellence, but it's nice to slowly get more used to that kind of thing and to push yourself to look and work with it without too much time."
Obviously, you guys are responsible for the aesthetic choices in the magazine. What were you thinking about in designing the creative outlook for this term?  What are your inspirations for this term?
OLIVER:
"We wouldn't want to give our dear readers too much."
FRANKIE:
"But yeah, at the minute, we are in the process of really refining the specific style of it. And we have gone through iterations of different mood boards. So, at the minute we are going in the direction of nostalgia, retro, like collating your parents' old magazines."
OLIVER:
"Hopefully, some bold shape, a bit of negative space. Not quite what we've … No, I refuse to go on record saying it's not quite what you've seen before. Can we give a three word tease?"
FRANKIE
"Yeah, if you want to try. If you have three words."
OLIVER:
"We've got retro, I might add turquoise? And then what would you add? If we're keeping turquoise?"
FRANKIE:
"I mean, I'm currently colour-blind. So, I don't know. I don't know what I'll add to that."
OLIVER
"I feel bad taking up more of the three-word real estate. Retro, turquoise… aaaarggh."
ANNEKA
"We can come back to it, you can ponder."
(Oliver, in the true spirit of the artist, is still pondering)
How has the theme of 'Margins' influenced the aesthetic decisions? 
FRANKIE:
"I feel like it definitely influenced the motif: that was one of the first things to think about, the subject matter that would be included. I was thinking very much about blurring the margins, going through transitional periods. Transport, windows, transient spaces were my initial thoughts for 'Margins'. So it definitely impacted the subject matter."
OLIVER:
"I think it's a good chance not to go for the immediately obvious ways of interpreting the theme. There are ways of just pushing, pushing things off-centre. One of the things I'm trying to think about is ways you can play with the edges, between the artwork that's given, and how it relates to the rest of the spread."
Do you think being on The Isis and being in Oxford in general has changed your style or the way you approach your art?
OLIVER:
"Just because you don't have as much time, you have to really lay aside time to focus, and say, I'm going to do something. Because I always miss it when I'm not doing it. And it's really nice to have prompts, things to respond to, and ways to carve out time to see what interests you."
FRANKIE:
"Yeah, it's definitely exposed me more to the process of communicating about art. Because in the past, it's just been me in my room with my paint brushes. But it's been interesting to actually have a discussion and develop a piece with other artists, and see different perspectives, and just very much focus on the process of producing a final piece of your pure ideas. I've enjoyed it." ∎
Interview by Anneka Pink and Wyatt Radzin. Photography by Coco Cottam and Faye Song.