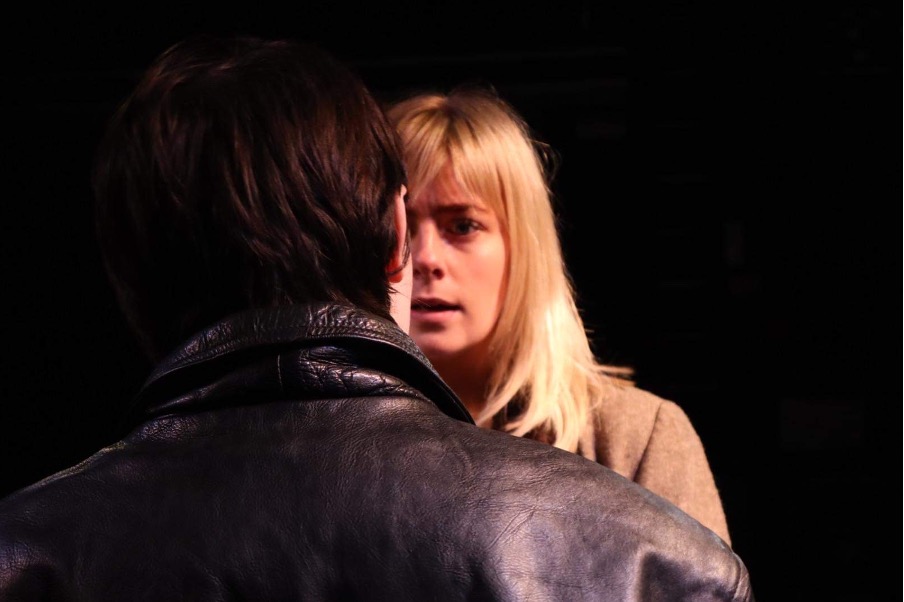 Review: Entertaining Mr Sloane
by Irina Husti-Radulet | January 27, 2023
As I take my ringside seat in the Burton Taylor Studio, I get the sense that I am about to witness a fight. The setting of chintzy sofas, ceramic lamps, and plated crumpets – the picture of dreary 1960s domesticity – seems an unlikely place for a brawl. But 'My Generation' by The Who crackles through the speaker, and the atmosphere is one of buzzy anticipation. As the curtains rise on An Exciting New's production of Entertaining Mr Sloane, Joe Orton's 1963 classic, there is the sense that the oppressive sixties household, full of stifled desires, is slowly sliding off a knife-edge. The presence of psychopathic killer Sloane (Am Wyckoff) is a bolt from the blue, electrifying brother and sister Ed and Kath, and prompting them to finally act on their hidden longings.
The first half of the play rings out with mid-century prudishness and fuddy-duddery: Kemp (Eric Balonwu), the elderly father, can't forgive his son for committing a "felony in the bedroom" as a teenager. Meanwhile Kath, played by Maisie Lambert with comic virtuosity, sums up the attitudes of the time by stating that "before I was fifteen, I was more familiar with Africa than my own body." But darker desires bubble under this carefully repressed surface. In a theatrical motif that would likely make Freud happy, forty-one-year-old Kath attempts to seduce Sloane by offering to be a surrogate mother to the young man. "I'll be yer mam," she says, bending provocatively over Sloane and kissing him. Her Oedipus complex aside, Kath is very much a woman of her time: downtrodden, horny, and sick to death of rotting away in her house in the middle of a rubbish tip. Her power lies in household politics – namely, bullying her elderly father.
The arrival of Sloane is like a breath of  fresh air. With Sloane around, Kath's outfits become more colourful, her necklines lower, her lipstick brighter. The tights draped around a lamp become a prop for seduction: "You'll notice the length," says Kath, "I've got long legs."
No less horny and even more repressed is Kath's brother Ed, played masterfully by Tomás Sergeant. Entering in a crumpled suit and a pink tie that looks like a rasher of bacon, Ed treads the moral high ground with as much authority as he does the floorboards of his own home. He is full of the sense of having made it in life: "I've two bank accounts," he says, adding that "I live in a world of top decisions. We've no time for ladies. Threatening everyone with their… clothes." But it soon becomes apparent to the audience that his sneering dismissal of women is nothing more than a feeble cover for his implied homosexuality. The arrival of young Sloane has Ed's mouth watering, his fingers twitching, and his eyes fixed firmly on the young man's crotch.
It is clear that the carefully arranged order will be disrupted by the young man, locking brother and sister in a tug-of-war for his affections. Before long, Sloane is lording over the entire household, with both Kath and Ed at his beck and call. Played by Am Wyckoff, Sloane goes from exuding sexual mastery one moment, to being a whiny little boy with a petulant voice and tears in the corners of his eyes the next. His defence when accused of murder? – "I'm an orphan!" But his motives are never fully explained, nor do his attempts at manipulation – switching from Marlon Brando to Tiny Tim – seem particularly convincing. Sloane's character deserves to be more fleshed out. He was more a catalyst for the breakdown of Ed and Kath's relations than a convincing character in his own right.
Entertaining Mr Sloane is brought to life by Harry Brook's direction. Throughout the play, the air crackles like static with unspoken, ever-so-tentatively expressed, desires. There are moments of both comedy and pathos, sometimes at the same time – such as when Sloane accuses Kath of throwing herself at him by "gathering momentum," prompting Ed to retort, "You make her sound like a washing machine!" It struck me as ironic that Kath should be reduced to a household appliance in a verbal exchange between two men, even in her pathetic flight for escape. Entertaining Mr Sloane explores the protagonists' ill-fated efforts to secure social and sexual liberty, a few years before the sexual revolution that would galvanise the late sixties. ∎
Entertaining Mr Sloane is produced by An Exciting New, directed by Harry Brook, and showing at the Burton Taylor Studio 24-28 January 2023.  
Words by Irina Husti-Radulet.