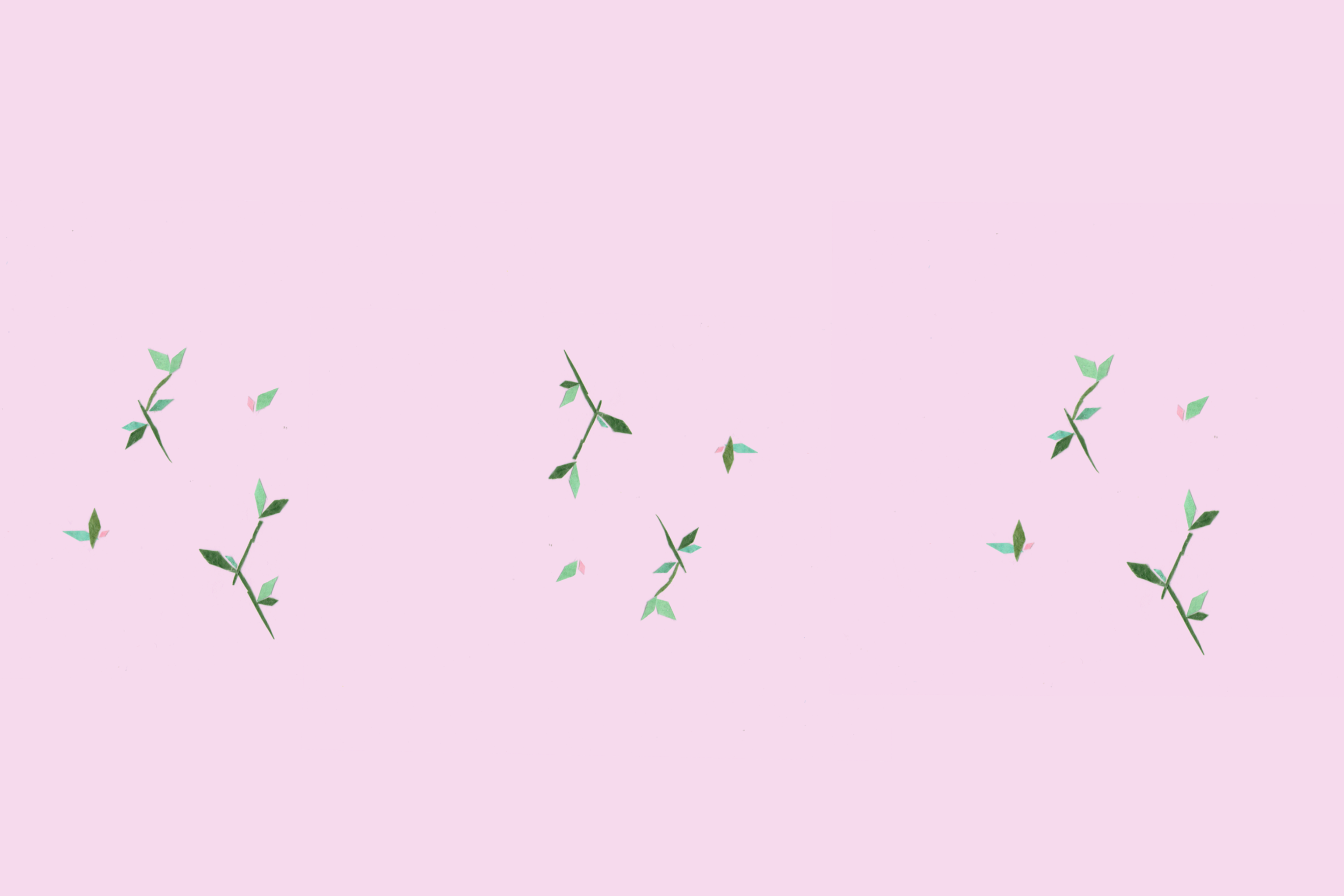 Leaf Racing
by Words by Sophie Edwards. Art by Liv Fugger. | January 3, 2021
My sister Lena was a mess when Funtown Playland let her go. Two months of playing Princess Thistle in their daytime production – and nothing. She came home in street clothes with her gaudy yellow dress crumpled to her chest.
Back when Lena first moved into my spare room, I hoped Funtown Playland would be a golden opportunity. Being back in New Jersey will cheer you right up, I comforted her. She had a theatre degree from a tiny, expensive college and danced in the background of a Broadway production of Chicago once. But she wasn't cut out for the city. Her agent suggested she try the amusement park world. It was the new frontier of community theater, he assured her. Funtown Playland offered her the role of Sleeping Beauty. She turned it down. Lena said she wouldn't be a sell out; she would be a princess with agency. They wrote a show just for her. ​Princess Thistle​. Lena was a killer Princess Thistle. She was given bouquets of roses and raving reviews in the local papers: ​The Daily Acorn​​ even called the show feminist.
The night Lena got fired she collapsed on my kitchen floor with  one false eyelash clinging to her cheek. She wouldn't do her dishes or make her bed or take out the trash. She left the same makeup on until it blobbed in blurry bruises. She slept until 1pm and cried when I woke her up. She cried at night when I asked her to turn off the television. I worried she would do something drastic.
Then one morning I was cooking eggs with peppers, and the smoke alarm wouldn't stop beeping. It was only 7:30 am, but Lena exited her room. She was wearing the Princess Thistle dress, chiffon and glitter and silk roses everywhere. Her hair was a wiry cloud and her face was smudged, but she was wearing that puffy cupcake of a dress.
"I think I'll leave the house today." She announced, walking out the front door. I clutched the spatula.
When I got home from work at the social work centre and she wasn't there, I was nervous. But, thank God, 10pm she clamored through the door, clutching a new tote bag and an open bottle of wine and a pile of men's flannels. With cheeks flushed, words boisterous and bell sleeve fluttering she told me about her day; she'd gone to the salvation army and drank tea at the new place on Market Street. She said one of the flannels was for me, even though it didn't look anything like the crisp blouses I usually wore. I told her I was proud of her, and I was.
She started wearing the dress every day, and things started getting better. Lena in the dress was into holistic wellness; meditation and organic vegetables and exercise and veganism. Lena in the dress did her dishes after breakfast and made her bed with the top sheet. She took out the trash in her room. It was full of lip gloss tubes and bud light cans and tissues hard with spots of mucus. Sometimes at dinner, we'd have conversations. She wore the dress everywhere; to dinner parties, in the park, in the grocery store, to new job interviews. Her dirty white sneakers poked out the bottom. Little girls stopped her on the street to ask if she was a real princess (their mothers gripped their hands more tightly). Men asked if they could be her Prince Charming and she flirted (she was a lesbian). On the days I made her wash it, Lena crouched by the washing machine and locked me out of the laundry room. ■
Words by Sophie Edwards. Art by Liv Fugger.