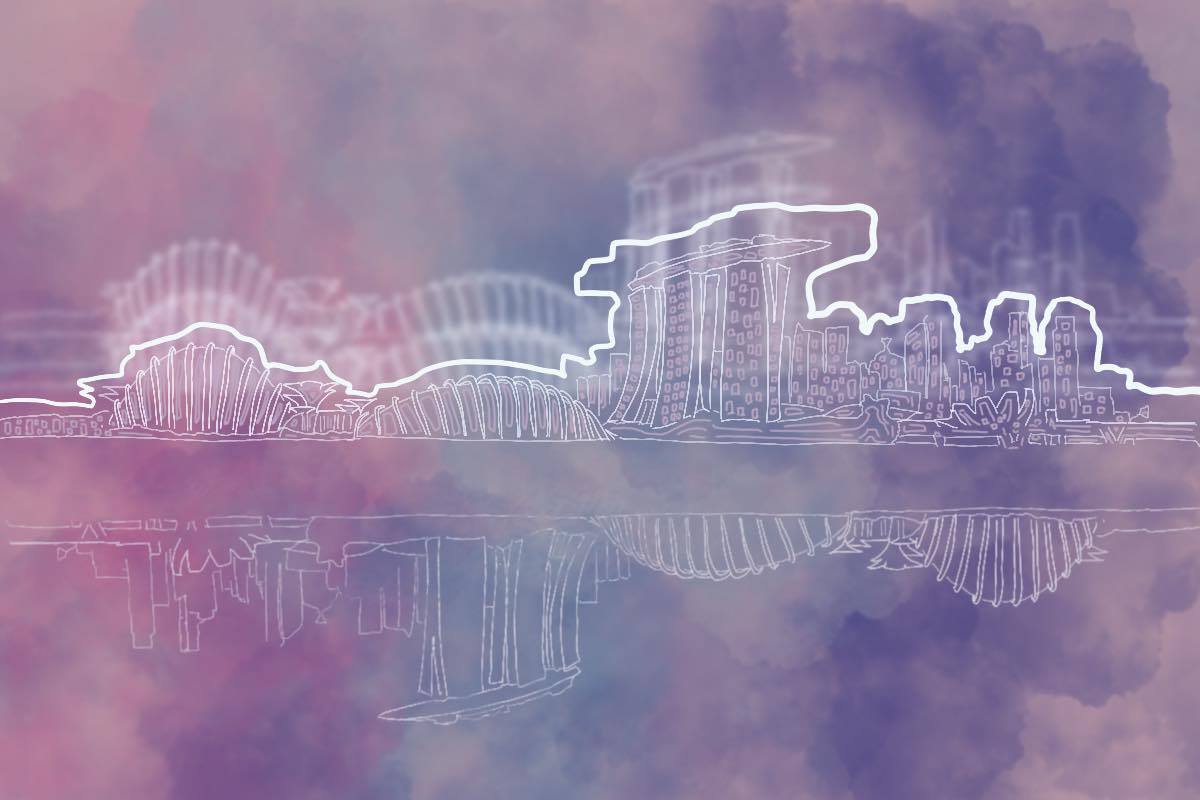 Paraiso
by Kavya Deshpande | April 9, 2020
"Nothing, like something, happens anywhere."
Philip Larkin
On Tanjong Rhu Road, it is hard to know where the water begins. Geriatric taxi drivers will tell you that the tarmac you're travelling on used to be jetty, and the tarmac up ahead a sticky pocket of bay where rotting wood and bilge water collected. Singaporean planning records identify this place varyingly as dockyard or harbour, either way something that had to be removed during the sterilisation of the country's landscape in the 1980s. The taxi uncles elaborate. I have, on occasion, been told, "back then, police never come here, so everything can. Opium can, whore can."
Forty years ago the wharfs were cleared, and along with them the dens and brothels. Patches of bay once coated in ship oil were turned into land. Tanjong Rhu now rests on an unknowable boundary between old coast and imported Cambodian sand. The only reminder of sequestered water is found in the eight swimming pools of the eight waterfront condominiums that flank the street. "There are also jacuzzis," said the property broker who showed my parents around one of the flats.
For decades, it was water that brought people and money to this area, and little changed after redevelopment. In the early 2000s, corporate executives transferred to Singapore settled in Tanjong Rhu's real estate, populating it from the top down in search of high balconies. They brought with them those parts of their lives that were possible to displace: decorative lamps, wedding-gift dinnerware, children. An integral part of the moving process was acclimatising your crying six-year-old to their new home, carrying them down palm-shadowed condominium walkways, pointing out the swimming pool. These children would come to say that they grew up in Singapore, but theirs was a parcelled Singapore, a cluster of expatriate enclaves, like a town-map rug on a kindergarten floor. Leaving the house meant going to an international school, the shopping district, the rugby or riding club. They grew up knowing that at eighteen they would get on a flight to start freshers' week in London or Boston or Sydney. In high school, they stopped living in Singapore and started living in constant anticipation of departure, made manifest by foreign college tours and dispatches from undergraduates who reassured them that there was so much more to do wherever they had gone. The swimming pools remained, for the most part, empty.
This ennui can only emerge in a life of convenience, and in Singapore, lives of convenience are not made in nuclear households. Things move too quickly. Things cost too much. People work nine-to-nine and want to come home to cooked dinners. Their kids need collecting from after-school ballet classes. Dogs need walking, surfaces polishing. In the end, all of this is achieved because of another person, someone not present in the family photographs on the coffee table. In every residence on Tanjong Rhu Road, behind every kitchen, is a small sitting area, bedroom, and en-suite. This space is left unaccounted for when the flat is marketed as a four-room property.
Lyn moved in behind the kitchen when I was seven years old. She was tall, and remains taller than me to this day, and arrived wearing a pink blouse and tinted lip balm. I remember these details because it was the first time I had seen make-up so tastefully match an outfit. Years later, Lyn told my mother she thought she would have to wear a uniform.
I did not immediately know how to place her. I had never met someone from the Philippines before and was thrown by the sudden introduction of a new language to the house. Tagalog has no close etymological cousin; it is loaded with consonants, spoken rapidly, and sounds distinctly foreign. I would hear its staccato when she called home while cooking dinner, or carried through the kitchen when she talked to her friend Diane, who worked next door and had a window facing hers. I was wary, as all children would be when presented with a stranger whose job it is to look after them. I was wary when she warned me to be careful on the monkey bars in the condominium playground, wary when I was handed my packed lunch in the morning and told off for returning it uneaten in the afternoon. "I already have a mum," I complained to my mother when she came home from work one evening. "Yes," she replied, "and she already has daughters. So be kind."
Not long before Lyn began working with us, I had started to suspect that there was a limit to what could happen on Tanjong Rhu Road. Lethargy ripens in a place of perpetual summer. Siblingless and without much talent for company, I used to sink into the after-school hours' afternoon heat, roaming barefoot around the condo's tropical gardens. Sometimes, if she had finished drinking her coffee, Lyn would ask if she could come along. I always said yes. I know now she offered so that I would have someone to talk to, but at the time I thought it was because the landscaped grounds reminded her of home. I longed for the stories that emerged during these walks, touching-distance memories of colour and warmth. A miniature palm grove was reminiscent of the jungle where a spinster-aunt lived, rumoured to have never married because a ghost fell in love with her as a teenager and left fruit on a palm frond at her doorstep every morning. Pea flowers growing by the condo gates would have been used back in the province to pigment rice and serve it pale blue with steamed milkfish. Early on, I told her what I had heard my parents mention about Tanjong Rhu being built on water. My mangled, half-forgotten narration must have made it sound more precarious than it was because she gasped and asked whether we ever had floods. "In the Philippines, we get big, big floods during the rains." Then, gesturing towards the bay, she said, "You see the water there? The river gets so big sometimes, it comes up to here." I looked down to where she was pointing at my ankles. I imagined them submerged, and, because it was a hot day, the idea was nice. I didn't imagine anything else submerged, or broken and dispersed.
Over the next fourteen years, Lyn came to occupy a liminal space in my mind. She wasn't my mother, but she was a mother, and she did for me everything that mothers do when they can be present. My own always made it a point to emphasise the similarities between them. Whenever she booked Lyn regular plane tickets to visit home, she called them tokens of gratitude "from one working woman to another". But there were differences, too, and I understood these as the dulling will to leave and go elsewhere intensified at school. Lyn's Tanjong Rhu was pieced together in a way that mine was not. Hers was located in a family of strangers in a strange land, Filipinas who had found each other while walking dogs or running errands. The street was a living, connective tissue of favours and personal histories, anecdotes and advice. A woman in the other block could deliver presents and parcels for others on her next trip to the Philippines; another worked in a house where a puppy had fallen from the balcony so Lyn put up a mesh before we adopted ours. They all knew the names of the elderly couple that ran the condo mini market, with whom Lyn had formed such a rapport that she was always the first to be told when freshly-made curry puffs were being sold. These I usually found as a surprise in my lunchbox the next day, and I ate them for years without being aware of the networks of solidarity and companionship through which they had arrived. Lyn's best friends, Pearl and Shelly, became familiar presences in our lives. Every afternoon, they took turns cooking Pinoy dishes and dined by the poolside while our dogs napped beside them. Sometimes I would join. Lyn would make me a box of macaroni fruit salad which I ate in contented silence, surrounded by a cascade of Tagalog jokes and gossip in plastic paradise. It was on one of those afternoons that I recognised the hubris of deeming a whole street or neighbourhood or country to be a nowhere-world, of thinking that water was more real than reclaimed land.
In late October of last year, Lyn left for good. Her father was suffering from an undiagnosed heart condition and she could no longer bear listening to her mother's distant distress during late-night phone calls. At the end of the month, she got on a red-eye to Manila, and from there took a seven-hour bus journey to her village in the province of Zambales. I call her once in a while, but frequent typhoons batter the signal and communication is sometimes dead for weeks. The last time I phoned, we spoke for an hour. She has opened a convenience store and spends her time manning the till. On hot days – and there are many – it provides both shade and light, and her neighbours amble over for a chat. I want to ask if she thinks she'll ever come back, but now she is telling me that the shop has started selling home-made burgers. She's planning to expand to curry puffs, and wants to know if I would like the recipe. I say I would, and don't ask anything else. It seems unnecessary. Something feels like it has passed. It is peaceful work, she says.∎
Words by Kavya Deshpande. Art by Sasha LaCômbe.