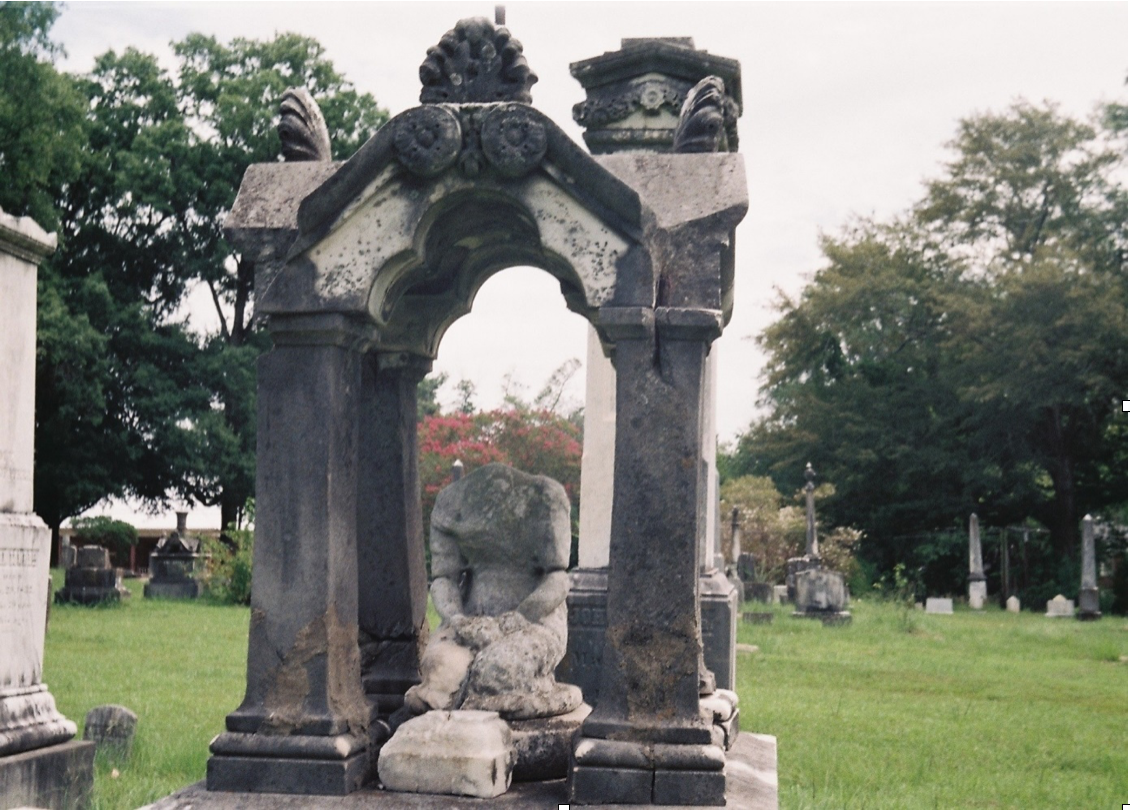 Exorcising Mississippi's Cemeteries
by Sammy Moriarty | January 1, 2018
"Mississippi had no art except in cemeteries". These words of Eudora Welty's, a comment on her photographs of graveyards around the state, have strangely buried themselves in me. It is not that the general sentiment is unfamiliar. Southern artists frequently motioned towards themselves as awkward figures in their corner of the country; Faulkner, for example, saw himself as a contradiction: an artist in a South of which, as he sees it, "art is no part".  But that is not the only thing that Welty seems to be saying. She, like me, is also concerned with the crumbling headstones.
Mississippi has always been something of a difficult inheritance for me: an unfamiliar home, a comfortable dislocation. It is beautiful too, and summer visits to my mother's family let me rediscover the acres choked with murmuring pine, the shimmering air, molasses-thick with the complaints of cicadas and the burden of humidity. Everything is held in a kind of sweet decay.
It was this same sweet decay that makes Welty's photographs of old graveyards so moving for me. They petrify it as a moment, a visual-monument of their still volatility. I remember being struck by how "un-Southern" these images were at first. I had never seen an angel in Mississippi before. New stained-glass maybe, in a pristine church cold-storage chilled, but not an angel. Most of the churchyards I knew were by the highway. 
It is hard to say what is the most striking thing about Eudora Welty's images of these graveyards. The ethereal glow seems to burn away at their stasis. Her expression to Hunter Cole of the unlikely "joy" the pictures recall to her at the age of ninety is both telling and bizarre: "I love this sleeping child cracked from top to bottom," she says, "I love the family beneath the willow tree. They're grieving for a lost father and husband."
Love is an unsettling word choice, but I think I understand what she's getting at. There's a happy bitterness in these monuments, perhaps due to the humanity of them in their desperation, perhaps the surprise of their existence in an apparently "artless" South.
It was with all this in mind that I decided to seek these churchyards out and take some pictures of my own. Taking with me a thrift-store Russian '70s rangefinder—which would later melt after being left in the heat of a Walmart parking lot and taking half of my pictures with it—I made it to three or four cemeteries. Photographs of two remained: St Peter's in Oxford, and Greenwood in Jackson. I decided to slightly overexpose the shots, an attempt to approach the otherworldly quality of light in Welty's pictures.
The most disturbing principle which hums beneath these memorials is best described as an ideal "petrification".
A panicked artifice vies with reality, the living green of virginia-creeper and magnolia blurs into Calvary-trees of mouldering stone. Just as in Welty's story At the Landing, from her 1943 collection The Wide Net and Other Stories,
"everything there, the hanging moss and the upthrust stones were in that strange graveyard shade where, by the light they give, the moss seems made of stone, and the stone of moss".
There is something undeniably sinister about the power of this funereal chiaroscuro. Welty recognises this also, for here in the story its protagonist Jenny is pondering her doomed love for Billy Floyd, the "fragile" "mystery that is in the other heart" which will end in tragedy. It is as if the distorted world of the cemetery blinds her with its fatalistic shadows.
Even the most pathetic, most beautiful examples of this petrification course with a troubling vitality; the cowering spaniel which marble-shines at his master's dissolved feet, the headless matrons and disembodied hands, the proud effigies of generals and businessmen, even the angels, all seem to be guarding secrets under the stone.
These are not true memorials for Mississippi, of course. These "Old Jackson" dead are as distant to me, whose bloodline descends into apocrypha and sharecropping beyond two generations, as to the ancestrally mid-western Welty, and most of the nameless crowds that haunt these graves by their absence. But these graveyards still, even in their attempts at an exclusive self-preservation, become emblems of the South: their broken grandeur that never quite was, now betrayed by the very conditions in which they proudly repose.  
I can't read this as just the "riot of expressions in defiance of the brutal ending that death brings to us all" that Elizabeth Spencer sees in Welty's images. There is something far more local about this impulse, as is manifest in Mississippi. However universal its theme, there is something that makes interpreting the cemetery as the only "art" revelatory: the futile preservation of an impossible status quo at any cost.
As I wondered through fallen granite markers and faded names reclaimed by obscurity, I stumbled across one which was unexpectedly familiar. It should have been little surprise to me that Eudora herself would have chosen to lie amongst the graves she had played upon as a child, and later frozen in film.
In One Writer's Beginnings, she wrote that the good photograph, like the ideal short story, can "capture transience". Crystals align to a flash of light in mysterious constellation, waiting to be coaxed into rediscovering the image they hold. I lowered my camera, the hush of shady branches playing across the dried rose at her headstone.
Photographs by Sammy Moriarty