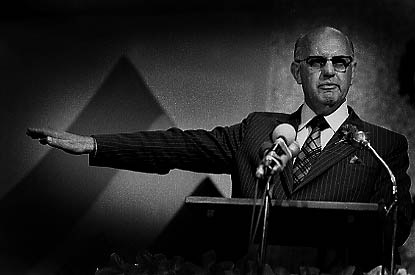 The Bengal Boer
by Bill Nasson | June 6, 2017
The monthly British periodical, The Oldie, has a column called 'I Once Met'. The magazine's aged readers are encouraged to put down their walking sticks, stop chewing their false teeth, dust off their memories and submit tales of chance encounters with the famous–or notorious–faces of their younger days. Over the years, Oldie readers have been treated to a series of vivid vignettes; someone's schoolboy recollection of meeting novelist Daphne du Maurier, sunbathing topless at a picnic on a Cornwall beach in 1952, another's conversation with jazz saxophonist Charlie 'Bird' Parker in 1938, after helping him lift his instrument case onto a train at Clapham Junction. Inspired by this, I'd like to share how I met the Nationalist Afrikaner leader, P.W. Botha–dubbed in Afrikaans as 'Die Groot Krokodil' ('The Big Crocodile'). An odd episode, it took place in the Cape Town suburb of Plumstead in 1971, or, about half-way through his term as South Africa's scowling Minister of Defence.
Following my graduation from high school the previous year, I had failed in my application for a discretionary government permit to pursue studies at the University of Cape Town. So, I was forced to enrol at the detested apartheid institution established in 1960 for students of my pedigree, the dusty University College of the Western Cape for Coloured people. Gritting my teeth, I turned to post-school correspondence study through the University of London's Overseas Examination Board and, for a while, found local warehouse work at a factory in Plumstead, owned by the international British company, Plessey. Its Cape Town plant supplied electronics, telecommunications and, most significantly, defence equipment. It was the last of these that provoked 'Die Groot Krokodil' to take to the waters of Plumstead, so to speak.
Plessey's local British management went to extraordinary lengths to render unto Caesar the things that were Caesar's. In other words, it virtually overdid apartheid. Plessey Plumstead was a microcosm of some apartheid utopia, a full-dress version of racial separateness overlooked by the portraits of Queen Elizabeth which adorned its office walls. Not only did the factory have separate front entrances for its 'European' and 'Non-European' assembly workers, but they even clocked in and out at different times–twenty minutes apart. The hooters which sounded for segregated tea-breaks and canteen lunch-breaks–the latter also taken at different times–had distinctively different tones. Even the envelopes containing employees' weekly earnings were pale blue or pale yellow, depending on their complexion. A zealous Nationalist Cabinet Minister might have been impressed, perhaps even touched, by this meticulous display of adopted South African 'patriotism'. It was, clearly, the icing on Plessey's cake of contracts with the Pretoria government, who sweetened their balance sheets.
Then, Plessey decided to pay tribute to Cabinet member, P.W. Botha. With the resumption in 1970 of limited arms sales to the Republic of South Africa by Edward Heath's Conservative British government, the company's Cape Town factory was assembling munition components for the Navy by the following year. A surprise visit from one of the factory managers informed us that we would need to look our best the next morning as Minister Botha would be touring the plant as a guest of the company. We, deferential workers, nodded at the announcement of this great honour. Once the manager had left, someone suggested that it would be funny to see if 'Worslippe' or 'Sausage Lips' Botha would be allowed through the factory's 'European' entrance. It was a joke shared by many; in the late 1960s, this olive-skinned minister was often referred to disparagingly as  'amandelroom' ('almond cream') by many black South Africans to whom the whiteness of his his ancestry looked to be somewhat questionable. As far as mockery goes, it was unpleasantly coarse as well as irreverent. At the time, it was one of the more amusing ironies of those bleak apartheid years.
Meeting P.W. Botha in the flesh was an unsmiling occasion. Wearing his trademark pork-pie hat, accompanied by a few officials and Plessey directors, the Minister of Defence walked in, a peculiar sense of distraction about him–perhaps he was bored. When we were pointed out as the men of Goods Despatch, Botha walked right up to us and stopped, pursed his–those–lips, and gave us a surly, flat-eyed stare. There was a strangely expectant silence. Then, he turned and walked out briskly, leaving his small entourage scampering to catch up.
Politics aside, it was a breathtakingly rude occasion. I was left wondering whether we were expected to bow or curtsy? P.W. Botha was an Afrikaner Republican, not the Queen. He hadn't acknowledged us or even asked each of us what we did, which is apparently what the Queen does.
There is, much later, a bizarre twist to this story. Almost three decades later, in 1998, I was invited to Oxford for the 'International Conference on the British Commonwealth and the Allied War Effort, 1939-45' at St Antony's College. The subject I was given was the wartime contributions of Jan Smuts, the South African Prime Minister who was not short of practice when it came to bowing before a British monarch.
At the concluding drinks party, one of the more elderly participant observers came up and introduced himself. A small man clutching a big drink, he was Lieutenant-General Stanley Menezes, a veteran of the Indian Army who had fought against the Japanese in Burma. Born in the early 1920s, he was an Indian Roman Catholic who, unlike the Hindu troops alongside him, did not mind having to eat their donkey transport to avoid starvation. We discussed his experiences fighting with the celebrated British commander, Major-General Orde Wingate, whose many eccentricities included holding jungle press conferences while lying naked in a hammock. General Menezes had later fought during India's partition, and wanted to know if I'd ever read Salman Rushdie's Midnight's Children.
But his 'real reason' for wanting to speak to me was that he'd spotted I was from South Africa, and was keen to discuss two of the country's "Boer national leaders". One, most obviously, was Jan Smuts. Might he not have been a vegetarian; he had often wondered. Stanley Menezes had dug up evidence that Smuts and Gandhi had once both attended a meeting of the London Vegetarian Society. Although the two had once clashed over South Africa's anti-Indian discrimination in the early 1900s, could they not have later become friends through a shared taste for beans and lentils? I suggested gently that it seemed like a rather long shot. General Menezes's other great interest was a more recent prominent political figure.
"Do you know very much about your country's ex-president, P.W. Botha?" Assuming that he was trying to wind me up, I shrugged, saying that having only once encountered him face-to-face, all I could confirm was that he was not much of a charmer. "No," the General insisted, "never mind his manners. I've got much more interesting information about him. You see, I've been researching Mr Pieter Willem Botha for quite a few years."
Bored by his retirement at the United Service Institute in Delhi, Menezes had taken up the genealogical study of a number of Bengali families. This had led him to the seventeenth-century Dutch East India Company, its trading posts and settlements, its Indian Ocean slave trade, and its transportation of labour from the Bay of Bengal to the early Dutch Cape Colony. Having traced relations between Dutch India merchants and local Inhabitants in Patna, Stanley Menezes had P.W. Botha's original ancestry all mapped out, ready to be shown to any interested visitors.
"Don't laugh," he advised, "but I've discovered that your apartheid president is really from Bengal, originally. He's a Boer who is an Indian." As I reluctantly took my leave of him, General Menezes said that I would be welcome to visit the United Service Institute to view P.W. Botha's lengthy family tree, of tropical origins, and view his watercolour portrait of 'Die Groot Krokodil', painted from old newspaper photographs.
It was both improbable and bizarre to have encountered an Asian soldier-student of South Africa's second-last Afrikaner Nationalist state president in the graduate common room of an Oxford college. In a way, Stanley Menezes was a human bridge across which to return briefly to the era of Plessey South Africa. Or, perhaps, Woodstock Road had delivered a double-fold–a before and an after, which was also a before.
Lieutenant-General Menezes outlived President Botha by six years, dying in 2012 at the age of 89. I can't help wondering if he ever came across one of Botha's parliamentary speeches in April 1979, in which he stated proudly that "no Indian community in the world" was "better off than the Indians in South Africa." It is all too tempting to imagine his satisfied reaction: "See? Your leader was surely speaking more truly than he could possibly have known."
Photo credit: flickr