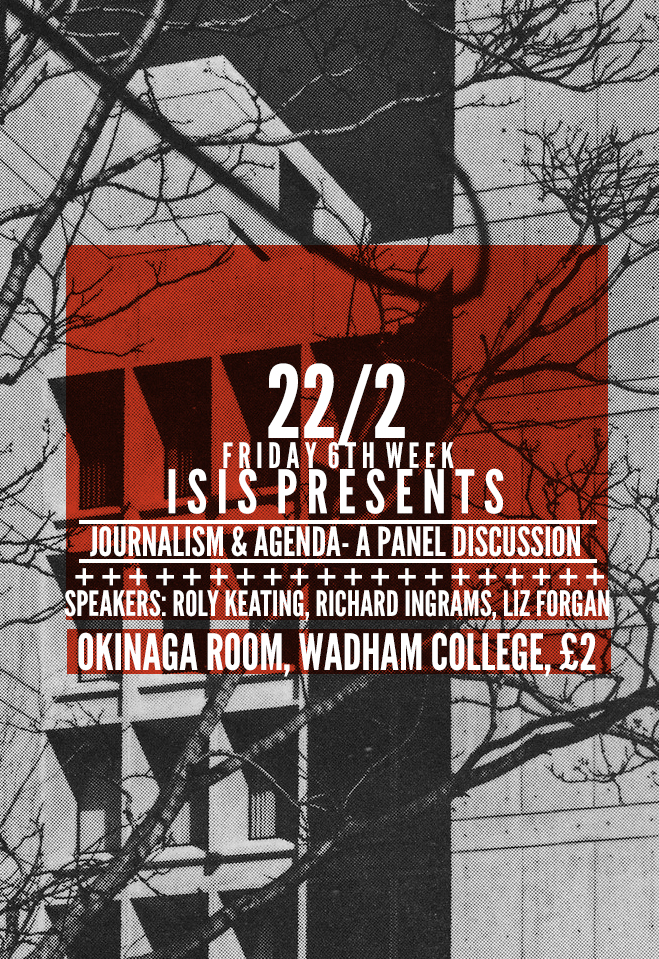 ISIS Presents: Journalism & Agenda
by isised | February 18, 2013
ISIS presents: Journalism & Agenda – a panel discussion.
Is the idea of objectivity in journalism outdated?
Does the overtly partisan nature of most newspapers help perpetuate a culture of narrow-mindedness in the public?
Are bloggers simply making the situation worse?
How do we survive government cuts to the arts budget and is there a fear that this important issue has been politically hijacked?
Friday, 22 February (6th week) – 8pm – Okinaga Room, Wadham
>>> CLICK HERE FOR FACEBOOK EVENT <<<
Speakers include:
ROLY KEATING – Chief executive of the British Library and previous Director of Archive Content for the BBC
http://www.guardian.co.uk/media/2012/may/11/bbc-archive-director-roly-keating-leave
RICHARD INGRAMS – journalist, a co-founder and second editor of Private Eye, now editor of The Oldie magazine
https://www.youtube.com/watch?v=L9BI-kGCjKc
LIZ FORGAN – journalist, and radio and television executive. Past roles have included the Chair of Arts Council England, the first woman to do so
https://www.youtube.com/watch?v=Y5qvTEiCQZU
————————–————————–
>>entry: £2