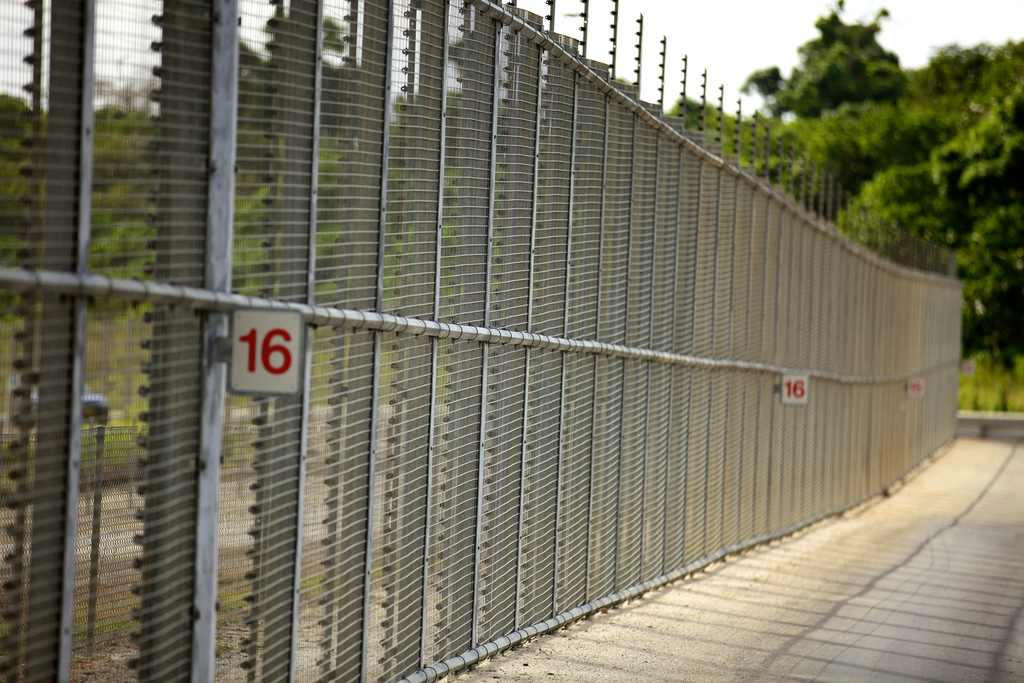 Set Her Free: Meltem Avcil on Life Inside Yarl's Wood
by Thea Slotover | June 17, 2015
"Believe it or not, when you are a refugee you are always taught that being a refugee is a bad thing. So, to some extent you are subconsciously ashamed of yourself."
Meltem Avcil has an incredible story. Aged 13, she and her mother were locked in Yarl's Wood, the notorious women's immigration detention centre. During their detention Avcil began a campaign to end the practice of holding children in the centre and others like it. Now 22 years old, Avcil is fighting for an end to immigration detention for all women.
As a Kurds and Shi'a Alevi Muslims, Avcil's family suffered much persecution in majority Sunni Turkey. Her mother was determined for Avcil to have a chance at a safer, better life. "She decided that she wanted me to be educated. She tried to leave the country five times. She sold everything she had, to a point where she only had the clothes that she was wearing and me."
Avcil's family first fled from Turkey to Germany, but their case for asylum was refused, so they left to the UK. Before being placed in Yarl's wood, Meltem and her mother had already lived in Britain for six years. Her mother was always open about her pleas for asylum. "She wanted to seek asylum, and not just to be the 'illegal immigrant'. She never tried to abscond."
After being relocated by the home office 14 times in six years, and Avcil and her mother were placed in Yarl's wood. They received no warning; they were woken at six in the morning by eight security guards and told to pack a bag each. "They treat you as criminals. Refugees can't make a life, because they know that it might be destroyed."
Avcil's mother has now also been released from detention and is living in Cambridge. But the painful three months they experienced are still clear in Meltem's memory. "Nine roll calls, three times a day. Windows that only opened an inch, barbed wire fences, high walls… prison, it's a B-class prison for innocent people." In a report in January 2015, Women for Refugee Women found that 33 out of 38 women they had interviewed had been watched by male guards at Yarl's Wood while naked or partly dressed. Reports of sexual abuse are common. In June 2014, Serco, the private security company that runs Yarl's Wood, admitted that it had dismissed eight of its staff after 31 reported cases of sexual abuse in the past 7 years. Avcil confirms that male guards often sexually abused female inmates. "Most of the women don't know what to say to that; they don't speak English, or will go along with it because they think it's a way out."
Avcil recounts one particular example of neglect, in the case of a mother trying to find medical attention for her infant. "The baby had a 38 degree temperature. The guards told her that she needed to wait for the morning. The woman gave her child to someone else to hold and started shouting and screaming. But the officers didn't care." The monotony of the daily routine left Avcil feeling desperate. "I self-harmed. We had five attempts to get bail and each time the judge said no. The final time, the judge said, 'You cannot prove that Meltem doesn't like being in Yarl's Wood.' I felt self-harm was the only way to prove it."
Avcil's campaigning began while she was still in Yarl's Wood. Though she is not religious, she describes the first opportunity she had to alert people outside the detention centre as "a miracle". "A woman who was brought in by accident left me the number of the NCADC (National Coalition of Anti-Deportation Campaigns)." She called. Soon her story began to receive media coverage, and she was visited by the founder of Women for Refugee Women, Natasha Walter, and actress Juliet Stevenson.
Despite the media attention, plans were made for Avcil and her mother's deportation. "We were taken from our rooms at 3am. When we got to the immigration office at Yarl's Wood, male officers strip-searched my mother and me. Then a male and female guard took us to the airport.
"Paul [the male guard] told me that if I screamed and made a fuss, they would tie up my hands and legs and put me in a solitary area on the plane." Because her mother did not speak English, the immigration officer's vitriol was directed at then 13-year-old Avcil.
"We arrived at the airport and they took us through the back. We were treated like terrorists, criminals." As her mother took a step back in hesitation before getting plane, the guards pushed her to the grounds and put her in handcuffs, cutting her cheek in the process. To hide the wound the guards threw a towel over her head.
Avcil was forcibly held down into her plane seat by one guard on either side. "I was looking out of the window. I thought, are you embarrassed to get up and speak for yourself? Then, and I remember this very clearly, I said, 'I don't want to go.' At that point I just wished for a little more strength. I was so drained. It was the first time I had been outside in three months. And I just stood up. The guards were kicking me, punching me. They seat you right at the back of the plane, so that no one sees you. A man was reading a newspaper and I kicked his chair; I said 'The news is happening here.' I exploded. And my mum exploded as well." The pilot intervened and had Avcil and her mother taken off the plane.
This was not the end of their struggle to avoid deportation. In order to avoid another incident, the home office rented a private jet for Avcil and her mother at a cost of £25,000 – a figure that undermines the assumption that tougher controls on immigration will always benefit the taxpayer. Merely the process of detaining immigrants and asylum seekers is expected to cost four or five times as much as it would to process an application within the community.
Avcil and her mother were only, finally, released from detention when the Children's Commissioner arrived at the hospital where they were being held, in order to recuperate from the trauma of the first attempt at deportation. "We were released the next day in order to wait to be rehoused to Newcastle, and life started again."
Following her success in the campaign to prevent the detention of children, Avcil is now leading the '#SetHerFree' campaign with Women for Refugee Women. The campaign has a petition on change.org that had received 98,781 signatories at the time of writing. As a result of the campaign, in February Theresa May agreed to conduct a review of the immigration detention system. But as Avcil states on her petition site, "The review will not look at why so many people who have come to this country to seek safety are being locked up in the first place."
Eventually, she would like to see an end to all immigration detention, but acknowledges "you have to take each step at a time." She is currently writing a film script, in which she aims to provide different portrayals of the lives of refugees, and is particularly keen to spread her campaign throughout schools and universities. As a young campaigner, she places great importance in reaching out to teenagers and adolescents. "I like to think that changing one person's ideas can change those of a generation.'"